Best Breathalyzers
last updated:
Oct 10, 2019
Look, avoiding drunk driving is something that can't be stressed enough. As everyone knows, when you are intoxicated with alcohol, your mental awareness is simply not there and you will be in no state to be behind the wheel of an automobile. Not only does this put you at risk but also other innocent drivers on the road. But, many of you will enjoy going out on a Friday or Saturday night to kick back and let loose. This is perfectly fine but if you do not have a designated driver, then you need to be responsible. One way of doing this is to invest in your own personal breathalyzer. This way, you can ensure that you are under the legal alcohol limit and that you will not pose a threat to other drivers. Sounds simple, right? Well, it can be, but you really need to know some things.
In a Hurry? The test winner after 3 hrs of research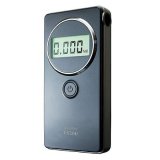 ALCOMATE REVO TS200
Why is it better?
Equipped with PRISM technology
It is very easy to use
It is both DOT approved and US Coast Guard cleared
In a
Hurry? Editors choice: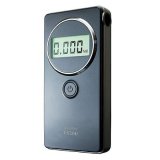 Test Winner: ALCOMATE REVO TS200

5
Researched Sources
20
Reviews Considered
3
Hours Researching
17
Products Evaluated
Accuracy
Ease of Use
Use
Features
Portability
By Default
OUR TOP PICKS FOR THE BEST BREATHALYZERS
Criteria Used for Evaluation


Accuracy
This is the single most important factor in this entire guide, easily.
By far, this right here is the most important buying consideration for breathalyzers. No one is going to tell you different so this should not come as a surprise. The reason it is so important is that not every single model on the market will sport the same accuracy. And, it all really comes down to the technology that is integrated. In specific, the sensors as you will see two main types. The first is known as semiconductor sensors and, in general, these are the inferior of the two. Now, with that said, these have still been proven to perform very well. And, in fact, BACtrack themselves utilizes a more advanced version of these sensors in some of their models (known as advanced MicroCheck sensor technology).
Now, the second type of sensor that you will often see is known as a fuel cell sensor. Spearheaded by BACtrack once again, these are the sensors that are used by law enforcement and are found in professional-grade models. If you are looking for the most precise and accurate readings possible then you should stick with these types of sensors. Oh, and also, it is never a bad idea to look for breathalyzers that are FDA approved as medical devices.


Ease of Use
Though these are generally pretty simple devices to operate, some will be easier than others.
As you probably know, there are some technology devices on the market that are downright complex and confusing to use. Of course, these same devices will get easier as you become accustomed to their layouts and interfaces. The good news is that will not generally be the case with this type of technology. Even though it can't be guaranteed that you will never experience mild confusion while you operate a breathalyzer, it should be a straightforward process. Even if it is not, though, most sellers will include instructions with their model to walk you through the process.
To give you an idea of what you can expect, here is a general synopsis of what most models will entail you doing. For starters, you will need to attach a mouthpiece to it (if one is not included then you will need to get some separately). Once this is done, you will simply hold down the power button to start it, wait a few seconds for it to load, blow into the mouthpiece for a solid four to five seconds until the beeping stops, and then wait for the results to display on the LCD screen. Clearly, these are just the basics as there may be other features to toy around with.


Use
This right here is all about the recalibration process.
This is all about recalibration. Of course, what exactly is this? Well, the process of calibrating a breathalyzer is a simple one as it involves checking and adjusting the integrated sensor to ensure it is displaying an accurate reading. Depending on the type of sensor, however, you may have to do this more frequently. For example, you may be able to get upward of 1000 uses out of professional-grade devices but only 400 to 500 uses out of inferior devices. However, you can't perform this yourself. This type of calibration needs to be conducted by a trained lab technician and that means that you will need to send in your model when the time comes.
Yet, what if this could be bypassed altogether? Even though very few models can bypass this, AlcoMate has figured out a way thanks to PRISM technology. In their own words, manual recalibration is a flawed process as it does not address the natural degradation of the sensor itself. With PRISM technology, all you need to do is literally replace the existing sensor module with one that is pre-calibrated and brand-new.


Features
There are actually some rather simple features that you can look for that can really seperate certain models from others.
Though these devices are simple in concept, some of them can come equipped with additional features that can make all the difference in the world. For example, some models may have the ability to be connected to your smartphone. Now, there are not too many options on the market like this but with a corresponding app, the features become nearly endless. Of course, most generally, most breathalyzers will be equipped with all or a few of the following features.
The first is the ability to store previous BAC readings for future use. Now, the only way this will be possible is if the model integrates onboard memory. For the most part, this will typically be nothing more than 5 to 10 readings but at least it is something. Additionally, some designs will allow you to select the BAC threshold manually. Oh, and also do not overlook a simple feature that indicates when the battery is low as this can be a frustrating omission if it is not present.


Portability
This is pretty straight forward but if you want to use your model on the go, it needs to be portable (and most will be).
Relax, because you can finally take a breath for this section. This is not to say that this is not as important as the previous sections but it is almost a foregone conclusion granted you go with handheld models. The reality of the situation is most breathalyzers on the market will be extremely portable as that is the nature of their design. With that said, some options will be slimmer and more compact than others. For example, if you want to fit a model into your pants pocket comfortably then it will need to be very slim. Oh yeah, and some sellers will even include a carrying pouch or case with your purchase.
Expert Interviews & Opinions
Most Important Criteria
(According to our experts opinion)
Experts Opinion
Editors Opinion
Users Opinion
By Default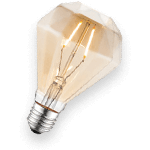 Accuracy
Without question, all your focus should be predicated on this section to begin. The accuracy of any given model is going to be the single most important feature, period. And, what affects this is the type of technology that is integrated. More specifically, you need to assess what types of sensors any given design incorporates. This alone will give you a strong indication of the accuracy that will be provided to you.
Ease of Use
Admittedly, most of the options out there will not be overly complicated to operate. Then again, the more features they have the more you will need to learn. And, this is why it may be in your best interest to invest in a model that is both intuitive and that includes decent instructions. Of course, if you ever do get confused, you can always access online tutorials and guides for reference.
Use
Some of you may believe this section is nothing more than a headache but guess what, it is a headache that can't be ignored. After all, if you avoid recalibration, then your model will eventually become so inaccurate that it will be pointless to possess. Then again, not all designs out there will need to be sent to companies for recalibration. And, this right here can be a game changer.
Frequently Asked Questions
q:

What is BAC?

a:

The term "BAC" has been referred to a few times during this article and while you have probably heard of it previously, perhaps you do not know what it stands for and what it means. It is actually an acronym for Blood Alcohol Content and it literally refers to the concentration of alcohol that is in someone's blood. It is a metric that is used to measure how intoxicated you are, quite frankly.
q:

Is it safe for other people to use your model?

a:

Perhaps the word "safe" was not the most appropriate word to use here but nevertheless, if other individuals wanted to use your breathalyzer then it should be fine for them to do so. About the only potential issue is reusing mouthpieces as to remain sanitary, your friends or family members should use their own mouthpiece to blow into. But, as for the device itself, there really should be no issues if you allow others to utilize it.
q:

Should you buy them used?

a:

There are just some consumer products that you should not purchase used or refurbished, for that matter. As you may have guessed, breathalyzers are one of them. The primary reason why is due to the fact that over time, the sensors are going to degrade and this was discussed before. Yes, most models will need to be recalibrated but after a certain amount of times, this is not going to work. Eventually, your model will quit working entirely. So, do yourself a favor and avoid buying one that has been previously owned and used.
q:

Even if under the limit, are you still safe to drive?

a:

You are not going to find too many people that will justify driving with any type of alcohol in your blood system. And, we are not about too either. Here is the deal; even if you are technically under the legal alcohol limit, it does not warrant putting yourself behind the wheel of an automobile. This is especially true if you are barely under the limit as the booze in your system is still going to impair your motor skills and cognitive abilities.
q:

Can any results you receive be used in court?

a:

In a way, this question plays off of the last one. So, let's say that you do get pulled over by a police officer and you blew into your own personal breathalyzer and were not over the legal BAC limit. Let's say you blow into the police officer's device and are over the BAC limit. Could you then use your own personal readings in court? You probably know the answer to this and that is a big fat no. Look, law enforcement officials are only going to use the best of the best and their readings will always trump yours, period.
q:

Is the BAC level the only factor for when a DUI is given?

a:

This right here is further proof that these devices are simply tools and they should not be relied upon to prevent you from getting a DUI. Guess what, even if you are under the legal BAC limit (which is .08 percent in all 50 states in the United States, for the record) you can still be charged with a DUI. The reason for this is if an officer believes that you are impaired to any degree, you can be charged. While this may seem unfair to you, it is the law (though understand that laws will always vary from jurisdiction to jurisdiction).