7 Best espresso machines under $500 you must consider in 2021
last updated:
Oct 12, 2021
Investing in an espresso machine is a matter of diligence. Especially when you considering a best espresso machine under $500, it is important to list down your requirements first and choose an appropriate machine accordingly. As the market is flooded with a wide range of machines, each boasting unique and distinctive features; choosing the best is always tricky.
An ideal espresso machine is one which can perfectly suffice all your requirements and outshine on your kitchen counter-top without pinching much to your pocket. Every feature comes at a price, but it is important to evaluate that the price which you are paying must justify the quality as well.
Best espresso machines under $500
All these are the best espresso machines under $500 are hand-picked to ensure it users could enjoy a barista-style coffee with minimal effort. Here we go!
Breville BES840XL Espresso Machine
It is considered as the ideal deal for the best espresso machine under $500. With its interesting features and exotic look, this might be one of the expensive espresso machines under $500 but justify its pricing. Function like pre-infusion allows the grinds to soak and expands to produce delectable coffee.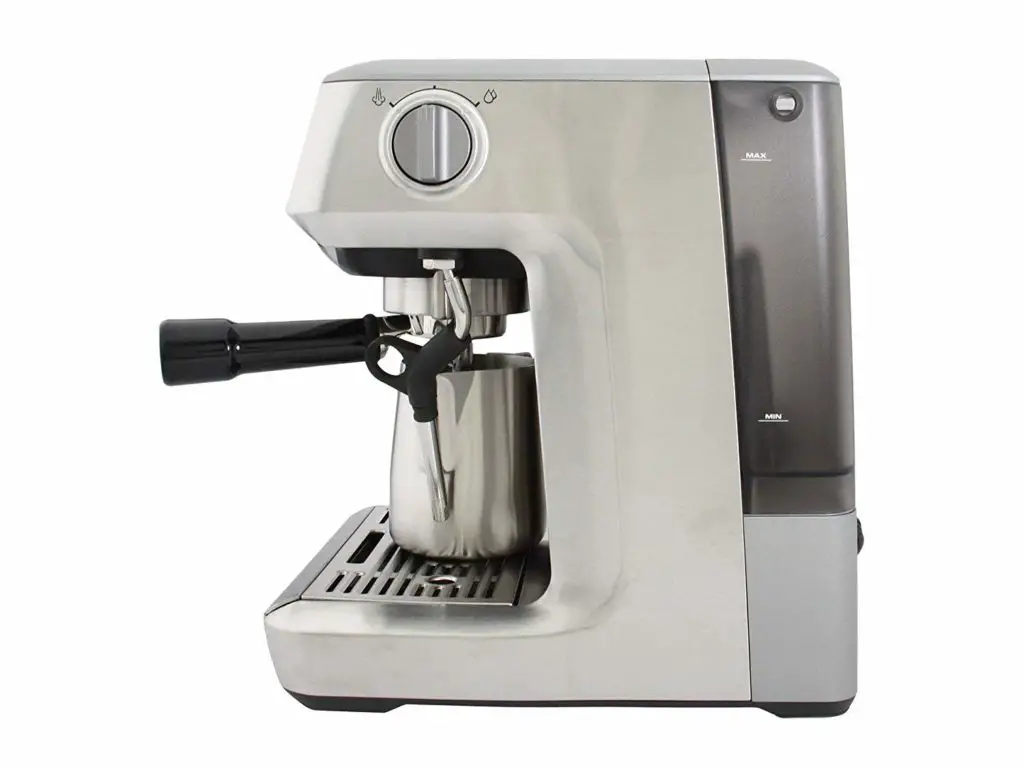 This machine facilitates easy temperature regulation and comes with a PID controller and thermocoil. You can easily bring down the temperature by 4° F in increments of 2° F. Use hot water spout to preheat your cup or make an Americano cup of coffee
Pros
It allows the temperature adjustment of ±4° F.

It has a distinctive Pre-infusion system

All the standard accessories are available

Minimal waiting time between brewing and steaming

It comes with Auto-purge function
Cons
Higher on the price side

The LCD display is not provided
Breville Duo Temp Pro Espresso Machine
Auto-purge system and controlled thermocoil form the USP of this espresso. You can ensure consistent water temperature with its PID controlled thermocoil. Over traditional coil, the switching between brewing and steaming is quick and easy. This machine gives the best value for your money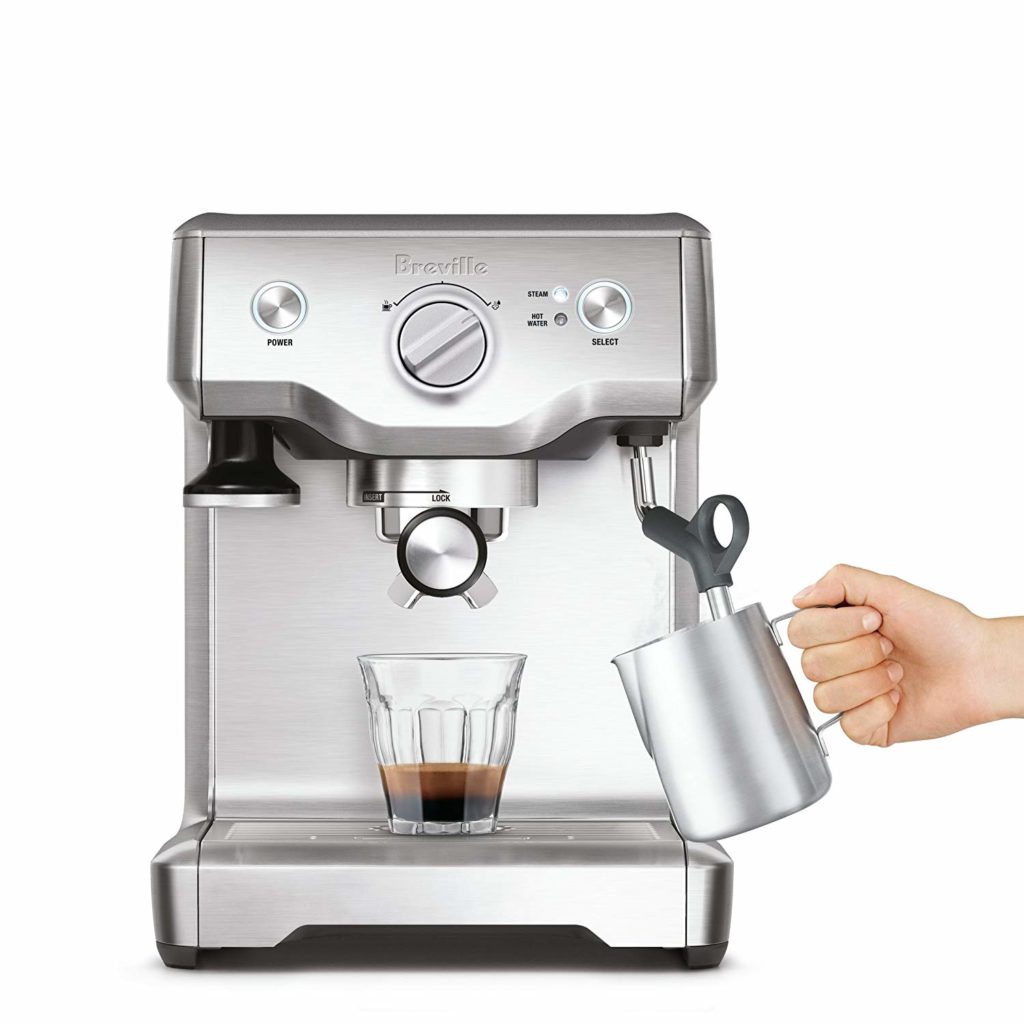 It comes with additional accessories which one requires to brew. If programmable machines are not on your preference list, this espresso machine under $500 is one of the best bet to explore.
Pros
Equipped with PID controller

Aided with the Auto-purge technology

Highly competitive pricing makes it a preferred choice

Set of accessories provided which are used for brewing
Cons
You cannot change the temperature or volume

Grinder facility is not available
KRUPS EA8250 Espresseria Espresso Maker
With a built-in ceramic burr grinder, this super-automatic espresso machine showcases the menu of the drinks on its screen. You can easily change the dosage after selecting the type of drink you want.  An in-built timer is provided in the steam wand.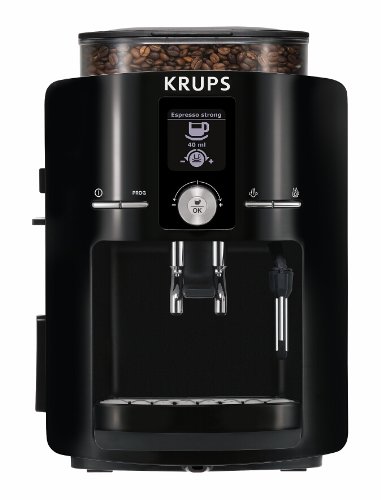 You can preselect the time for brewing. The machine comes with an auto-stop and auto-start function. The conical grinder offers the three settings as fine, medium, and coarse.
Pros
Easy to understand user interface

A ceramic burr grinder is in-built

All the drinks are preprogrammed to ensure consistent taste

Sturdy design to match contemporary kitchen décor.
Cons
Difficult to clean and maintain

Drip tray and dreg box are small
Delonghi EC680M DEDICA Espresso Machine
A compact espresso machine which can easily fit your stringent budget. Three filters and portafilter is provided in it along with a scoop cum tamper. Prepare the portafilter, place it on brew head, and your excellent cup of coffee is ready.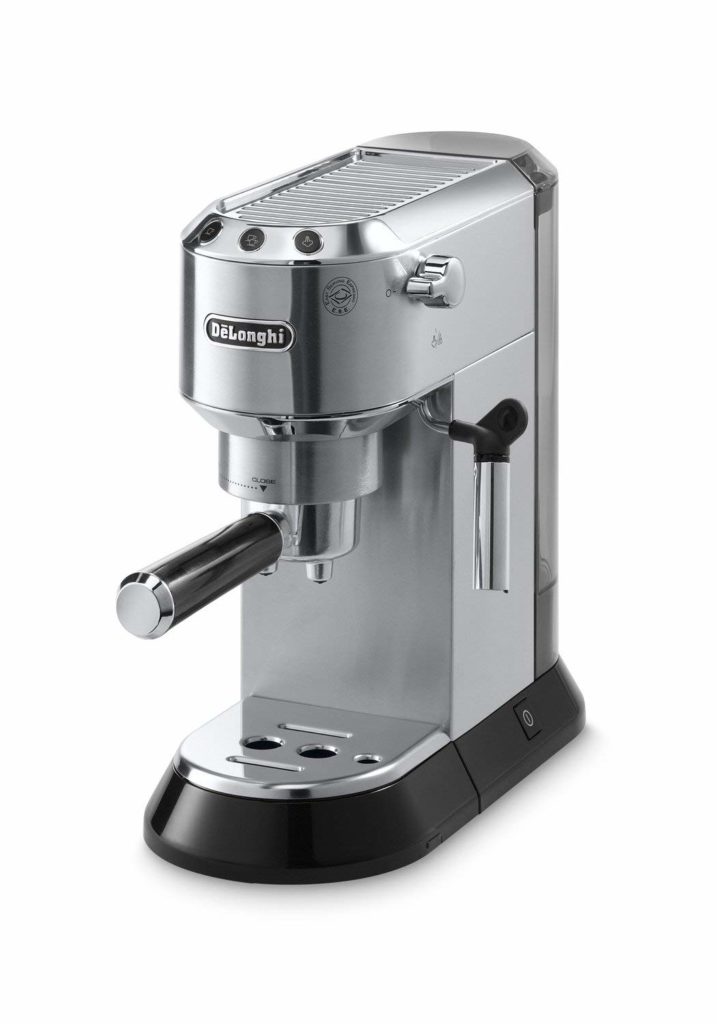 Shot volumes are programmable while buttons are provided for single and double shots. The steam function is very easy to use. There is a third button which is when long-pressed allow the shot buttons to set the temperature as well as auto-off
Pros
The budgeted price of this espresso makes it a hot deal

Programmable temperature and volume

Very compact which can fit small kitchens easily

Feature auto-off facility

For milk drinks, it offers good foam volume
Cons
Plastic construction hampers the durability

The drip tray is very small which needs constant cleaning
Gaggia Brera 59101 Espresso Machine
A functional and stylish espresso with a burr grinder to present an exceptional coffee. It comes with a super-automatic brewer to ensure consistent taste. Five grind settings are available to set your preferences. Dosing can also be set at low, medium, or strong as per your choice.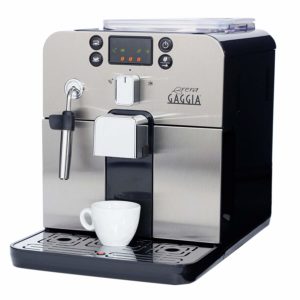 It can easily accommodate cups of all sizes with its adjustable group head. It comes with rapid steaming technology to provide quick heating between steaming and brewing. As you don't have much control, and all the processes are automated in this machine, you need not worry about a 'perfect' cup every time.
Pros
It comes with a built-in burr grinder

It allows the adjustment to the volume and dose

Easy maintenance
Cons
Water tank provided is very small

It has a single boiler but no PID controller
Saeco HD8645/47 X-Small Vapore Espresso Machine
A durable espresso machine which is made to last. It is very sleek in design which allows it to fit any space. The stylish make of this machine induces its user to flaunt it. This machine  is packed with many hot features, absolutely justifies its pricing.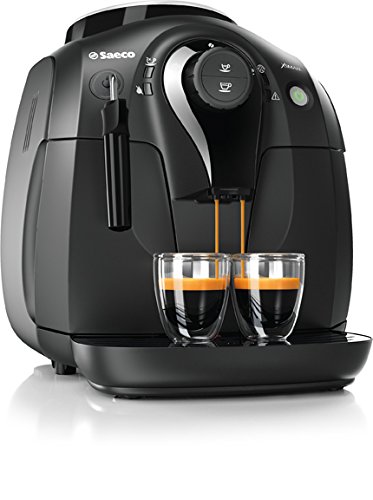 Pannarello steam wand, hot water dispenser, and milk frother are some of the benefits which a user enjoys with this espresso. 15-bar pressure pump helps in extracting the coffee ground flavor effortlessly.
Pros
5 grinder setting to fine tune the coffee's richness

You can brew two cups of coffee simultaneously

Rich velvet milk foam with its frother

100% ceramic grinds extract maximum flavour

Easy to clean and maintain with auto-cleaning cycle
Cons
Noise level of the grinder is high
Gaggia 14101 Classic Espresso Machine
The minimalist appearance of this espresso along with its budgeted price make it a preferred choice. 17-1/2-bar pressure pump and a high-voltage boiler make it perfect for brewing a delectable cup of coffee. The removable portafilter makes it cleaning easy and simple.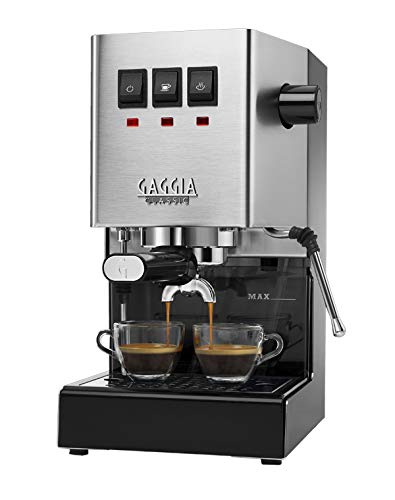 Marine grade brass is used to make portafilter to ensure extended durability. A cup warmer, a combined frother and hot-water dispenser are provided in this machine. This machine gives a great automated experience to its users
Pros
Highly competitive when it comes to pricing

Compact in size to fit in small spaces

High-voltage boiler to make brewing a breeze

Heavy duty construction to ensure good durability

The constant temperature is maintained during the brewing process
Cons
Not much customization is available
Best Espresso machine under $500 – Buying Guide
To make your purchase the best, it is important to know the various factors which should be considered while buying an espresso machine under $500. Here is the list of the important things which you must consider to make a deal worthwhile:
Convenience features Vs. Control features
Convenience features generally refer to the features which help in brewing excellent coffee with minimal skill and effort. However, control features allow the user to adjust the brewing variables like temperature, the texture of coffee grinds, and brewing time.
For espresso machines under $500, you can expect the basic convenience and control features. For superior features, you need to spend up to $2000.
Semi-Automatic Espresso Machine Vs Super-automatic Espresso Machine
A super-automatic espresso machine gives convenience over control as it is equipped with the pre-planned programs. Once you select the relevant program, the semi-automatic espresso takes care of grinding, dosing, pre-infusing, tamping and pouring. The taste of such coffee remains consistent and has no impact from your brewing skills.
If you love to showcase your expert brewing skills, semi-automatic espresso machine is meant for you. You need to dose and tamp the portafilter manually. The taste of coffee is largely influenced by your brewing skills.
Super-automatic takes less time for preparation and cleaning, while semi-automatic requires a manual filter and portafilter washing.
Here are some of the considerations which largely influence your decision to buy the best espresso machine under $500 
Grinder: The machines with a built-in grinder can produce the coffee prepared using freshly grounded beans. Narrow down your search for an espresso machine which comes with a grinder to enjoy the perfect coffee. Freshly ground coffee tastes better than Pre-grounded coffee.
Grinder Settings: To gain more control over the texture of grinds, most of the espressos come with three grind settings as coarse, medium, and fine. There are some machines in this price range which have five grind settings as well. So, choose a machine wisely depending upon your preference for control.
Grinder Type: The most common types of the grinder are blade and burr. For granules of even size, a burr grinder is used. A blade grinder chops the pods in an uneven way which leads to inconsistent taste. Hence, it is highly recommended to choose a machine which comes with a burr grinder.
Auto-Purge: The temperature of thermoblock rises by using the steam feature of an espresso machine. Themoblock takes time to cool down when the user switches to the brewing. With auto-purge function, reservoir sends a jet of cold water to thermoblock to cool it down quickly. The purged water effectively lean the steam wand as well as preheat the coffee cup.
Water Heater: There are two types of water heaters available for the espresso under $500 – boiler system and thermoblock. Thermoblock is considered to be less effective than the boiler due to its inconsistency. However, a thermoblock installed with a PID controller offers better consistency. Secondly, you cannot brew and steam your coffee simultaneously with thermoblock, as there is a time lag between the two functions.
PID controller: You can ensure the optimal extraction by maintaining a consistent temperature between 195° F and 205°. PID controller plays a vital role in maintaining the temperature of thermoblock.
Customer support, maintenance schedule, warranty, power consumption, and service center location are some of the other aspects which should be considered along with the factors mentioned above.
Frequently Asked Question
How to choose an espresso machine under $500?
The decision to buy an espresso depends on the following factors:
How frequently you drink the coffee?

It is judicial to invest in an espresso machine if you drink espresso almost on a daily basis. If your frequency is once in a fortnight or a month, it does not make a sense to make such a hefty investment.

How long do you take to prepare the coffee?

There are different espresso machines available in the market which takes different time to prepare espresso. If you are looking for an effortless and quick espresso, go for super-automatic.

What is your budget?

It is important to outline your budget first and list your preferences. Choose a machine accordingly, which can strike an equilibrium between the two, maximizing your benefits.
What is the difference between espresso and regular coffee?
Regular coffee contains higher caffeine than the shot of espresso. Espresso coffee is a blend of several beans, which are roasted and grounded finely to produce a fine cup of coffee.
Do I need special coffee to make espresso?
Coffee beans remain the same for espresso and drip coffee. Only the brewing methd makes the whole difference in the taste, making an espresso rich and more flavourful.
Is it possible to make a regular coffee with an espresso machine?
If you have a dual purpose machine which features a coffee and espresso, it is possible to make a regular coffee with it. In espresso, the coffee grinds at a pressure from hot water force. You can enjoy Americano using espresso, which is quite closer to the regular coffee.
Conclusion
Firstly it is important to decide whether you want to go for a semi-automatic machine or a super-automatic one. The surging trends of espresso machines made the entry-level models hi-tech as well. If you are looking for an espresso machine under $500, you can find many models boasting premium features which were earlier limited to high-end models.
Breville BES840XL is surely the top pick in this segment, but if budget is a constraint for you, Breville Duo Temp Pro is another in the league to consider. If your budget is less than $200, do check out the best espresso machines under $200.
It is highly recommended to invest in a quality espresso machine to save money in a longer run.
Subscribe to our Newsletter