Best Tackle Backpacks Reviewed
In a
Hurry? Editors choice: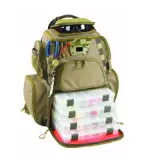 Test Winner: Wild River by CLC Lighted Backpack

When it comes to
fishing
, there are certain accessories which make your experience much better because of how much more efficient you can be while in the
water
. Although you can always buy a new fishing pole, the amount that a new pole will increase your fishing experience is minimal. The same is true when it comes to buying a new
fishing shirt
or a new
cooler
; although they are fun to have, they don't have much intrinsic value in adding to your fishing experience. However, when you purchase a new tackle backpack, you can increase your fishing experience in a very positive way. By having all the items you need stored in a very organized and straight forward manner will ensure you will have anything you need within close reach.
Standout Picks
Criteria Used for Evaluation
Size
The first thing you need to decide is how big of a backpack you want. The size it is from top to bottom will almost always be the same, no matter which backpack you choose. However, what is different is how deep your backpack can be. There are some that are not very deep, which means you will not be able to carry many items at once. If you are only going out for a couple of hours, then this kind of bag might work for you, as you will not need to have a lot of items. However, if you are going out for a longer period of time, you will want to have a deeper backpack. The deeper backpack will ensure you have enough room to store as many different items that you need so you can enjoy your fishing trip without having to worry about running out of any particular items.
Materials
Another item to consider which will determine the longevity of your bag is the type of material the bag is made out. If you are going with lightweight fishing back, you want to ensure the backpack is not made from a flimsy material which could easily tear. Not only do you need to make sure the outside shell of the backpack is made from a strong material, but you also need to make sure that all of the pockets are comprised of the same durable material. You could have a backpack which is very strong on the outside, but if there are holes all along the inside of the bag, then it defeats the purpose of having multiple pockets so you can separate out the necessary items you need for your fishing trip.
In addition, if you go with a larger and heavier backpack, just because it weighs more does not mean the material is more durable. When you look at the material on the backpack, you need to mentally figure out how well it would survive a cut from a knife. If the material looks like Swiss cheese, then that backpack is not the right one for your fishing trip. However, if it looks like it could be trampled on and still survive, then that would be your best bet on finding a durable fishing bag.
Water Resistance
The next element you should consider is the waterproofing ability of the bag. Because you are going to out fishing, more than likely you will be doing this from a boat. Even if you typically fish from ashore, there is still a good chance your backpack will get wet, even if it is incidental. Most items you will be used for fishing purposes are intended to be wet or get wet; however, if you are carrying non-fishing items with you on your trip, you will want to make sure they are safe and secure. If there is any chance of the backpack getting wet, then you need to know if that backpack is fully waterproof or not. And once again, even if the outer shell of the backpack is, you still need to make sure the inner pockets and linings are as well, as there will always be a chance that the backpack will be open while you are fishing, which will allow water to penetrate into the bag. You just need to think thru how often things within the boat or the shore get wet and make a determination on how waterproof of a backpack you will need for your future trips.
Features
The next thing you will need to consider is how many pockets it comes with, along with the size of the pockets. You might have a very deep backpack, but if the pockets on the bag are all very small, it will actually defeat the purpose of having a deep backpack. The same is actually true if you don't have enough pockets; imagine if you had a deeper backpack, but only had one pocket. This would mean that you would have to stuff everything into that one big pocket, which will make your bad cluttered and hard to navigate thru. Ideally, you will want between 6-8 pockets on your backpack, each of varying size, so you can store the variety of items you have for your fishing trip and have the right spot for each item.
Along with the pockets, you will want your backpack to have some area which has loops and hooks on it as well. These loops and hooks will allow you to store some items on the outside of the bag which might not fit well within the pockets, and will also allow you to access them easier for when you need them. These items could be a knife, pliers, extra hooks, etc. How you use them will be completely up to you, but you should have them available for you, as you will figure out the right way to stock your bag to make it work for you, and the more options you have, the better the bag will be at meeting your needs and the longer you should be able to keep the backpack.