Lowrance Elite 5 DSI Review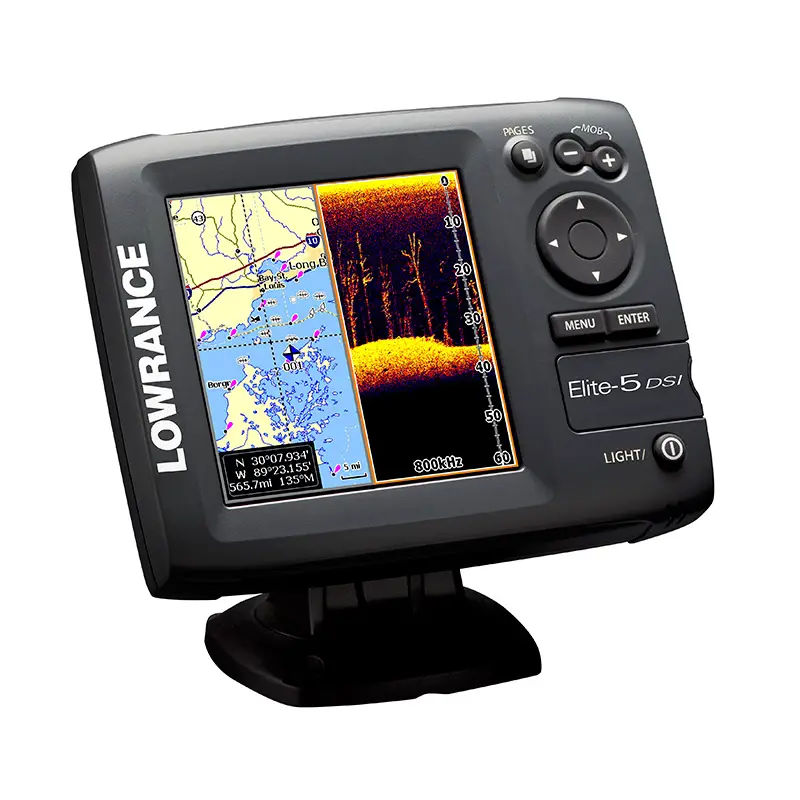 In the marine electronics industry, Lowrance has been a very reputable, quality brand for the last 50 years. With this in mind, it's no wonder why Lowrance fish finder units are so popular among anglers. If you've never used a fish finder unit before, you should consider purchasing the Lowrance Elite 5 DSI DownScan Imaging Chartplotter/FishFinder.
Display
The Lowrance Elite-5 DSI features a decently sized 5-inch display. While most fish finder unit displays are LCDs, the display of the Lowrance Elite-5 DSI is a TFT. One huge advantage of the TFT display is that it's very sharp, eliminating the headaches, nausea, and eyestrain associated with prolonged use of a display.
The resolution of the Lowrance Elite-5 DSI's display is 480 x 480 pixels. Due to this incredibly high resolution, you can be sure that all the images will come out sharp and clear. Best of all, the display supports 256-color. The color display will enable you to distinguish the minuscule details.
If you like fishing at night, you'll be able to use the Lowrance Elite 5 DSI in the darkness or low light with no problem at all. The screen and keypad have adjustable fluorescent backlights.
DownScan Imaging
Lowrance's DownScan is a brand new technology that offers fishermen a different view of everything underneath the boat than the traditional sonar view. The images produced are sharper, crisper, and often more life-like as well.
The difference between DownScan and traditional sonar lies in the shape of the transducer cone. For DownScan Imaging, the transducer cone is narrower than the transducer cone for traditional sonar. The Lowrance Elite-5 DSI utilizes just one tone for DownScan Imaging.
Due to the technology of DownScan Imaging, no interpretation will be needed to identify fish, exposed thermoclines, uncovered bottoms, and structures. You will be able to see the boundary layer between the upper warmer water and the lower cooler water. Baitfish schools and predator fish will be very easy to see. DownScan imaging allows you to distinguish between soft and hard bottoms. Finally, you'll be able to identify all types of structure, such as wrecks, ledges, and vegetation.
Video Demo
Check out this short video demonstration of Lowrance Elite 5 DSI.
https://www.youtube.com/watch?v=Tlv2vaLofTg
Decision Time
The Lowrance brand has a great reputation among anglers, and for good reason.
This fish finder unit does have its disadvantages, but its many merits more than makeup for them.