Aladdin Bento Lunch Container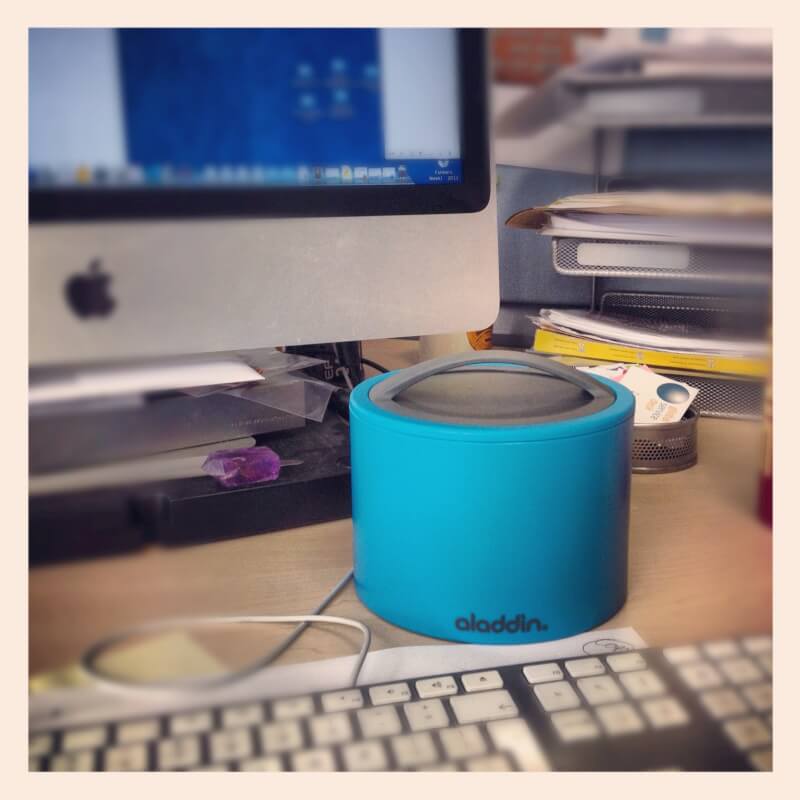 My initial thoughts on unwrapping this was ooh that looks rather cool, but is there really a need for it alongside the plethora of 'tupperware' containers on the market?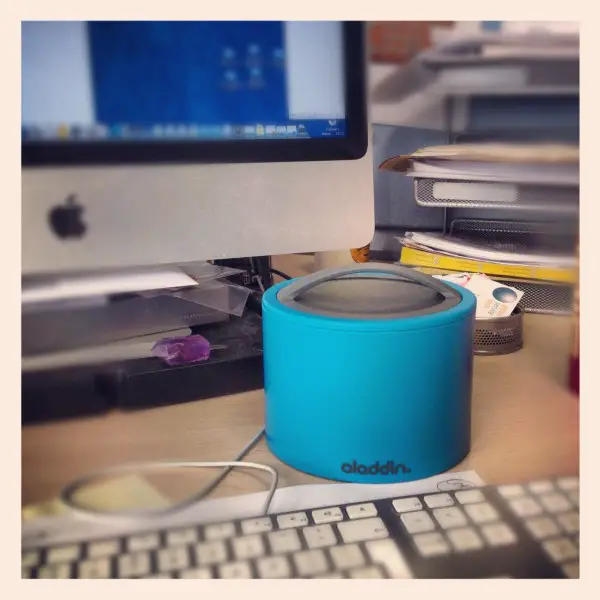 It's basically a chunky round container with a smaller semi-circle insert, finished off with a reassuringly sized handle for carrying. However, as it has been modelled on the Japanese lunch boxes you can also buy additional containers and they will all click atop of each other. For the purposes of this review I was only given the one tub, but I can see the potential usefulness of being able to stack.
Where it differs from its little metal cousins (other than being plastic!) Is that the manufacturers claim that it is equally adept at keeping food hot as well as cool by virtue of some thick foam padding inside its walls.
My first test involved some left over curry & rice, I could find no use for the little insert which comes with the box on this occasion and removed it. It's been sitting on its own in the cupboard ever since, but I'll come back to that.
You can add hot food to the container where it will stay hot for up to 3 hours or use it as a microwaveable container. I opted for the latter in this instance as I was heading into the office where I work.
This is where I shall confess that I work in the media, and this container looked perfectly at home with the de-rigeur 'meeja' uniform of Converse, jeans and trendy spectacles. It also looked equally at home when parked for the morning next to my iMac. The Bento has won 3 design awards itself, so it felt very much at home in the world of Apple gadgets.
I got some admiring glances and curious comments when en-route the microwave all of which served to make me feel like a cool trend-setter, but I still had the niggling doubt that this was all a bit pointless, a case of style over substance maybe?
It did a perfectly good job of microwaving and the chunky lid and handle were great insulation when carrying the hot contents back to my desk. (You must remove the lid when microwaving so need to take care not to overheat and shoot your contents all over the inside of the microwave… this does not make you popular with your colleagues).
However, the container is bearing the scars from this first outing as the contents stained the inside of the tub. These stains have not tainted future foodstuffs but it is worth noting that the oily orange stuff which oozes out of curry will stain it like a good'un.
Second test was some hot soup which I microwaved in its own tub in the morning before decanting into the Bento container. I must confess that wasn't expecting great things, it's foam-padded after all and not a vacuum flask, so I was somewhat surprised to unscrew the lid to find the contents at a decent temperature at lunchtime. I was also impressed that the seal on the lid survived the soup's transportation to work when chucked into my motorbike top box
The next test was a tuna salad. I looked at the little insert and pondered briefly whether I should pop my olives in here to keep their oilyness away from my leaves but I feel its too big and deep and means you can't get enough other content in the main container.
My salad was room temperature by lunchtime which was fine and edible, but not the cool I was expecting. A closer read of the care instructions reveals I should have cooled the container with cold water with the lid on for 5 minutes before filling with my food. I must confess that haven't actually tried this - I know in the interests of a rounded review I should, but a poke around the interwebnet at other
reviews tells me that other reviewers have been satisfied that it works efficiently. The reason I haven't tried it is that all I can think is…what a massively huge big load of phaff!
A quick straw poll of my colleagues revealed that my even making my lunch each morning is way more than many of my colleagues can even comprehend doing. It seems a grunt & coffee at the station is enough of a stretch.
There are other lunchboxes around designed to keep your food cool and I feel they are much simpler and efficient for my early morning kitchen efforts. If you only want one box to fulfill all your hot & cold needs and don't mind the taking the time then this will certainly do the job.
The design does feel a bit ostentatious but I do like it, even though sometimes I do feel a bit embarrassed but its obviousness. It is staying in my cupboard but will only be used for hot food, and if I ever find a use for the insert
I'll let you know!
SUMMARY: A stylised, insulated lunch box which can be used to keep food hot or cold for a couple of hours. It certainly works as it should, but is it justifiably more expensive than the alternative?

Subscribe to our Newsletter