Waterproof Sprays For Clothing, Shoes and Gear
In a Hurry? Editors choice:
Test Winner: Kiwi

These days a lot of camping and
backpacking gear
already comes treated with a waterproofing material or compound; however, there is still some gear that you'll pick up that is not treated.
On the other hand, some waterproof treatments eventually lose their effectiveness, leaving your gear in need of another treatment to effectively repel what Mother Nature throws at you.
If you're going to apply a waterproof spray to your tents, shoes or other equipment, it makes sense to only go for the best option you can get your hands on. So for that very reason, we researched the best of the best to compare them and see which one really wins above the rest. Check out what we came up with!
Standout Picks
Criteria Used for Evaluation
Use
As their name indicates, the main purpose of a waterproofing spray is to provide the surface it is applied to with a coating that will repel water.
As such, waterproofing sprays that can't adequately do this are basically rendered useless. However, some of the best hydrophobic sprays will do more than just prove water protection. Some options come with the additional capability to prevent stains, harmful mold, and color damage from UV rays.
Versatility
Most sprays will properly work on most fabrics and objects.
But, there are some that are better suited for outdoor gear (such as camping tents, boat covers, outdoor furniture, cushions, etc.), while others are meant for waterproof clothing (such as Gore-Tex, softshell, eVent, down, etc.).
Side Effects
Will the scent remain after it dries?
Most options on this list have a potent smell that will evaporate once the item is dry.
Capacity
How much of it and how many items do you plan on using the waterproofing spray for?
This will determine the size that you need. From seller to seller, the amount and options provided will vary. It really just depends on how many times you want to use the spray and how potent it is.
10 Best Waterproof Sprays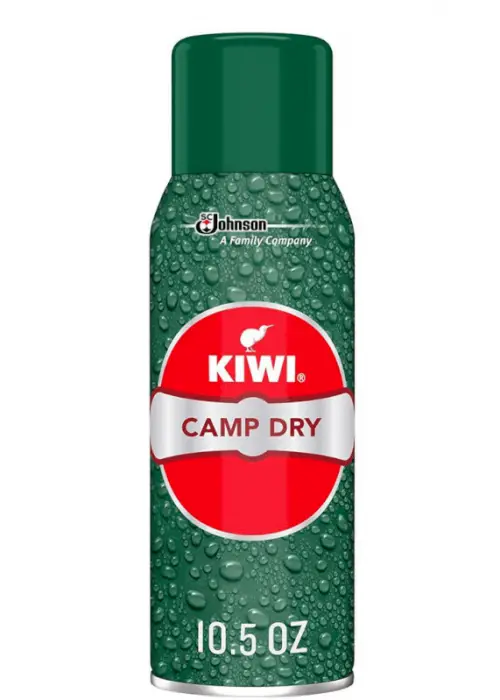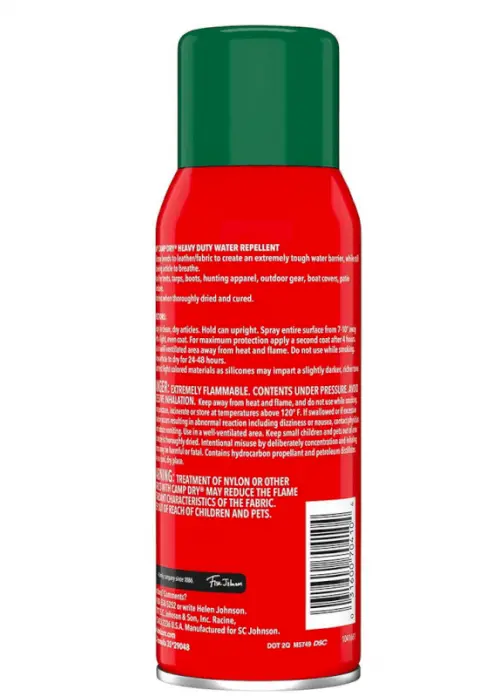 This option provides a waterproof barrier to keep the applied surface dry. Whether sprayed on a previously waterproof surface or not, the result will be the same.
Read more
It is used to add water repellency to a canvas, leather, outdoor items, and breathable materials. In addition to this, it also works perfectly for tarps, hiking shoes, tents, hunting apparel, boat covers, and patio furniture.
No need to worry about the repelling water altering the breathability in any way as this is specifically designed to allow materials to breathe.
Yes, the smell of cheap paint can be a major issue and some have claimed that it never truly goes away. But, it still remains an ideal choice thanks to its wide range of uses and excellent water-repellency capabilities.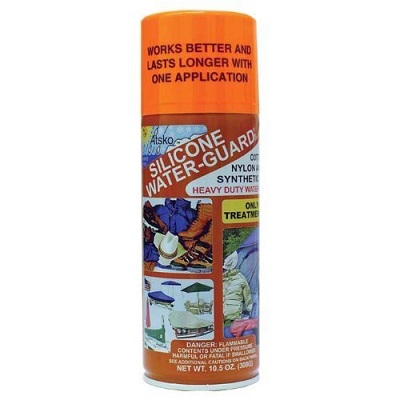 Not only does the Atsko Silicone waterproofing spray manage to apply a maximum amount of repellency to water, but it also does an adequate job of repelling stains. In the matter of approximately 72 hours after the initial applicant, it will become fully cured and odorless. However, if you happen to over-apply this silicone to a specific area, a yellow color may appear.
Read more
Using a specific formula targeted for water repellency, this silicone manages to do exactly what it was designed to do, repel water. Past this, after you apply it, it will do a superb job of preventing stains.
There are many surfaces that this waterproof spray for fabric can be applied to. For campers, you can waterproof your tents, your sleeping bags, and other outdoor gear. Hikers can waterproof their ultralight backpacks or external frame backpacks. When needed, you can also apply it to hiking boots and suede.
The arrow treatment applied to this silicone prevents absorbed water from altering the weight in any way. Thus, it will still allow the material to breathe.
While not without its flaws, its excellent ability to repel water and an additional bonus of preventing stains should be enough to sell you.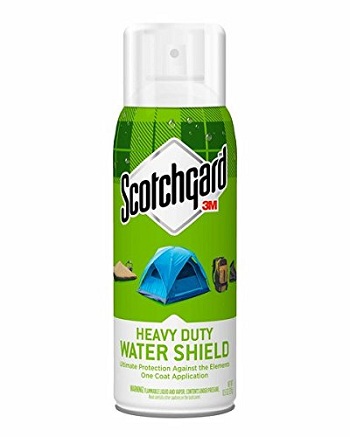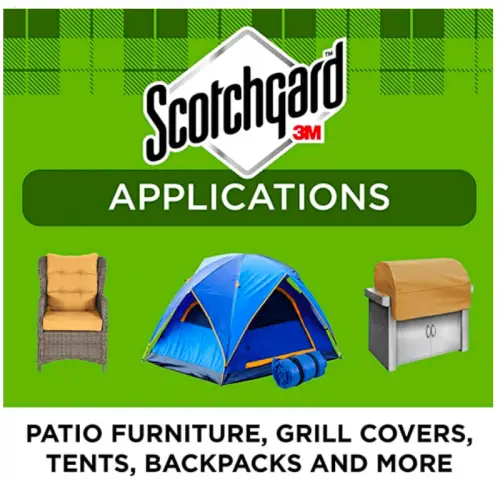 If not for one serious drawback, this could have easily taken the top spot on this list. This gives you an idea of how good the Outdoor Water Shield from Scotchgard. It creates durable protection from the elements with a single application. Any surfaces applied to will repel water and keep them dry.
Read more
It has a wide range of uses from clothing fabrics such as cotton, nylon, polyester, leather, suede, and polypropylene to outdoor objects such as patio furniture, boat covers, backpacks such as osprey backpacks, or you can even use it on waterproof backpacks to be sure you have extra protection.
Although it does have a strong chemical smell when initially spraying, making it ideal to apply outdoors or in highly-ventilated areas, it will wear off when the solution completely dries. But, it has been known to leave a stain or two if over-applied. Also, if over-applied, it can leave streaks.
If you can manage to not over-apply this chemical, then you will be good to go. Unfortunately, sometimes accidents happen and this necessity to be as perfect as possible may steer some of you away.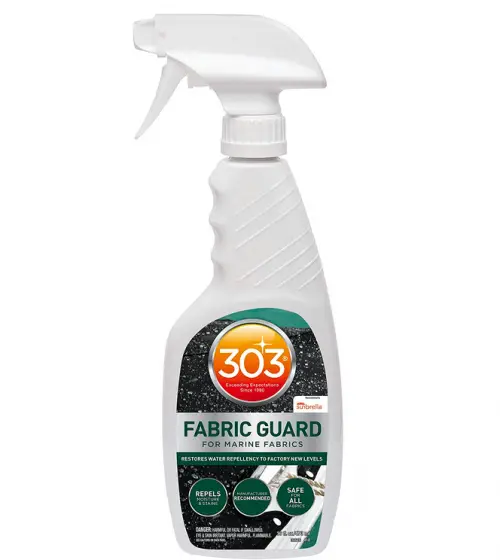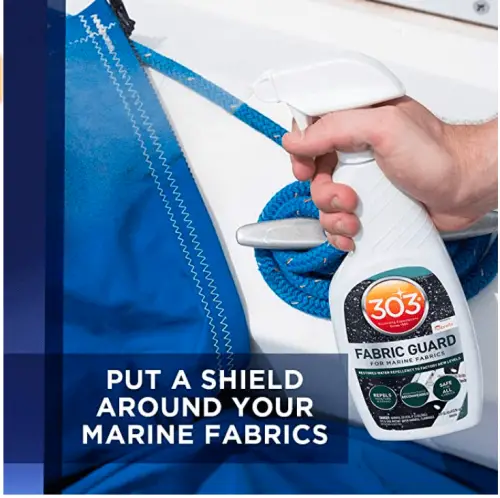 Marine goers and boating enthusiasts will find great pleasure in the 303 Fabric Guard. While it has other uses, it is perfect for waterproofing specific elements made for the ocean. This 303 Fabric Guard will restore the stain and water repellency to factory levels. It does so by adding a powerful protective unscented coating.
Read more
It also increases oil-based stain resistance. This is a safe protectant for all fabric including natural and synthetic fibers. Some other uses include canvas, life jackets, umbrellas, cushions, and upholstery.
In no way, shape or form does this alter the color, feel, or flammability of the fabric. It is only designed to protect your surface from water and add resistance to stains.
Just as the liquid does not alter the fabric's color or feel, it does not affect the breathability. After it is applied, you will not notice the difference in weight.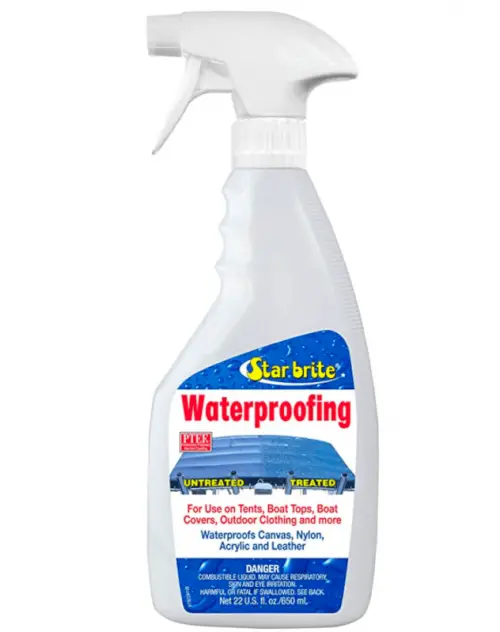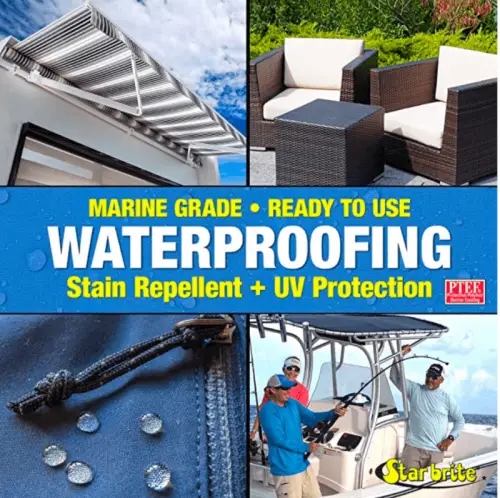 A spectacular formula from Star Brite manages to restore the water repellency of fabrics that have lost it. However, it also adds an additional barrier of protection against moisture and prevents damage from UV rays. Although you can use it for outdoor patio furniture, tents, boat covers, sail covers, and Bimini tops, it can also be used on clothing and brand-new fabrics.
Read more
The chemical itself does have a potent smell. As such, it may be ideal to proof it outdoors or in a highly-ventilated area. But, when the coating dries, it loses the strong odor. Outside of this, the spray will not change the color or feel of the fabric.
Not only can you go with a 22-ounce version for a heck of a deal, but you can also jump to a 128-ounce version. If you plan on using it for extended uses, this is a great option.
As great as this waterproofing spray is, it still has some cons. If you can look past the low-quality valve and lack of long-lasting effect on clothing, everything else works pretty great.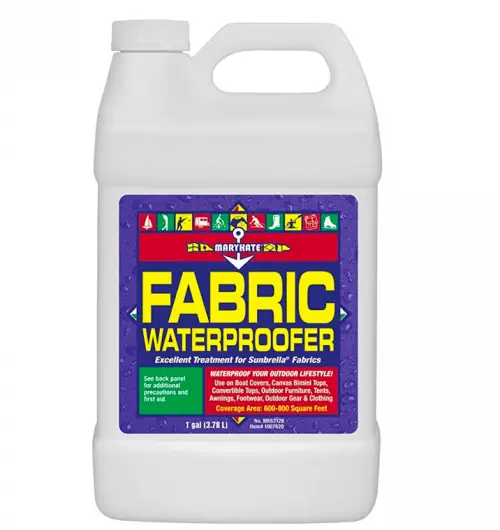 In times where you know you will need more than just 10-15 ounces of solution, the one-gallon amount from CRC Marykate water repellent spray comes in handy. While it is not just the size that is impressive, still, having 128 ounces as compared to 10.5 is a huge bonus.
Read more
This premium grade heavy-duty water repellent solution not only restores the water repellency of fabrics, but it also is designed to assist in preventing rot and mildew from forming on any applied surfaces.
You can use this solution to waterproof all kinds of clothing including cotton and synthetic fabrics. You can also apply it to marine-grade fabrics, boat covers, Bimini tops, tents, and footwear. This solution should not alter the breathability of applied garments in any way.
There really is not too much to gripe about this waterproofing spray for clothes, outside of it not working properly to seem seals. The one-gallon size option, on the other hand, is either going to be a huge bonus or an unnecessary amount.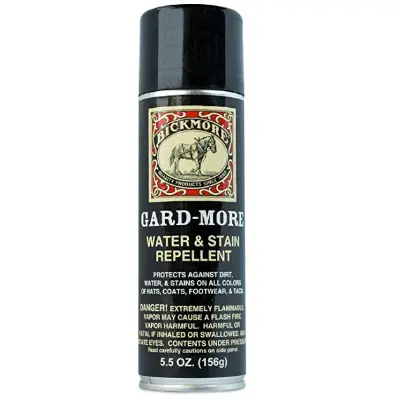 Bickmore Gard-More can be used on almost any material that you can imagine. After this waterproofer spray is applied and dry, any water splashes just seem to bead right off of the item. Bickmore's Gard-More aerosol protects your items from water, dirt, and stains. It is very simple to use and the aerosol spray makes it very easy to get an even coat.
Read more
Aside from just fabric, this spray also works well on colorfast leather, nubuck, felt, and suede. It emits a light spray that disperses evenly and dries quickly.
This silicone-free aerosol hasn't shown or listed any side effects. Additionally, this waterproofing fabric spray does not affect the natural breathability of items.
The directions indicate that you only need one coating of this fabric waterproof spray, although some reviewers like to add an extra layer as a precaution. It isn't quite clear when or how often you should reapply, but the general consensus tells us that it's about every three months.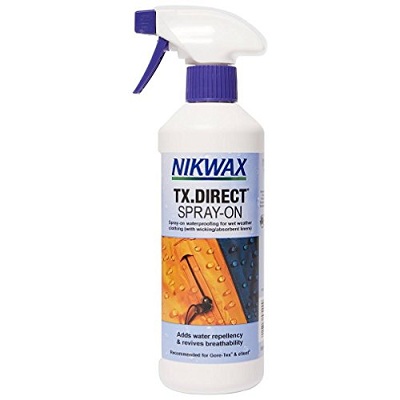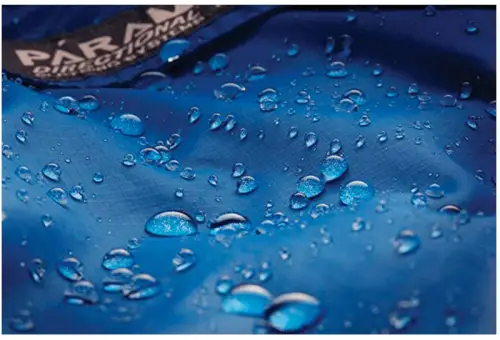 Yet another terrific waterproofing spray for garments is the TX. Although you must live with the potent smell at first, once it has dried on your clothing, the scent will quickly dissipate. Nikwax uses their patented, award-winning formula to restore the water-repellency of any synthetic outerwear that you apply it to.
Read more
This works best on all waterproof breathable microfibers, coatings, and laminates. For example, this could include Ultrex, eVent, Triple Point, Gore-Tex, and Entrant.
You will not notice any negative alterations to the fabric, but some have claimed that it leaves the fabric softer than before. Besides this, you may notice a pungent smell when you initially spray your garment. It could be best described as a vinegar scent, but it will subside as soon as the spray dries.
As the previous sprays have managed to do, this will provide you with a brand-new waterproof coating without altering the breathability in any way.
Keep in mind that the spray gun applies heavily to the garment, so pay attention to this detail before usage.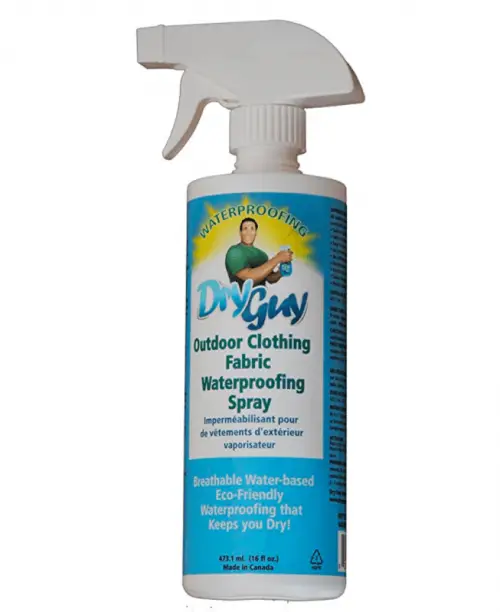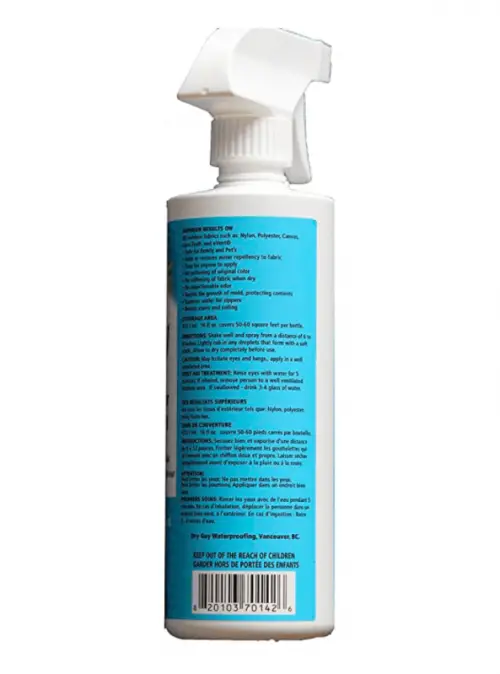 The Dry Guy spray offers protection against water and snow. However, it also provides protection from unsightly stains and harmful mold. On camping trips, this is a perfect way to waterproof your tent walls, grounds sheets, and zippers. In addition to this, it will waterproof your gear and clothing such as Gore-Tex pants, eVent, nylon, polyester, and canvas.
Read more
There is no need to concern yourself with an unpleasant odor or any alteration of the original item color. For modern membrane textiles, this waterproofing spray will maintain the breathability of the original.
The lone size option available is a 16-ounce bottle. For those keeping score at home, Dry Guy claims that this will cover around 50-60 square feet of surface per bottle.
If you really want to be picky, the surface area for one bottle is not terrific. However, this truly is a tremendously effective spray.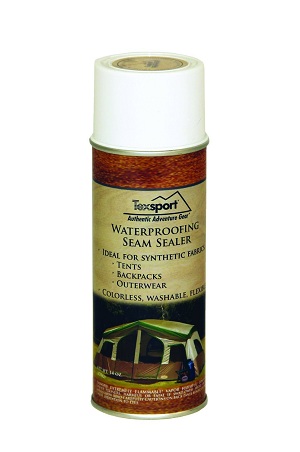 While it claims to be colorless and others have stated different, this waterproofing spray is great as a seam sealer and protectant. Not only does it do a superb job of repelling water, but it also has a natural ability to repel dirt and reduce the fading that is caused by the sun. Consider this an all-in-one package deal with a simple spray.
Read more
This waterproof fabric spray guarantees effectiveness on all synthetic fabrics; it also does a great job with outdoor gear such as tents, sleeping bags, and backpacks.
Be aware that when it dries, you will be able to notice the coating. While this is not too much of an issue, you should not have to worry about this altering the breathability of your garments.
This spray does an awesome job when it comes to repelling water, dirt, and reduce color fading caused by the sun. It's simple to use, effective, and affordable.

Subscribe to our Newsletter