The Best Hiking Shoes Tested & Reviewed
In a
Hurry? Editors choice: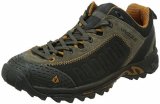 Test Winner: Vasque Juxt Multi-Sport

Every person that has been hiking before knows that without a great pair of
hiking boots
, you are not going to get very far. Hiking boots might be the most important piece of
hiking gear
that you bring with you when you start that journey uphill on your next adventure as it protects your feet and they are your main mode of transportation to get you up that mountain.
However, not every situation calls for the often heavier, clunkier, and bigger version of
trail footwear.
Rather, instead of reaching for a pair of hiking boots for a nice spring or summer trek, give hiking shoes a chance. As an active outdoors enthusiast, and with ever-changing weather and
adventure landscapes
, it can never hurt to have a few diverse options on the shoe rack.
Standout Picks
Criteria Used for Evaluation
Comfort
It doesn't take much convincing to make you understand that the comfort of your hiking shoes is one of the most important factors to consider. For this, it is essential to look into the materials and fit of the shoe to determine its flexibility, breathability, and overall comfort.
The majority of hiking shoes feature mesh made from nylon. This material offers more breathability but is less weather and water-resistant. Depending on the climate that you will be in, this could be great or terrible. If you will be hiking in a colder environment, a shoe such as the Renegade II may be a better choice for you. Its thick construction makes it very durable, but unfortunately, not very breathable. This particular shoe is made from 100% leather.
Next, you will want to investigate the cushioning of the shoe. Some manufacturers refer to this as "shock absorption," but it is the same. Even if every review raves about walking on clouds, this is specific to each person. Before committing to a shoe for a 2-week trek, it is best to break them in around the house and see how the cushioning works for you.
The lacing of the shoes also plays a roll in the overall comfort of the shoe. A few on our list feature traditional thick laces that you can adjust, while others feature more of a bungee system that allows for more flexibility.
Durability
While well worth it, hiking shoes can be an investment. For this reason, you want to make sure that they are durable. The durability is derived from the construction, materials, and frequency of use. Hiking shoes with leather uppers tend to last longer but don't necessarily comply with all weather conditions. Shoes with nylon mesh uppers aren't quite as durable but offer breathability and wetness protection. On our list, we mostly included hiking shoes from well-known companies that provide reliable products, and some even provide warranties. If you are an avid hiker, having a couple of different pairs in your wardrobe will help to keep you comfortable and hiking for many years to come.
Overall if you are looking to invest in a durable pair of hiking shoes than you have to consider the material that they are made from, and also as you will be hiking off the road and in rough terrain if they can take a beating and still last. The best way to know if the shoes will hold up would be to check the customer reviews as this is your inside look to seeing how the hiking shoes you have your eyes on held up for other customers that took them on hiking trips. This way you are not taking a risk and ending up with a pair of shoes that will not make the journey and instead end up with a pair that will not only make the journey but also last for many adventures to come.
Weight
Another important factor to look into is the weight of the shoes. Most likely, you will already be loaded up with quite a few pounds on your back, and any extra weight is just a hassle. Our list features options from under one pound to over two pounds. The leather versions will be heavier but feel sturdier and last longer. On the other hand, if you are looking for a dependable pair of lightweight shoes, the Salomon X UL may be a great option for you.
If you are hiking to a campsite (or around a foreign country) and then to short distances, you may end up attaching your shoes to your backpack. Knowing the weight of your shoes will help you decide what to pack and if the shoes will be a good option for you.
You also want to make sure that you have lightweight hiking shoes as when hiking off-road the terrain is uneven and there are unforeseen obstacles that could get in your way and you need to be able to react quickly to avoid injury. Always check the weight of the shoes and if you have the option to go into a store and try them on to see if they are actually lightweight or heavier than that would be your best option in ensuring you get a quality lightweight hiking shoe.
Subscribe to our Newsletter