Best Hiking Gear
In a
Hurry? Editors choice: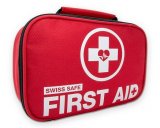 Test Winner: Swiss Safe First Aid Kit 120

Hiking
is one of the best outdoor activities you can do in any type of terrain. Making sure you have the proper gear is very important to keep you safe and prepared for any type of situation while adventuring. There are many types of gear on this list including hiking poles, hiking shoes, GPS watches, first aid kits, backpack, compasses as well as hiking clothing. There are so many options for you to go through but make sure you know what type of hiking you will be doing before you purchase your next set of hiking gear. If you will be hiking in the summertime you will need to look for more lightweight gear options such as waterproof shoes or even lightweight
tents
to carry. If you are planning on hiking in the winter months or colder temperatures make sure you have merino socks to insulated hiking boots with you.
Standout Picks
Criteria Used for Evaluation
Durability
Let's face it; when you're out in the wilderness, the last thing you need is your knife breaking or your canteen springing a leak. As such, the ability of your equipment to last through many different trips is a key factor to consider. So we took a careful look at how long, and under what conditions most of the things on this list would last. Thankfully, most of the items on this list are able to go with you through the long haul. It is important for all of the hiking gear to have long longevity to make sure the products are safe and durable.
Safety Hazards
Despite what many people think, hiking can be a dangerous undertaking. Injuries will happen. Knowing that information, it pays to look for the hiking essentials that not only minimize the risk of you being hurt. The items presented in this list not only help to keep you oriented correctly, warm, dry and comfortable, and also provide a way to deal with emergencies as they arrive. It is very important to keep yourself safe when hiking and going into any crisis or dangerous situation.
Comfort
When it comes to hiking, personal preference can often outweigh what is generally considered a good thing. While we may consider the Teton Sport Scout 3400 to be the best overall backpack for most people, an individual may not agree with the presence of an internal frame. However, there are a few things that we feel should be easily addressed prior to setting out on your hiking adventure. When a piece of clothing is right next to your skin, and under a number of layers, it needs to be comfortable. Just ask any of us with highly sensitive skin. A lot of the hiking gear is made with material that is not only allergen neutral, but it is also extremely lightweight and easily can wick moisture away from the skin.
Adjustability
When you're enjoying the woods, the last thing you want is to be constantly adjusting and readjusting your backpack or hiking gear. You want to be able to throw all your stuff inside the pack, throw the backpack on, and be ready to go without hesitation. Thankfully, the shoulder and hip straps are fully adjustable, and the chest or sternum strap is very prepared as well. Even with the overall rigidity of the internal frame, this backpack is fairly easy to adjust for comfort and overall control. Also, the length of the project can be adjusted to allow for different torso lengths, so kids, as well as adults, can potentially use this backpack.
Subscribe to our Newsletter