Best Hiking Pants Reviewed
In a Hurry? Editors choice: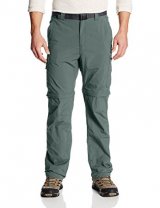 Test Winner: Columbia Silver Ridge Convertible Pants

If you're going to be hiking off the beaten path, whether for a few hours or a few days, doesn't it make sense for the clothing you wear to be both comfortable and practical? Our answer is yes, yes it does.

Sure you could throw on a stiff pair of jeans, or even a pair of sweatpants that provide little to no protection from thorns, burrs, and whatever else you may walk through. Or, you could grab a pair of hiking pants that are durable, dry quickly, and that can even be turned into shorts without stopping to change wardrobe. Take a look at out favorites!
Standout Picks
Criteria Used for Evaluation
Comfort
Many hiking pants are marketed for travelers who will be mostly sticking to city footpaths and the occasional overlooking trail. This means that they can get great reviews as hiking pants even though they actually have fairly limited flexibility. If you plan to climb steep trails and do the odd bit of bouldering on your way, let alone climb trees or anything more adventurous, it's crucial to find flexible, stretchy hiking pants and the best hiking boots that won't cut into your thighs or limit your range of motion. Look for pants with a gusseted crotch, slightly baggy or boxy-looking knees, and don't be afraid to do a bit of tai chi in the change room.
Overall when looking to purchase any clothing, the main thing you want is something comfortable that is stylish. You expect the same thing when buying hiking pants. Most of these hiking pants on our guide are built with comfort in mind, as the manufacturers understand that when hiking you will be in the wilderness for a duration of time and want to be as comfortable as possible as the last thing you want is to be on a three hour hike and start to feel uncomfortable in your pants with not alternative. The best way to ensure that the pants you have your eye on will be comfortable without having the option to try them on is to check the customer reviews.
By checking the customer reviews you will see how these hiking pants felt for other customers after using them on a hike. That way you ensure you are getting a great pair of hiking pants that will be comfortable.
Breathability
All those mesh sections and fully open panels that you can unzip to expose your skin may seem silly on the rack, but they are precious when you're sweating through a forest trail. These features allow you to adjust your breathability and you will be thankful you have this option while you're out in the wilderness on a warm summer day.
Full-length breathable rip-stop fabric can protect you from twigs and thorns whilst keeping you breezy cool; mesh is less protective, but it is still better protection against flies, ticks, mosquitos, and sun. Overall the breathability of your hiking pants is something you need to consider as if you are hiking in a pair of non-breathable pants you are going to get uncomfortable which can cause you to not think straight and bring your self in harm's way.
Adjustability
Pants that can zip-off completely are attractive to ultra-lightweight travelers who want a pair of pants and shorts without needing to carry one or both. These are a better choice for people who usually prefer shorts and occasionally want to wear pants than the other way around, since the zippers however well-made can be an unnecessary discomfort and weight in themselves. If you usually prefer full-length pants and only occasionally want to wear shorts, just pack a pair of shorts as well. They're not that heavy.
Another area you want a good sense of adjustability is around the waist as you do not want to be hiking and have a tight feeling around your waist. Overall adjustability and staying comfortable is your main priority, so make sure to check the customer reviews to ensure that these pants were comfortable for other customers who decided to go with them.
6 Of Our Favorite Hiking Pants
Super easy to roll up!
These stretchy hiking pants are slim but flexible, with a streamlined belt built into the waist that lets you micro-adjust your size, ensuring the perfect fit every time you wear them. They are stylish enough to wear into town and comfortable enough to wear on the airplane, but neither of these factors alone is enough to make them one of our top picks. Luckily, their nylon-spandex blend offered a great compromise of water-resistance and breathability and resisted abrasions and mud-stains too.
Read more
Functionality
The built-in cinch belt is flat and slim-line enough that you can wear your own belt as well- perfect if you want to carry extra gear on your belt. The bottoms can roll up quite neatly and stay there, thanks to a snap on the side. The front and back pockets are placed nicely and big enough to use comfortably, unlike many pockets you see on men's hiking pants (as well as women's, which have notoriously useless pockets).
Comfort and Weight
The PrAna Stretch Zion are as comfortable as they look. Their fit is roomy enough that they'll accommodate a set of long underwear/thermals underneath, but slim enough that a waterproof shell (like the Marmot PreCip below) will fit over the top without any issues. These are not the lightest pants reviewed here, but at 13 ounces they're still easily less than a pound making them a great choice if weight is important to you.
2

. Columbia Silver Ridge Convertible Pants
Our Favorite Convertible Pants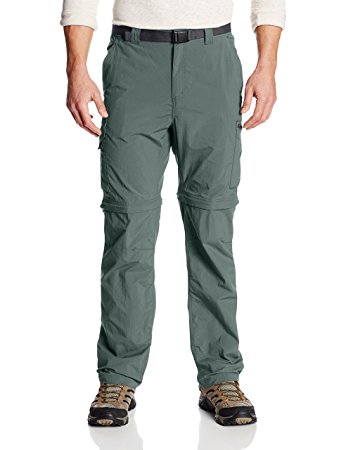 They are not designed with very wet conditions in mind and so, no need for DWR weatherproofing. In terms of functionality, these are designed specifically for hiking in certain conditions, for example, in warm, mild-moderate weather the pants perform well but in seriously cold weather or heavy wet conditions, they will not perform so well because they were not made for such purposes.
Read more
Functionality
Breathability is very good, the very light material helps you stay cool, the waist system is interesting and comes as integrated and works in conjunction with a web belt/the buckle is plastic and features as a standard-sized belt.
Comfort and Weight
Due to the thin lightweight material used in the making of the pants, it is not recommended to use them for any outdoor activities where the pants are subjected to high abrasion from activities such as rock climbing. These are very light to wear, breath-ability is nice and the factor for performance is good while hiking in mild, warm or reasonably hot environments. If you stay true to the purpose of the design you will get good performance, comfort, and a level of protection

Trusted Favorite of many backpackers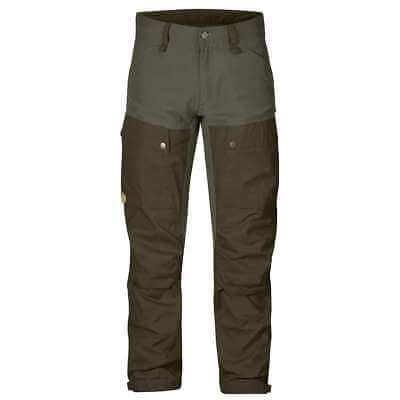 Fjällräven is Swedish for 'arctic fox, and these hiking pants are designed to be just as good at adventuring through the forests and mountainsides of the northern USA, Europe or any other rugged, demanding climate. The Keb pants, like the Vidda Pro before them, feature reinforced panels that contain 35% cotton- something you almost never see in hiking pants anymore. This G-1000 technical fabric does a terrific job of deflecting scree, mud, snow, fierce thorns and all manner of hazards.
Read more
Functionality
Often, hiking pants fall into one of two categories: waterproof, terrain resistant, insulated and breathable, covered in technical zips (and alarmingly expensive); or basically a pair of everyday slacks that dry a little faster and weigh slightly less.
In the Fjällräven Keb, we think we've found the perfect balance. The upper, front of the pants and the panels behind each knee are made from a polyester/elastin blend. These sections are stretchy and durable, but soft and breathable too. The rest of the Keb: the front of your thighs and knees; the whole backside; and the bases of the trousers (where you get the most abrasion and tangling and hill-sliding); are all made of a 65% polyester/35% cotton blend Fjällräven call G-1000.
Comfort and Weight
If you're worried that these panels sound heavy and impermeable, fear not: we were quite impressed by the ventilation zips that run down the side of each. This makes pants that are the best choice for hiking pants for cold, wet weather and rough terrain perfectly good choices for hot, muggy days as well.
The ankle cuffs of the pants are designed to be worn in about four different ways and sit really well in each position thanks to the snap fasteners. This means that no matter what your body shape (height/waistline), what shoes you're wearing, or whether it's hot and sunny or blowing freezing rain on you, you can close the ends of the pants up in a way that's satisfactory.
Great choice for free mobility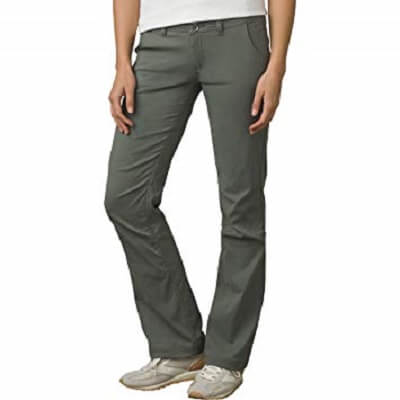 Sometimes you want something that's both functional and stylish that easily transition from a day out hiking, to a night on the town. Enter the Prana Women's Halle pants. The nylon fabric is durable and agile enough for even the roughest of trails while sporting a feminine fit.
Read more
Functionality
Made of nylon and spandex and featuring articulated knees, these pants are mobile and allow for full freedom of movement. The fabric itself is quite tear-resistant, so they're definitely built to last. They aren't terribly water resistant despite having a DWR coating, so these may not be ideal for anything more than light rains. A zippered pocket on the thigh is made to easily fit a phone or wallet. The legs aren't convertible into shorts, but they can be rolled up to a more Capri-style length.
Comfort and Weight
At twelve ounces, these aren't the lightest of pants, but that makes them work well in colder conditions as well. The fabric is soft and flexible, allowing for a full range of motion no matter what you're doing. Internal drawstring lets you adjust the waistband without the need for a belt. The fit is stylish and feminine with a mid-rise waist and runs true to size.

5

. Outdoor Research Ferrosi
Great For Warm Climates where Shorts are a no-go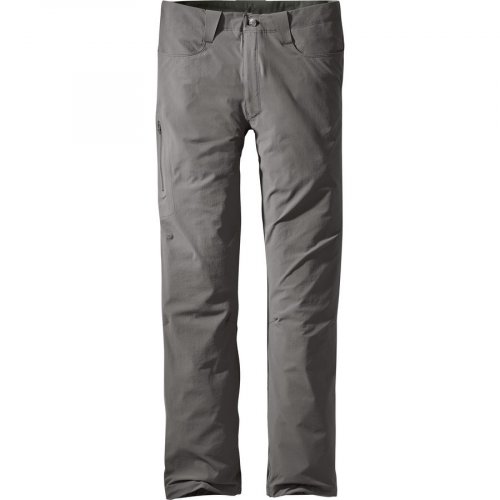 A really lightweight pair of hiking pants, whatever your outdoor hiking environment, these will work, they feel comfortable, do not restrict mobility and offer a degree of a stretch factor for flexibility during mobility. These hiking pants appear as minimalist which means they are easy to stow away yet they offer great form FIT, these feel snug and functional with fast drying out capability, you do get a set of pockets that are standard to small.
 
Read more
Functionality
Way up in the top league for stretch capability, you get great mobility without restriction, these pants stretch when needed so they are comfortable with your body motions. On cool days you feel comfortable and on hot warm days the comfort level is consistent, due to the thin material you would be wise not to use these hiking pants in extremely cold conditions, they were not designed for extreme weather.
Comfort and Weight
Built from light material and DWR coated for weather protection, the pants are comfortable for hiking and you won't feel a sensation of heavy material weight. For durability, the pants are well constructed and you won't experience seam failure, if you use these pants true to purpose which is hiking, your going to get longevity, good performance, and sound durability but if you take these pants into activities such as climbing rock faces then you need to accept that durability will be challenged.

6

. Helikon-Tex Outdoor Tactical Pants
A great brand from Europe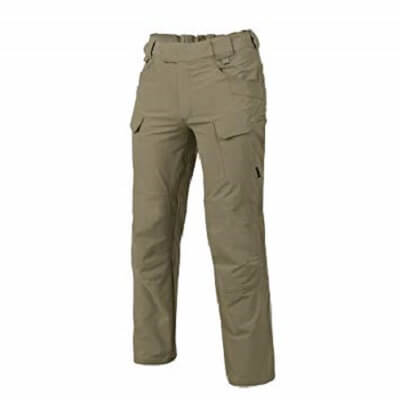 Originally dealing in tactical apparel, Helikon-Tex was founded and is headquartered in Poland. The company seems to know a thing or two about making solid gear, and these Pants are no exception. Sporting plenty of features and durability, these hiking pants are sure to last you a while.
Read more
Functionality:
Made of nylon and spandex, these hiking pants have a DuPont Teflon coating to keep the moisture out and the warmth in. Ten (that's right, ten) pockets ensure you'll have enough room for whatever you bring with you.
Comfort and Weight:
The fly is secured at the waist with velcro closure, allowing for the same comfort and security as a button closure, without the chance of it digging into you when bending over. These pants have fully articulated knees, and internal compartments for knee pads in the event you need them. They are on the heavier side, and thus may not be well suited for warmer weather. A gusseted crotch allows for better freedom of movement while making them more durable by reducing the amount of stress put on the seams.

Subscribe to our Newsletter