Best Hiking Pants Reviewed
In a
Hurry? Editors choice: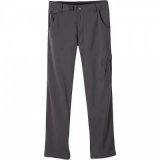 Test Winner: PrAna Stretch Zion

If you're going to be hiking off the beaten path, whether for a few hours or a few days, doesn't it make sense for the clothing you wear to be both comfortable and practical? Our answer is yes, yes it does.

Sure you could throw on a stiff pair of jeans, or even a pair of sweatpants that provide little to no protection from thorns, burrs, and whatever else you may walk through. Or, you could grab a pair of hiking pants that are durable, dry quickly, and that can even be turned into shorts without stopping to change wardrobe. Take a look at out favorites!
Standout Picks
Criteria Used for Evaluation
Comfort
Many hiking pants are marketed for travelers who will be mostly sticking to city footpaths and the occasional overlooking trail. This means that they can get great reviews as hiking pants even though they actually have fairly limited flexibility. If you plan to climb steep trails and do the odd bit of bouldering on your way, let alone climb trees or anything more adventurous, it's crucial to find flexible, stretchy hiking pants and the best hiking boots that won't cut into your thighs or limit your range of motion. Look for pants with a gusseted crotch, slightly baggy or boxy-looking knees, and don't be afraid to do a bit of tai chi in the change room.
Overall when looking to purchase any clothing, the main thing you want is something comfortable that is stylish. You expect the same thing when buying hiking pants. Most of these hiking pants on our guide are built with comfort in mind, as the manufacturers understand that when hiking you will be in the wilderness for a duration of time and want to be as comfortable as possible as the last thing you want is to be on a three hour hike and start to feel uncomfortable in your pants with not alternative. The best way to ensure that the pants you have your eye on will be comfortable without having the option to try them on is to check the customer reviews.
By checking the customer reviews you will see how these hiking pants felt for other customers after using them on a hike. That way you ensure you are getting a great pair of hiking pants that will be comfortable.
Breathability
All those mesh sections and fully open panels that you can unzip to expose your skin may seem silly on the rack, but they are precious when you're sweating through a forest trail. These features allow you to adjust your breathability and you will be thankful you have this option while you're out in the wilderness on a warm summer day.
Full-length breathable rip-stop fabric can protect you from twigs and thorns whilst keeping you breezy cool; mesh is less protective, but it is still better protection against flies, ticks, mosquitos, and sun. Overall the breathability of your hiking pants is something you need to consider as if you are hiking in a pair of non-breathable pants you are going to get uncomfortable which can cause you to not think straight and bring your self in harm's way.
Adjustability
Pants that can zip-off completely are attractive to ultra-lightweight travelers who want a pair of pants and shorts without needing to carry one or both. These are a better choice for people who usually prefer shorts and occasionally want to wear pants than the other way around, since the zippers however well-made can be an unnecessary discomfort and weight in themselves. If you usually prefer full-length pants and only occasionally want to wear shorts, just pack a pair of shorts as well. They're not that heavy.
Another area you want a good sense of adjustability is around the waist as you do not want to be hiking and have a tight feeling around your waist. Overall adjustability and staying comfortable is your main priority, so make sure to check the customer reviews to ensure that these pants were comfortable for other customers who decided to go with them.
6 Of Our Favorite Hiking Pants
Subscribe to our Newsletter