Best Running Belts
In a
Hurry? Editors choice: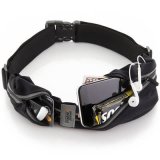 Test Winner: Sport2People

One of the oldest and most attainable sports, running has undoubtedly changed over the years. Of course, the same necessary steps are involved but, somehow, the geniuses of this world have found a way to make it more convenient.
Have you ever gone out on the run and
desperately needed water
but didn't have your bottle on you and didn't have any cash?! There's also the inconvenience of running without your cell phone. For one, you have no music, and secondly what if an emergency arises and you're nowhere to be found to save the day?
Luckily, running belts can solve all of these issues and more. Conveniently designed to
hold your belongings
comfortably, securely, and sometimes even fashionable. We have saved you the time and effort of research and compiled a list of the current top 10 most loved running belts that are available today.
Standout Picks
Criteria Used for Evaluation
Capacity
More or less, this is the entire purpose of a running belt; to provide you with a reasonable means of storing your belongings on your run (or walk or other activities).
As such, you could say it is the most important. In terms of storage, there are several factors that you need to take into consideration. One of which is the size of the compartments. Small items and accessories such as keys, credit cards, and money will not be an issue.
But, smartphones are another story. Chances are, you have one and want it while you run. If so, the running belt needs to fit the size of your smartphone (and case if you have one).
Second, do you want one large pocket or several (or at least ways to separate your belongings)? Having everything cramped in one pocket may be annoying and a nuisance, so keep that in mind.
Finally, do you want hydration while you run? To no one's surprise, this is where hydration running belts come into play. They are designed, typically, with two outside compartments for water bottles or flasks.
Durability
Everything needs a foundation, and running belts are certainly no different. While their storage is arguably the most important, what good would storage do with poor artistry?
Just like storage, several factors come into play, and they are all equal in importance. For starters, some will prefer a soft material and one that will not chafe your skin if you are not wearing a shirt with it. Also, elements, such as spandex, that tend to morph to your body are excellent as the belt will not bounce around as a result.
But what happens when you want to run in the rain? Indeed, water-resistant and waterproof running belts hold the distinct advantage of use in inclement weather.
Of course, you are also going to sweat while you run, and this can also be a factor. If the belt is water-resistant, it should also hold up well to sweat. Lastly, consider durability. You do not want an exterior that can be easily torn and flimsy altogether. Instead, aim for a belt with tear-resistant material and reinforced the stitching.
Adjustability
Not everyone's waist size is the same, that much is painfully obvious. Everyone would love to have a six-pack and be fit for a marathon, but that is not the case. Thankfully, a vast majority of running belts you will see will be adjustable.
Most will not even come in different sizes, either. However, note that also if a running strap is flexible, it still may not fit around your waist. Manufactures typically state the range that their belt will adapt to. For example, "this will fit waist sizes between 25-inches to 46-inches".
With that being said, there are always exceptions to the rule. Take the FlipBelt, for example. Instead of being fully adjustable, it comes in various sizes that are fitted for specific waists. In this case, if it does not fit, you are powerless and must return it for a different size.
What is inconvenient about a model such as this is if you wanted a friend to borrow it, it might not fit them unless they have a similar waist size as yourself.
Color
Do not be fooled or try to kid yourself, something as simple and shallow as the color selection can make the difference. Of course, it should never be used to prioritize a wrong model over a superior one.
But, if you are undecided between two running belts, why not let the visual appeal be the deciding factor? It certainly depends on the specific model, but some running belts come in various distinct color choices, while others only a few colors (and mostly just a change of the zipper).
As you noticed throughout this list, some manufacturers will design their running belts with different colored zippers. Though it may seem simple, a black running belt with a tint of a different color on the front can be very appealing. Then, you have other models (such as the FlipBelt) that have completely different shades that cover the entire exterior of the belt.
Top 10 Picks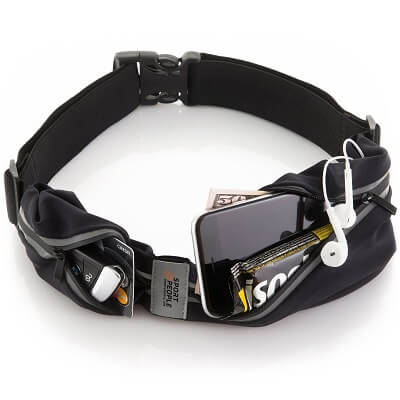 It just does not get better than this running belt, that is for sure. With its waterproof nature, two large pockets to store your key essentials and adjustable waistband this is suitable for all runners around the globe.
Read more
Storage Capabilities
Integrated onto this belt are two large pockets that will fit your iPhone plus, Samsung Galaxy and even smaller accessories such as snacks, keys, credit cards, etc.
Overall Craftsmanship
The Run&Relax Running Belt is crafted from a soft material which minimizes the chances of chafing, and overall, it stays in place while you run. Also, it is designed with waterproof material making it suitable for use in inclement weather.
Adjustability and Fitting
No matter your waist size, granted it is between 27.5-inches to 40.5-inches, this belt will be suitable for you as you can adjust it to tailor to your fit.
Color Selections
This running belt does not have any further color or design options. However, the all-black design is not going to appall very many people and should suffice.
Additional Convenient Features
If you have wired headphones, there is a particular hole that has been drilled into the running belt that allows you to connect them to your technology device easily. Also, there are reflective darts that will enable you to be seen in the dark.
Overall
For just a standard running belt, this bad boy certainly does it all. Its waterproof nature is just the icing on the cake as even in downpours; you can still feel confident your accessories are safe.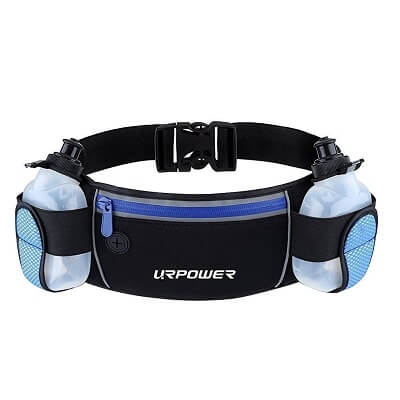 If not for the fact that the straps can be a hassle to adjust, according to various customer reviews, this is another running belt that is as good as it gets. Being constructed from neoprene, it naturally resists the weather and has plenty of storage capabilities.
Read more
Storage Capabilities
It is a hydration running belt, meaning that it can hold water bottles on each side. Past this, there is a zippered pocket that can keep your smartphone, keys, money, and all other essentials.
Overall Craftsmanship
Not only is the neoprene material this is crafted from natural resistant to bad weather, but it is also tear-resistant. All in all, this gives you the comfort of mind for your items.
Adjustability and Fitting
While this is a fully adjustable running belt, some users have blasted this area claiming it is too difficult to adjust the straps. As such, this has led to the belt bouncing up and down during runs.
Color Selections
This is another version that only has one color option, and besides the overall black exterior, the blue zipper adds a nice touch that allows it to stick out a little.
Additional Convenient Features
If need be, this can also be utilized as a shoulder bag. Furthermore, there is an integrated hole that adapts for your headphone cable when you want to listen to music on the go.
Overall
Some may feel the lone drawback should prevent this from being so high. But, once you get the belt adjusted according to your waist, it should be good to go, and you should not have any further hassle with it.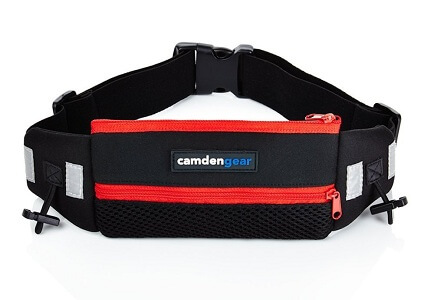 Due to the lightweight neoprene material that is utilized throughout, this running belt is water-resistant and will not ride up when you are running. Past this, there are four reflector tabs for excellent visibility when running at night.
Read more
Storage Capabilities
There are two separate zippered compartments at the front of this belt, and they both measure 6.7-inches tall. While this will fit a wide range of accessories, users have noted it barely fits an iPhone 6 Plus or larger.
Overall Craftsmanship
Camden Gear designed their belt with a lightweight neoprene. As such, this belt is ideal and suitable for anything but torrential downpours. Plus, it is fairly durable for such a lightweight material.
Adjustability and Fitting
To ensure that it does not vigorously bounce up and down when you are running, it includes a tension-grade plastic buckle for security. For size, it will fit waists from 24-inches to 47-inches.
Color Selections
While Amazon has them listed separately, there are two versions of this running belt. Both a black and red and blue and red model are available.
Additional Convenient Features
If planning on running at night or with low visibility for yourself, there are four reflector tabs that will make your presence known to anyone around you.
Overall
Perhaps the only reason you would not want to highly consider this version from Camden Gear is if you have an iPhone 6 Plus or any other larger smartphone. However, it is water-resistant, capable of holding all your essentials, and does not bounce up and down when you run.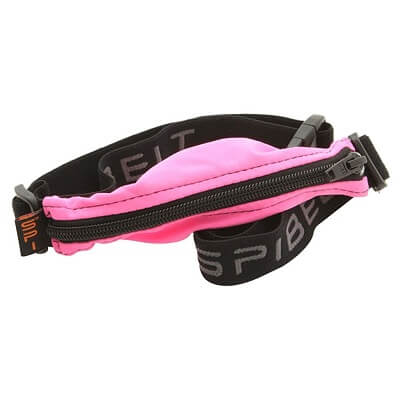 While the SPIbelt Running Belt does not feature the convenience of a hole for your headphone cord, it remains a go-to option for most people thanks to its plethora of color options and stretchable spandex makeup.
Read more
Storage Capabilities
Granted that your smartphone is under 6.5-inches long, this running belt will fit it. This includes the iPhone 6, Galaxy S6 and S5, and Galaxy Note 3. More so, the pocket expands to 6.5 x 3 x 2-inches.
Overall Craftsmanship
Not only is this belt comfortable around your waist, thanks to the spandex, it also does not move dynamically when you are running. Also, the soft elastic helps prevent chafing on your bare skin.
Adjustability and Fitting
This bad boy is fully adjustable and will fit waist sizes between 24-inches and 47-inches.
Color Selections
If you like variety, you will love what the SPIbelt has to offer. There are well over 20 different color options, including black, black with orange, lime, orange, hot pink, turquoise, and black and purple.
Additional Convenient Features
Unfortunately, there is not an integrated hole that can be used for headphone cords. If you do not have Bluetooth headphones, you will need to connect the cable to the jack on your device and leave the zipper somewhat open.
Overall
Among all the running belts on this list, this is one of the more popular and widespread versions. It receives a lot of recognition and praise and for the most part, rightfully so.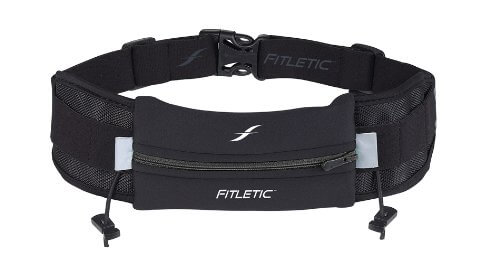 Despite the fact that the internal zipper leaves a lot to be desired with its size and lack of closure, the Ultimate Race Belt remains a high-quality option with several perks; which includes a water-resistant construction and several color choices.
Read more
Storage Capabilities
Besides the outer zippered pocket that can fit smartphones such as the iPhone 6 Plus and Galaxy S5, there is an internal pocket that can fit smaller accessories. However, it can't be sealed, which is a minor disappointment.
Overall Craftsmanship
Being designed with neoprene, the Ultimate Race Belt is ready to withstand both sweat and the rain. It merely has a natural tendency to do just that.
Adjustability and Fitting
No need to search around for a specific size as this is a one-size-fits-all model. This is not uncommon for running belts as it merely allows you to adjust the waist belt when needed to be tightened or loosened.
Color Selections
Each variation of this running belt features a black exterior. However, you can select from a wide range of zipper colors, including blue, green, orange, pink, red, and purple.
Additional Convenient Features
When you run at night, the reflector strips will aid you and keep you safe.
Overall
There is no doubt about it; this is a high-quality piece of gear. Sure, the internal compartment could be a little bigger and feature the option to seal it or not, but the water-resistant material, fully adjustable waist belt, and front pocket still deliver the goods.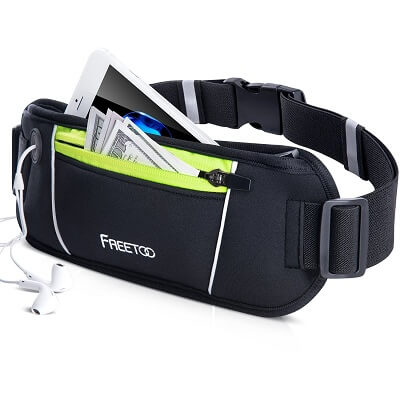 Sometimes, one of the biggest issues of running belts is they only allow for one storage location. As such, if you put your keys with your smartphone, the screen on your smartphone could potentially get damaged. Freetoo solves this mini-crisis by adding inner layers inside the larger pocket.
Read more
Storage Capabilities
There are two main zippered compartments on the front of this belt, and the gigantic pocket has inner layers inside that allow for item separation. However, in terms of capacity, the large pocket is not the greatest and will only hold smartphones up to 6-inches.
Overall Craftsmanship
To ensure this belt has a long lifespan, key components such as the zipper heads, stitching, lining materials, and elastic strip have all been reinforced. Although, due to the lightweight mesh material, sweat could get through the backing.
Adjustability and Fitting
There are two versions available, a slim model or an extra-large version. No matter, both are fully adjustable and will fit snugly around your waist.
Color Selections
Not too much to address with color options. The lone option is a beautiful blend of a black exterior meshed with luscious green zipper, though.
Additional Convenient Features
Two convenient vital features are integrated into this running belt: both a small hole designed for headphones and reflective strips for visibility at night.
Overall
The design of the larger pocket is both incredibly ingenious and somewhat disappointing. Incorporating an inner layer into the pocket to allow you to separate your belongings is fantastic, but it is not quite big enough to hold any smartphone larger than 6-inches.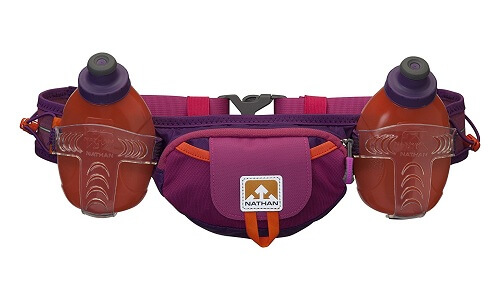 With plenty of color choices and great adjustability, this running belt from Nathan is worthy of high praise. As a bonus, you also receive two, 10-ounce flasks with the purchase of this running belt.
Read more
Storage Capabilities
Being a hydration running belt, this is fully capable of holding liquids. It can fit two, 300 mL flasks (one on each side). In addition to this, there is a zippered front compartment for your smartphone.
Overall Craftsmanship
It is nice that this is an ergo-shaped, ultra-soft belt with multi-directional such because as such, the bouncing is all but eliminated. However, it is not sweating or water-resistant, and this could prove to be an issue.
Adjustability and Fitting
On the backside of the belt is a buckle strap and it is fully adjustable to accommodate a wide range of people.
Color Selections
Everyone should be able to find a color design that appeals to them. With options for black, black and yellow, imperial purple, Kentucky blue, and bluestone, to name a few, you are provided with a substantial variety.
Additional Convenient Features
Just as most manufacturers do, Nathan designed reflective trims on their running belt. Thus, making you visible to others during nightfall.
Overall
Nathan should genuinely be proud of their design, as it is nearly the best. The lack of water resistance is one of the few factors that hold it back, but still; it is terrific for a hydration running belt.

8

. Fitletic HD08 Hydra 16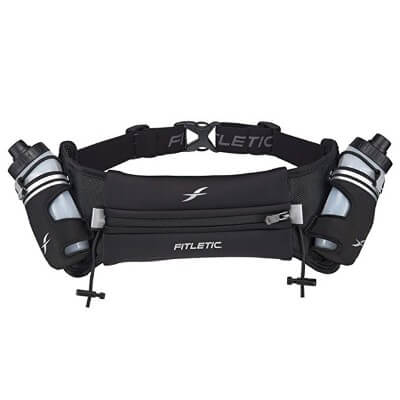 Fitletic continues to provide you with another terrific option for those seeking a hydration running belt. This belt also features an internal pocket with separate pockets for your ID and credit cards.
Read more
Storage Capabilities
The front pocket, which is 7.5-inches long, is one of the larger pockets so far. As such, Fitletic claims that it will fit an iPhone 6 Plus or a smartphone of similar size. Past this, you can hold two, 8-ounce water flasks on each side of the belt.
Overall Craftsmanship
To prevent the belt from bouncing and chafing against your skin, the interior is crafted with Dura-Comfort Technology and gel-based loops, providing sensational grip. Also, the large, exterior pocket is water-resistant, so your belongings will be safe.
Adjustability and Fitting
From waist sizes 24-inches to 42-inches, this belt will comfortably fit. But, if need be, this belt can be stretched to 47-inches. However, this may compromise the comfortability.
Color Selections
While it doesn't bring a whole lot of variety, you can choose between eight different zipper colors with the same black belt.
Additional Convenient Features
As a nice little touch, if you are into this, some straps can be used to attach a race number (if you partake in running triathlons). Furthermore, there is an opening for your headphone cord.
Overall
This sounds like the perfect running belt. Well, it very well could be if it were not for one potential deciding factor. Some users have claimed the belt is too broad and when they run, their arms rub against the bottles of water (almost defeating the purpose of the belt).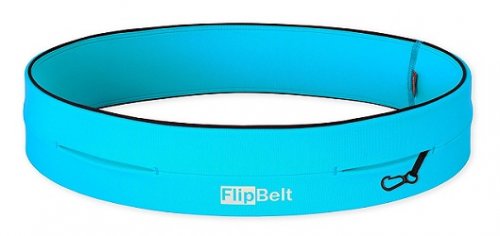 If this were a popularity contest, the FlipBelt would win hands down. As you know, though, popularity does not always equate to quality. But, due to its appearance on this list, there is a reason why it is so popular as it is a completely unique design.
Read more
Storage Capabilities
Instead of merely having one large pocket, there are four individual pockets designed into this belt. This can accommodate all your essential items and when needed, will flip to lock them in place.
Overall Craftsmanship
Right from the get-go, upon viewing this belt, it stands out. It is crafted from Lycra spandex which not only prevents chaffing on your skin but will also stay in place while you are running.
Adjustability and Fitting
Unlike most of the others on this list, this belt is not adjustable. There are five sizes available, extra-small, small, medium, and large, and extra-large, with each having the waist size (in inches) it adapts to.
Color Selections
Not only are there a substantial amount of color selections, each one stands out. For example, there are options for hot pink, violet, royal blue, black, carbon, and aqua.
Additional Convenient Features
When running at night, the reflective logo allows you to be seen.
Overall
It is not a coincidence to why so many have fallen in love with the FlipBelt. Compared to the rest, it is entirely unique with its all-spandex makeup and four individual pockets.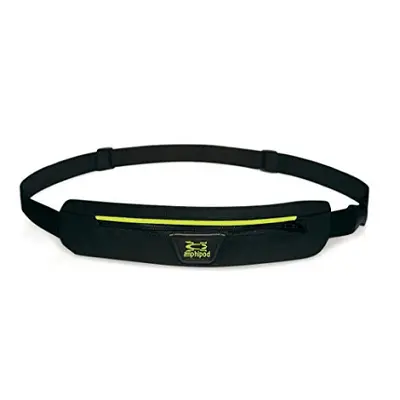 What is truly notable about this AirFlow running belt is that the AirFlow is a micromesh material that will wick away moisture. As such, when you start sweating profusely, this belt will assist in circulating the air between your back and itself.
Read more
Storage Capabilities
With the internal divider that was designed into this belt, the zipper pouch can be expanded to a larger capacity.
Overall Craftsmanship
Thanks to the AirFlow micromesh, this belt manages to wick away moisture and will even help to circulate the airflow.
Adjustability and Fitting
Because this expands to four times its standard size, it will adapt to a wide range of waist sizes and people.
Color Selections
Just like the FlipBelt, the color selections are vast and distinct. A few examples are black and silver, pink and black, blue and navy, and purple.
Additional Convenient Features
Directly on the front of the belt is reflective detailing. Again, this is meant to be utilized at night and acts just as a reflector on a bicycle does.
Overall
There is nothing but quality here, and that makes it worth a look. Is it the best on the list? Of course not; but, it still secured a spot which should give you an idea of its competence.

Subscribe to our Newsletter