Best Running Belts
In a
Hurry? Editors choice: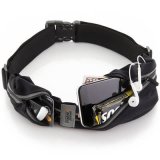 Test Winner: Sport2People

One of the oldest and most attainable sports, running has undoubtedly changed over the years. Of course, the same necessary steps are involved but, somehow, the geniuses of this world have found a way to make it more convenient.
Have you ever gone out on the run and
desperately needed water
but didn't have your bottle on you and didn't have any cash?! There's also the inconvenience of running without your cell phone. For one, you have no music, and secondly what if an emergency arises and you're nowhere to be found to save the day?
Luckily, running belts can solve all of these issues and more. Conveniently designed to
hold your belongings
comfortably, securely, and sometimes even fashionable. We have saved you the time and effort of research and compiled a list of the current top 10 most loved running belts that are available today.
Standout Picks
Criteria Used for Evaluation
Capacity
More or less, this is the entire purpose of a running belt; to provide you with a reasonable means of storing your belongings on your run (or walk or other activities).
As such, you could say it is the most important. In terms of storage, there are several factors that you need to take into consideration. One of which is the size of the compartments. Small items and accessories such as keys, credit cards, and money will not be an issue.
But, smartphones are another story. Chances are, you have one and want it while you run. If so, the running belt needs to fit the size of your smartphone (and case if you have one).
Second, do you want one large pocket or several (or at least ways to separate your belongings)? Having everything cramped in one pocket may be annoying and a nuisance, so keep that in mind.
Finally, do you want hydration while you run? To no one's surprise, this is where hydration running belts come into play. They are designed, typically, with two outside compartments for water bottles or flasks.
Durability
Everything needs a foundation, and running belts are certainly no different. While their storage is arguably the most important, what good would storage do with poor artistry?
Just like storage, several factors come into play, and they are all equal in importance. For starters, some will prefer a soft material and one that will not chafe your skin if you are not wearing a shirt with it. Also, elements, such as spandex, that tend to morph to your body are excellent as the belt will not bounce around as a result.
But what happens when you want to run in the rain? Indeed, water-resistant and waterproof running belts hold the distinct advantage of use in inclement weather.
Of course, you are also going to sweat while you run, and this can also be a factor. If the belt is water-resistant, it should also hold up well to sweat. Lastly, consider durability. You do not want an exterior that can be easily torn and flimsy altogether. Instead, aim for a belt with tear-resistant material and reinforced the stitching.
Adjustability
Not everyone's waist size is the same, that much is painfully obvious. Everyone would love to have a six-pack and be fit for a marathon, but that is not the case. Thankfully, a vast majority of running belts you will see will be adjustable.
Most will not even come in different sizes, either. However, note that also if a running strap is flexible, it still may not fit around your waist. Manufactures typically state the range that their belt will adapt to. For example, "this will fit waist sizes between 25-inches to 46-inches".
With that being said, there are always exceptions to the rule. Take the FlipBelt, for example. Instead of being fully adjustable, it comes in various sizes that are fitted for specific waists. In this case, if it does not fit, you are powerless and must return it for a different size.
What is inconvenient about a model such as this is if you wanted a friend to borrow it, it might not fit them unless they have a similar waist size as yourself.
Color
Do not be fooled or try to kid yourself, something as simple and shallow as the color selection can make the difference. Of course, it should never be used to prioritize a wrong model over a superior one.
But, if you are undecided between two running belts, why not let the visual appeal be the deciding factor? It certainly depends on the specific model, but some running belts come in various distinct color choices, while others only a few colors (and mostly just a change of the zipper).
As you noticed throughout this list, some manufacturers will design their running belts with different colored zippers. Though it may seem simple, a black running belt with a tint of a different color on the front can be very appealing. Then, you have other models (such as the FlipBelt) that have completely different shades that cover the entire exterior of the belt.
Subscribe to our Newsletter