The Best Waterproof Gloves Fully Reviewed – 2021 Edition
In a
Hurry? Editors choice: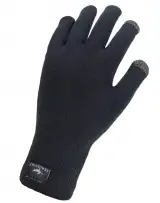 Test Winner: SealSkinz All Weather Ultra Grip

When the cold temperatures come to town or you are planning on taking an adventure to a colder climate country, you want to be prepared and keep your whole body protected. You will need a hat, jacket, boots, insulated pants, and let's not forget one of the most important pieces of gear a great pair of warm gloves. Now, the issue is that you can not use any old pair of gloves as with colder temperatures, which means wet weather, so you want to ensure that the gloves you decide to wear are waterproof and will keep your hands dry and warm.

A great pair of waterproof gloves are hard to find, but with the help of this guide you will not only find a pair of durable and waterproof gloves but you will also have a pair that will last you years to come.
Standout Picks
Criteria Used for Evaluation
Value
Value is going to be an important factor for just about everybody purchasing a good pair of heated gloves, but it will certainly affect you if you plan to shop on a budget.
We've included some very affordable products on our list that provide you with great value options in case you do need to save.
Also, when you are looking around for a good price on gloves, it's best to think about the features you really need before you spend your money on gloves. If you are able to live without a few things and focus on needs and not wants, you can still get a very good pair without sacrificing too much money. Even when you are considering how to get the best value for your money, you'll still need to really think about where you'll be using your gloves and how you will be using them, so you can better review the features you really need and make a good decision.
Overall do not get swayed by the price solely when looking for a durable pair of waterproof gloves. First, look at what you will be using them for and then find a pair that fits into your budget. When using any equipment that will be keeping you warm in colder temperatures, it is important to make sure you are getting a durable product that will do the job.
Comfort
Comfort in your gloves is another important thing you'll want to consider when you are trying to make your decision about what gloves will be best for you.
It can be difficult sometimes to adequately describe comfort since comfort is often a matter of personal opinion. However, if the gloves are not comfortable for you, then you probably won't wind up wearing them, and you'll waste your money. To make sure the gloves you purchase have the right level of comfort for you, consider reading over the liner materials that are on the inside of the gloves to make sure you feel they will be great for you. You can also read over customer reviews of the product to see how other people rated the comfort level on your gloves.
Also, don't forget, if comfort is really important to you, and it honestly should be, then you should consider going to the store and trying on your gloves before making your purchase. That way, you can test out the comfort level of the gloves and make sure the gloves will work for you in the conditions you plan to encounter.
Insulation
Consider what you'll be doing when you wear your gloves, and what the weather conditions and climate is going to be like.
If you know you will be outside in very cold weather, then you will want to consider warmth over dexterity with your gloves. However, if you know it'll be cold but tolerable, you might want to consider finding a good pair of gloves that can balance out both sides of the situation a bit better. If you will be performing any outdoor sports that require your hands to move often, then you'll need to think about how much dexterity you really want in your gloves before you make your purchase. Once you know that, you should be able to make a better decision about it.
The whole reason you are looking to purchase a pair of waterproof gloves is that you want to stay warm this winter season and be able to have fun outside with your friends or family without being uncomfortable. So check the insulation on the gloves to see if they come with an extra liner so that when you are in colder temperatures your hands will be toasty and you will be comfortable.
Fit
The fit is comfortable when you're searching around for waterproof gloves because you don't want your gloves to be too large or too small.
If your gloves wind up being too small, they can cut off the circulation and also prevent your gloves from being as flexible as they should be. If you wind up with gloves that are too large, they can chafe and also make your hands feel clumsy. Fit can really also be a matter of personal preference, so our advice is to make sure you try on the pair of gloves you want to purchase before you buy them so you can make sure they fit correctly.
When checking to ensure that the gloves will fit and be comfortable, the best thing to do is to check the customer reviews to ensure that other customers that purchased these gloves had a comfortable fit or if you should get a size up.
11 Best Waterproof Gloves
Subscribe to our Newsletter