Best Thinsulate Gloves
In a
Hurry? Editors choice: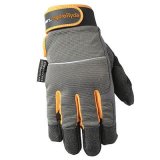 Test Winner: HydraHyde Winter

If you have come here today looking for some of the best winter gloves on the market, then you have come to the right place. Now, this guide is not necessarily aimed at all types and, instead, is going to put a focus on those with Thinsulate. This is a type of insulation technology that is made from polypropylene fibers. It is commonly found in all types of outdoor clothing and even sleeping bags. It is mightily popular insulation and many of the best gloves on the market implement the technology. But, as you will see during this guide, not all brands will be made with the same quality and that is important to understand as you need to be able to weed out the pretenders, so to speak.
Standout Picks
Criteria Used for Evaluation
Insulation
If you want a winter glove, you will need insulation, simple.
For the record, Thinsulate insulation is not the only insulation method out there and it is not the only one that is effective. But, because this guide was created to focus directly on gloves that include this specific type of insulation, it seemed appropriate to center the attention on it. So, what exactly is it? Well, it is a fabric that is made from synthetic fibers that have been woven together. This blend of fabrics is designed to keep you warm during colder temperatures but, as you have seen, there are varying thicknesses of Thinsulate. In fact, you can see gloves with as few as 40 grams integrated and as much as 800 grams. Clearly, the higher the gram count the warmer the glove will be.
However, this can present a bit of an issue. If you buy a pair that has too much insulation, you can wind up with hands that are constantly sweaty and clammy. And, because men generate more heat than women, it can even depend on your gender. In general, though, you will want at least 40 to 100 grams of insulation for the average winter day. For colder days that creep in the teens and lower, you will want to shoot for more (say 100 to 200 grams).
Effectiveness
If you want to perform tasks with your gloves, you will need to look for specific features.
Every single individual reading this right now needs to answer a very simple question that is going to dictate how you go about buying your new pair of gloves. That question is what you need them for. Simple, right? Well, this is why it is so vital to answer. If you need a new pair for work and for general tasks in the cold weather, you will want to make the dexterity a primary focus. On the contrary, however, if you are merely looking for a pair to deliver warmth and could care less about anything else, the dexterity will not that much of an issue. If you fall into the former section, the last thing you want is to have to constantly take your gloves off to perform a task (as that defeats the purpose of having them, in the first place).
There are a few features that can enhance the dexterity. First off, the bulkiness (or lack thereof) is crucial. If a pair is overly bulky, it may be awkward to perform any tasks with them. The best models are thin enough to still provide warmth but do not get in the way, at the same time. Also, keep an eye on the grip. Ideally, look for the palm and the fingertips to be equipped with specific materials that enhance the grip. Oh, and for smartphone enthusiasts, some models will have touchscreen compatibility.
Durability
Who really wants to invest in cheap products anyway?
As with anything else, it is going to be critical for you to pay attention to the quality of the craftsmanship. And, it should not too much of a surprise that this all begins with the quality of the materials that are in play. For example, one of the most popular materials is leather but not all leather is made equal. If you really want top-end gloves, then look for cowhide or top-grain pigskin leather to be integrated. Heck, even a common material such as polar fleece can be great (or even wool).
While the materials that are integrated are incredibly important, so are the reinforcements. Ideally, you should look for models that are designed with reinforcements in heavy-wear areas. Take the palms, for example. The best designs will be those that implement abrasion-resistant materials in specific areas such as this.
Fit
The fit strikes again and you guessed it, it is as important as ever here.
If you were to take a poll of 100 responses and ask random individuals what the most annoying aspect of buying clothes is, a majority of them would probably say finding the right fit. Well, that is an issue that can present itself here. So, you should be equipped with the correct knowledge beforehand to know exactly how a pair of winter gloves is supposed to fit you. Thankfully, for your sake, it is detailed down below how to do just that.
For starters, you want to ensure that there is going to be a little bit of wiggle room between your fingers and the end of the fabric. You may think the fit is supposed to be snug but this extra room will help trap warmth around your fingertips. Secondly, the length of the glove should not exclude your wrist. Most models will come with either elastic or adjustable cuffs and these should wrap around your wrist. Lastly, the base of your fingers should not be crammed in as this will hinder the effectiveness of the insulation.
Water Resistance
In the winter, snow is likely and that means your gloves could get wet if they are not waterproof.
Typically, this would be a criterion that would be much higher on a guide such as this. That is not to say that it is not important, as it would not be on this guide if it were not. However, you can make the case that it is not as vital as other features. Still, in the winter, if snow accumulates on your gloves that is going to turn into water. So, it is certainly an advantage if you invest in waterproof, or at least water-resistant, hand warmers. To ensure this, there are a few different features that you can look for.
Some engineers will design their models with waterproof membranes. With models such as this, you will never need to worry about snow or water seeping through into your hands. Another common feature that some sellers will include is waterproof inserts. Of course, you can also look at the materials themselves. For instance, let's take wool and leather as examples. Wool is actually highly resistant to water and even if it is untreated, can still perform well. Leather, on the other hand, is not waterproof and does not mix well with water. If untreated, it could present a problem.
OUR TOP PICKS FOR THE BEST THINSULATE GLOVES
Subscribe to our Newsletter