Best Thinsulate Gloves
In a Hurry? Editors choice: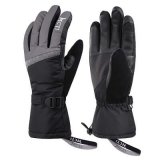 Test Winner: MCTi Ski

If you have come here today looking for some of the best winter gloves on the market, then you have come to the right place. Now, this guide is not necessarily aimed at all types and, instead, is going to put a focus on those with Thinsulate. This is a type of insulation technology that is made from polypropylene fibers. It is commonly found in all types of outdoor clothing and even sleeping bags. It is mightily popular insulation and many of the best gloves on the market implement the technology. But, as you will see during this guide, not all brands will be made with the same quality and that is important to understand as you need to be able to weed out the pretenders, so to speak.
Standout Picks
Criteria Used for Evaluation
Insulation
If you want a winter glove, you will need insulation, simple.
For the record, Thinsulate insulation is not the only insulation method out there and it is not the only one that is effective. But, because this guide was created to focus directly on gloves that include this specific type of insulation, it seemed appropriate to center the attention on it. So, what exactly is it? Well, it is a fabric that is made from synthetic fibers that have been woven together. This blend of fabrics is designed to keep you warm during colder temperatures but, as you have seen, there are varying thicknesses of Thinsulate. In fact, you can see gloves with as few as 40 grams integrated and as much as 800 grams. Clearly, the higher the gram count the warmer the glove will be.
However, this can present a bit of an issue. If you buy a pair that has too much insulation, you can wind up with hands that are constantly sweaty and clammy. And, because men generate more heat than women, it can even depend on your gender. In general, though, you will want at least 40 to 100 grams of insulation for the average winter day. For colder days that creep in the teens and lower, you will want to shoot for more (say 100 to 200 grams).
Effectiveness
If you want to perform tasks with your gloves, you will need to look for specific features.
Every single individual reading this right now needs to answer a very simple question that is going to dictate how you go about buying your new pair of gloves. That question is what you need them for. Simple, right? Well, this is why it is so vital to answer. If you need a new pair for work and for general tasks in the cold weather, you will want to make the dexterity a primary focus. On the contrary, however, if you are merely looking for a pair to deliver warmth and could care less about anything else, the dexterity will not that much of an issue. If you fall into the former section, the last thing you want is to have to constantly take your gloves off to perform a task (as that defeats the purpose of having them, in the first place).
There are a few features that can enhance the dexterity. First off, the bulkiness (or lack thereof) is crucial. If a pair is overly bulky, it may be awkward to perform any tasks with them. The best models are thin enough to still provide warmth but do not get in the way, at the same time. Also, keep an eye on the grip. Ideally, look for the palm and the fingertips to be equipped with specific materials that enhance the grip. Oh, and for smartphone enthusiasts, some models will have touchscreen compatibility.
Durability
Who really wants to invest in cheap products anyway?
As with anything else, it is going to be critical for you to pay attention to the quality of the craftsmanship. And, it should not too much of a surprise that this all begins with the quality of the materials that are in play. For example, one of the most popular materials is leather but not all leather is made equal. If you really want top-end gloves, then look for cowhide or top-grain pigskin leather to be integrated. Heck, even a common material such as polar fleece can be great (or even wool).
While the materials that are integrated are incredibly important, so are the reinforcements. Ideally, you should look for models that are designed with reinforcements in heavy-wear areas. Take the palms, for example. The best designs will be those that implement abrasion-resistant materials in specific areas such as this.
Fit
The fit strikes again and you guessed it, it is as important as ever here.
If you were to take a poll of 100 responses and ask random individuals what the most annoying aspect of buying clothes is, a majority of them would probably say finding the right fit. Well, that is an issue that can present itself here. So, you should be equipped with the correct knowledge beforehand to know exactly how a pair of winter gloves is supposed to fit you. Thankfully, for your sake, it is detailed down below how to do just that.
For starters, you want to ensure that there is going to be a little bit of wiggle room between your fingers and the end of the fabric. You may think the fit is supposed to be snug but this extra room will help trap warmth around your fingertips. Secondly, the length of the glove should not exclude your wrist. Most models will come with either elastic or adjustable cuffs and these should wrap around your wrist. Lastly, the base of your fingers should not be crammed in as this will hinder the effectiveness of the insulation.
Water Resistance
In the winter, snow is likely and that means your gloves could get wet if they are not waterproof.
Typically, this would be a criterion that would be much higher on a guide such as this. That is not to say that it is not important, as it would not be on this guide if it were not. However, you can make the case that it is not as vital as other features. Still, in the winter, if snow accumulates on your gloves that is going to turn into water. So, it is certainly an advantage if you invest in waterproof, or at least water-resistant, hand warmers. To ensure this, there are a few different features that you can look for.
Some engineers will design their models with waterproof membranes. With models such as this, you will never need to worry about snow or water seeping through into your hands. Another common feature that some sellers will include is waterproof inserts. Of course, you can also look at the materials themselves. For instance, let's take wool and leather as examples. Wool is actually highly resistant to water and even if it is untreated, can still perform well. Leather, on the other hand, is not waterproof and does not mix well with water. If untreated, it could present a problem.
OUR TOP PICKS FOR THE BEST THINSULATE GLOVES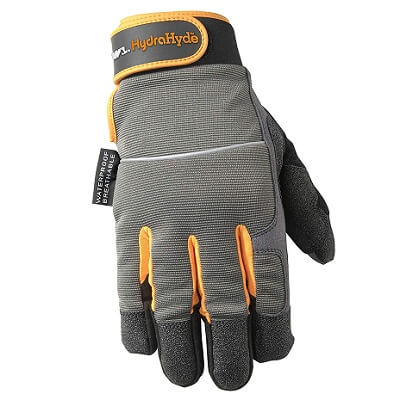 What is interesting to note right off of the bat is these do not feature the heaviest amount of insulation. But, the insulation that is provided combines superbly with the waterproof membrane and the synthetic leather palm.
Read more
Insulation
These do sport heavier fleece linings and sport 40 grams of 3M Thinsulate insulation.
Also read about warmest waterproof gloves
Dexterity
There are definitely some talking points here. First off, the palms are reinforced with heavy-duty palm patching and are made of synthetic leather. Secondly, they sport touchscreen technology which makes them compatible with touchscreen devices. However, these are bulky for the record.
Toughness
As just mentioned, the palms of each glove are reinforced with heavy-duty synthetic leather. This adds extra wear and should make them more long-lasting, as a result.
Fitting
The general consensus is that these run a little large. What is nice, though, is that each glove has adjustable wrist closures that allow for a snugger fit.
Water-Resistance
Not all models on this list will be waterproof but thanks to the waterproof inserts that are included, these will keep your hands both dry and comfortable. Plus, the synthetic leather itself will breathe better than traditional leather.
Overall
Without a doubt, there is a lot to love about this top model. These are touchscreen-compatible, waterproof, warm and very tough.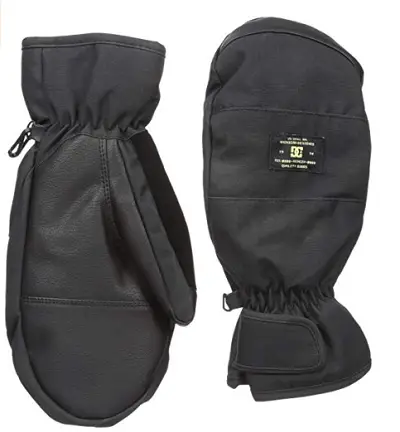 Chances are, you have probably heard of DC but have you heard of their Seger Se Hand Warmers? They are not the most popular option on this list but boy, are they ever made with quality in mind.
Read more
Insulation
As with the last model, there are 150 grams of Thinsulate insulation provided here. What a better way to combat the cold and damp winter conditions, right?
Dexterity
With the modern world becoming more and more fixated on technology devices, it is really nice that these have been designed with touchscreen-compatible rubber palms.
Toughness
For both durability and extra weather resistance, which will be touched on later, each glove features an exterior that includes polyurethane.
Fitting
To help seal in the cold, these have been outfitted with adjustable Velcro cuff closure systems. For harsher weather, this is an appreciated feature.
Water-Resistance
DC includes waterproof inserts with these and this allows them to combat water with greater efficiency than without them.
Overall
Do you take a bit of a risk with these gloves? Admittedly, you just might as there is not a ton of feedback available. Then again, per the specifications, these are utterly fantastic.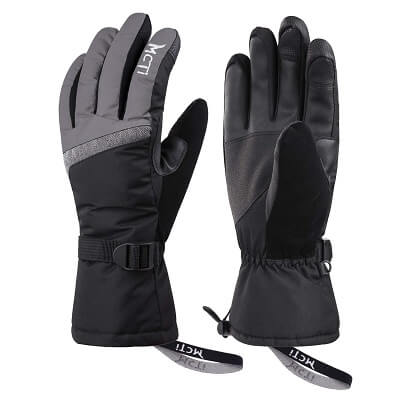 If you simply go by the specifications of these hand warmers then you will probably be incredibly impressed. There have been some naysayers out there, though, that have questioned the claims made here.
Read more
Insulation
Being packed with 150 grams of insulation and windproof and waterproof fabric, each glove should be amazingly warm. However, some buyers have been disappointed with the warmth claims.
Dexterity
Thanks to the 3D curved fingers, you are able to achieve superior handgrip here. In addition, three millimeters of foam accompany the palm and this will reduce impact when you are performing extreme snow sports.
Toughness
To improve the abrasion resistance, these have been designed with reinforced PU palms.
Fitting
For a snug fit, each glove includes an adjustable wrist buckle and a drawstring. But, some users have claimed these run small so you may want to order a size up.
Water-Resistance
Due to the FAN-TEX waterproof TPU membranes, these are indeed waterproof. Additionally, these are also going to wick away moisture for improved breathability.
Overall
In spite of the various users who have left negative remarks about this model, the proof is in the pudding and you can see the quality all over the place.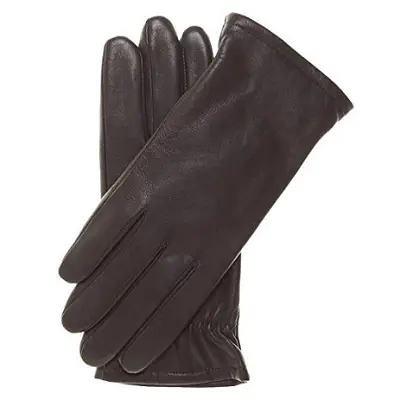 This right here is an absolutely tremendous option for all the women readers out there. Whether you want to wear these casually or to business-oriented events, they are very versatile due to their style.
Read more
Insulation
In addition to the insulation that is added, these are also combined with supple smooth sheepskin leather. Many users have commented on the softness of the leather that is for sure.
Dexterity
There is more dexterity with this model than there is with others on this list. However, it is worth noting that the fingers are very long and can hinder the dexterity as a whole.
Toughness
Now, while most buyers have agreed that these are well-made, there was one buyer who noted that the leather began to flake off the fingertips within a few months of only moderate wear.
Fitting
Though the fingers are quite long, these do run true-to-size. In addition to this, the elastic snugger at the wrist of each one of the gloves keeps the cold wind chills out.
Water-Resistance
Generally speaking, the leather itself does not mix that well with water. These are not waterproof but they are somewhat water-resistant (although not that much).
Overall
For all of you women readers, this is about as superb of a choice as you are going to find. Though you have to deal with the long fingers, everything else is just about gold.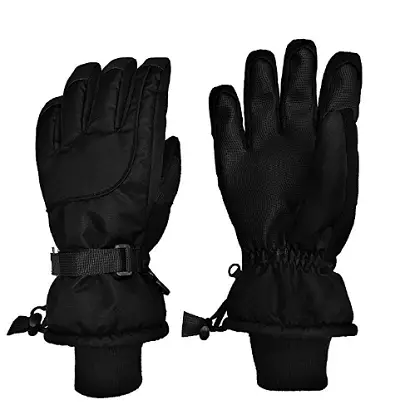 If you came here strictly looking for warmth and warmth alone, then you may have found the lucky ticket here. But, the dexterity of these mitts are not the best so keep that in mind.
Read more
Insulation
Here is the good news; there are 80 grams of insulation included here. The somewhat bad news is the majority of the insulation is included in the long cuffs (which typically goes over coat sleeves).
Dexterity
As you can clearly see from the photos, these are bulky. There is no way to get around that fact but for enhanced grip, each glove is designed with PVC on the palm and the fingers.
Toughness
One thing is for sure, you can't criticize the quality of the craftsmanship too much. Plus, the thumbs have been reinforced to enhance the longevity.
Fitting
There are multiple sizing options that will fit both women and teens, for the record. As for the fitting, the long extended length cuffs assist with that.
Water-Resistance
N'Ice Caps has equipped their model with waterproof linings. So, if you do encounter rain or any other form of water, these will remain functional and will keep your hands dry.
Overall
If you are looking for a pair of Thinsulate gloves that will be your next pair for working, this may not be the ticket. They will more than keep you warm but they are bulky and lack dexterity.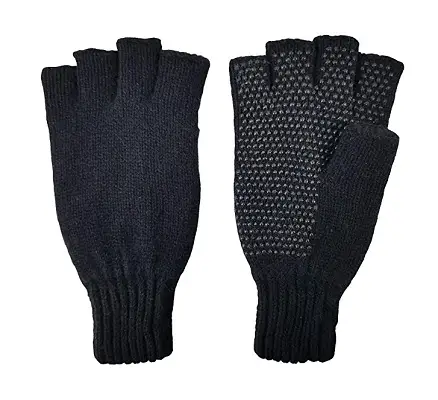 Not all Thinsulate models need to sport fingers and Bruceriver proves that fingerless insulated options can be fantastic. With that said, the tips of your fingers will freeze in colder temperatures.
Read more
Insulation
Although your fingers are going to be left to handle the cold weather, the base of your hands will be kept warm thanks to the fleece lining and 40 grams of insulation present here.
Dexterity
To add a bit of grip, these are designed with supple gripper dots. Additionally, the fingerless design ensures that your fingertips are free to act on their own.
Toughness
As with the last model from Bruceriver, they once again utilize high-quality wool in their design.
Fitting
The general consensus is that these are oversized and incredibly thick. There are elastic cuffs present, nonetheless, and these help to seal in the warmth.
Water-Resistance
Once again, no special waterproof treatments have been applied but the natural tendency of wool to repel water makes these somewhat water-resistant.
Overall
Due to the fingerless design, it is safe to say that some of you will be skeptical about these. The insulation is present but your fingers will be left freezing in frigid conditions.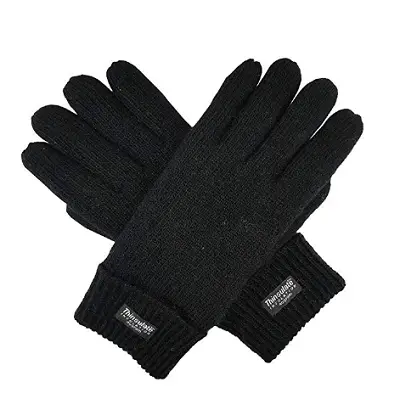 As if the title of this next entry did not give it away already, these are made with an outer shell that is consisted of 100 percent high-quality wool. When you add this to the insulation, you get hand warmers that are incredibly warm.
Read more
Insulation
The cat was let out of the bag earlier and yes, these are very warm. As claimed, this is thanks to the combination of the high-quality wool outer shell and 40 grams of insulation.
Dexterity
Due to the pure wool, these do not have much of a gripping surface. Now, what is interesting to note is there is a touchscreen-compatible option available if this is important to you.
Toughness
Bruceriver designs this model with high-quality wool and that can't be debated. Not too many buyers have had longevity concerns, which is a plus.
Fitting
First off, these tend to run large and secondly, there is a limited amount of size options, to begin with. Some more thought should have been given to the sizing, quite frankly.
Water-Resistance
Bruceriver makes no bones about it; they did not treat their gloves to be waterproof or even water-resistant, for that matter. Then again, wool itself is quite water-resistant even without a coating.
Overall
With more grip and more sizes to select from, it is possible these could have landed even higher on this list. This is not a perfect world, though, so these problems are there.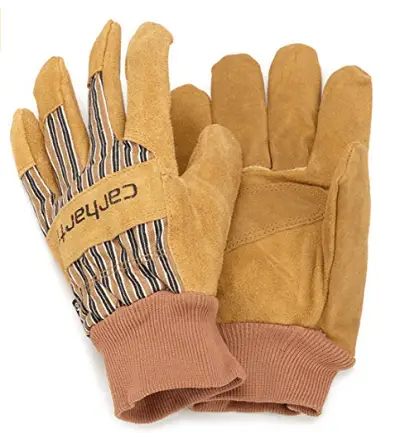 When it comes to warmth, it is hard to go wrong with Carhartt. But, you may or may not have known that they make a killer pair of Thinsulate gloves that are made of cowhide leather.
Read more
Insulation
Let's just say that cold weather and tough jobs are no match for these bad boys. They are equipped with 100 grams of insulation and are all but guaranteed to keep your hands warm.
Dexterity
Admittedly, these are not the best when you want to talk about dexterity. The primary reason for this is they become slippery when snow or any other water-based substance comes in contact with them.
Toughness
Though the dexterity is not the best, the toughness is not lacking in the slightest. That is because each glove is made of 100 percent cotton duck fabric with rugged cowhide leather palms and wear-resistant patches.
Fitting
Most of the reviews recommend that you order a size larger than you normally would so keep that in mind. To assist in the fitting, though, these are designed with knit cuffs.
Water-Resistance
You might have guessed this based off of the previous section referring to the dexterity as no, these are not waterproof.
Overall
It was mentioned at the beginning but truly, it is hard to go wrong with Carhartt. These are heavy-duty gloves, to say the least, though, and will not be optimal for certain types of tasks.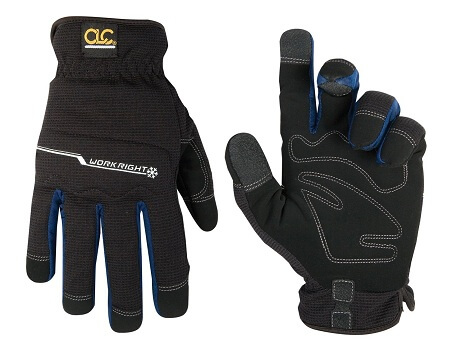 Just by simply glancing at a photo of this next model, you can tell that the intent was to make hand warmers that also offered fantastic dexterity. While these are not flawless, it is safe to the designer succeeded.
Read more
Insulation
The interlining of these does feature 40 grams of insulation. In addition to this, the inner is made of 100 percent polyester.
Dexterity
In spite of some flaws, these are fantastic in regard to their dexterity. You see, they are made of stretchable spandex, feature Lycra side panels, and sport textured fingertip pads.
Toughness
While it is nice that these are made of synthetic leather and sport inner stitching to prevent snags, a few users have claimed the palm material will break down and flake off.
Fitting
When these do become wet or if sweat begins to buildup, the closing straps are going to help them from slipping off.
Water-Resistance
There is no way to get around it; these are not waterproof in the slightest. Water is going to soak through them and they will then take a long time to dry.
Overall
If you are looking for gloves to keep you warm but still allow you to perform certain tasks with your hands, these are great. Just do yourself a favor and keep them dry, though.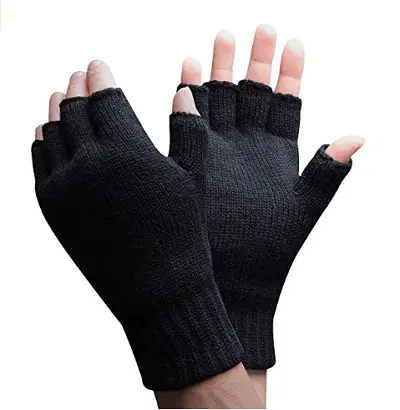 Yep, another fingerless model closes this list out. These were able to barely secure a spot on this list but that does not insinuate that they are vastly inferior to the others.
Read more
Insulation
If these were not fingerless, the warmth would be suitable for colder climates. While the insulation is not the issue, these are fingerless and they are not optimal for frigid conditions.
Dexterity
Due to the thickness of these, they actually will hinder some tasks. The fingerless design maintains its effectiveness but the thickness is an unwanted attribute, admittedly.
Toughness
One user who left a detailed review noted that while these do not feel poorly-made, they are also not necessarily designed to last a long time.
Fitting
Overall, the fingertip holes and the thumb holes are simply too tight. If the designer could do it over, they would probably seriously consider slightly looser openings.
Water-Resistance
Nothing is claimed that these are treated to be waterproof so it may be wise to avoid contact with water.
Overall
No, these are not bad. Some of the details pointed out seem to indicate these are poor in quality but that is not the case. However, not everyone will be looking for this type of a design.

Subscribe to our Newsletter