Best Bike Speedometer – 2021 Buying Guide
In a
Hurry? Editors choice: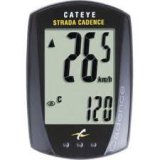 Test Winner: CatEye Padrone

The best bike speedometer in 2021 is the CatEye Padrone Wireless Bike Computer.

We tested and reviewed dozens of the top models and found that the CatEye Padrone outperformed in nearly every testing category. Read our full review below to learn more.
Standout Picks
Criteria Used for Evaluation
Power Source
This will be a major factor for some riders. It needn't put you off or be the deciding factor, but the convenience of going wireless might be enough for some. It's more likely, however, that it's actually the range of functions, typically wider in a wireless model, is what actually makes the decision for you.
There are pros and cons to both. Wired devices have the hassle of securing wires safely out of the way and looking untidy, but are cheaper and don't require a separate sensor battery; whereas wireless devices are much more 'mount and go' but require charging or replacement batteries in more than one element.
We've included it as a major element as it does tend to characterize the type and as we say, will sort the pack for some riders.
Use
Small or large, they are usually capable of tracking more data than they can display on one screen, so you'll have to configure it to your specifications. Some displays are easier to scroll through or modify on the road, whereas some you'll need to set up the screens beforehand.
There are two main modes of operation on this bike speedometer – buttons, and touchscreen. Within this, the buttons may be around the edges like a stopwatch. This can be easier to use as the buttons have a specific function, but more difficult as you have to get used to them. Otherwise, the button or buttons will be within the face of the device, the most simple of these being a one-touch or single-scroll. This means that you push it once and it scrolls through the functions, or keep pressing it to scroll through manually.
Touchscreens work as they do on a smartphone, with a similar look and menu. However, they won't be as responsive and you'll obviously pay more for this.
Style
Bike speedometers fall into several categories. There are very basic, wired, cheaper models, which measure a few stats and don't have any data transfer; there are similar wireless versions; there are wireless devices that have a bit more functionality via Bluetooth and WiFi sensors which connect to a smartphone. Then there are the GPS-ready products, which cover all of the above and have some navigation functionality; and the top-specification ones, which have it all – color touch screens, mapping and communication capabilities.
The type you choose will mainly depend on how much you want to track and whether you like to have it connected on-the-go or are happy to download and analyze later.
Connectivity
Related to the wired or wireless element is how the device communicates. Often, wired devices will only send and receive information from the sensor, whereas those with WiFi or Bluetooth connectivity open up a whole new range of apps and analysis. This really will be a deciding factor for those that want to do more than just track their numbers. If you want to chart your stats over a long period and view them in a range of ways, hook up with other riders, or even use the device as an extension of your smartphone in some cases, you'll want to get one which has a more sophisticated mode of communication.
It's certainly worth thinking this through, not least because of price, but it's also easy to get seduced into buying a complex device you don't actually need and will become more of a burden in terms of shorter battery life. If you take shorter rides, or in rougher conditions, you may not want the pressure of an extra smartphone on your handlebars.
Subscribe to our Newsletter