Best Bike Speedometer – 2023 Buying Guide
In a Hurry? Editors choice: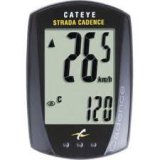 Test Winner: CatEye Padrone

The best bike speedometer in 2021 is the CatEye Padrone Wireless Bike Computer.

We tested and reviewed dozens of the top models and found that the CatEye Padrone outperformed in nearly every testing category. Read our full review below to learn more.
Standout Picks
Criteria Used for Evaluation
Power Source
This will be a major factor for some riders. It needn't put you off or be the deciding factor, but the convenience of going wireless might be enough for some. It's more likely, however, that it's actually the range of functions, typically wider in a wireless model, is what actually makes the decision for you.
There are pros and cons to both. Wired devices have the hassle of securing wires safely out of the way and looking untidy, but are cheaper and don't require a separate sensor battery; whereas wireless devices are much more 'mount and go' but require charging or replacement batteries in more than one element.
We've included it as a major element as it does tend to characterize the type and as we say, will sort the pack for some riders.
Use
Small or large, they are usually capable of tracking more data than they can display on one screen, so you'll have to configure it to your specifications. Some displays are easier to scroll through or modify on the road, whereas some you'll need to set up the screens beforehand.
There are two main modes of operation on this bike speedometer – buttons, and touchscreen. Within this, the buttons may be around the edges like a stopwatch. This can be easier to use as the buttons have a specific function, but more difficult as you have to get used to them. Otherwise, the button or buttons will be within the face of the device, the most simple of these being a one-touch or single-scroll. This means that you push it once and it scrolls through the functions, or keep pressing it to scroll through manually.
Touchscreens work as they do on a smartphone, with a similar look and menu. However, they won't be as responsive and you'll obviously pay more for this.
Style
Bike speedometers fall into several categories. There are very basic, wired, cheaper models, which measure a few stats and don't have any data transfer; there are similar wireless versions; there are wireless devices that have a bit more functionality via Bluetooth and WiFi sensors which connect to a smartphone. Then there are the GPS-ready products, which cover all of the above and have some navigation functionality; and the top-specification ones, which have it all – color touch screens, mapping and communication capabilities.
The type you choose will mainly depend on how much you want to track and whether you like to have it connected on-the-go or are happy to download and analyze later.
Connectivity
Related to the wired or wireless element is how the device communicates. Often, wired devices will only send and receive information from the sensor, whereas those with WiFi or Bluetooth connectivity open up a whole new range of apps and analysis. This really will be a deciding factor for those that want to do more than just track their numbers. If you want to chart your stats over a long period and view them in a range of ways, hook up with other riders, or even use the device as an extension of your smartphone in some cases, you'll want to get one which has a more sophisticated mode of communication.
It's certainly worth thinking this through, not least because of price, but it's also easy to get seduced into buying a complex device you don't actually need and will become more of a burden in terms of shorter battery life. If you take shorter rides, or in rougher conditions, you may not want the pressure of an extra smartphone on your handlebars.
Top 10 Picks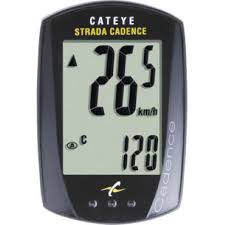 Back to CatEye for our last pick, with the Padrone boasting similar features and functionality to some of their other lower-end models like the Velo 9. However, it's a popular bike computer from a trusted brand and at a low price so it's worth a mention.
Read more
Measures
Time, speed (current, average and maximum), distance (total and trip) and clock.
Connectivity
It's wireless, which is a bonus at this price point. However, there's no GPS or data transfer.
Visibility
A larger (1.7 x 1.2 inch) screen. It was actually developed in response to customer feedback, which shows that CatEye really is listening to what real cyclists need, not just filling up on cool features. It's also backlit, which is a plus.
Ease of use
The Padrone itself is the button, which allows for the larger screen in a small unit; just press down on its lower half to change functions. It has auto-stop and a programmable odometer, which means that you can manually enter your distance when you replace the battery and the records are reset.
Durability
The Padrone is water-resistant. Using CatEye's FlexTight technology, this bicycle speedometer can be mounted and then adjusted by hand so it can be easily changed on-the-go.
Battery life
The replaceable battery will last for up to a year, which is a big bonus.
Summary
Described as simple and stress-free, the Padrone is a 'get up and go' model that does what you need. It's also available in six colors,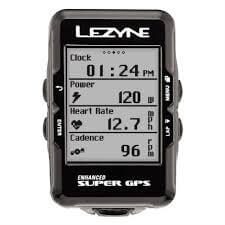 Lezyne is a lesser-known and underrated player but has an increasingly wide range, snapping at the pedals of some of Garmin's lower specification models. The Enhanced Super is like a hybrid between a basic bike speedometer and a fully equipped bike device.
Read more
Measures
Time, speed (current, average and maximum), distance, pace, clock, distance, elevation, altitude, power, heart rate, cadence, calories, gears, temperature, sunset time and workouts.
Connectivity
It's GPS-ready and syncs to the free Lezyne Ally mobile app via Bluetooth. This allows upload and download of ride files, sync to other riding apps, heart and power monitors and receive a call and message notifications. It also connects via micro USB.
Visibility
Despite displaying a lot of information - six stats per page, the details are fairly small. However, there is a handy backlight for low light conditions. The Lezyne can show your phone's battery as well as the time, date, GPS signal strength and its own battery level, which is handy.
Ease of use
Because of its simple design, the Lezyne bike speedometer connects to GPS quickly and is reliable. It also features turn-by-turn navigation, which is a great addition.
Durability
The shape of the bicycle computer itself isn't as sleek as some, with the side-buttons protruding somewhat. Overall though, it's only 1.69 x 2.67 inches, which makes up for this. It's also water-resistant
Battery life
The battery life is around 24 hours, rechargeable via micro USB.
Summary
The Lezyne definitely sits somewhere between categories. It's got a bit more than a basic bike speedometer in the form of GPS but is by no means a smartphone-like device. The price might be the deciding factor here, offering many of the features of a Garmin for almost half the price, yet for not much more than an entry-level bike speedometer.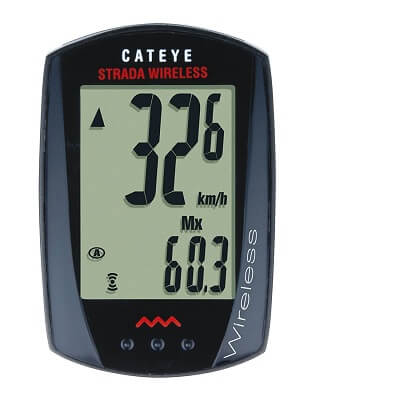 The Strada Wireless is a firm favorite and comes up time and time again as a popular all-rounder which ticks all the boxes in its category, rather than just including the bare essentials to call itself a bike speedometer.
Read more
Measures
Time, speed (current, average and maximum), distance (total and trip), pace, and clock.
Connectivity
As the name suggests, the Strada is wireless, using its inbuilt sensor to connect to its magnet. Sadly, there is no data transfer functionality.
Visibility
Very large display for such a tiny (1.8 x 1.2 inches) device. Two main stats displayed so this allows them to take up most of the screen, increasing visibility.
Ease of use
The Strada Wireless has a few fun tricks up its sleeve. Firstly there's auto-stop, so you don't have to worry about pressing anything or your stats getting thrown off when you pause. You can also program two different tire sizes so that it can be used on another bike. Be careful here when checking your tire size, as it can be tricky to work out the codes and reference numbers on your tires. As you're not here for smartphone-like features, why have to navigate like you are? The Strada Wireless bike speedometer is controlled via a one-touch scroll through the features. CatEye's online quickstart guide is very useful for setting up.
Durability
The Strada Wireless is weatherproof, slim and light, weighing just 0.78 oz, and only half an inch thick! It's a great choice for any surface - mountain, road or urban cycling - being easy to mount with all fixings included.
Battery life
A massive one year on a replaceable battery - based on one hour's use per day. Beware, the odometer will reset when you do eventually have to replace the battery.
Summary
One of the best if you need to check all the stats you can without extra sensors and monitors, and for the price, it can't be denied. Of course, they can do many more things the higher the specification, but in its class, the Strada Wireless bicycle computer is on top.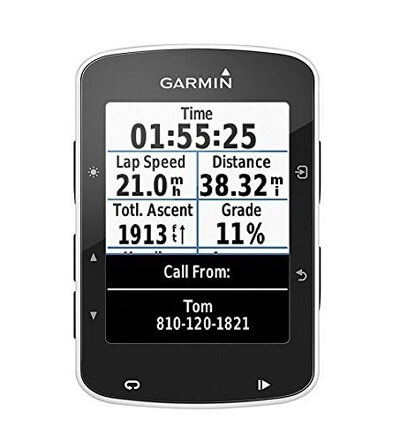 As you'll see, Garmin dominates the high-specification bike devices market, and deservedly so. While we didn't want it to dominate our list, we want to provide a fair representation of the best of what's out there and what's popular with users. We've tried to give a decent spread of Garmin's offering across our picks.
Read more
Measures
Time, speed (current, average and maximum), distance (total and trip), pace, clock, elevation, altitude, power, heart rate, cadence, calories, gears, temperature, sunset time and workouts.
Connectivity
GPS and GLONASS (Global Navigation Satellite System), along with a Barometric altimeter for increased altitude measure accuracy. The Edge 520 will auto-sync to Garmin Connect and includes a USB cable for data transfer and charging.
Visibility
A high contrast, 1.3 x 1.8-inch color screen with up to seven stats visible at once on the action screen, as well as other screen functions like altitude graphs and maps. Included maps aren't the most detailed, but you can download others, subject to purchase and storage space.
Ease of use
There are seven peripheral control buttons on this bike speedometer, which sound like a lot at first, but they're fairly intuitive in practice. As well as upload and download, the sync to Garmin Connect allows in-ride challenges and call, text and social media notifications from your smartphone. Among the map functions, we really like is the 'back-to-start' for route overview. There's also a nifty 'asses recovery' feature.
Durability
For its functionality, the Edge 520 is relatively small at 1.9 x 2.8 inches, and 0.8 inches thick, and weighs only 2.08 oz. It's waterproof against rain, splashes or snow, and has a maximum immersion time of 30 minutes at less than three feet, which should see you through trips in the heaviest of weather.
Battery life
Approximately 15 hours, rechargeable.
Summary
The Garmin Edge 520 has been described as a 'reliable stalwart', and while certainly not the highest specification model around, it's great value for its mid-range position. You'll notice a jump in price if upgrading from the basic speedometers, but it's fairly standard for this level of technology and you won't get much more within this bracket.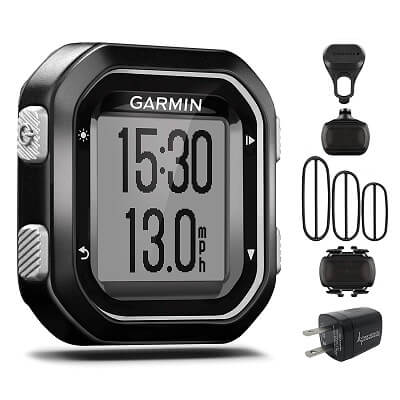 For some, the Edge 25 cannot be replaced and despite the leaps and bounds in developments, this will always be the speedometer of choice for some riders. It takes size and simplicity to new levels whilst incorporating great functionality.
Read more
Measures
Time, speed (current, average and maximum), distance (total and trip), elevation, heart rate, cadence, and calories.
Connectivity
The Edge 25 is actually the smallest GPS computer in the world! It connects well and fast to GPS and GLONASS for location accuracy - your smartphone can't save you if its battery fails. It does, however, hook up to Garmin Connect via Bluetooth for all your smartphone notifications.
Visibility
The screen is 0.9 inches squared, which with the unit itself being 1.5 inches squared, is relatively massive. In turn, the display itself shows two large or four small stats on the activity pages. As well as a full-screen display of direction fragments.
Ease of use
Four side-buttons, one of which is brightness so the functions are easy to navigate once you get used to them.
Durability
It's truly tiny, genuinely the size of a watch, and should fit just above the stem of your bike if you choose. It also has one other sensor to attach to either wheel hub for ease. The other advantage of its size is that it needs minimal mounting, just small, discreet elastic bands. It's also water-resistant.
Battery life
Only about 8 hours, rechargeable via USB cable, but for its tiny size and high functionality, this is forgivable.
Summary
It might not look like much, but the Edge 25 is another option if you want to hide mega-specification under the looks of a basic bike speedometer. You're paying slightly more for an unbelievably tiny unit that's packed with technology, but nowhere near as much as some of the high-end models.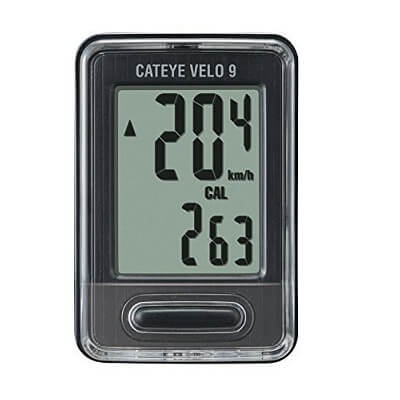 It's back to basics with another of CatEye's popular speedometers. They can't be beaten for low prices and great reliability in their category. CatEye offers a few products in its Velo range, this being the latest wired model.
Read more
Measures
Time, speed (current and average), distance (trip and total), pace, clock, distance, calories. An interesting feature here for such a budget model is that the Velo 9 has an estimated carbon offset meter. This measures how much you have reduced your carbon footprint by taking your trips on a bike.
Connectivity
It's wired, which makes sense for the price.
Visibility
The bike speedometer screen takes up most of the tiny 2.1 x 1.4 inches body, which is great as there's no need for much else around it. The display shows two stats, nice and large, as well as the pace arrow.
Ease of use
Very simple, with a one-button scroll through. We liked that it spans almost the width of the device, so there's no fiddling trying to find a tiny button while you're on the road. Be careful when hooking up to the sensor magnet and then to your handlebars - make sure you have enough to reach them before you attach each all the excess wire.
Durability
The Velo 9 bike speedometer comes with all the kit you need for a super-simple install, and CatEye's online quickstart guide makes it really easy. Zips ties pull very tight so make sure you're happy with the position before you tighten! It does very well in wet weather.
Battery life
An amazing three years! A definite bonus of a simpler model if you only need basic functions. However, it is of course via a replaceable battery.
Summary
No frills, no bells and whistles, just stats and a reliable speedometer. An undeniable price for an essential piece of kit.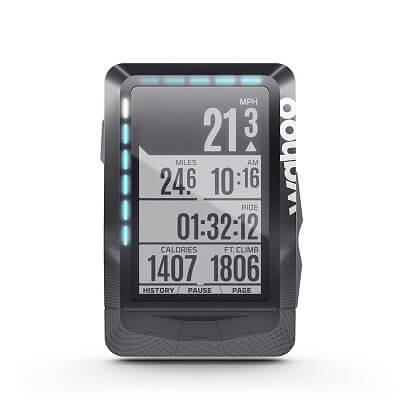 The Wahoo ELEMNT is a good-looking, mid-to-high-range model. Fans are loving this alternative to Garmin, surprised by its ability to compete with the well-known brand. Read on for what's got users hooked.
Read more
Measures
Time, speed (current, average and maximum), distance (total and trip), pace, clock, elevation, altitude, power, heart rate, cadence, calories, gears, temperature, sunset time and workouts.
Connectivity
It's GPS, Bluetooth, and wifi compatible, as well as connecting to monitors and sensors. It will hook up to your smartphone via the ELEMNT companion app, which you can use to easily and instantly control features such as route-mapping. Needless to say, this allows tracking, social media, and mobile notifications.
Visibility
ELEMNT are proud of their screen, and rightly so with some cool features like zoom and five different numbers of data fields. It's also got a 2.7-inch Daybright display, which will be a clincher for those that want to combine the monochrome simplicity of a basic model with the clarity of a high-end one.
Ease of use
Some more proprietary features here, such as the textured buttons, spanning and molded into the front of the unit - no hunting for a tiny toggle. ELEMNT also include something not seen on any of our other choices, their Quicklook LED Indicators. These can be programmed to flash in a variety of situations such as notifications, drops in heart rate, or detours.
Durability
There are three mounts included for attachment to different areas of your bike. It's also waterproof up to five feet. It's a nice size and weight for its functionality, at 6 x 5 inches, 1 inch thick and 3.5 oz.
Battery life
Up to 17 hours, rechargeable via USB.
Summary
So, the ELEMNT appears to be not just a hybrid but a real alternative to Garmin, with a few unique features in its own right.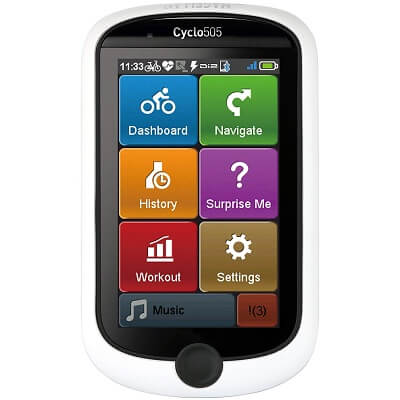 Another one in the alternative camp if you want some of the specifications without the high price, or just want to try something other than Garmin. Magellan is pretty small, only stocking a few models, and mostly known for in-car GPS, but they've gained popularity for their smartphone-like UI and features.
Read more
Measures
Time, speed (current, average and maximum), distance (total and trip), pace, clock, elevation, altitude, power, heart rate, cadence, calories, temperature, and workouts.
Connectivity
GPS-ready and connectivity are via Bluetooth and wifi. It will also connect to the standard heart rate and power monitors and cycling apps. Hook up to your smartphone is quick, so much so that it can be done while stopped on the road - no sitting next to the wall charger and wifi needed.
Visibility
The Cyclo 505 has a color screen, and despite its mid-range price, is visible in sunlight. It measures 3 inches, so can live up to some of the pricier models in terms of visibility. What's different here is the smartphone-like look and menu.
Ease of use
It's a touchscreen, and as we've mentioned, navigates like a basic smartphone. Some of Magellan's fun features include 'Surprise Me' for suggesting routes and a database of off-road tracks from experts. This is useful as downloadable maps tend to carry an additional cost. There's also wireless sharing with your fellow riders via 'Shake-n-Share'.
Durability
It's good for road and off-road and comes with two types of mount for your handlebars. It's water-resistant and has a two-year warranty.
Battery life
Twelve hours rechargeable, which is decent for a device in this class.
Summary
It says a lot that with Garmin's dominance, die-hard fans are defecting to the Magellan. To be fair, Magellan themselves describe it as a "bicycle navigation device", so they're not trying to be the latest high-specification device. It's a well-priced option if you want to move into the user-friendly, connected space but without the price tag.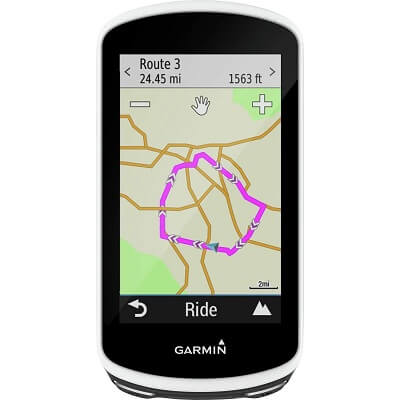 And now for the jewel in Garmin's bike speedometer crown, the Edge 1030. However, that's not to say it's the best or only device you should consider, the price alone will certainly exclude it from many cyclists' wish lists.
Read more
Measures
Everything and more! Not only does it track all the stats imaginable, but it will analyze and feedback information like 'Training Load' - a measure of your effort cumulatively over the last week; and VO2 Max for tracking optimal oxygen use over time.
Connectivity
Again, it will connect pretty much any way you need it to - Bluetooth, Wifi and to Garmin Connect, of course. As well as GPS and GLONASS, there's also a barometric altimeter sensor for checking altitude more accurately and an accelerometer.
Visibility
Overall, the screen is 3.5 inches diagonally, which along with the color display makes for great readability. A neat feature here is that the background can be changed from white to black for different light levels and ease of visibility.
Ease of use
Well, what can we say? The Edge 1030 can do pretty much anything you want to enhance the tracking of your rides. We might joke about it being like a smartphone, but there really are pre-written texts that can be sent when hooked up to your mobile, and rider-to-rider messages between those in your group. Other fun features are 'Trendline' for finding popular routes, and remote control of your VIRB camera if you have one! What's more, for all the functionality, it's set up and ready to go within minutes.
Durability
Unsurprisingly, Garmin has given the Edge 1030 their highest level of water protection, which is similar to some of our other picks at water exposure of up to one meter for 30 minutes. It is impressive for a bike speedometer with this level of technology. Garmin's clever mount also keeps the Edge 1030 in line with your handlebars so it won't obscure your view.
Battery life
A very impressive 20 hours, which, among other features, is an improvement on their previous models and again, a lot for a computer with this many functions.
Summary
It's almost a smartphone in its own right, the Edge 1030 is like an extension of your mobile; like having it strapped to your bike. Yes, it's got a price to match and probably even costs more than some smartphones, but if you're serious about your cycling it really can do it all.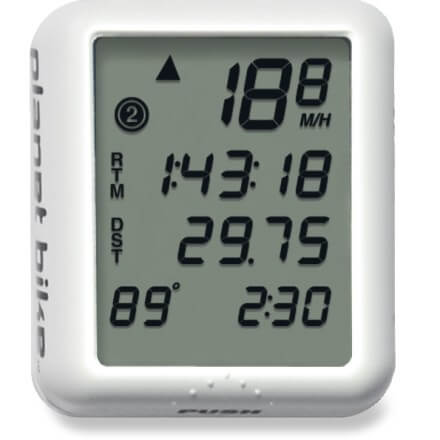 Another simple, well-liked model, the Protegé covers the basics and for an almost unbeatable price. If you just need something to track your stats, this fits the bill.
Read more
Measures
Time, speed (current, average and maximum), distance (total and trip), pace, clock, and temperature.
Connectivity
The Protegé is wired, and there is no method of data transfer. There are the magnet, a sensor and the computer itself.
Visibility
The screen is large, taking up pretty much all of the 1.5 x 2-inch units. Five stats can be displayed on the LCD screen, which means they're really clear and are large enough for a quick glance. However, the lack of a backlight is a shame.
Ease of use
The large screen is made possible by the fact that the Protegé is 'buttonless', so there's no space taken up with a toggle. It's not a touchscreen but a tap of the bicycle computer will let it scroll through the functions, which is great news for a quick change on the road. The Protegé can also be configured for two-wheel types for moving between bikes.
Durability
Attaches via a handlebar bracket and front-wheel mounting kit. Mounting is pretty simple, but Planet Bike will also provide further help in addition to the instructions if you need them, which is great. It's done pretty well in rain and low temperatures without showing signs of damage.
Battery life
Up to a year or about 9000 miles with a replaceable battery.
Summary
The Planet Protegé is a reliable bike speedometer model, giving what you need and for a decent price. As an extra tick in its box, it is made and manufactured using sustainable, environmentally friendly materials and processes.

Subscribe to our Newsletter