Best Bike Handlebars
In a Hurry? Editors choice: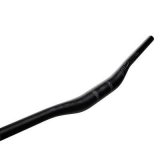 Test Winner: RaceFace R 35

Whether you are an experienced biker or simply
someone who enjoys getting out and riding
every so often, the importance of high-quality bike handlebars can't be understated. Even if you think your current bike has a solid pair, there is always an upgrade out there and it may be worth the price of admission. After all, besides providing you with the ability to steer, an elite-level pair of bicycle handlebars can have serious implications on your ride. For example, they can
enhance the overall comfort
and allow for convenient mounting options. Simply put, they are of the most important for bikers and after today, you will have the skill and forethought to buy them.
Standout Picks
Criteria Used for Evaluation
Top 10 Picks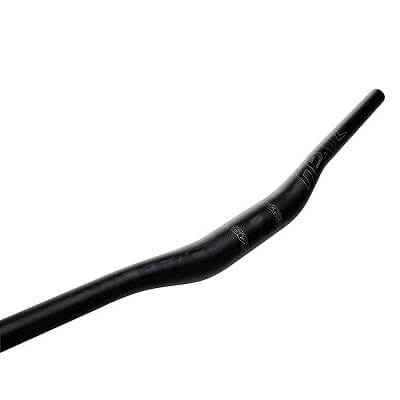 With the RaceFace Next R 35, you are getting one of the best carbon handlebars on the market today. In addition, although it comes in an 800-millimeter width, it can easily be cut down.
Read more
Materials
As this is comprised of carbon, it is going to offer superior vibration dampening of that from aluminum. But, even on long rides, carbon will also deliver long-lasting comfort.
Size and Width
If the 800-millimeter width is too great for you, this bar can easily be cut down accurately to 750 millimeters. In addition, the stem is a stiff 35 millimeters.
Comfort
Thanks to the moderate sweep, it is never going to be difficult for you to find the perfect hand position for comfortability. Plus, the bar and stem combination is never too extreme in terms of comfort.
Compatibility
Due to the fact that this can be shortened down if need be, there is a strong amount of versatility at your disposal.
Visual Style
As this essentially is a straight black model, it could actually end up sticking out like a sore thumb depending on your bike. But, the graphics are definitely stellar.
Overall
The elegant combination of strength and comfortability makes the Next R 35 Riser the top model on this list. Anyone looking to splurge, here is the way to go.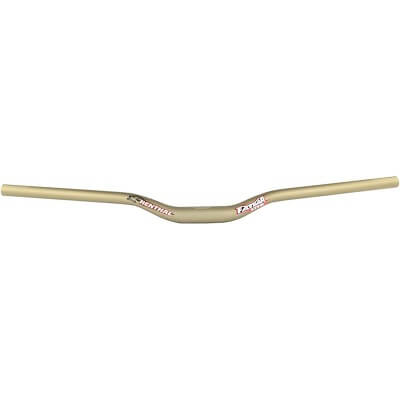 Thanks to the unidirectional carbon fiber makeup and the extremely comfortable sweep of the FatBar, it is not a surprise to see it receive acclaim from nearly everyone who has commented on its brilliance.
Read more
Materials
Renthal designed their FatBar with the presence of mind knowing that the unidirectional carbon fiber would allow them to add just the right amount of flex they would need. The result is superior control and vibration dampening.
Size and Width
The choice is yours from either a 20-millimeter rise or a 40-millimeter one. As for the width, the bar measures 780 millimeters and weighs only 225 grams.
Comfort
Due to the five-degree upsweep and the seven-degree back sweep, the angles are practically perfect for this bar. No doubt, you can find comfortability with ease.
Compatibility
Renthal claims that their FatBar is actually aimed at XC, Enduro and Trail riders. This is mostly due to its combination of weight, ride-feel, and stiffness.
Visual Style
While one user did point out the poor paint job, the black and gold exterior is striking. That said, it will only match certain bike styles well.
Overall
What is amazing about the FatBar is it is able to provide such great amounts of strength and comfort without feeling too heavy. Besides the color, it is hard to go wrong here.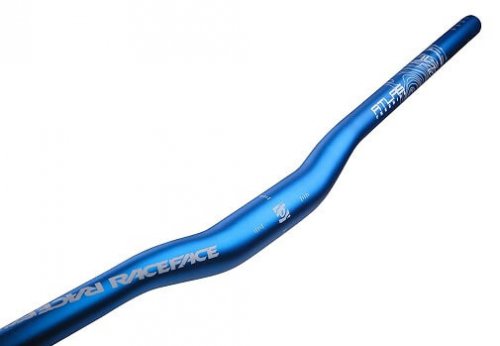 While this next model of bike handlebars is not comprised of carbon, it is made from aluminum instead, it has been internally tapered. In addition to this, the sweep places your hands in very comfortable positions while riding.
Read more
Materials
Again, as was just mentioned, this is crafted of aluminum but it also has been internally tapered. What this does is offer a superb combination of weight, flexibility, and strength.
Size and Width
Being 785 millimeters in width, this is one of the widest models on this list. But, you can either run the Atlas FR Riser in a 30-millimeter rise or a 50-millimeter rise.
Comfort
As the Atlas FR Riser is engineered with a four-degree upsweep and an eight-degree back sweep, your hands are placed in a comfortable position every time.
Compatibility
Even though this is one of the widest options available, you can always cut them down if you needed them to be a little shorter.
Visual Style
Both the graphical style of this handlebar and the vast array of color options are top-notch. Everyone is sure to find a style that suits their ride the best.
Overall
This is one of the most elite bike handlebars in the world, there is no doubting that. But, it is made of aluminum and yes, carbon does have advantages over it.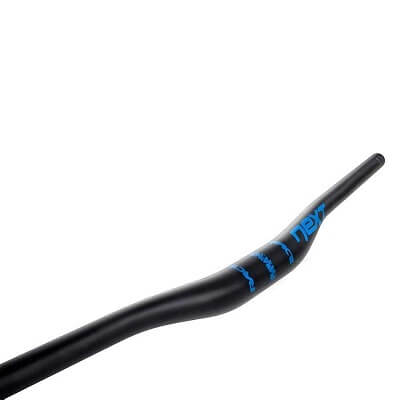 The Next Riser has been compared to another highly popular model, the SixC 35 bar. But, what most sets it apart is it incorporates many of the same elements while being significantly lighter.
Read more
Materials
This is another bicycle handlebars model that is made from unidirectional carbon. On top of its excellent combination of strength and flexibility, it is covered in a matte clear coat for protection.
Size and Width
What is astounding about this model is that it only weighs 189 grams. Additionally, it measures 760 millimeters in width and has a 35-millimeter clamp diameter.
Comfort
An eight-degree sweep is in order here and this greatly resembles the profile of the SixC 35. But, again, without the extra weight which could add to the comfort.
Compatibility
This handlebar is quite similar to the models that have preceded it on this list and as such, you should not have too much trouble with the compatibility.
Visual Style
With the black coating and the blue graphics, for the right bike, this is going to shine through. Truthfully, the only way this is not beautiful is if it does not blend with your bike's color scheme.
Overall
Even though this happens to be one of the lighter handlebars on this list, it is also one of the best-built thanks to the unidirectional carbon makeup.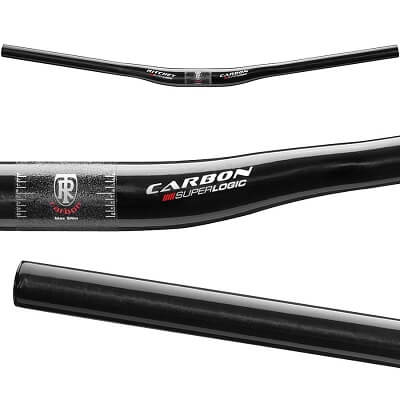 The Superlogic Rizer is going to offer more control over standard handlebars thanks to its wider width. However, one drawback is the lack of trim marks meaning it can be awkward to cut symmetrically.
Read more
Materials
No one can question the construction of the Superlogic Rizer, let's just say that. It is both internally reinforced and made of unidirectional carbon composite.
Size and Width
At 26 inches in width (which works out to around 660 millimeters), this can offer superior control. But, the 31.8-millimeter center section also adds increased strength.
Comfort
Based on feedback from consumers, the shape of the Superlogic Rizer can be hit or miss. While some will adjust to its upswept style, others will never.
Compatibility
One buyer noted how they easily added these handlebars to their Merida 120 3000D and that all the ancillaries transferred over easily.
Visual Style
This is mainly just an all-black design. However, the clearly see the graphics and they are stellar for the most part.
Overall
Be aware that some riders in the world were never able to handle this model. Due to its low rise and style, you may or may not end up liking this particular handlebar.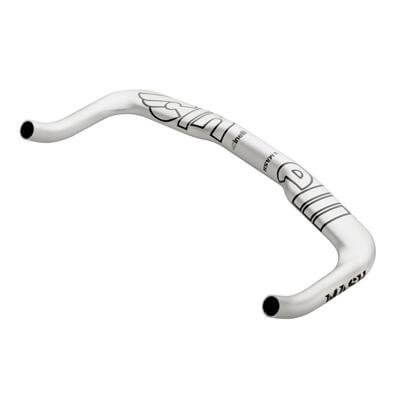 One of the better aspects of this next model is it is engineered to offer you multiple comfortable hand positions while you are riding. On top of its solid construction, that is a solid combination.
Read more
Materials
Unlike most of the other handlebars models so far, the Bullhorn is made of a familiar 6061 aluminum. Plus, it is black anodized for increased thickness and strength.
Size and Width
This is advertised with a width of 40 centimeters, which works out to 400 millimeters. That is quite a drop in width as compared to the other models, so keep that in mind.
Comfort
Whether for track riding or urban riding, this is outfitted to offer multiple comfortable hand positions due to the ergonomic grip on the shaped underside.
Compatibility
This has a 31.8-millimeter clamp diameter so keep that in mind when you are mounting this on your current bike.
Visual Style
If you are not a fan of black, then you may appeal even more to this model as it is metallic silver. At the end of the day, few colors can compete with metallic silver.
Overall
Style and ergonomics are what the Bullhorn is all about. Of course, its increased strength from the black anodized aluminum is also a nice selling point.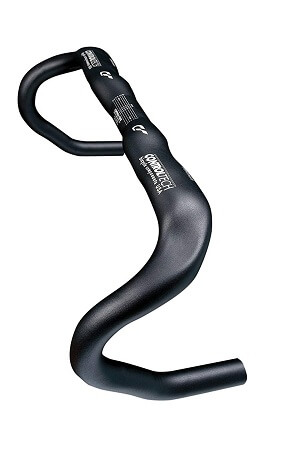 If you are a fan of day-long bike rides or at least ones that last a significant amount of time, then you need to look long and hard at this next model. Engineered for comfort, the Formidable is just that, highly formidable.
Read more
Materials
The Formidable has been comprised of hydroformed aluminum. Besides offering solid construction, this also greatly reduces the cost of manufacturing.
Size and Width
Control Tech provides you with a few options for the size. The choice is yours as you can either opt for a 400, 420 or 440-millimeter width handlebar.
Comfort
As you can see from the photos, these are not straight handlebars. Instead, the wide wing-shaped tops and the palm flats allow for a multitude of comfortable hand positions.
Compatibility
One thing to note about the Formidable is it is dubbed as a road bike handlebar. Also, make note of the 31.8-millimeter diameter.
Visual Style
There are actually three color options available. You can choose either black, polished silver or white. But, note that one buyer felt the polished silver was much too shiny.
Overall
Indeed, due to the wide range of hand positions for optimal comfortability, these are tailored for longer rides. But, you may want to stay away from the polished silver unless you really enjoy shiny objects.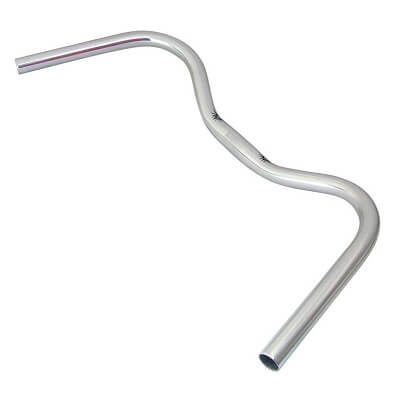 Generosity is the best word to describe Oxford. Perhaps not in the way you are used to hearing this term, the Oxford is engineered with a generous sweep angle and a very high rise.
Read more
Materials
If you are familiar with the Torrington North Road, this is designed similarly. But, it all starts with its 6061-T6 polished aluminum construction.
Size and Width
The center measures 25.4 millimeters and the rise if quite the massive 52 millimeters. In addition, from center to center, this measures 540 millimeters.
Comfort
Even though you may need to run long stem to get comfortable, the generous sweep angle of these handlebars does move your hands back considerably as compared to straight bars.
Compatibility
Per the description on Amazon, these bars are compatible with MTB-style levers and grips. However, they are not compatible with bar-end shifters.
Visual Style
Either way, you go, whether with the polished black or the polished silver, the finish is beautiful. But, the option to pick is ideal and one that many will appreciate.
Overall
On top of all of its quality, this actually lands in the middle of the spectrum in terms of price. But, as said, its quality is far from middle-class making this an excellent bang for your buck.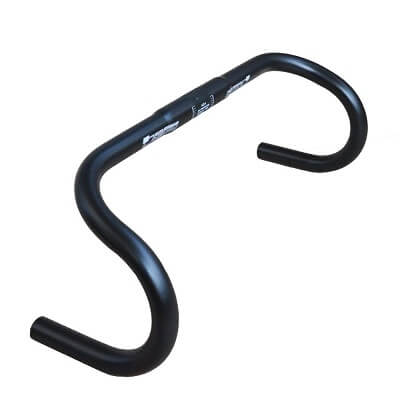 It is understandable if you are on a tight budget and if that happens to be the case, this drop bar is a superb choice. But, make no mistake about it, this bad boy can hang.
Read more
Materials
Yet again, this is another model that is comprised of 6061-T6 aluminum. On top of being lightweight, this is also a very sturdy handlebar that appears to be well-made.
Size and Width
At just 420 millimeters in width, these may be too narrow for some riders. But, you do have the option for either a 25.4-millimeter model or a 31.8-millimeter one.
Comfort
Without a doubt, this is an ergo style handlebar. But, one buyer did make mention that it can be difficult to mount anything due to the center taper.
Compatibility
Whether you have a road bike, a cruiser, or even a mountain bike, these drop bars should fit just fine. After all, these sport the standard grip diameter of most BMX bars.
Visual Style
The photos almost give the impression that this is a metallic blue. No matter, the finish is incredibly appealing and one that many bikers will be fond of.
Overall
Although the center taper may take away some of your mounting options, which could be a deal-breaker for some of you, this remains a sturdy and lightweight option.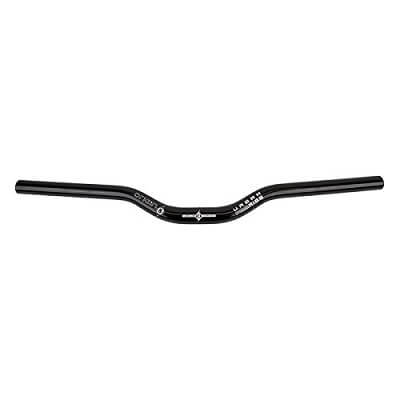 There is a lot to like about these bars but there are the naysayers out there that will point out the flaws. That is okay, that is why this is landing at the number 10 spot.
Read more
Materials
The 6061-T6 aluminum construction is nothing to scoff about. But, some consumers have complained that the grooves in the center and that they slide too easily.
Size and Width
For the Urban-Pro Riser, the specs read as follows. They measure 560 millimeters in width, have a 40-millimeter rise and come with a 25.4-millimeter bar clamp.
Comfort
Even though looks can be deceiving, as one buyer alluded to, this could have a larger sweep angle than you expect. Be wary of that before you buy it.
Compatibility
While all you get is the bicycle handlebar, if you use a few simple tools and adjust everything accordingly, you should not run into any issues when installing.
Visual Style
The black finish is actually quite glossy, perhaps too glossy. As one buyer noted, this allows the handlebar to move easier than it should.
Overall
For landing at the number 10 spot on this list, these are quite impressive. While they can't compete with top-end models, their price tag shows that it was never the goal.

Subscribe to our Newsletter