The Best Mountain Bikes Reviewed
In a Hurry? Editors choice: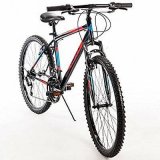 Test Winner: Huffy Alpine

All of us remember when we were children and took our mountain bikes out to the local trails with our friends and explored while going up and down hills. Mountain bikes are all-terrain
bicycles that can be used on the road
or off-trail, which makes them highly versatile and extremely fun. Now if you are on the hunt for a
quality mountain bike
as you are done with solely road biking and want to take your next ride off-trail but do not know which
mountain bike to take a closer look at
, this guide is for you. We know a lot goes into picking a great mountain bike, so we have done the research and listed the top ten mountain bikes to get you ready to go off the trail this summer season.
Standout Picks
Criteria Used for Evaluation
Value
Even though this is not a feature, it is important that you consider it since the prices of the mountain bikes vary from 500 dollars to 10.000 dollars. In our suggestion list, we have included mountain bikes from the affordable price range, which is below 5000 dollars, but there are also some that cost below 1000 dollars. However, the price is directly correlated with the level of your biking experience.
If you are a beginner, there is no point in getting a 5000 dollars bike because you are probably not going to take it to the limits. If you have been doing this for a while though, you probably want to have a reliable product and every little difference between models will be a big deal for you. That said, before even thinking about purchasing a mountain bike, it is important that you set your budget. When deciding the budget, it is important to consider the additional equipment that is a necessary part of this sport. It is essential that you purchase your own apparel, gloves, and helmet.
Since you are doing budget calculations, it is important to mention that mountain bikes require maintenance. In fact, you would probably have to change the tires, maybe even the brakes, some of the chain, etc. All in all, the yearly maintenance budget should cost you no less than 100 dollars. However, there are some bikers that are pretty handy and have learned to change the parts by themselves.
Style
You have already decided that you want a mountain bike. However, there are various types of mountain bikes and they are all built for different purposes. You should choose the type of bike that will meet your needs. If you don't know which type of mountain bike you prefer, it might be better to postpone the purchase and make a small research on the trails around you and the terrains, so that you get an idea of your personal preferences.
That said, there are cross-country mountain bikes that are lightweight bikes that are mostly used for moderate trails. They are quite rigid and they are intended for mild corner angles and not so steep terrains.
Hardtail and full-suspension bikes – are also types of bikes that we have explained before in the suspension section. These types of bikes are used for bumpy and rocky terrains.
Downhill bikes – are a bit more expensive than the previously mentioned models and they have elements that are of high quality. Even though part of mountain biking is climbing, the downhill ride is the main reason people get addicted to this sport. Downhill mountain bikes come with extra suspension, high-quality brakes and a bit of danger.
Freeride bikes – are the universal bikes that could be used for any terrain type. This is a very versatile type of bike that is equipped to handle any terrain and situation. However, its features are all moderate. This means that you won't be getting the highest brakes quality or the best suspension, but you will be getting a mediocre quality of every feature. This is the perfect type of bike for beginners that have not figured out their type of trail. Usually, this is a temporary bike that once a certain level is reached, bikers tend to exchange it for another type.
Materials
The frame of a mountain bike affects its weight and the overall quality of the product. However, it also affects the price since lighter materials tend to come at a higher price than heavier ones. This considered, there are four different types of frames you could choose from.
Steel frame
Although it seems unbelievable, there are still bikes that are manufactured with steel frames. This is a tough but very heavy material that is replaced over the ages with more effective materials. Steel frame mountain bikes are significantly cheaper than other materials, but they are also more difficult to transport and maneuver.
Titanium frames
Titanium, as you might already know, is not a cheap material, but it is also a high-quality material. For this reason, it is used in the production of the highest quality mountain bikes. It features durability and it is even lighter than aluminum. However, getting a titanium mountain bike online is a bit tricky and if you do so, it is recommended that you choose a reliable company known for its quality work. Titanium is a material that is pretty difficult to shape. For this reason, there are many poorly made frames that are not as durable as the material itself.
Aluminum frames
Aluminum frames are most commonly used in the production process of mountain bikes. Aluminum is an extremely strong material that is also lightweight, and it has become cheaper over the years. Aluminum frames are good for every type of mountain bikes because this type of frame is making the vibration conduction better; therefore, the ride is more comfortable and less bumpy.
Carbon fiber
Carbon fiber is a material right next to the titanium both in quality and price. However, in order to get this kind of frame you should be a professional biker, or be ready to invest a couple of thousands of dollars in a mountain bike. Carbon fiber frames have statistically lowest chances of breaking, even though it is not impossible, it is very difficult to break them. For this reason, if you have the choice between a carbon fiber frame and any other material, it is recommended that you choose it because it exceeds in performance.
Features
The choice of tires depends on the trail. A mountain bike which is ridden on smoother terrains such as leaves and mud should have knobbier tires in order for the knobs to provide better traction. However, if you ride this bike on regular terrains, it will cause you to lose more energy and have a lower speed. Smooth tires on the other side are not convenient for use on mountain trails since they provide less vibration, therefore less rolling resistance. Although this might seem tempting because it creates that you get a higher speed, it is not safe to have smooth tires on a mountain bike.
However, there are tires that are perfect for beginners since they have the advantages of both tire types. They are called hybrid tires and they can be used for all terrains, without having to change them all the time. This type of tires could be recognized by their smooth center and treads on the sides of the tires. Nevertheless, this type of tires usually comes with the bike and they cannot be changed since they also require different types of wheels.
Top Ten Mountain Bikes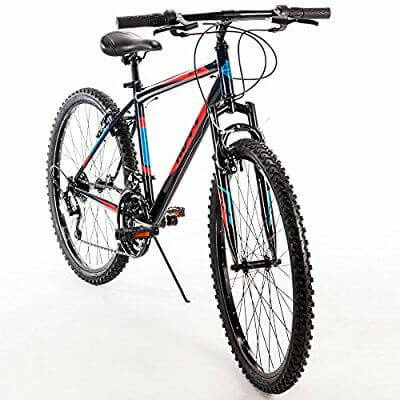 The Huffy Alpine is a great bicycle for a beginner mountain biker. It is very affordable and provides you with a smooth ride and all the necessary suspension and gears to get you up and down hills without issue.
Read more
Value
This is one of the most affordable bikes on our list as it comes to you at a price of around $90. This is a great bike if you are just starting to get into mountain biking as it will give you a quality bike and not break the bank.
Style
The bike has a basic design but gives you all the necessary components to hit the trails and get a quality mountain bike ride in.
Materials
This bicycle from Huffy has a frame made from durable steel to withstand anything that could occur to it while hitting the trails.
Features
This bicycle has a great stylish finish, comfortable hand grips, and great suspension to ensure you have no issues and are not delayed while cruising off-road.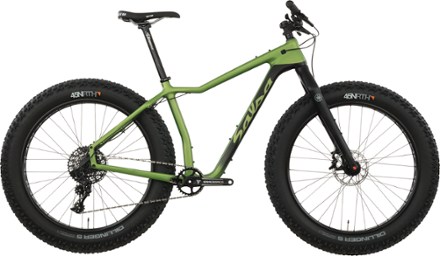 The Mongoose Juneau 26" is a fat bike that you will be able to ride 12 months per year. It is the type of mountain bike that you would enjoy if you don't mind riding on the snow or to places unsuitable for bikes. You could go through dirt and mud with it. Also, you could even ride it through sand and shorelines. This all-terrain bike will allow you to ride anywhere and anytime.
Read more
Value
This bicycle from Mongoose which is a great brand that produces quality mountain bikes comes to you at a fair price of $400.
Style
The Mongoose Juneau 26" is a fat bike that you will be able to ride 12 months per year. It is the type of mountain bike that you would enjoy if you don't mind riding on the snow or to places unsuitable for bikes. You could go through dirt and mud with it. Also, you could even ride it through sand and shorelines. This all-terrain bike will allow you to ride anywhere and anytime.
Materials
This Mongoose Juneau mountain bike comes with a new and improved frame and the main difference is in the angle of the tubes. This new design has a frame made out of carbon and it is much more spacious than the previous version.
Features
The riding is exceptionally smooth, and the stopping immediate. The Mongoose Juneau features a hydraulic brake system and SRAM pedaling system parts. It is important to mention that the pedals are sold separately which you should include in the price. The Mongoose Juneau is a natural climber with extra wide tires that makes riding through rocks extremely easy. However, this significantly decreases the speed of your bike since the traction is much better. Even though it performs great on snow, the ice patches could give you a bit of a hard time, so it is recommended that you pay special attention to them.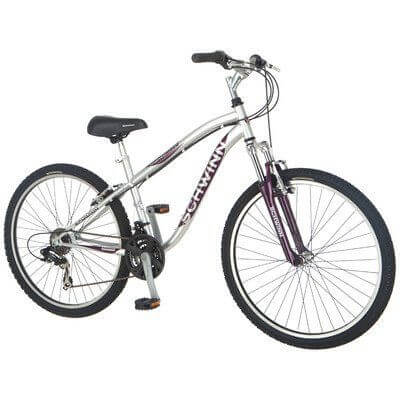 This bicycle from Schwinn is a quality mountain bike that will not only get you where you want to go but also last many years to come with proper care. The Schwinn brand is known throughout the bicycle industry and for good reason.
Read more
Value
This mountain bike from Schwinn comes to you at a price of around $180, which is a steal for a quality mountain bike from Schwinn. If you are in the market and are looking for quality but also trying to stick to a budget, then take a closer look at this bicycle.
Style
This bike is sleek and stylish and comes in five different colors and frame styles, so you should have no problem finding the perfect fit for you and your riding style.
Materials
This bicycle is made from a lightweight alloy which means you will be able to get up and down hills without issue. The gear system is also from Shimano which means you are getting some quality gears which will last you quite some time and hold up to the toughest treks.
Features
Aside from being stylish, this bicycle comes with a great suspension and a Shimano gear system. Overall there are no extra fancy features, as this is just a tough rugged mountain bike.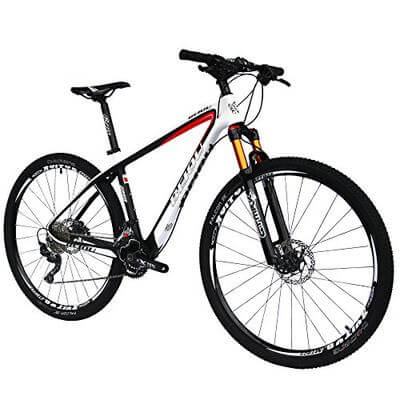 This bicycle from Beiou is stylish and performs well. Its sleek design will not only have you riding up and down trails smoothly but also have you looking good while doing it.
Read more
Value
This bike is one of the most expensive on the list and that is because it is top of the line and comes with the top of the line gears, brakes, and frame.
Style
This bicycle is a sleek, quality bicycle and comes with the top of the line Shimano gears which will ensure you have a smooth ride. This is a very expensive bike and with proper care, will last you many years.
Materials
This bicycle comes with top of the line Shimano gears for a smooth ride, a carbon fiber frame for max durability, and great suspension to ensure an even more comfortable ride while off-trail.
Features
This bicycle comes equipped with a carbon fiber frame which means it is lightweight and will last many years no matter what you throw at it.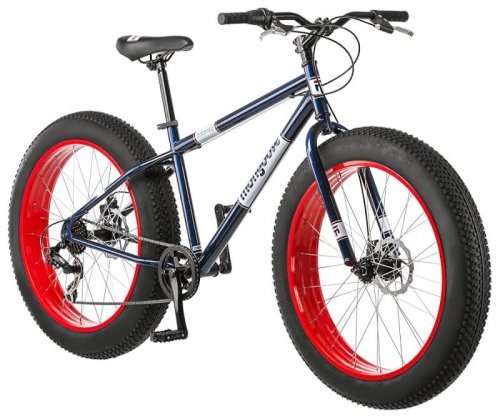 The Mongoose Dolomite is a bit pricey for a mountain bike option, but it is a solid performer on downhill terrains. However, in more intense descents it tends to have a lower score. It has fat tires that are 18 inches thick. This makes it great for the smoother sections which classify the Mongoose Dolomite as a top performer in racier trail sections.
Read more
Value
This bicycle will run you about $300 which is a great price for a quality bicycle and that is exactly what this is a quality bicycle. Not only is it built to last but also comes to you from a great brand.
Style
Although the speed depends on many factors, it is undeniable that the Mongoose Dolomite has a smooth uphill ride. It will definitely challenge you to think fast in order to avoid obstacles since it rolls very fast. However, it's downhill possibilities do not match the uphill ones. Even though it is fast, it is not as smooth when descending. The speed though is not something that it lacks if you manage to stay on the saddle. Although the entire construction is built to help you conquer that hill, when descending, you will absolutely be using the brakes more than you wish.
Materials
This bicycle is known for its wider tires which will give you more grip and traction as you cruise off-road.
Features
Trail biking requires an excellent suspension system that will absorb most of the shock and leave you enjoying the ride. The Mongoose Dolomite has a specific design that is a low volume which means that on first sight, the suspension system doesn't seem much. However, it is particularly important that the Mongoose Dolomite doesn't bottom out, which happens to the best trail bike designs. Although it will definitely allow you to feel the bumpy road, it will endure the big hits bravely and it will not let you down.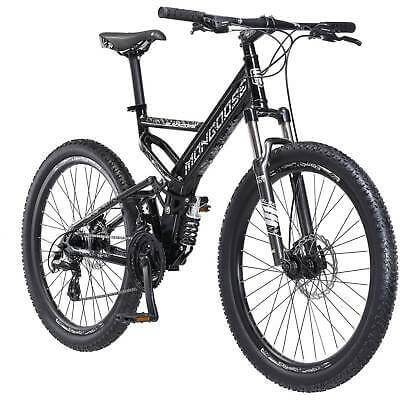 Another great mountain bike from Mongoose, and if you are looking for a bike that has everything you need for mountain biking than this just may be the bike for you. Mongoose makes some great quality bicycles, and after seeing this bike in action, you will be glad you decided to go with it.
Read more
Value
This mountain bike comes with a higher price tag than some of the other bikes on our list, but for good reason. The durability alone, and the features that allow you to have a smooth ride justify the price and most likely this will be one of the last mountain bikes you will ever need to purchase.
Style
This mountain bike looks like your standard 24-speed mountain bike. It has a great shock system to ensure you get the proper suspension and support as you cruise up and down hills. It is sleek black and looks great.
Materials
This bicycles frame is made from an alloy which means it will be lightweight, which is exactly what you want in a mountain bike as you do not want something weighing you down. The gears are made from Shimano, so you know you are getting quality and will have a smooth ride.
Features
This mountain bike from Mongoose comes with a 24-speed gear system to ensure the smoothest ride. It also has a cushioned seat which is detached from the bottom part of the frame to give you extra suspension as if you have ever been mountain biking before, know it can be a bumpy ride.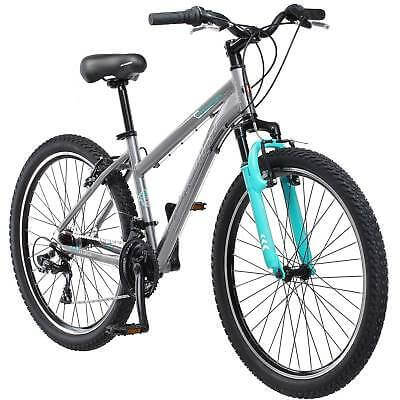 Another great mountain bicycle from Schwinn. The Schwinn Sidewinder is a basic mountain bike which is affordable if you are looking for a mountain bike that won't break the bank. It rides smooth and looks stylish.
Read more
Value
This bike is quite affordable as it comes in with a price tag of $180. For a Schwinn bike, this price is great if you are looking for your first mountain bike.
Style
This Schwinn bike is a basic design and has a 26" frame.
Materials
This bicycle is made from a lightweight allow frame which is great when trekking up and down hills. It also comes with Shimano gears which mean you will have no issues cruising off-trail smoothly.
Features
This bicycle has not extra notable features. It is quite basic but will be all you need for a smooth mountain trail.

8

. Diamondback Release Full Suspension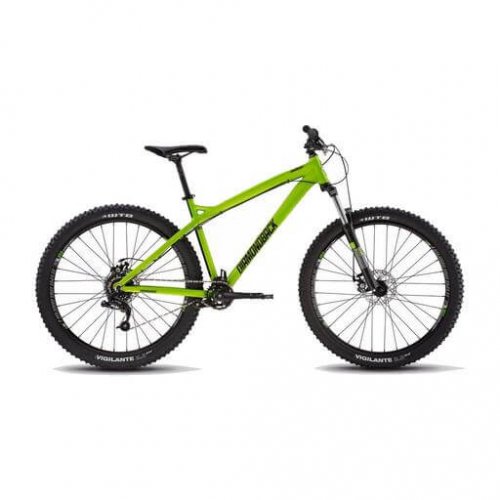 The Diamondback Release Full Suspension Bike has been created to offer you a mountain bike that rides as hard as you do. It boasts stability during speed, quick cornering, and an excellent ability to climb.
Read more
Value
This bicycle is one of the most expensive on our list and is recommended for die-hard cyclists that will be cycling every day and want a quality bicycle that is top of the line.
Style
The wheels are brand new to the Diamondback bikes, and they offer substantial trail grip. In short, this bike has been created to ride tough trails all day with complete worry-free performance.
Materials
The Diamondback Release Full Suspension's frame is made of quality hydroformed aluminum. This make-up of the bike means that it is not only lightweight, but it is also durable. You can hit trails at speeds without worrying about a heavy bike weighing you down.
Features
It has a level link suspension system that means it remains stable on any terrain and that it won't become abrasive as you glide over rocky, muddy, or up and down pathways. The suspension system also means that at a high speed, the bike will remain stable. The link configuration works by separating your trail and pedal inputs.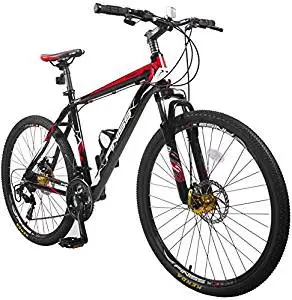 If you're looking for a good performing bike on a budget, then you might want to consider the Finiss Merax, which offers a lot of bang for your buck. It's not the most durable bike, but if you are just starting out or need a bike on a budget, you'll love this option.
Read more
Value
This bike performs decently with climbs and downhill performance, especially for the price. It's not as heavy duty as some other options on our list, but that's primarily because it's built to keep costs down. For its price, it provides decent performance and good quality overall as a bike. However, there is nothing too fancy about this bike, and you won't find many extra features with it.
Style
This bicycle is sleek and made specifically for mountain biking. It feels comfortable while you cruise up and down the hills while biking off-trail.
Materials
This bike has an aluminum frame for a lightweight feel.
Features
The suspension system on the Finiss Merax features a front shock absorber, which can be upgraded as needed. The bike is built to handle about 200 pounds, so if you are heavier, you might need to consider making some adjustments. The pedaling and brake system on this bike are both average, and certainly nothing fancy. However, again, for the price range, this bike will bring you good performance.

10

. Diamondback Overdrive Comp 29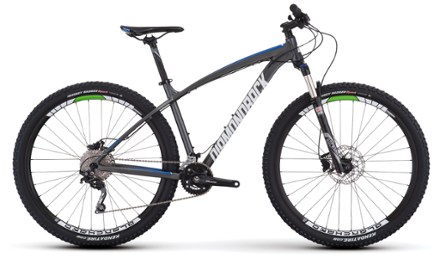 The Diamondback Overdrive is a hardtail mountain bike and it is the perfect option for climbing hills. It has all the features of a natural climber. It is lightweight, suitable for riders of any skill level and it comes at an affordable price.
Read more
Value
This bicycle is a little steep on the price tag but for good reason. It comes in at $500 but is jam-packed with quality and features.
Style
The tires are a bit larger than average, which enables the rider to handle the obstacles on the road with ease and without losing his stability. It has a relatively lower price than competitive models with the same features, although it has high-quality parts.
Materials
The Diamondback bike comes with an aluminum frame which is responsible for its lightweight design. This improves its downhill performance since a lighter bike could stop faster and more efficient. However, this also decreases its downhill speed which is much higher in heavier bikes. Nevertheless, the Diamondback is made for climbing.
Features
The suspension system consists of a front fork RockShox which absorbs the impacts and allows the user to face smaller rocks without any discomfort. However, there is no rear suspension system, although this is the practice for all lightweight hardtail bike designs.
The pedaling and braking systems are extremely durable and they are manufactured with the well established Shimano brand. The gear shifting is smooth and it performs well in all weather conditions. The braking system uses hydraulic disc brakes and they are able to stop the bike from moving even on rainy weather.

Subscribe to our Newsletter