Best Mountain Bike Wheels
In a
Hurry? Editors choice: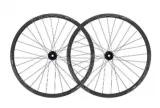 Test Winner: Tuff Carbon Wheelset

There are just certain items that you need to research before buying slowly, and mountain bike wheels are one of them. Do not make the mistake of merely choosing a random wheelset, expecting it to be precisely what you want and desire. It is just not going to be that easy.
Several different factors (such as your riding style, where you intend to ride and the performance you require) will all affect what type of mountain bike wheels you will need to buy. Sure,
the bicycle's frame
, drivetrain, and also
the actual tires
will play a role, as well. But, the wheels are as important as any other component.
Thankfully, we have taken a lot of the work out of your hands by constructing this buying guide. Here, you will learn exactly what you need to know to select your next mountain bike wheels confidently.
Standout Picks
Criteria Used for Evaluation
Materials
What you want to focus on here are the materials that were used for the rims.
When it comes to assessing the materials that makeup mountain bike wheels, one of the essential components to consider are the rims. For the most part, you will either see them made out of aluminum or carbon fiber. The question is which one of these materials is superior?
Well, let's take a look at aluminum first. For the record, one aluminum rim may be superior to another one as it depends on several other factors. But, aluminum rims provide a great deal of comfort when you are riding on trails. The metal is also known to be lighter than steel.
However, carbon fiber rims are generally preferred, and it is due to their unique properties. As carbon fibers are mostly composed of carbon atoms, anything made with it tends to be lightweight. That also applies here. But, the lightweight nature of carbon fiber rims is also coupled with superior stiffness. This combination is lethal when it comes to mountain bike wheels.
Of course, you also have to consider the price. Wheels with carbon fiber rims do tend to be more expensive than those made with alloy (or aluminum). Both of which are still highly component rims so do not think that aluminum rims are entirely worthless.
Size
For certain, you will need to assess the size of the wheels that you go to buy.
Yes, indeed, when it comes to mountain bike wheels, size is vital. This all starts with the physical size of the wheels and is typically measured in inches. For the record, there are three main sizes that you will see (26, 27.5 and 29 inches). In recent years, 26-inch wheels have become somewhat outdated, though.
You see, 26-inch wheels used to be the norm but larger wheels can offer enhanced performance benefits. For example, 27.5-inch wheels (which are sometimes called 650B wheels) sport improved traction and roll-over ability when compared to their 26-inch counterparts. And, the same goes for 29-inch wheels.
These are also referred to as 29ers and provide even more excellent traction and technical performance. Then again, these mountain bike wheels will add some more weight to your mountain bike (but also stability). Of course, you also need to look at the width of the rims.
For the record, rim width is measured both externally and internally. This is important as the two widths will be different. For the most part, most of you will want to opt for wider rims for improved stability. Anything less than 19 millimeters (internally) in width should be considered narrow, so avoid these types of mountain bike wheels if you want wider rims.
Effectiveness
The wheels are just another component of your bike that will affect its performance.
Throw everything else out the window; you will want mountain bike wheels that can perform to your standards. But, from one person to the next, these standards may be different. And, a lot of it comes down to your riding style and what you want to use the mountain bike wheels for.
A perfect example is when you go to assess the total weight of the wheels. Lighter is not always better, but it can be if you have a specific riding style. For example, if you will be partaking in a lot of uphill biking and race-oriented events then you will prefer lighter wheels. On the flipside, downhill and enduro riders will likely prefer the benefits of using heavier wheels.
Something else to consider is what is known as engagement speed. This has not been touched on too much in this guide, but it refers to how fast you can after you start pedaling. And, for faster engagement speeds, you will need to buy hubs that can achieve more points of engagement (the more, the better).
Also, do not forget about the design of the bearings as these are another critical component. Bearings can be made of differing materials (from steel to ceramic). Of those two, ceramic bearings tend to be harder, smoother, and rounder. Thus, this can result in reduced friction. Speaking of friction, keep it down by adequately lubricating the bearings when need be.
Features
For the most part, you will want to focus on the design of the spokes here.
This section is all about the spokes and as simple as they seem, it is incredible how complex they can be. For starters, it is important to note that spokes can come in many different materials and styles. While most spokes will be made out of steel, they can also be made out of aluminum, carbon fiber, and titanium.
Moving on, you have ordinary spokes and also double-butted spokes. Normal ones are typically either going to J-bend or straight-pull spokes. The difference here is that J-bends will sport 90-degree bends at the hub. Meanwhile, straight-pull spokes will have no curve in them.
Regarding which one is better, straight-pull spokes tend to be more durable, but they are also not as common as J-bends. So, if one of them breaks, it can be harder to find replacements. As for what double-butted spokes are, they offer two different diameters and are more durable than straight gauge spokes, as a result.
Of course, how many spokes are needed? Well, typically, the rear wheel will come with more of them to account for the enhanced stress that it is under. But, the more spokes a wheel has, the heavier it is, so remember that. In general, most mountain bike wheels will sport anywhere from 24 to 32 spokes.
Compatibility
You want to ensure that the wheels you buy will be compatible with the other components you need.
As you will also need to buy some tires to go alongside your wheels (unless tires are also provided with your purchase), you need to ensure that they will be compatible. And, it is essential to understand that the mountain bike tires you will buy with either be tubeless or clincher.
And, not all mountain bike wheels will work with tubeless tires or clincher tires. As for what the difference between the two styles is, clincher tires will require an actual tube to inflate air. Meanwhile, as their name suggests, no such tube is going to be needed for tubeless tires.
Because tubeless tires offer lower rolling resistance, reduced weight, and lower pressures, it may be in your best interest to look for wheels with tubeless rims. Then again, you can also opt for mountain bike wheels with tubeless-ready rims.
Also, some systems will be equipped with freewheels and others with cassettes. Again, this all comes back to the current bike you own and the tires that you want to buy.
Our Top Picks for the Best Mountain Bike Wheels
Subscribe to our Newsletter