Best Mountain Bike Wheels
In a Hurry? Editors choice: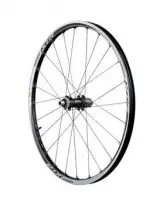 Test Winner: Shimano XTR Trail Wheelset

There are just certain items that you need to research before buying slowly, and mountain bike wheels are one of them. Do not make the mistake of merely choosing a random wheelset, expecting it to be precisely what you want and desire. It is just not going to be that easy.
Several different factors (such as your riding style, where you intend to ride and the performance you require) will all affect what type of mountain bike wheels you will need to buy. Sure,
the bicycle's frame
, drivetrain, and also
the actual tires
will play a role, as well. But, the wheels are as important as any other component.
Thankfully, we have taken a lot of the work out of your hands by constructing this buying guide. Here, you will learn exactly what you need to know to select your next mountain bike wheels confidently.
Standout Picks
Criteria Used for Evaluation
Materials
What you want to focus on here are the materials that were used for the rims.
When it comes to assessing the materials that makeup mountain bike wheels, one of the essential components to consider are the rims. For the most part, you will either see them made out of aluminum or carbon fiber. The question is which one of these materials is superior?
Well, let's take a look at aluminum first. For the record, one aluminum rim may be superior to another one as it depends on several other factors. But, aluminum rims provide a great deal of comfort when you are riding on trails. The metal is also known to be lighter than steel.
However, carbon fiber rims are generally preferred, and it is due to their unique properties. As carbon fibers are mostly composed of carbon atoms, anything made with it tends to be lightweight. That also applies here. But, the lightweight nature of carbon fiber rims is also coupled with superior stiffness. This combination is lethal when it comes to mountain bike wheels.
Of course, you also have to consider the price. Wheels with carbon fiber rims do tend to be more expensive than those made with alloy (or aluminum). Both of which are still highly component rims so do not think that aluminum rims are entirely worthless.
Size
For certain, you will need to assess the size of the wheels that you go to buy.
Yes, indeed, when it comes to mountain bike wheels, size is vital. This all starts with the physical size of the wheels and is typically measured in inches. For the record, there are three main sizes that you will see (26, 27.5 and 29 inches). In recent years, 26-inch wheels have become somewhat outdated, though.
You see, 26-inch wheels used to be the norm but larger wheels can offer enhanced performance benefits. For example, 27.5-inch wheels (which are sometimes called 650B wheels) sport improved traction and roll-over ability when compared to their 26-inch counterparts. And, the same goes for 29-inch wheels.
These are also referred to as 29ers and provide even more excellent traction and technical performance. Then again, these mountain bike wheels will add some more weight to your mountain bike (but also stability). Of course, you also need to look at the width of the rims.
For the record, rim width is measured both externally and internally. This is important as the two widths will be different. For the most part, most of you will want to opt for wider rims for improved stability. Anything less than 19 millimeters (internally) in width should be considered narrow, so avoid these types of mountain bike wheels if you want wider rims.
Effectiveness
The wheels are just another component of your bike that will affect its performance.
Throw everything else out the window; you will want mountain bike wheels that can perform to your standards. But, from one person to the next, these standards may be different. And, a lot of it comes down to your riding style and what you want to use the mountain bike wheels for.
A perfect example is when you go to assess the total weight of the wheels. Lighter is not always better, but it can be if you have a specific riding style. For example, if you will be partaking in a lot of uphill biking and race-oriented events then you will prefer lighter wheels. On the flipside, downhill and enduro riders will likely prefer the benefits of using heavier wheels.
Something else to consider is what is known as engagement speed. This has not been touched on too much in this guide, but it refers to how fast you can after you start pedaling. And, for faster engagement speeds, you will need to buy hubs that can achieve more points of engagement (the more, the better).
Also, do not forget about the design of the bearings as these are another critical component. Bearings can be made of differing materials (from steel to ceramic). Of those two, ceramic bearings tend to be harder, smoother, and rounder. Thus, this can result in reduced friction. Speaking of friction, keep it down by adequately lubricating the bearings when need be.
Features
For the most part, you will want to focus on the design of the spokes here.
This section is all about the spokes and as simple as they seem, it is incredible how complex they can be. For starters, it is important to note that spokes can come in many different materials and styles. While most spokes will be made out of steel, they can also be made out of aluminum, carbon fiber, and titanium.
Moving on, you have ordinary spokes and also double-butted spokes. Normal ones are typically either going to J-bend or straight-pull spokes. The difference here is that J-bends will sport 90-degree bends at the hub. Meanwhile, straight-pull spokes will have no curve in them.
Regarding which one is better, straight-pull spokes tend to be more durable, but they are also not as common as J-bends. So, if one of them breaks, it can be harder to find replacements. As for what double-butted spokes are, they offer two different diameters and are more durable than straight gauge spokes, as a result.
Of course, how many spokes are needed? Well, typically, the rear wheel will come with more of them to account for the enhanced stress that it is under. But, the more spokes a wheel has, the heavier it is, so remember that. In general, most mountain bike wheels will sport anywhere from 24 to 32 spokes.
Compatibility
You want to ensure that the wheels you buy will be compatible with the other components you need.
As you will also need to buy some tires to go alongside your wheels (unless tires are also provided with your purchase), you need to ensure that they will be compatible. And, it is essential to understand that the mountain bike tires you will buy with either be tubeless or clincher.
And, not all mountain bike wheels will work with tubeless tires or clincher tires. As for what the difference between the two styles is, clincher tires will require an actual tube to inflate air. Meanwhile, as their name suggests, no such tube is going to be needed for tubeless tires.
Because tubeless tires offer lower rolling resistance, reduced weight, and lower pressures, it may be in your best interest to look for wheels with tubeless rims. Then again, you can also opt for mountain bike wheels with tubeless-ready rims.
Also, some systems will be equipped with freewheels and others with cassettes. Again, this all comes back to the current bike you own and the tires that you want to buy.
Our Top Picks for the Best Mountain Bike Wheels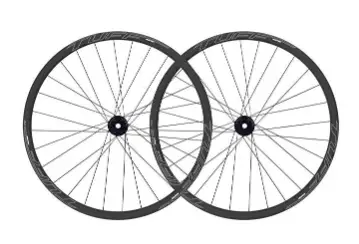 This is arguably the most premium among the best mountain bike wheels on this list and, hence, it secures the top spot. In addition to the performance, it has been torture-tested for enhanced safety and durability.
Read more
Materials
In addition to the fact that carbon fiber was used for the rims, these mountain bike wheels have also been torture-tested. In short, this increases the quality of them as it combats the issue of sidewall failure.
Size
This wheelset is built with 22-millimeter internal spacing on 27.5-inch rims. Keep this in mind with the tires that you have or plan on getting.
Performance
The spoke tension had been expertly calibrated for optimal performance. Additionally, the lightweight rims enhance handling and acceleration, and the increased tire footprint enhances the traction.
Features
To ensure both a lightweight and a stiff ride, these mountain bike wheels have been equipped with 28 spokes (both the front and rear wheels).
Compatibility
First off, both the front and back wheels included are tubeless compatible. Additionally, you can upgrade to different spokes if you want to.
Overall
Even though there is not a ton of consumer feedback available, you can tell the sheer quality of these wheels just by looking at them. Of course, their rigorous testing also gives you peace of mind.

2

. ICAN 29er Carbon Wheelset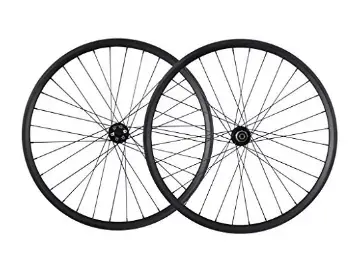 These sport some of the best mountain bikes rims that you will find on a wheelset in this price range. Also, the wheels are designed to fit any 29er tires, which is really nice.
Read more
Materials
Let's say that even after several miles of riding, these wheels are going to be ready for more. This is partially thanks to the full carbon fiber T700 rims.
Size
The external and internal rim width measures 35 millimeters and 30 millimeters, respectively, for each wheel. Oh, these wheels also measure 29 inches in size.
Performance
To say that these will make a difference in the way your bike performs is an understatement. Unless you already own elite mountain bike wheels, these will offer upgraded performance.
Features
In addition to the CN round spokes pattern, these wheels are also incredibly easy to set up tubeless.
Compatibility
Past the fact that these will fit any 29er tires, they also accept center lock six bolts disk brakes. Oh yeah, it also accepts either Shimano 10/11 speed or Sram XD driver 10/11 speed cassettes.
Overall
From top to bottom, these are simply fantastic mountain bike wheels. They hit all the major checkpoints of what you really are looking for. That pretty much says it all, does it not?

3

. Mavic XA Elite Front Wheel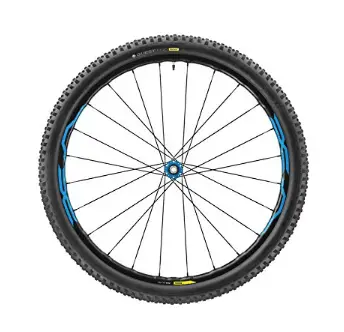 Now, this here is not a wheelset and, instead, is just a front wheel. Then again, the Mavic XA Elite is available in a wheelset if you do prefer to get two of them. Either way, the quality is superb.
Read more
Materials
While this is not equipped with a carbon fiber rim, the alloy rim is still pretty good (and it can also be bent back). Additionally, a tire is included with your purchase. But, the casing is not the best, and it sports a light tread pattern.
Size
Even though this is a 27.5-inch wheel, it is also available with a diameter of 29 inches if that is better for you.
Performance
For the most part, the XA Elite is optimized for traction, and you can tell. As a whole, it is designed mostly for trail and cross country riding. Then again, heavier users may not be too big a fan of the compliance.
Features
The spoke design of this wheel is quite good and unique. First off, 24 of them have been integrated to keep the wheel lighter as a whole. Secondly, they are bladed and double-butted pull spokes, and you will probably be able to find replacements if one of them breaks.
Compatibility
This is freewheel-compatible but is actually can be converted to XD with a driver's body. However, this is optional and not mandatory on your part.
Overall
What is nice about this option is the fact that a tire is also included with your purchase. However, the mountain bike wheel itself is what truly shines. After all, you could always use a different tire.

4

. Shimano XTR Trail Wheelset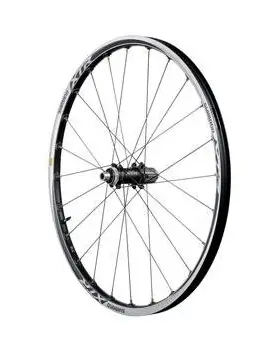 Shimano is world-renowned as a cycling company so you know you can put your faith in them. Their XTR Trail wheels are both durable enough for tougher rides yet light enough for racing enthusiasts.
Read more
Materials
In addition to the fact that the rims are durable enough for tighter trails, included with your purchase are also steel skewers for enhanced durability and strength.
Size
This is a 29-inch wheelset, and it sports rims that measure 26.4 millimeters in width. For the record, the rims are going to fit tires that range from 1.95 to 2.5 inches.
Performance
The combination of speed and stiffness is what most of you will love about this wheelset. With that being said, during inclement weather, the hubs are not very reliable.
Features
Both of the wheels sport 24 stainless spokes, for the record. But, most worth mentioning here is Shimano's pure dedication to their rims (as they are designed to UST rim certification standards).
Compatibility
What is nice is these mountain bike wheels are not limited to tubeless tires only. Additionally, these are compatible with centerlock rotors and also 9 and 10-speed cassettes.
Overall
Would you expect anything less from Shimano? While this wheelset will not perform very well in the rain, it is going to shine when the weather outside wants to play nice.

5

. Sunrise Carbon Road Wheels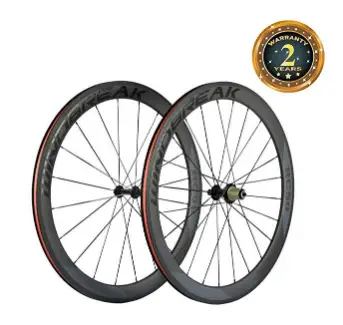 These road bike wheels are built with carbon fiber rims and sport matte finishes. Thanks to this, these wheels are both lighter and faster than those with aluminum rims.
Read more
Materials
While the carbon fiber rims are going to hold up well over time, the same is not valid for the rear aluminum spoke nipples. These have been known to break on riders after around a thousand miles or two.
Size
To get the specifications out there, these wheels are equipped with rim widths of 23 millimeters and also rim depths of 50 millimeters.
Performance
Due to the carbon fiber rims, these wheels are going to perform lighter and faster when compared to their aluminum counterparts. As such, you will get a ton of speed down slopes and an adequate amount while on flat terrain.
Features
There are only 20 spoke holes in the front wheel (adding to the lightweight nature) and 24 in the back wheel.
Compatibility
Several accessories are included with your purchase, including brake pads, skewers, and a basalt braking surface. Also, the cassette body is compatible with several Shimano speeds.
Overall
Outside of the fact that the spoke nipples in the rear wheel have been known to break, these remain an excellent choice for your next mountain bike wheels.

6

. Vuelta Zerolite Wheelset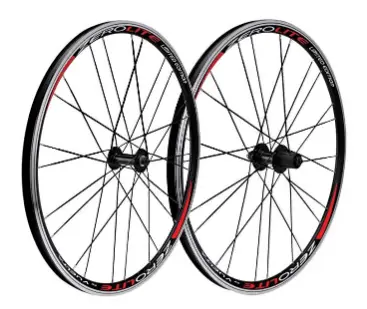 In spite of the fact that these bike wheels are somewhat on the heavy side, they perform really well and are pretty strong to handle several different riding scenarios.
Read more
Materials
Yep, as was just noted, this wheelset is somewhat on the heavier side. The alloy pinned rims, however, are quite strong and should hold up very well.
Size
The Zerolite Wheelset measures 26 inches in diameter and is going to work for according to bikes and tires.
Performance
Even though you would think the extra weight would bog down these mountain bike wheels, they can still pick up some speed and roll well. The performance is not sacrificed as much as you would think.
Features
Both the front and back mountain bike wheels come with 24 black bladed spokes. This helps not to make each of the wheels overbearing in regards to their weight.
Compatibility
The front wheel can actually be converted to either a 15-millimeter or 9-millimeter thru-axle if you want. Also, as for the cassette, this can handle 8 to 10-speed options.
Overall
For the most part, not too many of you will have an issue with the extra weight of this wheelset (as it is really not that bad). The strength and performance make up for it, quite honestly.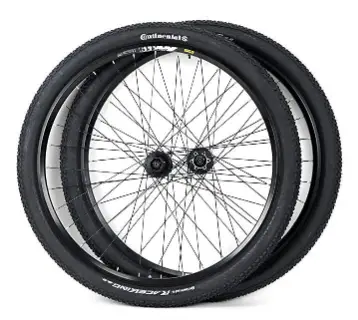 In addition to the fact that you get some high-quality mountain bike wheels, they are also packaged with high-quality Continental King Tires. This is a really nice package deal at an even better price.
Read more
Materials
Past the Continental King Tires that sport Pure Grip compound and folding beads, the alloy rims make up these well-designed mountain bike wheels.
Size
This is a 29er wheelset and that means that it is going to fit virtually all 29er mountain bike tires.
Performance
While one reviewer did make mention of the fact that they needed to repack the bearings after a few rides, these mountain bike wheels to provide a smooth and enjoyable ride regardless.
Features
Both the front and back wheels are equipped with 32 black stainless steel spokes. However, there have been a few reviewers that have claimed that some of the spokes can be loose.
Compatibility
Be aware that these are not tubeless-ready and a tubeless kit will be needed for them to be compatible. Outside of that, these work with disk brakes and are compatible with Shimano 7 to 10-speed cassettes.
Overall
As you can tell, there are some slight issues with this wheelset. But, for the price, you can expect this a little bit. But, do not mistake these for poorly-designed wheels as they are far from that.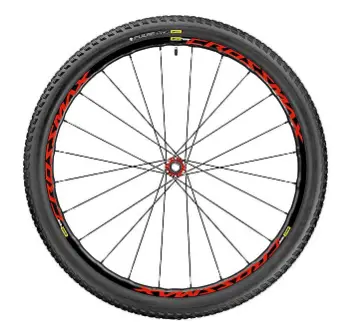 This is yet another bike wheel from Mavic but this one is the Crossmax Elite. While this wheel is not ideal for racers due to the design of the spokes, it does offer more of a smooth and enjoyable ride.
Read more
Materials
The Crossmax Elite is designed with an aluminum rim. But, what is really nice is all superfluous material has been removed to make the rim even better.
Size
This specific wheel size is 27.5 inches. However, with that said, the Crossmax brand of mountain bike wheels is available in other sizes if 27.5 inches is not going to work for you.
Performance
Due to the fact that this is equipped with steel spokes, the ride is more forgiving and also not as stiff. While this is not ideal for racers, this offers a more forgiving and softer ride.
Features
The front and rear wheels are both equipped with the same number of straight-pull bladed and double-butted spokes. For the record, this number is 24.
Compatibility
Yes, this is sold as a tubeless-ready design. However, this is because the required rim tape, sealant, and valves are provided with your purchase.
Overall
The Crossmax Elite may not be an "elite" mountain bike wheel but it certainly is well-designed. It also has been engineered by Mavic so that helps.

9

. Sta Tru STW Bike Wheel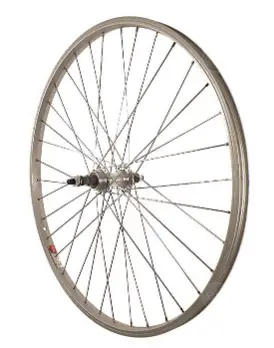 While not perfect or flawless in its design, you have to appreciate this mountain bike wheel for being optimized for durability. The performance, while not amazing, will also suffice for some of you.
Read more
Materials
Outside of the fact that this was tested and approved for optimal durability, the silver material utilized is also extremely high in quality.
Size
Keep in mind that this will only fit bike frames that sport rear drops out spacings of 135 millimeters. Also, this is a 26-inch wheel.
Performance
Past the fact that the bearings can have somewhat of a rough feeling, the brake pads do not grip as well as they should (this is due to the groove alongside the rim).
Features
Being designed with UCP spokes, this adds both durability and stability.
Compatibility
Alright, so this is only going to accept freewheels so do be aware of that. Also, this sports a bolt-on axle and is ideal for six and seven-speed systems.
Overall
If you can't afford top-notch mountain bike wheels, then this will be an excellent choice. The performance is somewhat lackluster, but that will be okay for some of you.

10

. Superteam Road Bike Wheels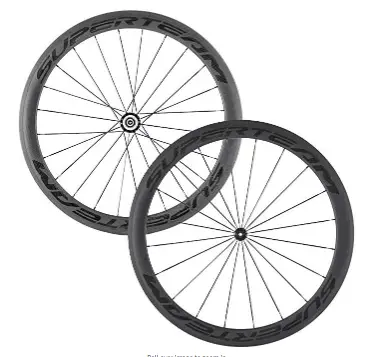 For mountain bike wheels that sport carbon fiber rims, these are actually somewhat affordable for the average consumer. However, overall, the bearings are not up-to-snuff when compared to top-end options.
Read more
Materials
Although the rims are made out of high-quality carbon fiber, the bearings are not as well-designed. During rainstorms, they can begin to develop high-pitched noises, which is a bad sign.
Size
The rim depths of 50 millimeters are not going to be the best for some of you, but it will suffice. Also, the rim heights are 23 millimeters, for the record.
Performance
Big plusses are the 6-layer carbon rim bodies and 12-layer carbon brake tracks. However, the aerodynamics of these wheels could be better and do not affect wind resistance that much.
Features
The rear wheel has been designed with 24 spoke holes and the front wheel is equipped with 20 holes.
Compatibility
This wheelset is compatible with many Shimano cassette bodies. The most optimal speeds will be anything from 8 to 11.
Overall
It is fair to say that the bearings could be seen as problematic. Though these are a very crucial component of mountain bikes, these road bike wheels remain good regardless.

Subscribe to our Newsletter