Best Mountain Bikes Under $1000
In a
Hurry? Editors choice: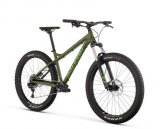 Test Winner: Raleigh Tolkul 3

Standout Picks
Criteria Used for Evaluation
Style
Generally speaking, there are five different types or styles of mountain bikes. Each, of course, can be used in a wide range of situations and different environments, but they are each best suited for a specific type of riding style. For example, cross country, or "XC" mountain bikes are designed to be lightweight and built for overall speed and maneuverability. They are also sometimes referred to as "general use". Those mountain bikes that are referred to as "All Mountain" or "endure" mountain bikes can probably be considered the workhorses of the mountain biking world, and feature partial or full suspensions, a slightly heavier frame, and is best suited for going up the mountains and back down again with or without the use of trails. Downhill mountain bikes, as the name implies are designed to do one thing, and do it very, very well: travel downhill. They're designed to handle steep descents at a rapid pace, and feature gears that allow for rapid pedaling and tires and a frame that holds up to the increased pressure of moving at such a rapid pace. Freeride mountain bikes are somewhat similar to the downhill racers mentioned before, but with one strong difference. Where the downhill mountain bikes are built for speed, the freeride mountain bikes feature increased maneuverability and dexterity. Essentially their focus is not only getting down the hill but doing it in style. And finally, if you want a bike that allows you to do tricks and jumps with relative ease while traveling through the mountainous terrain, you'll want to consider getting a dirt jump mountain bike due to their specialized frame and single gearing.
Materials
When it comes to mountain bikes, there are a few different materials that are used. The first, and most common, of course, is aluminum. Aluminum frames are often fairly lightweight and strong and have the ability to be easily treated to either add strength or durability. Most cross-country mountain bikes have aluminum frames. Steel frames are more common in downhill or endure mountain bikes. They are often slightly heavier than aluminum frame bikes and do offer a bit more durability and strength at the cost of the added weight. And finally, some of the more specialized mountain bikes feature frames made of things such as carbon fiber or titanium, each of which has their own special advantages and disadvantages such as a lighter overall weight and a slight reduction in strength.
Stability
In addition to the different styles of mountain bikes listed above, the frames of those bikes can vary widely based on the needs and desires of the rider. For the most part, however, there are three basic frame styles. The first is often referred to as full suspension, and as the name implies features suspension brackets on both the front and rear tires. Full suspension mountain bikes are often seen on downhill and all-mountain styles and are designed to increase to overall comfort of the rider and help with stability and control. Hardtail, or sometimes called front suspension only mountain bikes don't have suspension mechanisms on the rear tire and a suspension fork on the front tire, and potentially additional suspension devices as well. A hardtail design is often seen on cross-country or trail mountain bikes and is better suited for acceleration and control while maneuvering on the incline. Rigid frame mountain bikes are those that offer no suspension at all. It's just you, the frame, gears and the tires.
Size
Generally speaking, there are three sizes when it comes to the diameter of the mountain bike wheel. The standard twenty-six-inch diameter is still the most common and provides for a great generalized level of control and shock absorption. Recently though, tires with a larger diameter, such as 27.5 and 29 inch have started to become more popular due to their ability to more easily absorb the impacts from larger stones or trail debris. While a large diameter tire often means better shock absorption and efficiency, it also means a decrease in overall maneuverability. Depending on the style of mountain bikes under $1000 that you plan on buying, the gearing system which includes such things as the drivetrain, shifters, cassettes and derailleur gears can vary quite a bit. For the most part, though, mountain bikes under $1000 dollars often feature gear systems that have between 21 and 27 speeds and feature both a front and rear derailleurs. The shifting mechanisms are often smooth overall, and the best examples allow for easy shifting without much concentration.
Subscribe to our Newsletter