Best Mountain Bike Brakes
In a
Hurry? Editors choice: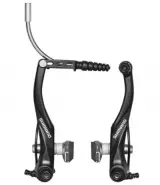 Test Winner: Shimano Mountain Bicycle V-Brake - BR-T4000

There is a specific pain that comes from constantly squeezing onto tired, old mountain bike brakes. Your hands are sweaty, the muscles on the inside of your palms feel like they're on the verge of
cramping up
, and your fingers feel as if they may snap off and
blow
away. If this is you, it may be time to invest in some new brakes.
Many of the products on the market are for specific replacement parts, such as cables, brake pads, and calipers, and levers. Take into consideration exactly what you want when you are replacing your bike's brakes. Do you need to buy a whole new set? Or just replace the hand levers? Perhaps you want to bust out your
toolbox
and upgrade your brakes completely. Or maybe, you want to switch from classic V-brakes to try out the much superior (and more expensive) disc brakes.
Standout Picks
Criteria Used for Evaluation
Materials
For brakes to work properly and stand up to whatever you throw at it out there on the trails, it is important that they are made out of quality material. You may be surprised to know that some companies construct their components out of plastics and PVC materials that may crack under the pressure of a wipe-out. The best products in this particular area are generally made out of aluminum alloy, because they are incredibly strong, but still lightweight, so that it won't add any unnecessary weight to your bike.
Effectiveness
It goes without saying that this was the most important thing we looked at when selecting brakes. Sure, it's great for them to look good and be made from quality materials, but if they don't make you slow down and stop, they are virtually useless. When selecting the best of the best, we took the time to sort through all of the things that people were saying about each product. Something that makes a set really stand out is not only how well these products can make you stop, but how easy they are to use. One of the best features we came across was the ability to stop with just one finger – a feature prevalent in Shimano products. The one-finger stop makes it so that you can keep control of your bike without taking your hand completely off of your rubber grips. The less force from your hands that is needed to regain control of your bike on descents makes for a far more pleasant ride.
Style
It may seem a little vain, but you probably spent a lot of time and money carefully selecting a mountain bike that was powerful and also reflected your personal style, so the last thing that you probably want to do is add new brakes that look bulky and sloppy. We took that into consideration when sorting through all of the different makes and models of brakes. We selected products that stop on a dime, but that also look great.
Subscribe to our Newsletter