Best Mountain Bike Brakes
last updated:
Apr 06, 2020
There is a specific pain that comes from constantly squeezing onto tired, old mountain bike brakes. Your hands are sweaty, the muscles on the inside of your palms feel like they're on the verge of cramping up, and your fingers feel as if they may snap off and blow away. If this is you, it may be time to invest in some new brakes.
Many of the products on the market are for specific replacement parts, such as cables, brake pads, and calipers, and levers. Take into consideration exactly what you want when you are replacing your bike's brakes. Do you need to buy a whole new set? Or just replace the hand levers? Perhaps you want to bust out your toolbox and upgrade your brakes completely. Or maybe, you want to switch from classic V-brakes to try out the much superior (and more expensive) disc brakes.
This is the best product on our list that is currently in stock: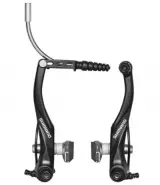 Shimano Mountain Bicycle V-Brake - BR-T4000
Why is it better?
Name recognition
Easy to install
Affordable
In a
Hurry? Editors choice: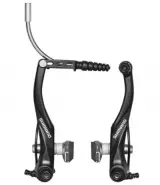 Test Winner: Shimano Mountain Bicycle V-Brake - BR-T4000

15
Researched Sources
1,982
Reviews Considered
14
Hours Researching
16
Products Evaluated
Materials
Effectiveness
Style
By Default
Criteria Used for Evaluation

Materials
For brakes to work properly and stand up to whatever you throw at it out there on the trails, it is important that they are made out of quality material. You may be surprised to know that some companies construct their components out of plastics and PVC materials that may crack under the pressure of a wipe-out. The best products in this particular area are generally made out of aluminum alloy, because they are incredibly strong, but still lightweight, so that it won't add any unnecessary weight to your bike.

Effectiveness
It goes without saying that this was the most important thing we looked at when selecting brakes. Sure, it's great for them to look good and be made from quality materials, but if they don't make you slow down and stop, they are virtually useless. When selecting the best of the best, we took the time to sort through all of the things that people were saying about each product. Something that makes a set really stand out is not only how well these products can make you stop, but how easy they are to use. One of the best features we came across was the ability to stop with just one finger – a feature prevalent in Shimano products. The one-finger stop makes it so that you can keep control of your bike without taking your hand completely off of your rubber grips. The less force from your hands that is needed to regain control of your bike on descents makes for a far more pleasant ride.

Style
It may seem a little vain, but you probably spent a lot of time and money carefully selecting a mountain bike that was powerful and also reflected your personal style, so the last thing that you probably want to do is add new brakes that look bulky and sloppy. We took that into consideration when sorting through all of the different makes and models of brakes. We selected products that stop on a dime, but that also look great.
Expert Interviews & Opinions
Most Important Criteria
(According to our experts opinion)
Experts Opinion
Editors Opinion
Users Opinion
By Default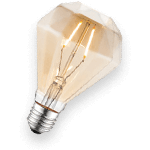 V brakes vs Disc Brakes
Disc brakes are a little more complicated and can rack up a pretty big bill. However, they are considered to be more powerful and have a tendency to last a little bit longer. V-brakes are a little less complicated, have an easier installation, and more importantly, they come at an affordable price point. While we did include some disc brakes on this list, we mostly gravitated towards V-brakes, because they can fit universally on more bikes, and they are the more affordable option. Plus, it seems that more casual mountain bikers prefer to use the tried and tested design of V-brakes.
Weekly Cleaning
You should clean every groove of your mountain bike every week. Inspect each piece to make sure it isn't overrun with grime or build up. Along with this, if you have disc brakes, you should also bleed the line. Without realizing you could have air in the line and this will cause you major problems out on the trail.
Other Factors to Consider

Brand
There isn't much room for any other brands of brake companies on this list. Shimano reigns supreme in this particular space. Shimano was founded in 1951, and they currently hold approximately 51 percent of the global market share when it comes to biking components. You may have noticed in the past, that some of the components that come equipped on a bike that you purchased from a bike shop already comes with a Shimano component. That is why Shimano takes the top three spots on this list. It's hard to compete with their quality, design, and durability.
Mountain bikers love Shimano, and it is the brand that all other brands are held against. But that isn't to say that we did not look at some of the other brands out there. Some of the other companies make excellent parts with the same grade of materials as Shimano, and they are offered at a more affordable price point.
If you are looking to get brakes that all of the serious mountain bikers love, you are going to want to buy Shimano. If you are looking to save a little money and try a different brand, another brand is a perfectly viable option as well. It all depends on how important buying made brand products is to you.

Value
While it is important to buy brakes that are functional, we also kept an eye on the price. Sometimes, and especially when it came to disc brakes, the price tag can inch up pretty high. You want to make sure that you buy the best brakes that you can get, but it is human nature to also want to save a little bit of money when you can, and that is something that we kept in mind while selecting the best products out there. You will find name brand products on this list, but some are offered at prices that are incredibly reasonable, so that you have a little more money to spend on other biking accessories.
Frequently Asked Questions
q:

What's the difference between V-brakes and disc brakes?

a:

There are two distinct camps when selecting new mountain bike brakes. You will have to decide if you want to use disc brakes or V-brakes. Many of the more casual bikers typically gravitate to V-brakes, because they are easy to install, use a simple system of brake pads and calipers and cables, and most importantly, they are significantly cheaper than their counterpart. Disc brakes use a system of rotors in addition to the standard brake pads that never come into contact with the actual wheel. They are generally more expensive and take more time to install, but cyclists find that they are the better option. With this in mind, you will have to make the decision to choose which one best suits your needs.
q:

How do disc brakes work?

a:

Disc brakes work much the same way that V-brakes work. They have a mounted caliper with a brake pad that is attached to the handlebars via a cable. However, when you squeeze the lever by the handlebars, the brake pads squeeze against the mounted rotor instead of directly against the tire. The benefit of using a rotor has to do with losing control on long descents. The way brake pads work is that when the pad material comes into contact with another surface, the friction that is generated causes the wheel to come to a stop. If you have ever used traditional V-brakes, you might have noticed that the longer you hold down the brake, the less control you have over your bike and the tighter you need to pull down the lever. This is due to the fact that as the pad continues to make contact with the moving tire, it begins to generate heat, and when things become hot, they lose friction. The use of a rotor reducedsthe heat that is generated, because it usually has fins, or little bumps. These are there, because they help eliminate the amount of heat that is generated, so that you can keep control over your bike, even on those long and gradual declines in the trials.
q:

How do V-brakes work?

a:

These types of brakes are similar to disc brakes in every way for one exception: the brake pads squeeze up against the tire instead of on a rotor. Everything from the levers, cables, calipers, and brake pads are virtually the same. As we stated above, when the brake pads come into contact with the tire, the friction created generates heat, and heat is the reason that brakes gradually stop being as effective. In essence, V-brakes aren't as powerful as disc brakes, but their benefits lie in their drastically lower price point, and their ease of installation. One way to work around the disadvantage of losing power when under stress for long declines is to 'pump' your brakes. If the brake pad only comes into contact with the tire for brief moments, it reduces the time require to generate heat, and therefore you won't lose any power.
q:

I'm afraid I won't know how to install my brakes myself, what should I do?

a:

Even the greenest of mechanics can find instructional videos with the power of the internet! If you find that the instructions that were provided with your purchase weren't clean enough for you, there are tons and tons of instructional videos on the internet that can take you step by step through the installation process. There are even some videos that are specific to the very brand that you purchased. However, if you truly are concerned with your installation skills (especially with something as important as brakes), you always have the option to take it down to your local bike shop and as them to do it for you. Many shops are happy to help, and will mostly likely charge you a small fee. Depending on the bike shop (and how well you have come to know the staff) some might even offer to do it for free.
q:

Why do mountain bike brakes squeal?

a:

There is nothing more annoying than when your brakes start to squeal. The reason for this could be a number of reasons, and they are all pretty easy to fix. Think about the brakes on your car. Whenever the brakes on your car start to squeal, what does that generally mean? That's right, it means that you are going to have the painful task of calling in an appointment to your mechanic because your brake pads are wearing thin. The same rules apply to the brake pads on your bike. Squealing can be a sign that it is time to change those pads (and luckily for bikes, it is a far less expensive than replacing the brake pads on your car).

Another reason they may be squealing is that they are coming into contacting with a substance on your tire. If you think that this may be the case, the solution is even simpler. Just wet a cloth with a little bit of rubbing alcohol and wipe down the sides of your tire.. It is important to keep in mind that you must use rubbing alcohol and nothing else. If you use anything than rubbing alcohol, you might just end up making the squealing worse.
Subscribe to our Newsletter