Best Toolboxes
In a Hurry? Editors choice: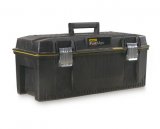 Test Winner: Stanley 028001L

Organizational skills are either something you possess or could literally care less about. However, no one can debate how much easier life is when you are
organized
. For handymen and construction workers, some of the most vital equipment to have organized at all times is
tools
. This can refer to basic hand tools such as screwdrivers and wrenches to handy hardware such as bolts, nuts, and screws. No matter, the answer is a toolbox. Not only do they offer a logical means of organization for all your tools (at least the ones that will fit) but they can also be
transported
into the field. Just like the people who use them, they are very handy.
Standout Picks
Criteria Used for Evaluation
Top 10 Picks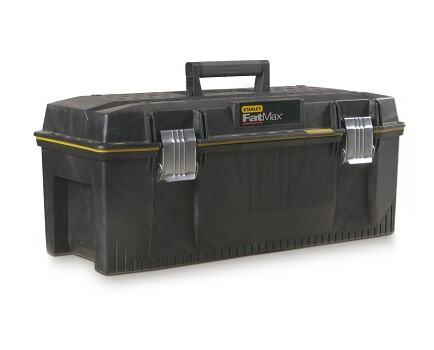 This watertight model from Stanley features rust-resistant metal latches that ensure the safety of your tools and adds to the durability of the box as a whole. If only this model offered us more than one shelf, it would be near perfect.
Read more
Durability
To increase the durability of this model, it has been designed out of thermoplastic resin and flake mica. Additionally, the patented water seal ensures optimal water-resistance.
Use
Look, there are a lot of areas to place your tools within this box. However, despite the open space, there is only one shelf which limits your organization possibilities as a whole.
Portability
Even for heavier loads, the ergonomic lifting design of the FatMax makes carrying more comfortable. It also helps that the handle itself is made with a soft grip.
Ease of Use
There are large rustproof latches (made of metal) that provide tons of locking possibilities. Furthermore, the top of the lid features a V-groove track which can secure certain items.
Capacity
For a traditional design, the size is quite nice. At 28 inches by 12.6 inches by 11.6 inches, there is plenty of open space for a plethora of your tools.
Overall
In spite of the so-called lack of organization possibilities with this model, it still is one of the better designs on the market and one of the main reasons why is the construction.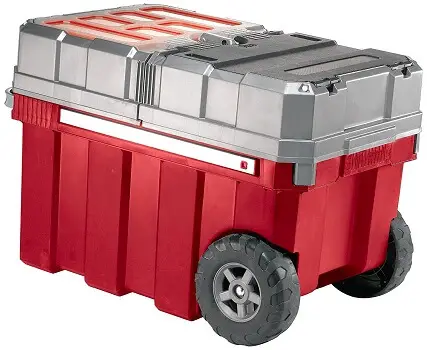 Even though this looks like a cooler on the surface, the MasterLoader is actually the best portable model around. This is thanks to the built-in wheels and extendable handle.
Read more
Durability
Keter decided to design its MasterLoader with polypropylene resin. One of the main reasons why is this material will resist the corrosive effects that chemical spills and acids can cause.
Use
While the interior is engineered to maximize the amount of space, there is also a tool divider that allows for even more organization. In addition, the topmost bins will slide apart.
Portability
Whenever a product sports built-in wheels, it instantly improves the portability as a whole. That is what the MasterLoader brings to the table; in addition to the extendable handle.
Ease of Use
As Keter claims, this is essentially a portable shop. To maintain security and stability while you travel, it also integrates a central locking mechanism. Also, ball-bearing sliders allow for easy access.
Capacity
The MasterLoader can handle quite a bit of equipment and tools as Keter rates it to handle up to 66 pounds. Also, the box as a whole measures roughly 15 inches wide by 24 inches deep by 16 inches tall.
Overall
Thanks to its superb combination of portability, build quality, and organization, it is easy to see why the MasterLoader tops this list. It is simply the total package.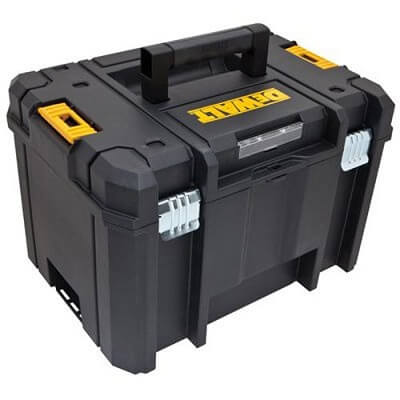 Time and time again, you will see the Deep Box from Dewalt come up on top 10 lists for toolboxes. As you will see here in a hot second, there are several reasons why this is the case.
Read more
Durability
Not too many users have questioned the overall build quality and it appears as though Dewalt hit it out of the park here. Of course, the rust-resistant heavy-duty metal latches are worth mentioning.
Use
Thanks to the integration of fixed dividers, you can optimally organize your drills and drill bits. In addition to this, there is a removable tray that gains you access to other tools.
Portability
While this Deep Box does not sport built-in wheels, Dewalt did integrate a long extendable handle. This handle is made with a bi-material to improve the comfortability.
Ease of Use
One thing to note is the drawer will slide out smoothly unless it has a heavy load on it. In this case, you have to tug on it a little bit for it to slide out.
Capacity
As compared to other units in the world, this could be considered on the smaller side of the spectrum. Still, it does sport a weight capacity of 44 pounds.
Overall
Even the small issues with this model are just that, small. Few toolboxes are designed with the consistency that Dewalt has put forth here and for that, they must be commended.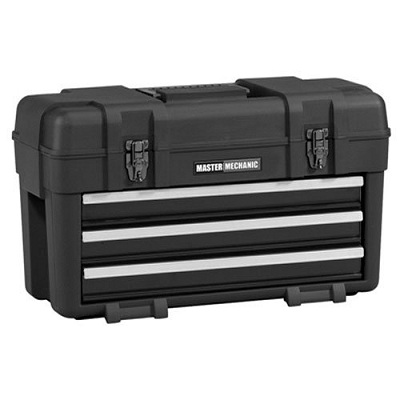 Speaking of consistent designs that consumers will fall in love with, how about the Master Mechanic from Waterloo? Even though it is constructed of plastic, it will not dent very easily.
Read more
Durability
Yes, this is plastic. However, Waterloo molded their Master Mechanic with heavy-duty high-impact black polypropylene resins. Due to this, it will not mar surfaces and will not dent easily.
Use
There are storage compartments everywhere here. This includes a top storage area, storage pockets in the cover for small parts and also three steel drawers with full extension slides.
Portability
In addition to the molded grips on the sides, there is also a large comfortable center handle that can be used to transport this from destination to destination.
Ease of Use
As just mentioned the three drawers have full extension sliders and they operate very smoothly. Also, when the lid is closed, these same drawers will lock.
Capacity
This may actually be bigger than you expect, which happened to one specific buyer. Note that the actual dimensions are 23 inches wide by 10.5 inches deep by 13.5 inches tall.
Overall
Whether for commercial use or personal use, the Master Mechanic is one of the best models in the world today. Do not be fooled by the plastic construction, either, as it can handle the world.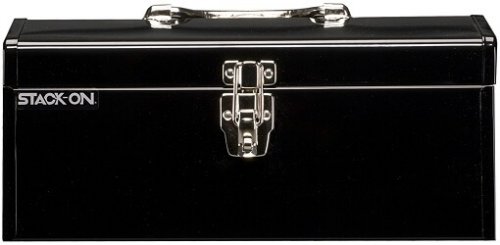 Even though the visual appeal is far from the most important criteria, it is hard to ignore the stunning baked epoxy finish of this next model. On top of its durability, it is also a pleasure to look at.
Read more
Durability
As mentioned, this is coated with a durable baked epoxy finish and this will resist solvents and rust. Underneath this coating is an all steel end cap construction for enhanced strength.
Use
This, for sure, is a traditional toolbox and it features a lift-out steel tray for access to everyday tools. Of course, some users have criticized this tray for its shallowness.
Portability
One really nice integration of this model is the extra-wide steel handle. As opposed to some other models, this will not cut into your hand and is actually comfortable to carry.
Ease of Use
Due to the implementation of the double-action latch, you never need to worry about accidentally slipping all your tools on the ground.
Capacity
To hold even heavier loads, there are nickel-plated steel draw bolts. Overall, this is one of the smaller models, though, at 16 inches wide seven inches deep and 7.5 inches tall.
Overall
For users who love going back to the basics, it does not get much better than this. While space is a bit limited as a whole, the all-steel construction and black finish offer superior durability.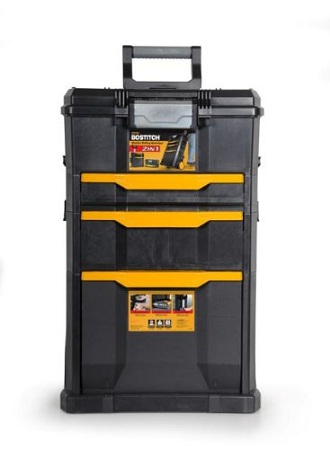 This design is very similar to some of the other rolling models. The primary difference is that this rolling box separates into two compartments instead of three.
Read more
Durability
Bostitch mainly designed their model with heavyweight plastic. However, to add reinforcements, there is metal integrated where it needs to be.
Use
The top section of this box, although lacking a tool tray, comes with a drawer. As for the bottom, it also has a drawer and both of them function with ball bearing slides.
Portability
Past the integrated handle on the top of this unit, there are also seven-inch full rubber wheels that significantly aid in mobility and ease of transportation.
Ease of Use
Here is where some slight issues arise. Firstly, the drawers do not lock and will still open with the top lid down. Secondly, they can be difficult to open, to begin with, and require pressure.
Capacity
Let's say this; there is little to complain about in regard to the capacity of this model. It features a load capacity of 70 pounds and can fit 10 gallons of tools and equipment.
Overall
As you can see, there is definitely some weighing to do here. Though it is not a flawless design, though, many will appreciate the solid construction and multiple storage compartments.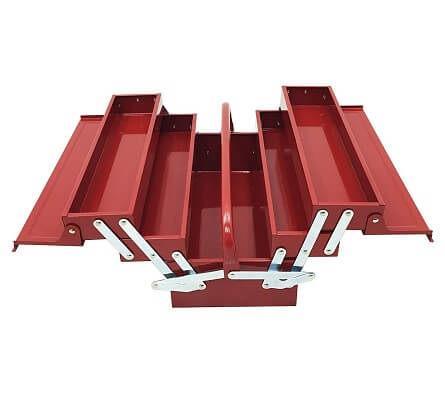 One thing is for certain; there is certainly not a lack of storage space with this next model. Then again, the trays are a bit confining and could have been engineered a little better.
Read more
Durability
As you can see from the photos, this is constructed of durable steel. But, it is the powder-coat finish that is the icing on the cake as this coating adds protection to the metal.
Use
There are five individual trays that you can use to store and organize your tools. But, one of the issues is each tray is a little too close to each other and it makes removing the tools a little more of a hassle than it should be.
Portability
Integrated into the Cantilever is a full-length steel handle and this makes transporting it simpler.
Ease of Use
Be careful when shutting this as you literally need to guide the two slides in otherwise the lids will buckle and bend. But, also, you can insert a padlock for security.
Capacity
While there are a plethora of compartments at play here, there is still not a ton of room for larger tools. For smaller tools, though, this is all but perfect.
Overall
Let's just say that the engineering of this model could have been improved. Then again, the multiple storage trays and the all-steel construction make this a suitable option.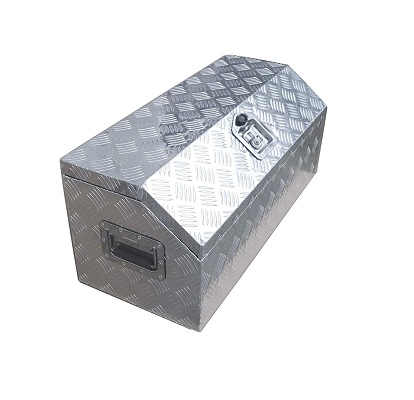 Brait decided to go with straight aluminum with their BR302 model. But, in hindsight, they probably should have gone with a higher gauge. Of course, this is still fantastic for your vehicle or RV.
Read more
Durability
The fully welded seams and rubber seal strip do wonders to keep out water. However, the low-gauge aluminum is easily dented and should have been thicker.
Use
Because this is merely one large tub, it is more suitable as a storage solution for your vehicle. It can still hold tools but may not be ideal for sockets and smaller hardware.
Portability
On the sides, there are integrated handles that have been molded into the aluminum. With these, you can easily carry this from site to site.
Ease of Use
As there are no drawers, you really do not need to worry about the ball bearings here. What is nice, though, is the lid opens 70 degrees and makes loading and unloading much easier.
Capacity
While the actual internal dimensions may be a bit smaller, this is listed with dimensions of 30 inches by 13 inches by 13 inches.
Overall
For smaller tools and optimal organization, you may want to look elsewhere. There is just no other way to put it but if you merely are looking for adequate storage for larger tools, this could be the ticket.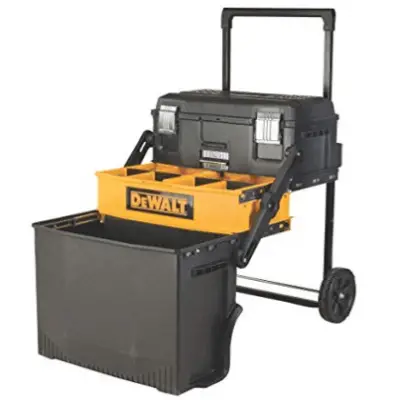 The Mobile Work Center from Stanley is one of the more unique designs on this entire list. It essentially is a work center that also happens to integrate an extra-large toolbox.
Read more
Durability
Even during rainfall, the top will seal tightly to prevent water from entering in. But, the top is a little too flexible, as well, and probably could not withstand many impacts.
Use
Despite the issue with balance here, as you need something heavy in the bottom to keep it from tipping, this is a large bin for power tools. But, it also sports a portable tray for hand tools.
Portability
As this is a Mobile Work Center, it is not asinine to assume it is mobile. Well, with its large wheels and fold-down handle, it is safe to say that it certainly is.
Ease of Use
It seems like accessibility is not going to be an issue. What helps is the slide down door is equipped with an easy shut snap system.
Capacity
Stanley rates their Mobile Work Center with a 13-gallon capacity and it measures 11.4 inches tall by 24.3 inches long.
Overall
A better model could not have capped off this list. But, the issues with the top of the center and the balance issues can cause red flags for some buyers, admittedly.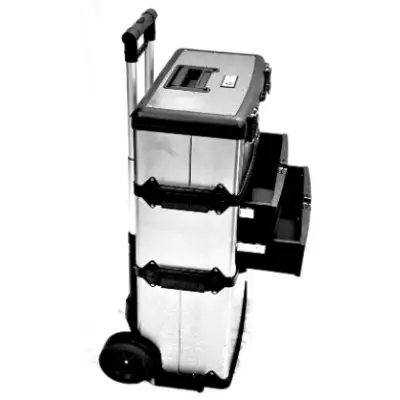 As the name of this next entry implies, this is a 3-in-1 model and it literally will separate into three compartments. On top of this, the exterior is designed with stainless steel.
Read more
Durability
Trinity chose stainless steel for a plethora of reasons and one of the reasons why is its exceptional combination of durability and weight.
Use
As mentioned, this does separate into three compartments. The bottom provides extra-large storage, the center has two slide-out drawers and the top sports a removable tray.
Portability
This is another toolbox that is designed with rubber wheels. In conjunction with the telescoping handle, this makes mobility and transportation much, much easier.
Ease of Use
Although most of this unit separates with ease, there can be issues with the middle section. The drawers can be a little tricky to open and close and tend to catch on one another.
Capacity
Each compartment is almost its own small box. They are all at least 20 inches by 10 inches by 10 inches and overall, offer a ton of space for your equipment.
Overall
Not everyone is going to need this much storage space. But, the 3-in-1 design is ingenious in a way as it almost combines multiple models together into one unit.

Subscribe to our Newsletter