Best Wheelbarrows
In a Hurry? Editors choice: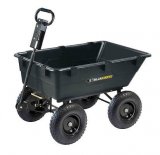 Test Winner: Gorilla GOR866D

When doing yard work and let's be honest we will all have to do some yard work in our lifetime, one of the best tools you can have on hand is a
wheelbarrow
. Wheelbarrows come in handy when moving large objects or large amounts of grass, stones, dirt, etc. It allows you to put the majority of the
weight
on the wheelbarrow while you lift one end with ease to transport your material to a more suitable area. Now if you agree and want to add a wheelbarrow to your arsenal of
outdoor
gear but do not quite know which one is best suited for you, then this is the guide for you. Below we have listed the top ten wheelbarrows to make your life easier when doing housework.
Standout Picks
Criteria Used for Evaluation
Style
The main purpose of wheelbarrows is to carry certain content and substances (such as tree debris, gravel, dirt, brush, etc.) from one location to another. So, it is only logical that one of the most important design features would be their maneuverability. After all, you, the operator, will be responsible for hauling the beast back and forth. In regard to the analyzation, you must perform to conclude one's maneuverability, it really comes down to the wheels. First off, it is important to know that not all models will come with the same amount of wheels. There are one-wheel, two-wheel, three-wheel and even four-wheel models out there.
A traditional design will only sport one wheel that is positioned front and center. One of the issues with this design is handling and dumping the bed can be awkward and tricky. Adding another wheel up front will enhance the stability (especially with larger loads). This only becomes enhanced with three wheels (with two in the rear) and even more so with four. Also, the design of the tires themselves (whether pneumatic or non-pneumatic) also matters. Pneumatic tires offer a smoother ride but non-pneumatic tires will never need air or go flat.
The emphasis turns from the actual bed of the unit to the handle. Anyone who has ever operated a wheelbarrow for significant amounts of time knows how crucial the design of the handle (or handles) is. It sort of goes back to the maneuverability but for the handle, you are looking for one essential factor. That factor is the style that you prefer. You see, when it comes down to it, there are two distinct handle styles that you can look for. The first is the more traditional straight-handle design (with two) and the second is a closed handle.
The former is beneficial in the sense that it makes dumping and flipping the unit easier. In addition, they can typically be handled by people of any size. However, with a closed or single handle, the ergonomics will be improved. In other words, they will be more comfortable to handle for longer times. But, users with narrower shoulders may find them difficult to operate.
Durability
It is often debated, in regard to the bed itself, what material is best for wheelbarrows. For the most part, you will either see poly beds or those that are made out of metal. The former is polypropylene and it is a thermoplastic addition polymer that is actually made up of a combination of propylene monomers. This can make for a highly durable bed and the proof is the top model on this list as it sports a poly bed and can hold over 1000 pounds. In terms of generic plastic, though, this is better suited for lighter use.
In regard to metal, which is oftentimes steel, these make for high-quality beds that can handle varying weights. One issue with steel, though, is it will rust if it is not finished or is not maintained. Speaking of rust, it is also important to assess the design of the frame. If made out of steel, look for frames that have been powder-coated as this will add a tremendous amount of protection.
Effectiveness
Before you get your heart set on a specific model, there is one key question that you need to ask yourself. Are you looking to use one of these pieces of equipment for recreational use or for commercial use? The answer to this will go a long way to determining both the size and the load capacity you will need. You see, if you only need a model for maybe two to four hours of work a week, a 1000-pound capacity bed is probably not going to be necessary. However, what if you need it for grueling eight to 10-hour work days?
In this case, a large and spacious bed that can hold a ton of debris and gravel is probably going to be essential. If you need a workhorse barrow, then a 300-pound capacity is probably not going to be enough for you. Again, it all really comes down to you and what you need it to perform. Just know, though, that this is where things can get expensive. Hence, you would be wasting money if you buy a commercial model for recreational use.
Features
To wrap up this specific section of this guide, let's take a look at some additional convenient features (or simply additional convenience). The most obvious being that there may be some assembly required upon arrival. While a little prior knowledge of what you are doing will always pay dividends, assess the experiences of other users to determine how easy or difficult the assembly will be. Also, a really handy and convenient that some models will have integrated is a rear-mounted braking system. With this implemented, you can rest the barrow on an incline without it rolling down. Oh yeah, and some models (such as the one from Worx) can convert to other pieces of equipment.
Overall wheelbarrows are pretty basic designed tools but any extra features that you can get with your wheelbarrow to make your job a little easier is a plus. I would not break the bank for extra features but if you find a reasonably priced wheelbarrow that comes with an extra feature, I would take advantage of it as it will make your job easier in the long run.
Top Ten Wheelbarrows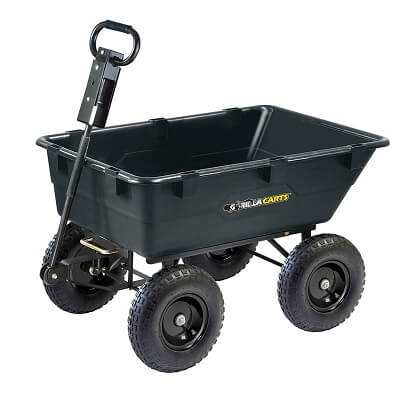 When you are able to finally get this first model assembled, which can admittedly be a bit of a frustrating endeavor, its heavy-duty design and 1200-pound capacity can handle commercial use.
Read more
Maneuverability
Thanks to the 13-inch tires that have been outfitted on this dump cart, it is able to easily tackle any types of terrain. Plus, the padded convertible handle can be hooked to an ATV if desired.
Build Quality
Gorilla Carts constructed their model with a poly bed that happens to be resistant to rust. In addition to this, the frame has been made of steel and has been coated with a black finish.
Handle Design
Again, due to the "D" shaped handle, you could feasibly attach this to a lawn tractor or an ATV. But, thanks to the quick-release dump feature, dumping this bucket is also easy.
Size and Load Capacity
The bed of this model measures 40 inches by 25 inches. However, truly astounding is the utterly massive load capacity of 1200 pounds. Because of this, it is ideal for commercial use.
Extra Convenience
As mentioned, the assembly process can be time-consuming and a little confusing for buyers who are not accustomed to this sort of thing. But, the included one year warranty is nice.
Overall
If you need a wheelbarrow for serious tasks, this is the lucky ticket. Its massive tires can tackle any terrain, it sports a massive 1200-pound capacity and it is easy to dump with its quick-release feature.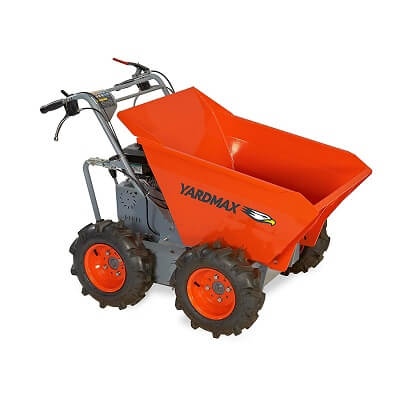 We go from one unit that is ideal for commercial use to another one that was designed for it. Indeed, this has a built-in engine and also a zero-turn radius all-wheel drive.
Read more
Maneuverability
Just as you would with a zero-degree mower, this can turn on a dime with ease. Also, the system is self-propelled and sports an all-wheel drive. Let's just say maneuverability is not a concern.
Build Quality
For sure, this bad boy is durable enough to tackle virtually any job. This is thanks to the high-quality internal components and the solid steel hopper.
Handle Design
Even though you would assume dumping would be an issue with this unit due to the excess weight, the easy to dump one-handed release and the dual handles make it an easy process.
Size and Load Capacity
On level ground, Yardmax rates that their machine can handle up to 660 pounds of substance.
Extra Convenience
Besides the convenience of a self-propelled engine doing nearly all the work for you (in regard to pushing), this is also built with a multi-speed heavy-duty transmission with three speeds in all.
Overall
This is completely unique and is the only model on this list that is powered via an engine. Because of this, though, it is only going to appeal to a specific demographic.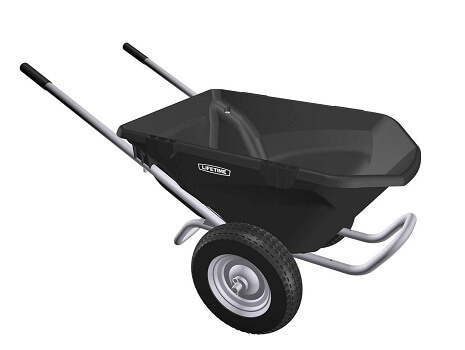 While some models on this list are engineered with a bed that is made out of metal, this is instead made out of 100 percent post-consumer recycled material. Plus, its 550-pound capacity is excellent for casual use.
Read more
Maneuverability
Due to the extra-wide wheelbase and the lower center of gravity, this provides enhanced load stability. As such, only 15 percent of the load is distributed to you.
Build Quality
In addition to the 100 percent post-consumer recycled material, this tub rests on a strong and durable powder-coated steel frame. This adds protection against rust and weathering.
Handle Design
The two handle design of this unit is ideal as it makes operating it more casual. In fact, it should be up the alley for most users as the two-handle design is very popular.
Size and Load Capacity
If you were questioning the decision to go with a non-metal tub, question it no more as this sports a load capacity of 550 pounds. Plus, the tub measures 6.5 cubic feet.
Extra Convenience
Admittedly, the axle assembly of this could be made a little bit easier for centering. However, what is not in question is the tapered front of the tub as it makes dumping loads easier.
Overall
Some buyers may not justify the price of this model given the issues that are present. Then again, its high-quality tub, which has a 550-pound load capacity, will get the job done right for you.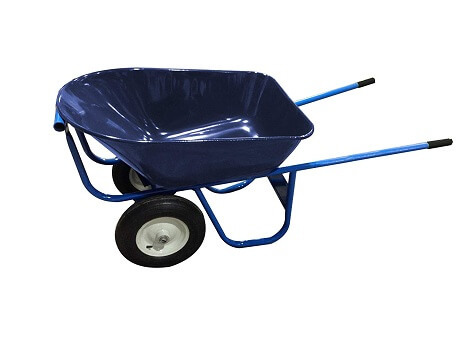 This could end up being one of the best wheelbarrows you ever own. Then again, the lack of reviews for this model is a bit concerning. Because of this, it could be a risk.
Read more
Maneuverability
The four by eight-inch wheels (with there being two in total) and the 5/8-inch bearings provide the maneuverability you need for all-day tasks.
Build Quality
Because this was designed as one solid piece, and also because it is of tubular steel, the build quality should not be too much of a concern.
Handle Design
The dual-handle design is not only casual but is also ergonomically designed. In addition to the height of the handles, this adds a significant amount of comfort.
Size and Load Capacity
As this sports a 450-pound load capacity and a bed that measures six cubic feet, it has the "specs" to deal with everyday use.
Extra Convenience
To prevent the cutting of felts or any insulation, there is an integrated front roll plate that protects the wheelbarrow.
Overall
Again, you could easily consider this a huge risk. But, truth be told, what is life without risks? Thankfully, though, the quality really does speak for itself.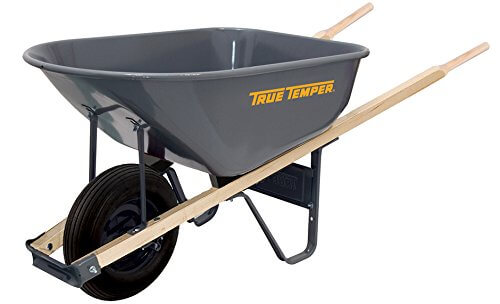 This next model resembles the previous one in a lot of ways. What is rather convenient, though, is with the conversion kit, this one-wheel barrow can transform into a two-wheeled unit.
Read more
Maneuverability
If you forego the conversion kit, then this simply pushes with one wheel. Given this is an easy-roll tire with nylon bearings, it will be easy to maneuver either way.
Build Quality
While the handles are made of wood, the frame and the bed are made of high-quality steel. Due to this combination of materials, you are promised years of dependable use.
Handle Design
The aforementioned wooden handles are nice in the sense that they are designed with tapered ends which aids in a more comfortable grip. Plus, the sloped curved front of the bin makes dumping much easier.
Size and Load Capacity
At six cubic feet, this is just the right size for tackling all sorts of jobs. But, you need to know that this is not rated to hold up to commercial use.
Extra Convenience
As with the last model, there will be some assembly required upon arrival. But, thanks to the poly risers, the setup and assembly are really a cinch.
Overall
For normal use, this is an absolutely superb choice. However, it is worth noting that for buyers looking for commercial use, there are much better options on this list.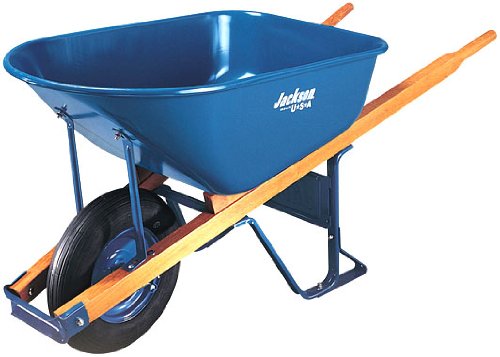 The M6T22 is probably the type of wheelbarrow that you are most used to seeing as it only has one front wheel. But, thanks to the leg stabilizers, it is more tip-resistant than ever.
Read more
Maneuverability
The lone 16-inch tube tire sports powder-metal bearings and the aforementioned patented leg stabilizers are able to make this 40 percent more resistant to accidental tipping.
Build Quality
Jackson designed their M6T22 with professional grade steel undercarriages and strong hardwood handles. All in all, this makes it one of the more dependable units out there.
Handle Design
The handles, which measure 60 inches from where they are attached, are strong but really are lacking an adequate finish to protect them from the elements.
Size and Load Capacity
As a few buyers have pointed out, this may not be true professional quality. But, the bed size of six cubic feet should suffice for most users in the world.
Extra Convenience
Just to warn you, this is going to require some assembly. Yet, what is nice is that all the hardware is included and granted you can handle nuts and bolts, you should have little to no issues.
Overall
In a way, this could be considered the best traditional model on this list. Then again, if you need to have more than one wheel, you may want to look elsewhere.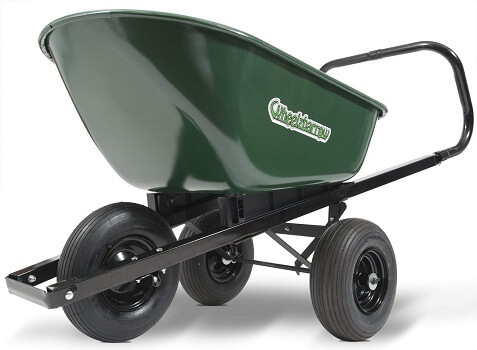 While the wheelbarrows you may be accustomed to only sport one front wheel, this is actually engineered with two rear wheels and this adds stability. Plus, the integrated braking system allows this to be secure on an incline.
Read more
Maneuverability
As just mentioned, the addition of two rear wheels adds a ton of stability while it is in motion. In addition to this, you can rotate the bucket 360 degrees on its rear wheels.
Build Quality
The bed of this cart is primarily composed of metal. Although this is not necessarily a bad thing, there have been users who have claimed rusting can be an issue.
Handle Design
Due to the unique shape of the integrated handle, all you need to do is push down to roll over objects. But, when it comes to dumping, the distance between the handle and the bucket can make it a bit awkward.
Size and Load Capacity
The metal tray is six cubic feet and should be large enough for the average user. In regard to the load capacity, one buyer with a lifetime of experience claimed that if you overload this then you really need a payloader.
Extra Convenience
One of the best features of this cart is the integration of the rear-mounted braking system. Because of this, you can rest this on an incline without worrying about it rolling.
Overall
Granted you take precaution to prevent the formation of rust, which entails maintaining it and storing it properly, this will be one of the best wheelbarrows you will ever own, bar none.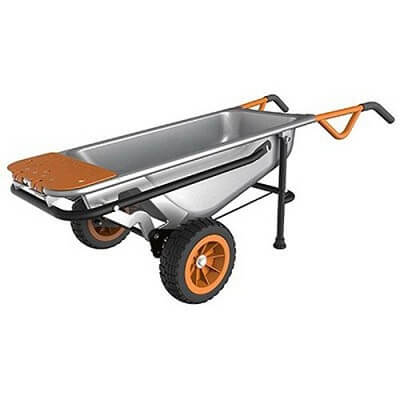 In the world of outdoor equipment, Works is one of the premier manufacturers out there. Their Aerocart is another feather in their cap but due to its load capacity, will not be ideal for commercial use.
Read more
Maneuverability
Instead of three wheels, this only sports two but due to the patented design, the center of gravity is adjusted to balance the load. Plus, the tires are oversized and will never need inflating.
Build Quality
From the photos, you can immediately tell that the Aerocart is comprised primarily of steel.
Handle Design
First off, the fold-out extension arm comes into play when you need to carry items such as mulch bags, small trees, and flower pots. Additionally, the ergonomic lift design ensures easier dumps.
Size and Load Capacity
As great as this is, the 300-pound capacity and bed size (which measures three cubic feet) is not the best on this list. Keep this in mind if you need a model for intense work.
Extra Convenience
What is nice is this can easily convert to a dolly and other pieces of equipment such as a bag holder, trailer mover, and cylinder carrier. It really is a highly versatile unit.
Overall
It becomes immediately clear with the Aerocart that it is much more than just a simple wheelbarrow. Perhaps with a larger bed and greater load capacity, this could have been even higher.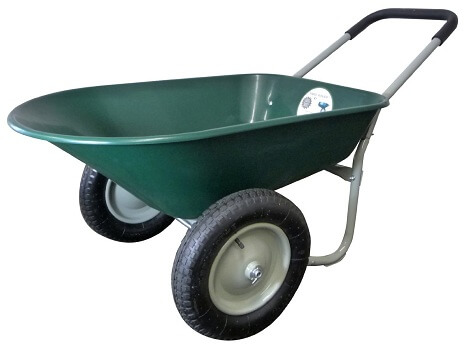 Not everyone is looking for a model that will be used every day or commercially. Some people simply are looking for a high-quality unit that can handle moderate abuse.
Read more
Maneuverability
To make this easier to lift and maneuver, this features two air-filled wheels. On top of this, it weighs 25 percent less than typical models will.
Build Quality
As some users have expressed, the assembly hardware is not the highest quality. But, the rustproof poly tray can hold up to some abuse.
Handle Design
Some models sport dual-handle designs but the Yard Rover sports a loop handle and this allows you to push, pull, and dump the contents much easier.
Size and Load Capacity
The 300-pound capacity and five cubic foot bed make this ideal for residential use but not for commercial use.
Extra Convenience
Marathon Industries designed their Yard Rover to be easy for you to assemble.
Overall
Let's just be honest for a second; this is not going to be suitable for certain people. But, if you take this for what it is, it can be a great addition to your life.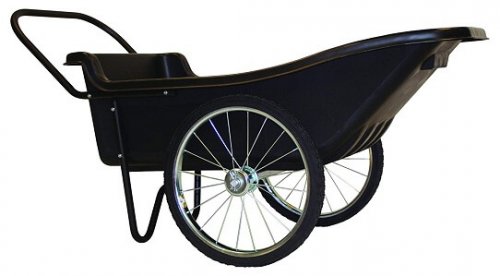 Polar Trailer was definitely going for a classical vibe with their utility cart; that much is evident just by merely looking at the photos. But, make no mistake; it is also built to perform.
Read more
Maneuverability
Thanks to the centered and balanced axle, hauling heavy loads is made much easier. In addition, the ball bearing hubs allow for smooth operation on nearly any terrain you ride on.
Build Quality
Polar Trailer designed their utility car with a high-impact polyethylene tub and they promise that it will not rust or crack even with years of use.
Handle Design
Instead of having two separate handles, the integrated handle of this unit is connected into one solid piece. Due to this, it is easy to dump it when the time comes.
Size and Load Capacity
With a bed that measures 10 cubic feet in volume, you are not going to struggle with not having enough space. But, you should not eclipse 400 pounds as that is the load capacity.
Extra Convenience
Upon arrival, there will be some assembly that is required. But, if it is any indication, it is advertised that this cart is easy to assemble.
Overall
Besides being a highly efficient unit, it is also nice that this sports a classical appeal. With the 20-inch spoked wheels and the polyethylene tub, the look is as good as the performance.

Subscribe to our Newsletter