Best Garden Carts
In a Hurry? Editors choice: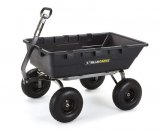 Test Winner: Gorilla

Can you imagine how impossible it would be to complete half of your garden tasks without a wheelbarrow or a
cart
? Think about it for a second; if you have no device to haul around things like
tools
,
plants
, compost, weeds, and even ornaments, how much harder is the experience going to be? To save you the trouble of overthinking this one, a
garden
cart is all but indispensable when you are working outside and gardening. But, as with anything else, there are elite models and then there are those you should really avoid. While we are not going to address the latter, we did want to focus on some of the best models in the world today.
Standout Picks
Criteria Used for Evaluation
Capacity
In a lot of ways, this next section really sums up what the first two sections alluded to. In case you forgot, that would be the overall construction and the design of the tires. You see, no matter which garden cart you invest in, they will all have a load capacity that you must take into consideration. Some will be able to hold in excess of 1000 pounds, while others will only be able to handle up to 100 or 150 pounds. Of course, the type of cart also plays a role in the load capacity. There are several different types, for instance foldable, flatbed, dump, and utility carts, and each typically has a general load capacity.
Dump and flatbed carts will typically be able to hold the most weight, sometimes eclipsing four digit numbers. On the other side, foldable and utility carts will generally be at the lower end of the spectrum (say 100 to 200 pounds). Yet, the manufacturer will display the load capacity so look out for it. In terms of the bed size, it needs to hold as much content as you need; bottom line.
Materials
Without question, one of the most important aspects of a garden cart is its structural stability and overall construction. While the handle will be addressed in a little while, let's take a look at both the bed and the frame. You see, these are two critical components to the makeup of any type of wheelbarrow or cart. Starting with the frame, as this is a bit simpler, it will probably be made up of steel. If so, to prevent the formation of rust, you may want to look into frames with a powder-coating as this protects the metal from the elements. As for the bed, this is typically going to be comprised of one of three materials.
The first is steel and once again, this can have issues with rusting. Leaving steel beds outdoors in the elements is asking for disaster but, once again, powder-coating will help as this protects the steel from damage. One benefit to steel is it will be able to handle heavy uses. But, you may also see plastic beds and while these are far from abysmal, they can be prone to cracking if overstressed. Lastly, you may also see polyethylene beds which are also plastic. But, these stand up better to weather and dents.
Traction
It seems like we are going down the food chain here as the bed rests on the frame (and both were addressed) which rests on the tires. With any type of product that is designed to move on its own, there is a high likelihood that the design of the tires is going to be of the utmost importance. In regard to garden carts, you want to address what type they are and how many there are. For the most part, carts are going to be engineered with four wheels for the ultimate stability and maneuverability. In the meanwhile, you may see wheelbarrows sport one to three wheels. But, with four wheels, the cart can be pulled instead of hauled.
But, there is also the issue between plastic tires and pneumatic tires. One of the benefits of the former is they are puncture-proof and will never need any air. Then again, they will only be suitable for smaller loads. Pneumatic tires are typically made of reinforced rubber and need to be filled with air. The benefit of these tires is their ability to absorb shock over rougher terrain and they typically can handle more weight.
Ease of Use
What would a cart or a wheelbarrow be without a handle? What it would be is a rolling product that would need to be moved by physically grabbing the bed and lugging it around. Clearly, this would not always be inconvenient but also extremely stressful on your body. So, a handle is a mandatory integration that you will see in each and every garden cart you invest in. But, from one model to another, the design is going to alter. In fact, it is going to alter in one of a couple of ways. Firstly, each handle is not going to be the same size. This may not be an issue for shorter or medium-sized individuals, but what about taller folks? If you have to bend down to pull a cart, your body is going to begin to ache much quicker. So, either look for a long enough handle or one that is adjustable. But, what about the actual design of the handle end? Not only should it be padded enough to be comfortable but you also may want to hook it up to an ATV or a lawn tractor.
Top 10 Picks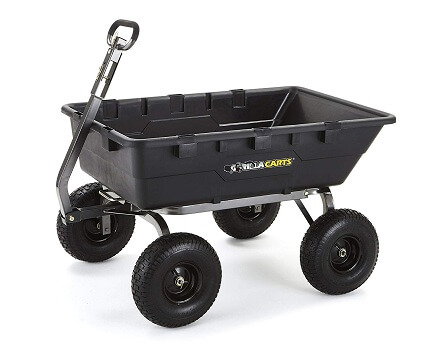 Get used to seeing Gorilla Carts on this list as they are going to be a staple. Their best garden cart may just be this model and you will soon find out why.
Read more
Overall Construction
Instead of metal, Gorilla Carts decided to comprise the bed of this model with polypropylene. One of the benefits of this is that rust is never going to be an issue.
Tire Design
Not only are there four wheels on this bad boy to increase stabilization, but each of the tires is also 15 inches and pneumatic. All in all, this can tackle heavy terrains with relative ease.
Handle Design
There are two reasons why the handle of this unit is so great. Firstly, it is padded and this adds necessary comfort. But, due to its two-in-one design, it also can be pulled by hand or towed.
Size and Capacity
Believe it or not, this bed can actually handle up to 1500 pounds. On top of this, the bed measures 10 cubic feet. Let's just say that if this bed is not ideal for you, you may need a payloader.
Convenient Features
Even though the patented quick-release dump feature is ideal for quick and easy unloading, some sort of manual locking brake mechanism should have been integrated.
Overall
Are you starting to see it now? Can you see why this model landed on the top of this list? While an integrated braking mechanism would have made it even better, it is still hard to argue with the results.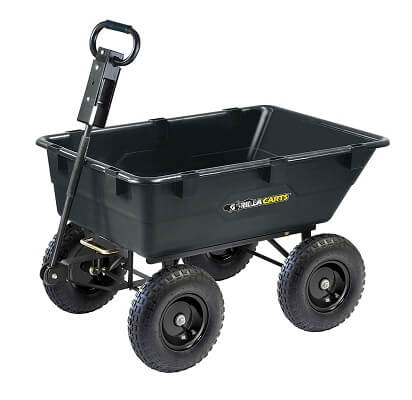 It sure did not take long for Gorilla Carts to make another appearance on this list, huh? Well, their GOR866D model is quite similar to their previous one but is a bit cheaper.
Read more
Overall Construction
Much like the other model, this bed is also made of poly. Because of this, you are never going to need to worry about rust. Also, the frame is made of steel and protected with a black finish.
Tire Design
This is designed with 13-inch pneumatic tires that are going to tackle any terrain. In addition to this, there are four in total to assist with structural stability.
Handle Design
Past the comfortable, padded handle, it can also be either pulled by hand or hooked-up behind a motor vehicle such as an ATV or a lawn tractor.
Size and Capacity
With a 40-inch by 25-inch bed, you should have enough space your needs. Also, thanks to the 1200-pound capacity, the weight limit is never going to be an issue.
Convenient Features
One of the issues of hauling around so much weight is dumping it can be difficult. Gorilla Carts accounted for this, though, and designed their cart with a patented quick-release dump feature.
Overall
No matter if you are looking for a wheelbarrow or a garden cart, this is going to be a hit. Due to the poly bed, weight capacity, and convenience, you can see why.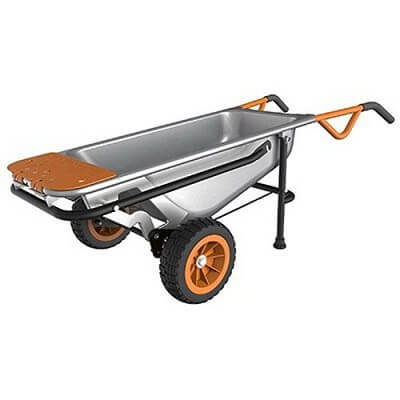 The Aerocart is one of the most unique and versatile units on this entire list. The reason for this is the system can easily convert from a wheelbarrow to a dolly and other such equipment.
Read more
Overall Construction
As opposed to the last two carts, the Aerocart is actually comprised primarily of steel. Be wary about leaving it exposed to the elements due to the rust factor of steel.
Tire Design
Instead of four tires, this only sports two wheels but they are both oversized and promised to be flat-free.
Handle Design
This sports a dual-handle design, much like traditional wheelbarrows, and is ergonomically engineered to make lifting much easier. In addition, there is a fold-out extension arm to carry objects.
Size and Capacity
Even when used as a dolly, this has a load capacity of 300 pounds. Also taking into account the smaller bed, the actual specs of this model could be seen as limited.
Convenient Features
Outside of the patented design that adjusts the center of gravity to ensure a more balanced and even load, as mentioned before, it can convert into other working systems such as dollies.
Overall
On one hand, the size and weight capacity of the Aerocart may not be grand enough. But, as a versatile piece of equipment for gardening, it really is hard to find a better unit out there.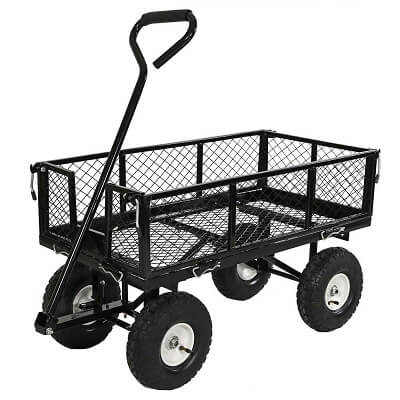 Sunnydaze introduces this list to one of the more common garden cart designs in the world. The gimmick with the steel sides is they can be removed to make loading and unloading easier.
Read more
Overall Construction
As is noticeable from the photos, this is made primarily of durable steel mesh materials. To enhance its weather-resistance, though, this has been finished with a powder-coating.
Tire Design
All the axles on the tires have been reinforced and the four tires are pneumatic and will easily roll over most terrains you traverse over.
Handle Design
This sports a long extended handle that is padded. Due to this and the large opening, it allows for enhanced comfort whenever you are hauling it around.
Size and Capacity
The bed of this model measures 34 inches long by 18 inches wide by nine inches deep. Additionally, it can hold up to 400 pounds which should be ideal for most landscaping projects.
Convenient Features
Whenever you see fit, you can remove the sides by folding them down and pulling out the side pins. This can make both unloading and loading specific items easier.
Overall
One factor that has not been alluded to yet is the included instructions have been panned by some buyers. Outside of that, however, it goes without saying that this is overflowing with quality.

5

. Mac Sports Collapsible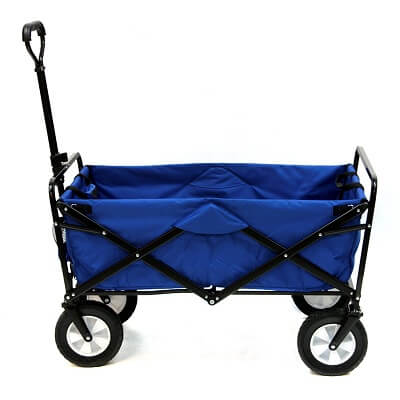 What if you could invest in a garden cart that you could transport with you to different locations? If it sounds too good to be true then you need to check out this model from Mac Sports.
Read more
Overall Construction
While the heavy-duty frame delivers the structural stability, the durable 600D fabric comprises the bed and is not only high in quality but also easy to clean. Plus, it is UV and mildew-resistant.
Tire Design
Understand what you are getting here as due to the slim-profile and make-up of the tires, they are not going to move well through soft surfaces like sand. But, they do great on hard terrain.
Handle Design
Even though this is engineered with a fairly basic handle, it is adjustable and this is convenient to account for people of different heights.
Size and Capacity
Inside of this bed, it measures 32.5 inches by 17.5 inches by 10.5 inches. However, do know that the fabric craftsmanship is not going to be able to handle weights exceeding 150 pounds.
Convenient Features
Not only can this fold down into storage, and do so at only eight inches thick, but you also receive a carrying case with your purchase. Plus, two mesh cup holders are integrated.
Overall
For serious gardeners looking for heavy-duty use, this is not an appropriate model. Yet, the fabric makeup can still perform and can also be transported for trips.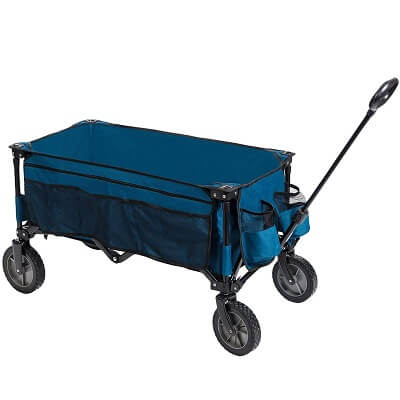 This next design resembles the last one in a lot of ways. In fact, it is almost a carbon-copy but as you can see, it is not quite as good. But, not by much, know that.
Read more
Overall Construction
As the frame is made up of steel, you need to be wary about leaving this exposed to the elements as rust can begin to form. As for the bed, it is comprised of 600D polyester fabric.
Tire Design
Thanks to the addition of four wheels, this is a very stable unit. What is really nice about each tire, though, is they can be fully rotated 360 degrees and this makes turning simpler.
Handle Design
Though the handle is far from abysmal, at 26 inches, a few users have complained that it does not extend long enough. For some, pulling the cart can be harder than it should be.
Size and Capacity
When the bed is unfolded, it measures 35 inches by 12 inches by 19 inches. As with the last model, though, your load should be limited to around 150 pounds.
Convenient Features
As was just hinted at, this can be collapsed for transportation. For your convenience, a portable carrying bag is also included. And lest ye forget, there are integrated pockets.
Overall
To put it bluntly, this is essentially the same model as the last one with a few more flaws. However, due to the acclaim that it has received, it is still worth it.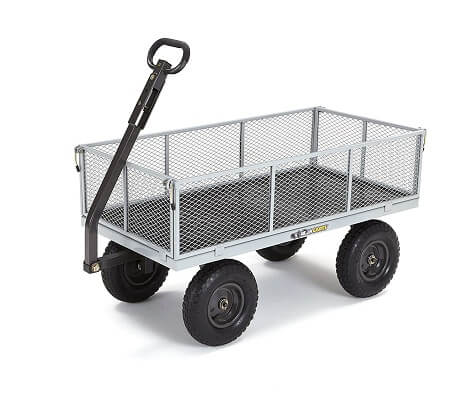 Well, would you look at that? Guess who it is again? Yeah, Gorilla Carts is back and this time, they present a steel utility cart that sports removable steel mesh sides.
Read more
Overall Construction
As some buyers have alluded to, the steel sides of this model are a bit flimsy. But, the frame and the actual bed are both durable and sturdy.
Tire Design
Even when you have a full load, the four tires keep this system balanced and on top of this, they are each 13 inches and are pneumatic. No terrain should be an issue.
Handle Design
To ease hand fatigue, the handle has been made with an ample amount of padding. In addition to this, its two-in-one design allows you to hook it up to either an ATV or a lawn tractor.
Size and Capacity
When it comes to Gorilla Carts, you know that their models are equipped to handle large loads. This one, in particular, can handle up to 1000 pounds and sports a 49-inch by 24.5-inch bed.
Convenient Features
On top of the fact that this can be converted into a flatbed to haul certain items, the removable sides also allow you to load and unload certain items easier.
Overall
Gorilla Carts has made a name for themselves in this technology and even though this is not a flawless design, it is still made of durable steel and can handle loads up to 1000 pounds.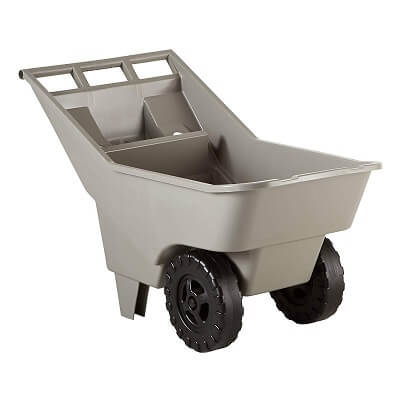 Now, this is a completely different design here. First off, the cart is made primarily of polyethylene and secondly, the handle is literally integrated into the bed.
Read more
Overall Construction
This is essentially one molded manufactured piece that is made of polyethylene. Even though it is a lightweight cart, it is still durable.
Tire Design
The two tires that are integrated into this model are made of plastic and do not need to be filled with air. But, they may struggle with certain terrains.
Handle Design
Although the handles sport an integrated beverage holder, the problem with them is they are too low. For taller people, you will have to bend over to move it.
Size and Capacity
With a level capacity, this can hold up to 3.25 cubic feet and this is enhanced to 4.5 cubic feet with a heaped capacity. Either way, the load capacity is 200 pounds.
Convenient Features
Probably the most convenient feature of this model is the aforementioned beverage holder. There is nothing like sipping back on a cold one while you are working.
Overall
Let's just say that this model is not going to be ideal for heavy-duty use. For what it is, however, the poly bed and the two fixed wheels make this suitable for most owners.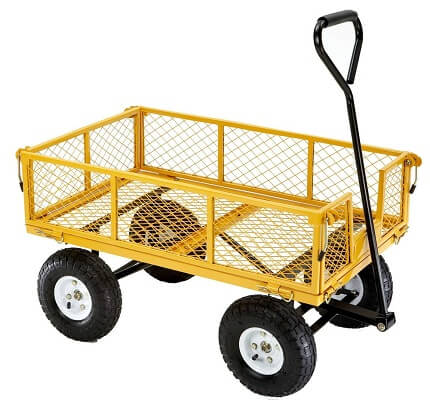 While a bit of false advertising may be at play here from Farm & Ranch, in regard to the load capacity, buyers will appreciate the powder-coated steel and 10-inch pneumatic tires.
Read more
Overall Construction
Both the steel mesh that comprises the bed and the steel frame has been powder-coated (with a yellow finish). This adds great protection against the elements to prevent rusting.
Tire Design
Each of the four tires that are integrated is 10-inch pneumatic versions. Because of this, this utility cart is able to tackle virtually any terrain.
Handle Design
The handle end is padded for comfort and in addition to this, it is a straight design. When hauling around large loads of gravel and dirt, this makes things a little easier.
Size and Capacity
Okay, so Farm & Ranch rates their unit to hold 900 pounds. But, one buyer highly questioned this due to stability. Also note, though, this stands 20 inches tall.
Convenient Features
As with most models that resemble this one, the sides are removable. Again, what this achieves is easier loading and unloading for certain items.
Overall
When a manufacturer rates their product with specific weight capacity, sometimes it can be a bit exaggerated. While this seems to be the case here, the quality is still above-average.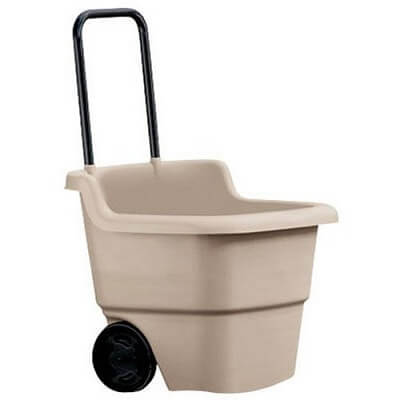 This list caps off with a model that is perfect for casual use, but not so good for extensive use. With its resin construction and 15.5-gallon bed capacity, it can still be the lucky ticket.
Read more
Overall Construction
Let's just say that this is not a heavy-duty unit. Even though the resin is far from an awful material, it is not meant to hold that much weight and content.
Tire Design
Suncast designed their lawn cart with two, seven-inch wheels. In addition, a metal axle is integrated.
Handle Design
On one hand, the telescoping handle is designed with ergonomics in mind. However, the issue becomes the handle's length as for taller people, you will need to bend down.
Size and Capacity
As just mentioned, this bed has a 15.5-gallon capacity. But, as a few buyers have reported, it may not be wise to load anything past 100 pounds.
Convenient Features
Due to the resin construction, the most convenient aspect of this design is it can be used for a plethora of different reasons beyond gardening (such as for laundry)
Overall
For the right consumers, it is easy to see why this model would be a top contender. Yet, the limitations do warrant the placement on this list.

Subscribe to our Newsletter