Best Garden Trowel
In a
Hurry? Editors choice: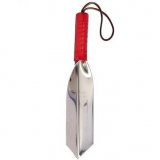 Test Winner: Wilcox All Pro 202S

Every gardener knows that one of the most important tools that they will need for planting is a trusty garden trowel. You might have been through dozens in the past, all suffering from the same fate of a snapped neck right at the base of the
handle
. This is most likely due to the fact that you selected a design that is made from inferior materials. Plus, you most likely bought a pack of
tools
that included a hoe and a small rake as well in an effort to save a little bit of money, but it will end up costing you more in the long run. Spending a little more money than you would intend on one of these products will not only save you money in the long
run
, but it will also make preparing your
garden
for the growing season just a little easier.
Standout Picks
Criteria Used for Evaluation
Durability
We made sure to select products that weren't going to snap at the neck undre pressure.
A tool that is considered to be a 'full tang' simply means that the spade is one solid piece of material, and the handle is then fitted around the solid piece. This means that when you are working in course and difficult ground- or even frozen soil- if you have a unit that is considered to be 'full tang', there will be little chance that you will find that your unit will snap in half. We made sure to select designs that were made in this manner, as well made from high quality materials to ensure that it might be the last model that you will ever have to purchase. That doesn't mean that full tang options aren't the only viable choices out there on the market. Designs such as the Radius Garden option have a handle that is designed to fit to the shape of your hand, but because of the U-shaped handle, it isn't a full tang. Take into consideration they type of soil that you will be working with, as well as the type of handle that you would like before ruling out all half tang options.
Ease of Use
Keeping your hands and wrists comfortable while you work was something that we felt was important.
Sure, it might have a pretty basic design, but simple changes in the shape of the spade, as well as the shape of the handle, will turn a bothersome chore into something that you might come to enjoy. We know that not all soil is created equal. While there are some plots of land that are dreamy and cloud-like, we know that there is a lot that are riddled with tangled roots and rocks at every turn. It never fails that the very place you want to plant your new perennials is the place where all of your lawns roots have gathered. Spades that have a pivoted and sharper point at the tip make it just a little bit easier to cut through tangled webs of weeds without the need of an additional screwdriver or other tools. Another point that we looked at to make things a little bit easier on you comes in the form of the handle. We liked options that had a curved handle that forms to the shape of your hand. One thing we really liked was design that added just a little bit of soft rubber to the handle that will conform to the shape of your hand over time, and will prevent blisters with extended use.
Materials
Making sure that we selected products that used high quality materials was the key to finding the best products that would hold up over time.
Rust means that the material is losing strength, so selecting options that are rust proof mean that they will maintain their strength in the long run. We also wanted to make sure that the handles were made from high quality materials that would hold up over time. Even if the spade has stayed perfectly intact over the years, if the handle has eroded and fallen away, you will be less inclined to use it. That's why we wanted to make sure that we selected products that used high quality handle materials such as high quality plastics or wood. Rubber handles may be considered to be quite a bit more comfortable than plastic or wood, but they often bend and tear if you are struggling with some difficult terrain. That's why we suggest that you stick with wood or plastic handle designs.
Size
Finding the right tool for the job means finding the tool that is isn't too small and thin.
While size might not be something that will make or break you on a specific style, it is still something that we kept in mind. These products are meant to be simple, small, and lightweight. We made to sure to check the size and weight of each design. We were never worried about a style being too big, but instead were worried about a product being too small. Smaller options often aren't able to really cut through the ground or make very deep holes that are needed for jobs such as planting bulbs. We made sure to select designs that measured to be between aout 8-15 inches in length. We also checked on the weight of each option as well. Some users, such as treasure hunters, will be hooking this unit to their belt or around their wrist, so we wanted to ensure that we selected options that wouldn't all a lot of unnecessary weight to your expeditions. However, we also made sure that the products that we selected weren't considered to be too light. Typically, a light weight was a red flag that meant that it was made from thin and cheap materials that would possibly run the risk of bending or breaking under pressure.
Value
As always, we want to save you money when we cant without sacrificing quality.
More money that you can save on tools means you will have more money to spend on seeds and flowers! Cost is something that is important, because we don't want you to spend more money than you need to. For the most part, these products are made from two types of materials- a metal alloy for the blade and a wood or plastic for the handle. Before even considering the price of a design, we only looked at the materials that were used to compose the product. There were some products out there on the market that were made from the same size and quality of steel and wood, but they often came at a much higher price point because they were offered from a name band, or because they offered a unique and interesting style. When it comes to working out in the yard, utility will always trump design, so we chose to only select affordable options that were made from high quality materials.
Subscribe to our Newsletter