Best Garden Sprinklers
In a Hurry? Editors choice: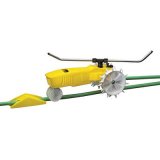 Test Winner: Nelson Raintrain

Besides the energy from the sunlight, your garden needs proper watering to survive. Every
garden
grower and the owner knows this but knowing is only half the battle. It is one thing to understand that
gardens
flourish with water, it is another thing to actually do something about it. Clearly, it is a flat-out nuisance and monotonous task to manually water your
garden
every day. So, why not have a sprinkler system accomplish it for you? Sprinklers come in various different forms, shapes, and designs and choosing the right one for you is critical. Only you will know what you desire but with the assistance of this guide, your path to a flourishing garden should be a heck of a lot easier.
Standout Picks
Criteria Used for Evaluation
Style
When you are in the market for a garden sprinkler, you first need to realize that there are several different types to choose from. As you noticed throughout this list, several of each appeared and there are noticeable pros and cons associated with each of them. To start, let's talk about oscillating sprinklers. If you have ever played with a sprinkler when you were a kid and jumped through the stream, you probably did so with an oscillating model. Not only do these types do a marvelous job with rectangular lawns, they typically do well with both low and high-pressure waters. But, they can miss the mark a lot with rounded or irregular areas.
Also, you have pulsating sprinklers. As it sounds, this consists of a sprinkler head and it will rotate around in a pulsating motion. What these are sufficient at is covering wide areas, even up to 10,000 square feet with some models. However, they are noisier than others and do not work very well with low-pressure waters. Of course, you also have stationary sprinklers (which are more so for small areas and do not have any moving parts) and traveling sprinklers that work almost like autonomous cleaners.
Use
This next section ties right into what was just discussed. The square coverage you need your sprinkler to cover is going to have serious implications to what sprinkler type you are going to need. After all, it was just mentioned how specific types offer superior coverage than others. For example, pulsating and traveling models may be the best to cover wide areas. On the contrary, stationary sprinklers will work admirably for smaller gardens. However, even if you choose a sprinkler that covers more distance than the square footage of your garden, you can always adjust the water flow if the model allows you.
But, it really all comes down to how large your garden is and if you want the sprinkler to also water your lawn. If you want a model that will cover everything, you better go with one that can account for 5000 plus feet of square footage. Sprinkler systems are usually not priced based on how much square footage they can cover so do not worry about the price in this situation.
Adjustability
It is important to note that not all sprinkler types will sport adjustable features. For example, as stationary models have no moving parts, they may not have any adjustable features. But, what exactly are you supposed to look for in the adjustability department? For starters, how about the range and the distance of the sprinkler? Clearly, there is only so far the stream is going to travel but being able to adjust it to certain situations can be nice. Having them integrated into the sprinkler head is a much more efficient option than merely adjusting the water pressure to adjust the distance.
In addition to this, though, look for rotation control. For example, on a pulsating sprinkler, if you can rotate the head then you can decide which part of your garden is getting watered. If areas need a deeper watering, this can come in handy. Also, something as simple as adjusting the stream properties (for example creating more of a mist or more of a stream) can be important to look for.
Durability
Most garden sprinklers come down to two components. The first is the actual head or the portion that is delivering the water flow and the other is the base. Let's address the former first as it is arguably the most important. Look, seeing a product with plastic does not automatically insinuate that it is a piece of junk. Plastic is a popular material in the manufacturing business and for good reason. Yet, it may be better to look for a head that is made of metal. More specifically, look for metals that will not corrode or rust easily. For example, materials such as die-cast zinc and brass as they will both resist rust. Brass may corrode if it is not protected by a finish, though.
As for the base, it is typically either an actual base or a spike. With a spike, which is typically designed on pulsating sprinklers, you physically install it in the ground. Look for models that are made of metal and durable enough to withstand the installation. As for an actual base, again, the metal may be the way to go for both weight and durability.
Top Ten Garden Sprinklers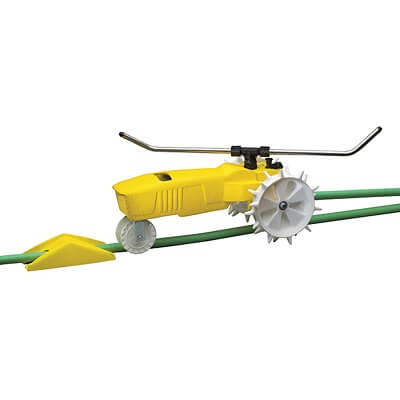 As it seems, the more innovative they come the stranger they get. While one would probably assume this next sprinkler belongs in a toy box, it is actually an ingenious way to water your garden or yard. The RainTrain is almost like a robot vacuum without the astronomical price tag.
Read more
Main Design
Essentially, this train uses the power of water to navigate around your lawn (or garden). As this is a self-propelled system, it will run along the pattern laid out by the house.
Yard Coverage
The train itself can travel up to 200 feet and as it is going, it can spray water from 15 to 55 feet in diameter. At its peak, it could cover an insane 13,500 square footage around your lawn.
Other Features
There are two really cool additions to this model. For starters, you can choose between three different operating speeds to account for a lighter or heavier saturation of water. Also, there is an auto shut-off feature that is initiated when the train gets to the ramp.
Durability
The body is made of cast-iron and is coated with a chip-resistant powder-coat paint. In addition, it comes with easily accessible parts that can be replaced.
Hose Connection
If the core of this unit was not already durable enough, the fittings are made of brass for even greater durability and performance. Plus, it is not prone to rust.
Overall
As great as this sprinkler is and it is phenomenal, it can be a pain at times as you do need to outline the route it takes. Plus, large obstacles can become a huge nuisance. But, this can be tolerated because of its impeccable design.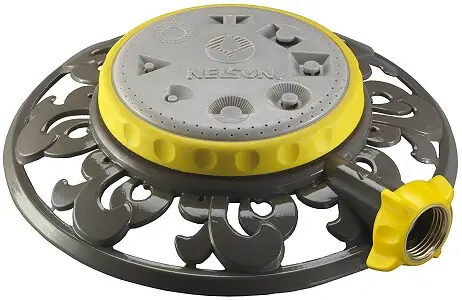 As the name of this model suggests, its most notable feature is that it allows for eight different watering patterns. They are all pre-set patterns but they provide you with the versatility that some garden owners will crave in a sprinkler system.
Read more
Main Design
This stationary sprinkler is equipped with a heavy metal base and it is designed to provide you with a constant spray of water.
Yard Coverage
One of the positions, the half-circle, is able to cover around 20 to 30 feet of your garden. This is really ideal for a smaller garden and actually performs quite well for oddly shaped areas.
Other Features
It is time to discuss the real treasure of this sprinkler. It comes designed with eight pre-set water patterns for you to try out and use. The soft-grip sleeve on the head makes it easy to adjust, as well.
Durability
Even though looks can be deceiving, the base of this model is made of metal. Past its durability, it also is a very decorative base that can add to an outdoor décor.
Hose Connection
Two aspects make the hose connection of this model notable. One is the metal ergo swivel coupling and the second is the brass fittings that are used.
Overall
If Nelson had a do-over, perhaps they would consider constructing this sprinkler with a little more girth. It is a perfectly fine and suitable system, but you need to secure the base to prevent it from tipping over most of the time.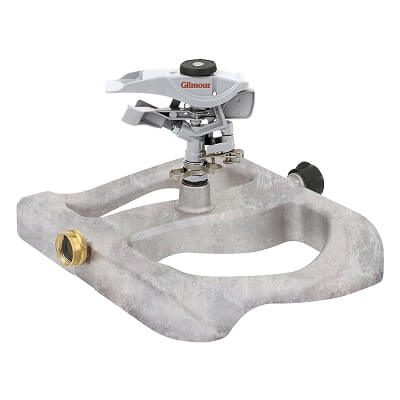 When a basic sprinkler is just not going to cut it for you, the Impulse Sprinkler from Gilmour will get the job done. Outside of its impressive durability and all-metal construction, it sports a plethora of adjustable features to make it a highly versatile unit.
Read more
Main Design
A pulsating sprinkler is attached to the top of an all-metal base and that is the overall premise of this design. One thing to note, however, is the sprinkler will not reciprocate if the water pressure is too low.
Yard Coverage
Whether you want to water your small garden or entire front yard, the choice is really up to you as this can cover up to 5800 square feet. Not only that but you can also adjust the water spray to be either a fine mist or a heavy stream.
Other Features
On the top of the sprinkler head is a control dial and this allows you to adjust the distance that it sprays. Additionally, you can use the adjustable collar to mess around with the head's rotation. But, adjusting these features is not the easiest.
Durability
Both the sprinkler and the base are designed with durability in mind. The former is made of zinc and brass while the latter is made of a die-cast metal.
Hose Connection
To provide a durable connection between your hose and the sprinkler, this has been outfitted with a metal swivel coupling. In addition to this, you can hook up additional sprinklers to this system to cover more areas.
Overall
If you ever thought that sprinklers could not be diverse pieces of equipment with several design features, you were wrong. This model from Gilmour completely debunks that thought and is perfect for those who require more than a basic sprinkler.

4

. Bosch Garden & Watering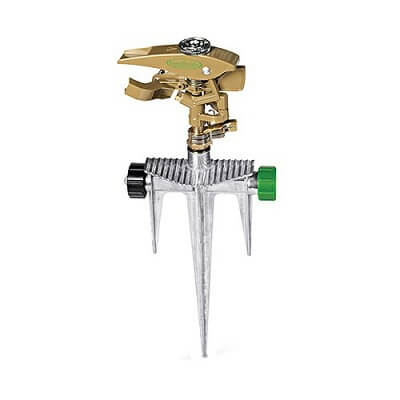 A lot of customers will love pulsating sprinklers as these tend to cycle 360 degrees to cover a wider surface area. This specific model is nice because its sprinkler head is constructed of long-lasting brass and zinc.
Read more
Main Design
While this pulsating sprinkler does not have a base, it is designed with a spike that can be installed in the ground. From there, the sprinkler will do the rest.
Yard Coverage
The sprinkler alone has a diameter coverage of 86 feet and after it gets done rotating, it can account for 5800 square feet.
Other Features
For an even coverage, there is a diffuser screw and you can adjust the water stream with your fingertips. Also, there are two moveable controls underneath the sprinkler head.
Durability
While the spike is sturdy enough for most surfaces, a few buyers have noted it broke when installing it in heavy soil. But, the sprinkler head is made of long-lasting brass and die-cast zinc.
Hose Connection
Not too many users or reviewers have commented on any issues with the hose connection; which is, of course, a good thing.
Overall
What is nice about this type of a sprinkler is the square coverage it provides for you. Whether you have a small or large garden, this bad boy should be suitable for all sizes.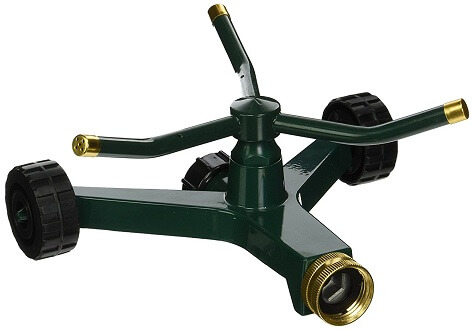 Orbit presents the next sprinkler on this list and their model integrates three different arms and they are used to water your desired area. For distance purposes, it covers a diameter of 24 feet which should be suitable for medium-sized gardens.
Read more
Main Design
This model is comprised of two parts, the sprinkler and the base. Because the sprinkler is designed with three arms and rotates 360 degrees in a circle pattern, it can cover a lot of ground.
Yard Coverage
Outside of being able to deliver an even coverage because of the manner in which it is designed, this sprinkler can cover a maximum distance of 24 feet.
Other Features
Past its 360-degree motion, this does not offer too much in regards to additional design features. It would have been nice if you could spray a certain section, though.
Durability
While there have been a few buyers who have experienced durability issues, it is made of metal and not plastic. In addition, it is coated with paint to help with rust just a little bit.
Hose Connection
If you wanted to, you could connect another sprinkler to this one. However, just remember that if you plan on doing this, you need the water pressure to be high enough.
Overall
The twirling action of this three-arm sprinkler makes it an intriguing option for you. However, it may be better suited for smaller or medium-sized gardens as it can't provide the coverage that other models can.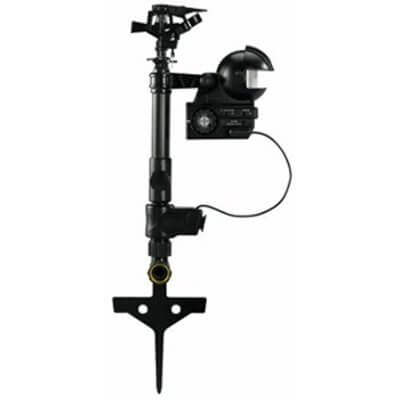 What if a device could both water your garden and scare off unwanted pests that are ruining the integrity of it? That would be amazing, huh? Well, it just so happens that you are being witnessed to a sprinkler that does exactly that.
Read more
Main Design
Because this uses motion sensor technology, it can detect when unwanted pests are infiltrating the area and douse them in water. But, you can decide when it is activated by the different modes for the night, day and 24/7.
Yard Coverage
From up to a massive 40 feet away, this device can detect when a creature is approaching. On top of this, it has a viewing angle of 120 degrees. What this means is it can cover up to 1600 square feet.
Other Features
Outside of this system functioning as protection from outside animals, it can still function as a traditional sprinkler system with its 30-minute timed watering setting. But, when using it as a protector, you can also adjust the angle of the sensor.
Durability
The structural integrity of this sprinkler is up-to-par with other high-end models. Part of the reason why is its metal dual-step spike and otherwise heavy-duty construction.
Hose Connection
Via the dual flow-through ports on this device, you can connect additional impact sprinklers to cover more of your yard. Also, the connector is made of brass for enhanced longevity.
Overall
Either way, you want to use this sprinkler, it is an amazing piece of equipment. Being able to prevent pests from terrorizing your garden along with providing it with the water it needs to survive is an epic combination.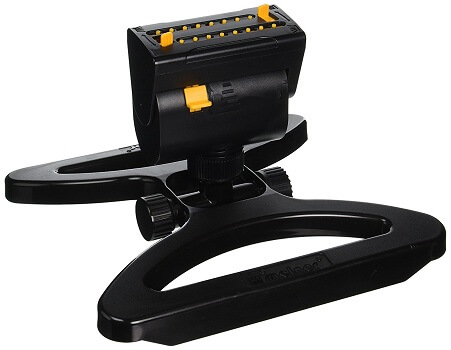 Next up is the Mini-Turbo Sprinkler from Melnor and unlike many of the other models on this list, this is an oscillating sprinkler. Do you remember the sprinkler systems that you used to play with as a kid? This type of a sprinkler was probably the type you had hours of fun with but now you get to see how functional they are.
Read more
Main Design
Even though this sprinkler is a bit more compact than most oscillating models, it still packs a punch. The infinity motor ensures that as it can handle both low and high water pressures.
Yard Coverage
There are operating tabs where you can control the watering pattern from 10 feet to 75 feet. In total, this system can cover up to 3900 square feet.
Other Features
Outside of the previously mentioned adjustment, there is an integrated flow control dial that can allow you to rotate the sprinkler 360 degrees. Plus, with the one-touch adjustment controls, you can adjust each side of the stream independently.
Durability
Because the base is made of plastic and not metal, only time will tell to see how long it lasts. But, the motor's durability is not in question.
Hose Connection
On the sprinkler system, there is a connection for your hose and you need to connect the male end of it to the female coupling on the sprinkler.
Overall
One of the benefits of the Mini-Turbo Oscillating Sprinkler is that you can control the length of the watering pattern in the air. As it can extend all the way up to 75 feet, there is no limit to the areas this can cover.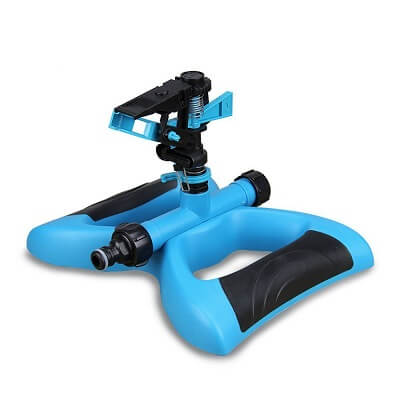 This is another pulsating sprinkler with a durable base underneath that is capable of covering 360 degrees of the area in which it is installed. Because of the sturdy ABS construction, which is not cheap by any means, though, you may need to secure it to the ground.
Read more
Main Design
Indeed, this is a sprinkler that has been encountered a few times on this list. It works as a pulsating model and delivers 360 degrees of coverage.
Yard Coverage
The diameter of an individual spray can reach 32 to 40 feet. But, after a full rotation, this can cover areas up to 3600 square feet.
Other Features
Unfortunately, the water distance is impossible to adjust. Yet, the water-saving feature is a nice touch as this will save water by automatically adjusting the water density.
Durability
Over the years, the ABS construction of this base should hold up quite well. But, it does need to be stabilized to keep it from falling over.
Hose Connection
With your investment, you will receive one spray head and one water nipple.
Overall
One detail you may notice right away about this sprinkler is its stunning blue appeal. While this is irrelevant in the grand scheme of things, it is a nice touch. Although, the 360-degree full coverage and sturdy ABS construction are the true selling points.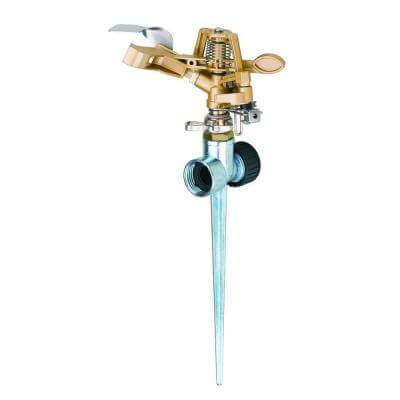 If Melnor would have put a little bit more effort into designing the spike of their sprinkler as they did with the head, perhaps it could have ascended a little higher on this list. As it sits, the last system on this list does tag along one glaring issue.
Read more
Main Design
The special arm on this pulsating sprinkler is able to eliminate wasted water as it prevents side splashes.
Yard Coverage
Up to an 85-foot diameter circle can be created and if you do the math, that is a huge coverage area. But, the flow and angle are also adjustable to better suit your needs.
Other Features
Not only can you adjust the watering pattern from either a narrow 30-degree angle to a staggering 360-degree angle, it is also very easy to do so.
Durability
This is not the most durable sprinkler on the market; let's just say that. The biggest point of criticism is the spike as even though it is metal, it has been crucified by several buyers.
Hose Connection
Besides being able to fit any standard garden hose thread, other sprinklers can be connected to this model.
Overall
Albeit the durability is not the best, this is still a suitable sprinkler system for your garden. However, you can see why it ranks on the bottom of this list.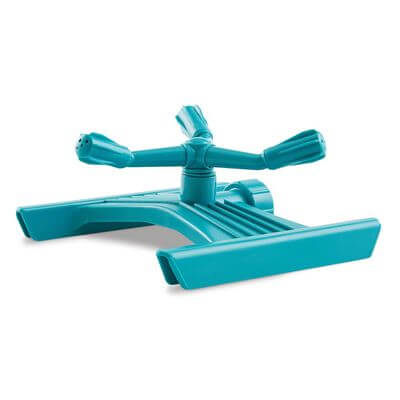 Perhaps you could care less about owning a sprinkler that has all the bells and whistles. Maybe, you just want a model that gets the job done without any hassles. For the most part, that is what you are getting with this Twin Spot Sprinkler.
Read more
Main Design
This is actually a twin-spot garden and lawn sprinkler. But, it needs to be stabilized as it tips over way too frequently if not.
Yard Coverage
While it is a small sprinkler, it can still cover areas of up to 707 square feet as it sprays in a circular pattern with a diameter of 30 feet.
Other Features
About the only aspect of note here is that this works with both high and low-pressure water. Outside of that, it is a very basic design.
Durability
This is one of the best components of this sprinkler. First off, there are no moving parts to wear out. Secondly, it is made of die-cast zinc and will resist both corrosion and rust.
Hose Connection
Probably the most noteworthy factor of the hose connection is it will not clog up as often due to the design of the twin sprayers.
Overall
If you prefer more in-depth and functional sprinklers, then you may want to pass on this one. Yet, it is almost too good to be true for those who despise complexity.

Subscribe to our Newsletter