Best Garden Sprinklers
last updated:
Feb 07, 2020
Besides the energy from the sunlight, your garden needs proper watering to survive. Every garden grower and the owner knows this but knowing is only half the battle. It is one thing to understand that gardens flourish with water, it is another thing to actually do something about it. Clearly, it is a flat-out nuisance and monotonous task to manually water your garden every day. So, why not have a sprinkler system accomplish it for you? Sprinklers come in various different forms, shapes, and designs and choosing the right one for you is critical. Only you will know what you desire but with the assistance of this guide, your path to a flourishing garden should be a heck of a lot easier.
In a Hurry? The test winner after 12 hrs of research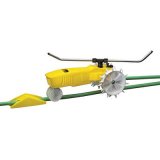 Nelson Raintrain
Why is it better?
It is a self-propelled train along the pattern of the hose
Works autonomously to water your garden
Backed by a lifetime warranty against material defects
In a
Hurry? Editors choice: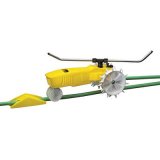 Test Winner: Nelson Raintrain

17
Researched Sources
1.3k
Reviews Considered
12
Hours Researching
17
Products Evaluated
Style
Use
Adjustability
Durability
By Default
Top Ten Garden Sprinklers
Criteria Used for Evaluation


Style
When you are in the market for a garden sprinkler, you first need to realize that there are several different types to choose from. As you noticed throughout this list, several of each appeared and there are noticeable pros and cons associated with each of them. To start, let's talk about oscillating sprinklers. If you have ever played with a sprinkler when you were a kid and jumped through the stream, you probably did so with an oscillating model. Not only do these types do a marvelous job with rectangular lawns, they typically do well with both low and high-pressure waters. But, they can miss the mark a lot with rounded or irregular areas.
Also, you have pulsating sprinklers. As it sounds, this consists of a sprinkler head and it will rotate around in a pulsating motion. What these are sufficient at is covering wide areas, even up to 10,000 square feet with some models. However, they are noisier than others and do not work very well with low-pressure waters. Of course, you also have stationary sprinklers (which are more so for small areas and do not have any moving parts) and traveling sprinklers that work almost like autonomous cleaners.


Use
This next section ties right into what was just discussed. The square coverage you need your sprinkler to cover is going to have serious implications to what sprinkler type you are going to need. After all, it was just mentioned how specific types offer superior coverage than others. For example, pulsating and traveling models may be the best to cover wide areas. On the contrary, stationary sprinklers will work admirably for smaller gardens. However, even if you choose a sprinkler that covers more distance than the square footage of your garden, you can always adjust the water flow if the model allows you.
But, it really all comes down to how large your garden is and if you want the sprinkler to also water your lawn. If you want a model that will cover everything, you better go with one that can account for 5000 plus feet of square footage. Sprinkler systems are usually not priced based on how much square footage they can cover so do not worry about the price in this situation.


Adjustability
It is important to note that not all sprinkler types will sport adjustable features. For example, as stationary models have no moving parts, they may not have any adjustable features. But, what exactly are you supposed to look for in the adjustability department? For starters, how about the range and the distance of the sprinkler? Clearly, there is only so far the stream is going to travel but being able to adjust it to certain situations can be nice. Having them integrated into the sprinkler head is a much more efficient option than merely adjusting the water pressure to adjust the distance.
In addition to this, though, look for rotation control. For example, on a pulsating sprinkler, if you can rotate the head then you can decide which part of your garden is getting watered. If areas need a deeper watering, this can come in handy. Also, something as simple as adjusting the stream properties (for example creating more of a mist or more of a stream) can be important to look for.


Durability
Most garden sprinklers come down to two components. The first is the actual head or the portion that is delivering the water flow and the other is the base. Let's address the former first as it is arguably the most important. Look, seeing a product with plastic does not automatically insinuate that it is a piece of junk. Plastic is a popular material in the manufacturing business and for good reason. Yet, it may be better to look for a head that is made of metal. More specifically, look for metals that will not corrode or rust easily. For example, materials such as die-cast zinc and brass as they will both resist rust. Brass may corrode if it is not protected by a finish, though.
As for the base, it is typically either an actual base or a spike. With a spike, which is typically designed on pulsating sprinklers, you physically install it in the ground. Look for models that are made of metal and durable enough to withstand the installation. As for an actual base, again, the metal may be the way to go for both weight and durability.
Expert Interviews & Opinions
Most Important Criteria
(According to our experts opinion)
Experts Opinion
Editors Opinion
Users Opinion
By Default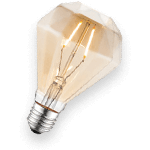 Keep your garden hydrated
If you have any intentions on growing a healthy garden that will flourish, you need to address your watering system. Perhaps, something as simple as a garden sprinkler will suffice. Overall you need to keep your plants and vegetables watered regularly to make sure your plants can flourish and you have a bold beautiful garden.
Other Factors to Consider


Connectivity
Last but not least on your checklist for what to look for in a garden sprinkler would be the design of the connectors. One of the connectors will be used for your garden hose and there is one key feature to look for. Of course, this is referring to brass fittings. For the most part, you should avoid plastic fittings as their durability is simply not up-to-par as compared to brass fittings. This will maximize the lifespan of the connector and the unit as a whole.
Past this, some sprinklers will also be outfitted to be interconnected with other garden sprinklers. In this case, you can use another sprinkler to account for even more square footage of your garden or yard. But, if you do this, remember that your water pressure needs to be high enough.
Frequently Asked Questions
q:

Is a Sprinkler Really Necessary in High-Rain Areas?

a:

Before this question is answered it is interesting to note that rain will work about as well as your tap water will. But, that is not really the issue here. Even if you live in an area that experiences high amounts of rain every year, you still may need a garden sprinkler. The sole reason is that relying on the rain is too inconsistent and sporadic. If you think about it, it could rain for seven days straight for eight hours a day. Then, it could turn around and be spotless for two straight weeks. Plus, the watering of this method is not even and can even oversaturate your garden.

The growth and health of your garden will be compromised if you rely on Mother Nature to do your deeds. Now, while it is raining, there is no need to have your sprinkler going as the rain is a sufficient source of water. It is just that you can't put all your eggs in that basket.
q:

Why Do Oscillating Sprinklers Stop Oscillating?

a:

If you have ever owned an oscillating sprinkler, you probably have experienced issues with it from time to time. Most notably, it may stop oscillating which is an issue as it is the primary design feature. Believe it or not, it may not even be an issue with your sprinkler. A common issue is when your water pressure is too low. If this is the case, it may struggle to oscillate as it is merely not receiving high enough pressures of water. Of course, what if this is not the issue?

Go ahead and unscrew the hose connector and ensure that there is no debris or blockage in the filter. If so, remove it and try the sprinkler again. If there is still an issue, try and turn the dial knob to the maximum so the system is outputting as much water as it physically can.
q:

How Frequently Do You Need to Water Your Garden?

a:

Would it not be nice if there was a straight up answer to this question? Any garden owner knows this is not the case as it depends on several different variables. The first variable is the type of soil your garden has and whether or not it is sandy or heavier with soil. Because sandier soil is going to hold less water, it is going to dry quicker. On the contrary, with heavier soil, it is going to hold moisture longer and can be susceptible to over saturation. In addition, it also depends on weather conditions.

For instance, if it has been hot and dry recently then you will need to water it with more frequency. Also, the type of plants you are watering comes into play. Take, for instance, vegetables as they have shallower roots and will require more watering than others.
q:

How Do You Adjust the Width on a Single-Dial Oscillating Sprinkler?

a:

If you decide to go with a single-dial oscillating sprinkler, then you may end up struggling with how to adjust the width. It is not that complicated of a process but it is something that novices may need a bit of elaboration on. To start off with, go ahead and turn the adjustment dial to the right to allow the water to throw all the way to the right. From there, move the dial and twist it to the left and it will do the same thing except to the left side of the sprinkler.

However, simply move it to full if to get the maximum distance out of both sides of the sprinkler. Do not overthink this one folks; it really is as simple as it sounds.
q:

How Do You Repair a Pulsating Sprinkler?

a:

Unless you are ignorant, you are already aware that sprinklers are not foolproof. Pulsating models are certainly not immune to this and they may begin to malfunction for you. If this is the case, there may be some remedies to the solution. One of the more common issues and the one that is going to be discussed in-depth here, is issues with the nozzle. Go ahead and lift the nozzle up and unscrew the seating screws to remove it. There is one of two issues that could be happening. On one side, it may be a simple matter of clogging. If not this, then it could be leaking.

Either way, you slice it, this can be remedied by removing any debris or dirt that is trapped inside the nozzle. To rid it, drop the nozzle into a bucket of warm soapy water. Once it has been submerged for around 10 to 15 minutes, begin to scrape out the dirt with an appropriate pointed tool.
q:

Can You Increase Your Water Pressure?

a:

It has been alluded to a few times that you need to pay attention to your water pressure as it can be the reason why your sprinkler is not performing the way it should. If you notice that your water pressure is too low, can you increase it? Yes, you can. Consult your water department to see if your home water system can deliver more pressure. If it can't then you may need to look into a pressure booster. This is a machine that takes the water from the street and increases its pressure via an electric pump and a pressure tank.

But, what if your pressure is too high? This is a simpler solution as your pressure valve needs to be set lower. If it is and is not functioning properly, contact the proper people.