Best Garden Accessories
In a Hurry? Editors choice: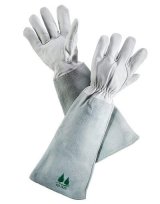 Test Winner: FirTree Brand

For some homeowners, nothing beats the joy of owning and growing your own garden. There is no feeling or thrill like harvesting fruits and vegetables that you grew from simple seeds. However, to the Layman, it may be surprising to know and understand all the hard work that is involved. In order to
grow a flourishing green garden
, you need to maintain it and care for it daily and to make sure you take care of your garden, you will need some tools and
accessories
to help with the job. You do not need a lot of accessories to ensure you have a lush garden, but there are some that you will definitely have to look into that will help to achieve a beautiful
garden
. Below we have listed the top ten garden accessories that will help you with creating your backyard oasis.
Standout Picks
Criteria Used for Evaluation
Durability
No matter what you are looking to invest in, the overall build quality of the particular item is going to play a critical role. It always does in the buying process so this should not come as too much of a surprise. But, as the accessories you choose can be very broad, there are different ways to assess different items. Let's take physical tools for instance. When you are looking to invest in a shovel, spade, hoe, or a similar tool, you need to ensure the metal is long-lasting and also sharp. While you can play a role in the sharpness of the blade, a material like high-carbon steel will end up being more durable than say aluminum.
As for articles of clothing (such as gloves and hats), look for materials such as goatskin leather that provide ample protection against sharp objects that will surely come up in your garden. Lastly, for items that will add to your décors such as benches, bird baths, and statues, look for common outdoor materials such as fiberglass, resin, and wood. The bottom line is that any accessory that you decide to go with, you want it to last and effectively help in creating and maintaining a beautiful garden.
Weather Resistance
This section plays perfectly into the last section as it really goes back to the build quality. However, let's shift the focus primarily on the weather. It is fair to assume that when it is raining, you probably will not be messing around outside in your garden. Yet, that does not mean that some people will not and it also does not mean that this negates the importance of weather protection. This is especially true with décor items that are designed to stay outdoors. With these types of accessories, they should be made of weather-resistant materials and should be treated or finished (if it is wood or metal). But, this is still vital for hand tools.
Given that most tools will be made of steel or aluminum, they may rust (if made of steel) or corrode (if made of aluminum) if they are exposed to the elements. The best precaution to take is to store them indoors away from moisture and rain. Even for gloves, you may want them to be water-resistant so the water merely repels off.
Use
At the end of the day, as a consumer, it is always better when a product is convenient and easy to use. In every case, convenience is bliss and with most garden accessories, there will be specific features to look out for that will either add to the overall convenience or degrade it. This is easily apparent with tools because (as will be addressed further in detail later) they should be designed with ergonomics in mind to improve the comfort. The same could be said for seating apparatuses such as benches. If they are not comfortable to sit on, who is going to want to rest on them?
Heck, even gloves can be designed to be more convenient. While working outside, depending on the temperature, you are probably going to sweat from time to time. So, owning a pair of gloves that are breathable will certainly be beneficial in the long run. Overall when looking to invest in gardening tools, you want them to be able to help you maintain your garden and save you time while you watch your flowers, vegetables, and any other plants blossom into a beautiful outdoor oasis.
Effectiveness
When looking to invest in accessories for your garden, you may get overwhelmed with the vast tools and options that are on the market for your garden. That is why when making a decision on what accessories will help you grow a beautiful garden, you will want tools that are effective and will perform the job they were made to do.
But, some of the more common and effective accessories will always be tools. In order to grow your garden, you are going to need some tools to help you along the way. For example, spades and shovels are ideal for digging, trowels can be used to smooth and move around dirt, and hoes can remove weeds, clear soil, and also harvest crops. Then again, perhaps you need a new pair of gloves or need a hat to shield your eyes from the sun. Overall before you invest in some accessories, make a list of what you want to accomplish and then make a list of tools that will help you accomplish those goals for your garden.
Top Ten Accessories for Gardening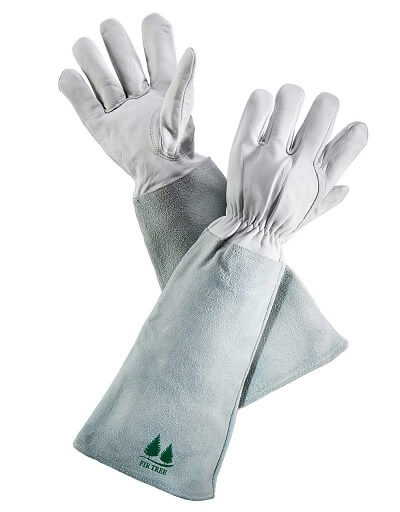 Every single gardener will tell you that an excellent pair of gloves can make all the difference in the world. What is really nice about this pair, though, is they cover your forearms.
Read more
Main Design
These gloves are made primarily of leather (in fact, they are 100 percent leather). Because of this, they are more breathable than synthetic gloves but also sturdy.
Build Quality
On top of the breathability of leather, the goatskin leather also provides the ultimate protection against pickers, thorns, and other sharp objects. Plus, the cowhide sleeve is puncture-resistant.
Weather Protection
What is nice about goatskin leather is you can wash it in a machine. On top of this, the material is one of the more resilient fabrics in town as is naturally resistant to water.
Convenience
One of the more convenient factors about these gloves, to be honest, is the fact that they are breathable. When you are hard at work and your hands begin sweating, this will be a welcome sight.
Seller Options
To account for all types of hand sizes, the manufacturer has designed their gloves in a multitude of sizes. All the way from extra-small to XX-large, there is a size for everyone.
Overall
As terrific as these gloves are, and that they are, they do tend to run small so be cautious of that. But, their exceptional combination of protection and breathability is astounding.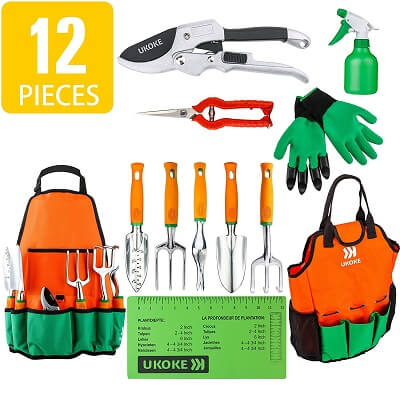 It only seems fitting to kick off this list with a toolset as, after all, you are bound to need one or all of the tools that are consisted of this set. All in all, there are 12 pieces of high-quality tools.
Read more
Main Design
Indeed, there are 12 tools in total within this awesome set. Among these, this includes a weeder, a spade for transplanting, a cultivator for aerating the soil, and even a trowel for digging.
Build Quality
The whole set is made to be of the highest quality but, in specific, the pruner blades (as opposed to aluminum) are made of high carbon SK-5 steel which is tougher and more durable than aluminum.
Weather Protection
Okay, so while each tool cannot be promised to be 100 percent protected against the weather, the apron that holds all the items is made of waterproof 600D polyester fabric (with a PVC coating).
Convenience
Not only are all the tools included in this set engineered with a user-friendly hanging hole, but they are all also outfitted with ergonomics in mind for the utmost comfort.
Seller Options
There are actually no additional seller options available for this accessory. Yet, this is not really an issue considering the content that you are provided.
Overall
Gardening is an art form that requires tons of tools and accessories. In order for one to flourish, you need the right equipment. Well, with 12 items in all, can it really get better than this?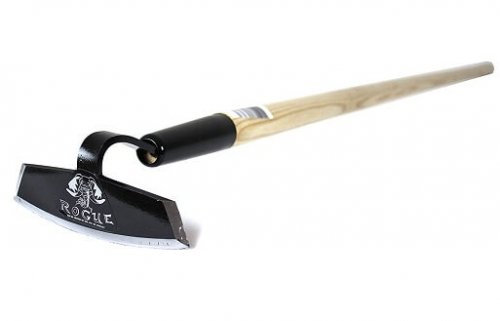 When it comes down to it, sometimes you need to get down and dirty. One of the better tools out there for you is a hoe. Due to the quality of this specific model, there may be none better.
Read more
Main Design
At 5.75 inches wide, this hoe is more than capable of turning over dirt in your rows and even opening up new ground if you desire.
Build Quality
Each side of the blade has been precision sharpened to make the work more efficient and easier for you. The tool head itself is custom created from recycled agricultural disc blades (which is tempered steel).
Weather Protection
The steel of the blade is engineered to achieve greater toughness but to be honest, keeping it away from the elements is only going to make it last longer.
Convenience
Even for both men and women, this hoe has been engineered with a perfect weight balance. This is thanks to its unique shape and the sharpness of the blade.
Seller Options
The seller options are in regard to the handle size. To better account to your preference, you can choose a model with either a 60-inch handle or a 54-inch handle.
Overall
You can rest assured that this tool will perform brilliantly for you. However, it is worth noting that even with special engineering, the handle length can be an issue for shorter people.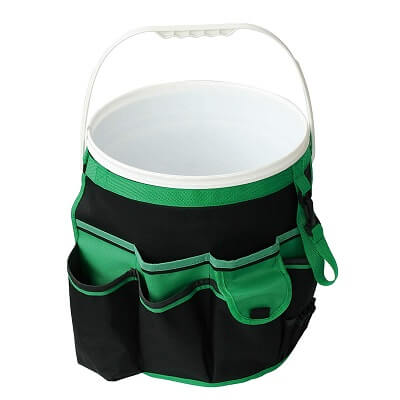 While you need to invest in a plethora of tools, you also may be looking for a means to organize them all. But, do be aware that no tools are actually included with this.
Read more
Main Design
Again, no tools are physically included with this and neither is the bucket. However, it is an organizer and allows you a convenient way to keep all your tools in order.
Build Quality
Apollo Tools designed their bucket organizer of polyester 600D oxford cloth. In addition to this, they added a PVC inner layer for exceptional resistance to tearing. Although, some users have questioned the longevity of this product.
Weather Protection
The type of material that is used in this organizer is typically found in hunting equipment and backpacks. One of the primary reasons is its waterproof characteristics.
Convenience
All in all, there are 34 outside pockets to hold all your accessories. Due to the straps, it will also easily fasten around any five-gallon bucket.
Seller Options
This actually comes in two different color variations and what is interesting is the black and green model is more expensive than the black and pink one.
Overall
If you have any five-gallon bucket at home, this becomes an excellent organizer. But, it will not be of importance to everyone and hence, rounds up the entries on this list.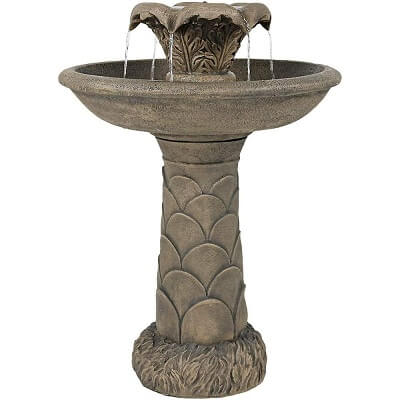 Speaking of adding a bit of elegance to your garden, how about a water fountain? Outside of the sheer beauty of this two-tier birdbath, it also gives your bird friends a convenient place to wash off.
Read more
Main Design
Indeed, this is a birdbath and literally performs what the name implies. However, due to the elegant flower design that is sculpted on the exterior, it is also a decorative piece.
Build Quality
This is made of both polyresin and fiberglass and features the aforementioned flower design. The benefit of this combination of materials is they are durable without adding excess weight.
Weather Protection
The resin itself is a highly weather-resistant material and on top of the fact that water is literally resting in the fountain at all times, the weather is not going to be a pressing concern.
Convenience
In addition to the fact that the spin lock system enables each tier to lock in place, an electric submersible pump is included with your purchase. With this, all you need to do is plug it in and enjoy.
Seller Options
The specific option you see does not come in any other size or design. At least for this specific model, it stands at 28 inches tall.
Overall
Much like the last accessory, this is going to be stable and will not be a tool. Still, it is a fantastic addition that will make all the nearby birdies your best friends.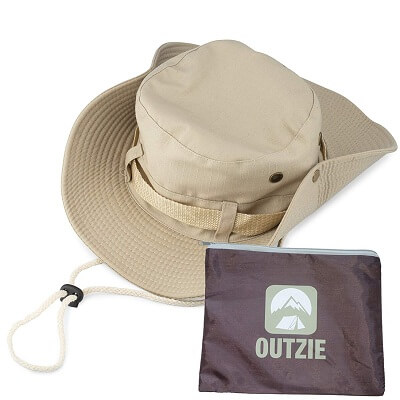 When you are outside maintaining your garden, there is a high likelihood that the sun will be out in full force. Well, what better way to content against it than to invest in a sun hat?
Read more
Main Design
Sure, the main purpose of this design is to shield your eyes from the sunlight. However, due to the full lining of the thin cotton fabric, it is also comfortable on your head.
Build Quality
On top of the lightweight cotton fabric which adds breathability, this hat is also protected with an SPF50+ UV coating. This engineering method will prolong the hat overall.
Weather Protection
This is primarily lined with cotton fabric and it is fully washable because of it. About the only issue with the weather is some of the moisture will be absorbed by the hat.
Convenience
Clearly, the most convenient aspect of this hat is its extra-wide three-inch brim that protects both your face and your eyes from the intense rays of the sunlight.
Seller Options
There are two color options available (tan and beige) and a plethora of sizing options. You can choose either medium, large, extra-large and medium/large.
Overall
Even though this could be used for any outdoor activity you can think of, it works terrifically for gardening. Due to it's quality and sun protection, it is a worthy investment.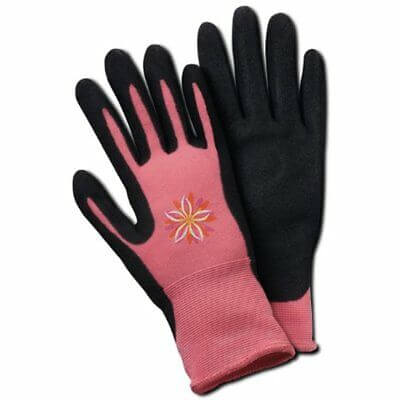 While this is another pair of gloves that lands on this list, this pair is a little different. Instead of being made of leather, these are made to enhance dexterity and your overall grip.
Read more
Main Design
Given the importance of gardening gloves, it only makes sense for you to have a variety to select from. What is nice about these is there textured finish for enhanced grip and dexterity.
Build Quality
For both comfort and durability, these have been designed with nitrile and polyurethane. In addition to this, it is double coated which adds enhanced longevity.
Weather Protection
Due to the fact that the back of these gloves are designed with water-resistance, the water is just going to bead up and roll off.
Convenience
The designer of these gloves engineered these with comfort flex technology. This does a few things. Firstly, it is form-fitting and secondly, in conjunction with the nylon back, it is more breathable.
Seller Options
To account for as many buyers as possible, these are available in one of two sizes. The first is classified as medium and large and the other is large and extra-large.
Overall
This is about as good as a gardening glove gets. These gloves are water-resistant, form-fitting, designed with an enhanced grip are very durable. Does it really get any better than this?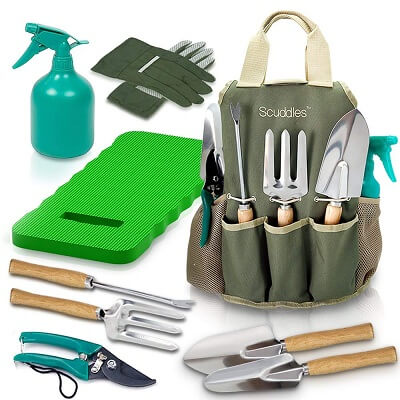 This is yet another set of tools for your gardening experience. Yet, this particular set is not going to be ideal for heavy-duty use. If this is fine for you, then this will work out tremendously.
Read more
Main Design
Scuddles provides you with a plethora of different accessories and this includes a weeding tool, sprayer rake, fork, gloves, and a kneeling mat.
Build Quality
All the tools that are made out of metal are done so with polished aluminum. Plus, they have been sharpened which increases their efficiency and safety in operation.
Weather Protection
The apron itself is machine washable and can get wet with little to no issues. Now, because it is made of polyester, it is not waterproof but will absorb less water than natural fabrics.
Convenience
Each one of the hand tools in this set offers you solid grip and support while using them. This will reduce your hand fatigue on longer and more grueling days.
Seller Options
There are a few seller options available and you can actually alter the set a bit. For example, you can get an apron with a water nozzle and shears or one with a kneeling mat.
Overall
If you are serious about gardening then you need to highly consider this type of an accessory. Perhaps a better way to word that is these accessories as you get all sorts of tools.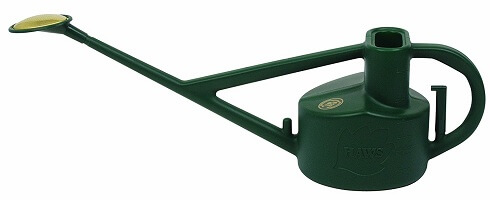 In order for your plants and herbs to grow, they need sunlight and water (among other things). You can't always account for the rain so, the only logical thing to do is to invest in a watering can.
Read more
Main Design
Instead of just using a bucket to pour water on your plants, this special design has a right-angle downspout attachment that allows for more precise watering.
Build Quality
For both wall strength and rigidity that is actually engineered from high grade, recyclable plastic. However, some users have claimed that the attachments are not the best.
Weather Protection
It is recommended to extend the life of this product by storing it indoors. Due to the craftsmanship, it is made to hold water but not to necessarily withstand the elements.
Convenience
When the cap is accidentally tipped forward, the high neck design will prevent the water from coming out the top. Plus, the dual-handle design improves your balance and watering efficiency.
Seller Options
While the main design remains the same, you can choose between a green and a red design.
Overall
Watering your plants should not be a hassle and with the power of this can, it will not be. But, you do need to be wary about leaving it outside as it is not really designed to withstand the elements.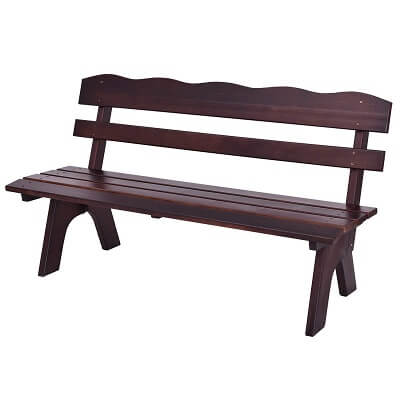 As opposed to the prior two accessories, this one is not necessarily one that you "use". But, for proper aesthetics, it only seems right to add a high-quality wooden bench to the décor.
Read more
Main Design
Indeed, this is a wooden bench and a darn good one at that. It is made primarily of wood and can seat up to three people. Plus, it is suitable for other settings outside of your garden.
Build Quality
Thanks to the fact that Giantex manufactured their bench with poplar wood, it is able to support large capacities. In addition to this, the four legs add structural stability.
Weather Protection
It is promised that this bench is made with exquisite craftsmanship and because of such, it is resistant to the weather and rotting. Although, it may be wise to treat the wood yourself.
Convenience
Even though this is made of wood, the backrest has been ergonomically designed and this means it naturally contours to your back. Additionally, the assembly process is pretty easy (although the included instructions are not the best).
Seller Options
There are two color options available. You can either choose a bench with a dark brown varnish or a tan one. To be honest, the former is a little more appealing.
Overall
Ironically, this could be the accessory that ends up being the least used in your garden. Still, this amazing wooden bench delivers seating while also adding appeal to the décor.

Subscribe to our Newsletter