Best Garden Hoses
In a Hurry? Editors choice: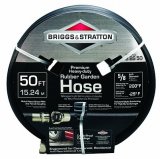 Test Winner: Briggs & Stratton

If you were to poll the residents of your neighborhood to see how many of them own a garden hose, the percentage is probably pretty high. For homeowners, there are several reasons why owning a garden hose can be beneficial. With one, you can manually wash your vehicles,
water your garden
, or even let your kids play water tag on a hot day. Simply put, they are not mandatory, but you are doing yourself a disservice if you do not currently own one. Even if you own one, does it perform to your expectations?
A hose is an inexpensive item that has plenty of uses, as we've said. So even if you already own one, it's not out of the question to shop for another.
Standout Picks
Criteria Used for Evaluation
Top 10 Picks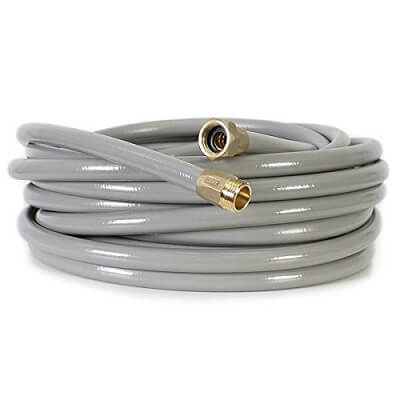 It is nearly impossible for garden hoses to be kink-proof and while this hose is no different, its 5/8-inch diameter, ultra-tough, and crushproof brass fittings, and polyurethane construction ensure that it is designed to last.
Read more
Materials
ELEY decided to construct their garden hose with polyurethane and given that this material is used to make inline roller blade wheels, it was not a bad choice. Both the inner tube and outer cover are crafted with this material.
Features
To ensure that their fittings would hold up to abuse, ELEY went with brass fittings that happen to be crushproof. Even if you were to drive over it by accident, they will still maintain their shape.
There is no need for concern if you want to take a sip from this garden hose. The polyurethane is crafted from resins that are FDA approved and brass fittings are lead-free. In addition, even the rubber gaskets are free from any toxins.
Ease of Use
For further resistance to kinking, high-tensile reinforced threading has been integrated into this hose. On top of this, the hose is designed to retain its flexibility under all temperatures.
Size and Length
An unparalleled amount of options for length are available for this hose. You can get lengths as low as 6.5 feet or as long as 200 feet (with several options in-between).
Overall
Even though the price is pretty steep for a garden hose, it is more than worth it. Why keep investing in a brand-new hose every other year when you can buy one that will last for several years?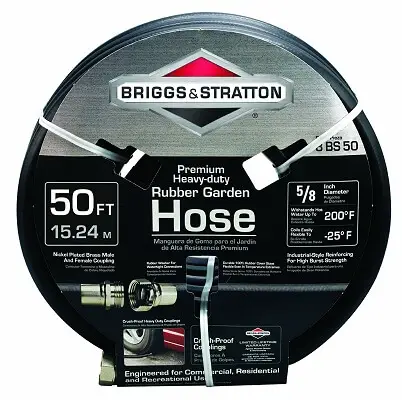 Notwithstanding the fact that Briggs and Stratton made their garden hose a bit heavy to handle, the build quality is as good as it gets and there are several size options to choose from. For the customer, this combination is fantastic.
Read more
Materials
Being engineered for commercial, recreational, and residential use, it is clear that this is built to last. Industrial-style reinforcing ensures a high amount of strength and it can even handle water temperatures up to 200 degrees.
Features
This garden hose comes equipped with male and female couplings and they are nickel-plated. All in all, they are designed to resist wear and corrosion and are also crushproof.
On the package, it claims that this hose is ideal for recreational use. Now, it is not clear whether or not this alludes to drinking so if you want to err on the side of caution, do not drink from this hose.
Ease of Use
Kinking is always going to be present but the key is to try and minimize it as much as possible. Briggs and Stratton achieve this with an eight-sided cover. Additionally, the hose remains flexible in cold weather.
Size and Length
There are four different lengths that you can choose from (25-foot, 50-foot, 75-foot, and 100-foot) and all have a diameter of 5/8 inches for optimal water pressure.
Overall
The minute you grab ahold of this garden hose, you will understand its strength and durability. Of course, for some people, this will be too heavy to handle. At just under 10 total pounds, it is quite the beast.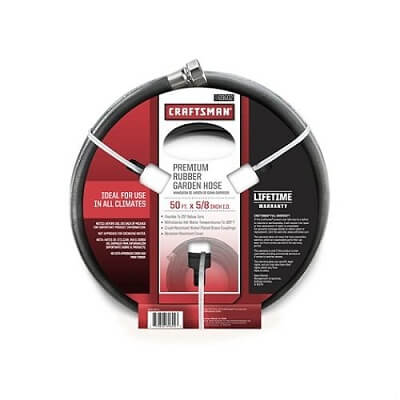 Craftsman is a high-quality manufacturer in the world of home equipment. Their premium rubber hose is not only reinforced with 500 PSI force strength it also remains flexible when exposed to temperatures from -25 degrees Fahrenheit to 160 degrees Fahrenheit.
Read more
Materials
Being made from an all-rubber material, Craftsman ensured that their garden hose would stand up to wear and tear. Plus, the radial tire cord has been reinforced for improved force strength.
Features
The brass coupler on this hose will tighten securely to your water source and due to the design, it is crush-resistant.
Via the product label, Craftsman warns that their garden hose is not intended for consumption. It contains various chemicals, such as lead, that can cause harm to humans if consumed.
Ease of Use
When rolling this hose up, kinking can become an issue but because of the concave hexagonal shape, the kinking is minimized as much as possible. Even more so, this can operate under nearly any weather condition.
Size and Length
While the hose displayed for you is the 50-foot version, Craftsman does offer more lengths such as their 100-foot version of the same hose. As far as the girth, it sports a diameter of 5/8 inches.
Overall
The safety concerns may draw a red flag if you have kids and pets constantly running around in your yard but if you are in it for the durability, then this is the cream of the crop.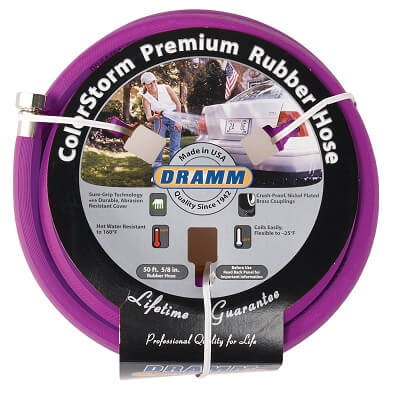 This is yet another garden hose that is built to last; yet another that can be a bit cumbersome to operate. As a neat bonus, even though it may not mean much to some, there are six different color options available.
Read more
Materials
It does not matter what your intentions are with this hose, it should be able to handle it. This is thanks to its industrial-grade and burst rating of 500 PSI.
Features
Even though it can be hard to fathom, the nickel-plated fittings on this hose can withstand abuse from a moving vehicle. That is right, they are crushproof and could still be operable after being run over.
As for drinking from the hose, this is another case of possibly erring on the side of caution. It is possible that no harm will come to you if you drink the water directly from this hose, but it could be a risk.
Ease of Use
Some users have criticized this hose for being too stiff and bulky to maneuver. Those these claims may be true, Sure-Grip technology has been integrated to make the handling experience improved.
Size and Length
What you see is what you get, in terms of the size options present for this hose. But, a 50-foot hose with a 5/8-inch diameter should suffice for most people.
Overall
If you can handle a garden hose that requires a bit of effort, then you can appreciate the craftsmanship that is in order here. Toughness is certainly not everything but when you know something is going to last, it is comforting.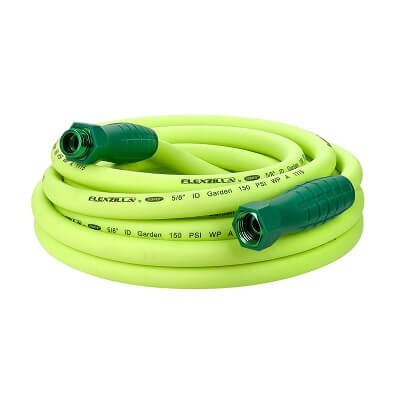 With the company name of Flexzilla, it is fair to assume their garden hose would be nearly immune to kinking. While it is claimed that the hose will not kink under pressure, some users complain about the kinking when there is no pressure. Still, the quality is there.
Read more
Materials
Flexzilla decided to opt for a hybrid polymer material to make up the brunt of their hose. This decision leads to a hose with optimal abrasion resistance, along with a superior amount of strength.
Features
The hose's strength is one thing entirely, but the fittings are another story. Due to the anodized aircraft aluminum male and female fittings, they are crush-resistant and ready for anything.
Per its marketing claim, you are safe to drink the water that comes out of this hose. Due to the hybrid polymer material and fittings not containing harsh substances, this is possible.
Ease of Use
Here is where things get a little dicey. Call it false advertisement or misjudgment, but it is claimed that this hose will not kink under pressure. While the kinking is kept to a minimum, it is not when the hose is under no pressure.
Size and Length
Several size options are available for you to select from and they range from 3 feet to 100 feet (in terms of the length). However, there are several options in-between.
Overall
When a manufacturer claims their garden hose is immune from kinking, take it with a grain of salt. It is almost expected and not avoidable. But, this hose does combine durability and maneuverability admirably.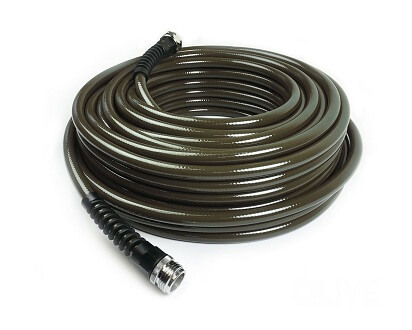 The main issues of the Water Right 400 Series Garden Hose all come back to the kinking. As you are beginning to understand, this is hard to avoid and if this is the only issue with a garden hose, you know it is good.
Read more
Materials
While some of the other hoses on this list possess a greater burst pressure rating, this polyether-based polyurethane makeup eliminates permanent cracks and leaks.
Features
Nothing to criticize in regards to the fittings, that is certain. Besides the fact that they are an industrial-grade, they have been chrome-plated to ensure long-lasting shelf life.
The polyurethane resin that is used for this hose is NSF and FDA certified. Past this, no extra odor or taste is added to the water. Indeed, this is as safe as it gets for drinking.
Ease of Use
Even in scorching or frigid temperatures, this is able to retain its softness and flexibility while in operation. Again, though, despite the claims, kinking has been presented as an issue for various reviewers.
Size and Length
While not quite a diameter of 5/8 inches like so many of the others on this list, the 7/16-inch diameter should still suffice. As for the length, you can choose from 25-foot, 50-foot, 75-foot, and 100-foot.
Overall
Though the diameter is a bit smaller than most garden hoses, this just means you will get a little less water flow. If you are not intending on using this garden hose for rigorous work, this should not be an issue for you.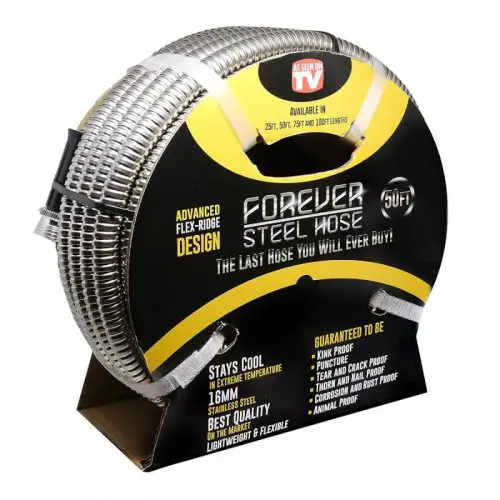 The Forever Steel Hose is another stainless steel hose that is highly durable, flexible, and resistant to tears. You might think that the stainless steel make-up means it'll be hot to the touch on those hot days but you never have to worry about that making it great for the kids or pets in your life.
Read more
Materials
Being made from stainless steel means it'll definitely be durable and last you a long while. But that doesn't mean it's inflexible. You can be assured it'll easily move with you and won't weigh you down.
Features
Copper is one of the most durable elements that can be used for fittings and even if something were to happen to them, they can be removed to be either repaired or replaced.
On the package, it claims that this hose is not to be used for drinking water. No matter the reasoning behind it, abide by this warning and suggest that you keep your kids and pets from consuming it.
Ease of Use
Like we said above, this stainless steel design ensures its durability but won't hinder your movement. You'll still have plenty of maneuverability with the added protection of no kinks or snags. It's also lightweight meaning you can twist and move as needed without causing any damage to your hose.
Size and Length
Forever steel comes in four lengths. You can choose from a regular twenty five foot length, a fifty-foot, seventy-five foot or even a one hundred foot long hose. This should allow you to choose the best size for your needs.
Overall
The Forever Steel hose is a great option for those looking for the right durability while still remaining flexible, and the ability to choose the length that best fits your needs.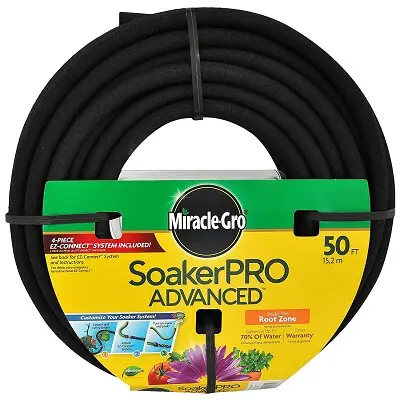 Speaking of non-traditional garden hoses, how about the Miracle-Gro Soaker Hose? If you can believe it, you can actually customize the hose by cutting it and affixing the fittings to the end. Truly, this is a one-of-a-kind design.
Read more
Materials
Let's just say that this is not exactly a hose that is designed to be used recklessly. It is not cheap or anything like that but ensure that no bends are present when you place the hose where you want it.
Features
Coming with the hose are EZ-connect fittings and they can be attached anywhere, you please. Again, you cut the hose manually and connect the fittings on the end.
To guarantee you know you will be safe drinking the water from this hose, it meets the lead-free standard that is set out by the Federal Safe Drinking Water Act.
Ease of Use
To put the flexibility of this hose in perspective, you could easily make a loop that is no longer than one foot in diameter. In fact, this hose is ideal for watering those pesky areas in your garden.
Size and Length
A 3/8-inch diameter is significantly smaller than most hoses on this list but for what this hose is, it is not an issue. Also, you can opt for a 50-foot, 75-foot, or 100-foot version.
Overall
This type of hose is almost specifically tailored towards a garden. In fact, you could even attach other garden hoses to this if you so choose to. However, be aware that this is only going to appeal to a specific demographic.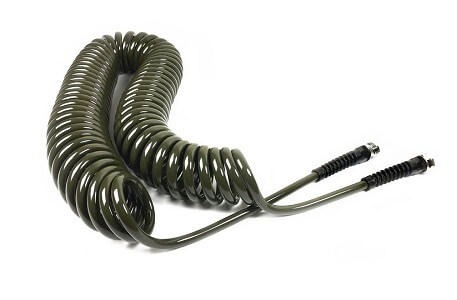 Up next is a different type of a garden hose. This is a coil garden hose and as you may expect, the hose is designed in a way that allows you to uncoil it. While Water Right's version can be difficult to manage, its build quality can't be denied.
Read more
Materials
If you remember anything about the previous Water Right garden hose that made an appearance on this list, you will not be surprised at the polyether-based polyurethane craftsmanship.
Features
What is nice about the solid chrome-plated brass fittings, outside of being highly-durable and long-lasting, is that they prevent lead from entering into the water supply.
Water Right does not add any lead or phthalates into their design. Their hose is FDA and NSF certified and if you feel the need, go right on and drink straight from this garden hose.
Ease of Use
There are strain reliefs on both hose ends that are aimed to prevent kinking. Unfortunately, the real issue is with the coil system as they wrap around one another and can be difficult to manage.
Size and Length
This is offered in 25-foot, 50-foot, and 75-foot lengths. But, because of the coils, these lengths are a bit hard to achieve. Plus, the 3/8-inch diameter is not that great.
Overall
Once again, this is a unique garden hose. Even though it is not the garden hose you will probably envision in your mind, they are nice and some feel they are less cumbersome than traditional garden hoses.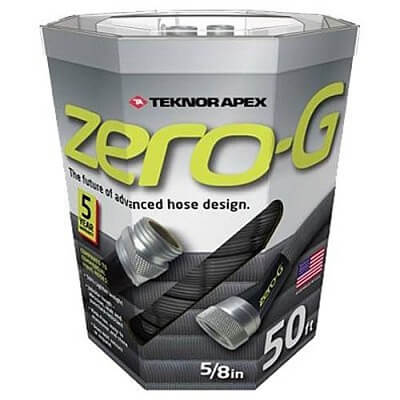 To put it bluntly, the Teknor Apex Hose is an absolute beast. It has an impressive burst rating of 600 PSI, has a diameter of 5/8-inches to deliver optimal water pressure and features fittings that are crushproof up to 900 pounds.
Read more
Materials
Teknor designed its Apex hose to rival commercial-grade hoses in terms of strength. It has an enormous burst rating of 600 PSI and has a woven fiber jacket that resists abrasions and punctures.
Features
For up to 900 pounds, these commercial-grade fittings are crushproof. One could only imagine what would need to be done to actually damage these fittings.
As the advertisement of the Apex Hose claims, this is free from lead and drinking water safe.
Ease of Use
As compared to other garden hoses, this is about 50 percent lighter. But, when it comes to kink, reference user feedback as several have not had a hassle-free experience.
Size and Length
Despite some issues, the size and length options of the hose are not among them. With a 5/8-inch diameter and options for 25-foot, 50-foot, and 100-foot, everyone should be pleased.
Overall
There is no debating the toughness and durability that is present here. Instead, most users have taken issue with the kinking. But, then again, what else is new, right?

Subscribe to our Newsletter