Best Garden Edging
In a Hurry? Editors choice: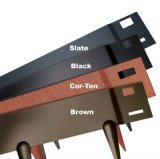 Test Winner: EverEdge Steel

When it comes to your lawn and garden the biggest pet peeve for many is weeds. Weeds have a way of finding their way into your beautiful garden and try and take up as much space as they can if they are not tended to. That is why if you are fighting the age-old battle of man vs weeds than edging may be what you are after. Edging allows you to
isolate your plants and vegetables
and stop unwanted pests or weeds from gaining entry.
It can be daunting considering all the research that you inevitably do before any purchase (or even minor life decision- we know you The-Not-Worried-Just-Prepared individuals, and we respect you)- but fear not, we weeded through the products for you (see what we did there…) and brought you only the best landscape edging on the market for your garden.
Standout Picks
Criteria Used for Evaluation
Ease of Use
The installation plays a big part when shopping for garden edging; you've heard neighbors horror stories on prices that they've paid for professional-grade products and installation- and you don't want to be their next victim- but can you do this on your own? It can be nerve-racking to set out on your first Do-it-yourself venture, but once you get one or two under your belt you'll skipping over whole aisles at big box stores convinced you can do it better yourself. And you probably can! Whether something is 'easy' or not is no way to judge whether it is a good product. Some installation can be 'easy' but not be effective. Others can be labor-intensive and still be a flop when fully finished. You're doing this yourself, there are going to be learning curves, you may have to watch some how-to videos online, but you got this!
Effectiveness
One of the most if not the most important thing you should keep in mind when looking for edging for your garden is how effective it will be at keeping weeds and outside critters out of your garden. This is subjective because it matters on the project that you have in mind. Some edging is really great at keeping weeds at bay, but buckles under the pressure of anything leaning up against it. Others are very stylish and easy to install, standing up to all the weight you need them too, but have no underground defense to weeds.
The best way to get a first-hand look at if this is the edging for you and your garden is to check out the customer reviews. By looking at the customer reviews you will see how this edging held up in other customers' gardens and if it is what you are looking for to help protect your garden.
Durability
Durability is a big deal when it comes to most garden edging products that you are on the market for today. It doesn't just seem like products used to be made sturdier in our grandaddies day- furniture really was sturdier. Even cell phones from a decade ago stand up better than most of our current phones do. Durability is even a big deal when it comes to garden edging. Everyone wants products to rely on, inside the house or out. That is why it is so important to get edging that will hold up to battling growing weeds and also the weather elements.
Longevity was a concern that came up time and again with consumers' reviews. No one wants to have to install edging year after year- but can the edging you have selected make it through the winters your area is known for? Maybe you need to take your edging in at the end of the summer, you don't want to have to dig it up at the end of every season, do you? Then again, maybe you want quality? Something that you can knock out in an afternoon and call it a one and done project? Not just durability– how well it can stand up to daily rigors- but also longevity– how many years you can expect before having to purchase a new set.
Style
Looks aren't everything, but having the best yard isn't easy, style helps! And who can blame you if you buy something that is functional and just happens to be pretty also? Appearance won't make or break deals with most consumers, but it can still be a significant part of the purchasing process. What your yard says reflects who you are- ok, corny, but ya know, maybe there is some truth to that nugget? Are you a traditional steel and straight-line kind of homeowner? Or are you curvy and wavy in all the right places kind of homeowner? Or maybe you like a stoney or concrete look? Either way, you slice it, keep the style as well as how effective the edging is so you get the best of both worlds. Edging that looks great and also protects your garden!
Top Ten Garden Edging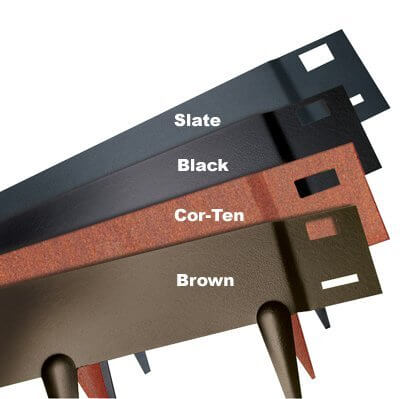 Ready set position, hammer, lock repeat. The perfect professional level edging for gardens and lawns that snake in places and hit the straight and narrow in others. Four colors to choose from, strong and durable galvanized all-in-one steel, bends at corners and curves when needed. However, this best landscape edging is the most expensive product on our garden edging reviews.
Read more
Ever Edge is a company that has been continuously spinning out quality materials for over 20 years. In England, stately homes have strived to maintain neat and tidy lawns. Using this standard as the starting point Richard Hall, founder of Ever Edge, began his company in the mid-1990s dedicated to producing only the finest craftsmanship.
Installation:
The installation on this one is pretty straight forward. Hammer them into the ground in the desired location, hook them onto each other on the ends, and permanently lock them into place. They are designed with attached 3" in. spikes. There is a total of six-inch overlap so factor that into your total necessary dimensions.
Effectiveness:
When it comes to achieving a straight edge, this product will do the job for you. If you need it to bend around a tree or two, this is probably not what you are looking for. It is easy to install, but it doesn't work with bends or curves too well. Rises and falls in the grass are also a problem.
Durability:
Galvanized all in one steel edging this product won't disappoint. Steel makes an incredibly durable lawn edger.
Appearance:
There are four colors to choose from with this fine-looking Edging. Looking modern and classy above or below ground you can choose from these four colors; Brown, Black, Slate, or Cor-Ten. Any will dramatically increase the appeal of the lawn it edges.
Additional Equipment/Tools:
No extra stakes or spikes are needed for this one. Simply bring that mallet you would for all the others and you'll have a completed project in no time!
Value:
It will take a few packages of any one color to complete most yard jobs, but this durable steel product will see your summer and winter through. It runs as the priciest product on our list, but once you have this best lawn edging in the ground you will find it hard to complain about!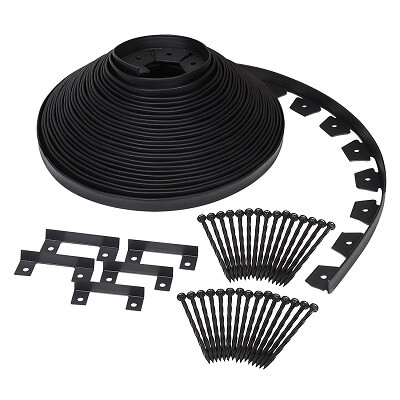 Looking to buy only the best edging for landscaping? Well, you've found your product so no need to search anymore. Dimex crushes it when it comes to length (its 100 feet long!), ease of installation (going as far as to include the spikes that you will require), all the while maintaining a reasonable price range! Effortlessly twist with your circular gardens, or flawlessly edge the pavers you just bought. It's no wonder how this came in first.
Read more
Founded in Marietta, Ohio back in 1991, Dimex has been a leader in innovation and unmatched service. In 2000, before it was trending to be "Green", Dimex had already started to procure recycled material and use them for production. Dimex's mission is to 'Create value for its customers, employees, and the environment every day.' Leading the way with recycled plastics, this company helps other companies reach more environmentally sustainable manufacturing too!
Installation:
When it comes to installation this is one of the easiest that graces this Top 10 list. No digging necessary and everything that you need to get your sloppy edging into clean lines is included in this kit. Stakes are part of this purchase- depending on what size roll you buy will dictate how many stakes are provided. That being said, it is recommended that you buy other stakes to go along with this edging as what they include is not enough for most yard jobs. Another important note is that you should not install this product in direct sunlight. While heating up the material tends to bend a little. When it gets cool again, it bends back into shape. If it was heated up and bent when staked in, as it cools and contracts it has the potential to snap.
Effectiveness:
This edging is above ground only. What is your intention for the edging? This edging measures out to 1 ½" in- as we said- above ground only. If you have a vegetable garden and you want to keep pesky root out- or in for some plants, strawberries, we know how you like to spread your roots- this is probably not the edging you are looking for. If you want sturdy, secure, and professional-looking edges, this product will keep mulch and rocks in, pavers lined, or works nicely under the bottom of fences to prevent hassle-filled trimming! This edging does need somewhat level ground to look its best and not twist in ways you don't want it to.
Durability:
Driving over this edging wouldn't be in the product's best interest- but short of that this material is durable and strong. As noted above it does expand in the sun and shrink in the cold a little, so there can be variations to how it may appear, but you'll be able to use this edging year after year.
Appearance: Crisp, clean, black lines that separate your borders, or line your pavers. Whatever your need this edging will have all your neighbors asking who installed such a professional-looking edge. It's your choice whether you tell them you did it or not!
Additional Equipment/Tools:
Additional stakes are most likely going to be needed. When buying extra stakes keep in mind where you reside- for those of you in cold areas known for frost heaves spiral spikes work really well. You will also need a rubber mallet to hammer the stakes in the ground. Other than that though you shouldn't really even have to get your hands dirty!
Value:
The price on this one can't be beaten- for any roll length that you end up going with. Stakes are included, although you'll need more. That's better than most competitors that also need some but don't include any. This is one of the best garden edging products on the list!

3

. Dekorra Simulated Stone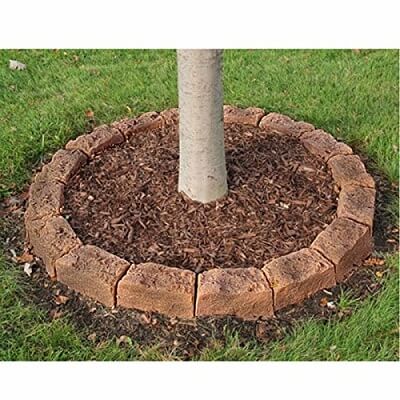 The strength and durability of real rocks, without the weight of one! UV resistant so the sun (and even the cold) won't cause it to crack or the color to fade. Each stone's color may vary from one to another, but isn't that what you want, the look of real stone without the weight and hassle; what two rocks in nature are identical? Bring some tamed wild to your front or backyard with this selection!
Read more
DekoRRa Products, based out of the surprising location of Rio, Wisconsin, started as a means to cover up unsightly yard plumbing and other eyesore maintenance valves. Designing rocks since 1997, they have found there is a lot of demand for faux-rock decorations. Whether you want a key holder for next to your door, edging for your property, or decorative stone for the backyard, you will find what you're looking with DekoRRa. Each stone is intended to be like its natural counterpart, varied. No two stones are alike, and either is DekoRRa's designs.
Installation:
Just unpack and place where you need it. They just look like stone, but they are lightweight and easily portable- yet they are durable and something you know you can count on in years to come. There are lips on both sides of the stone to pack on top of to help secure the new edging.
Effectiveness:
Holds back mulch and soil like- well- a rock. While this won't prevent grass from growing up under the faux-stone edging, it will give you a clean border to point out when explaining to the kid down the road what he is supposed to mow. Unlike other yard edging, this one can do in a linear fashion, or twisted around into a circular tree ring. Their use of this product just doubled!
Durability:
Highly, highly durable. Tested to be impact and line trimmer resistant these rocks may not be the real thing, but they come close! Built from recycled and durable polyethylene plastic.
Appearance:
There are six different styles in varying colors to choose from. Customize your garden to fit your personality! Autumn Bluff, Autumn Bluff Sienna, Castle Gray, Cottage Gray, Fieldstone, and Sandstone Tan are the options that you have to select from, so go into your yard and see what fits best. Maybe it's time to be a little daring and go with a contrasting border rather than a complimentary border?!
Additional Equipment/Tools:
There is no additional equipment needed!
Value:
You will end up breaking the bank a little bit if you don't plan ahead and set enough of a budget aside. But when you do, you will be the envy of the neighborhood. Good as a tree ring or linear edging, you can find several uses for this around your yard!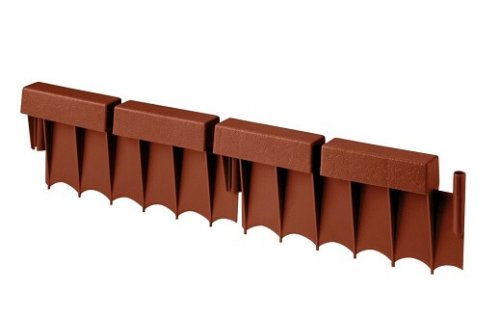 A stylish border that also gets deep in the ground to effectively prevent roots from going under the edging. The best part? No digging is necessary! You will be able to instal this in short order, with very little hassle. Keep the roots out and the mulch and decorative rocks in, this is the border for you!
Read more
Easily edge geometric shapes with this interlocking edging set. The top portion is designed to look like little bricks to help create a classy walkway or border between gardens. With several inches able to be pounded into the ground you can effectively cut off root growth from coming up under your edging and into your nice garden bed.
Installation:
No digging necessary! If you were looking to get your fix of being dirty by installing this product, you'll have to find some extra yard maintenance to do that. Simply lock into place and hammer into the ground. They are 5 ½" in. tall with about a 1 ⅜" in. once fully submerged in the ground.
Effectiveness:
This product won't hold in mulch or wood pellets well, but it can hold a decent amount of decorative rocks at bay. If you are worried about grass growth, this edging will cut it off at the roots. Weeds will have a hard time finding a way through.
Durability:
While we wouldn't make a habit of stepping on this product- it's not the best for lining a jungle gym area- it can hold up to what will be demanded of it on a daily basis. You won't be able to get this product to bend, so if sharp angles aren't your thing, consider another product.
Appearance:
Not your typical best plastic landscape edging, spice up your yard with something different than what the neighbors are all using. Shaped like little bricks all in a neat little line you will be tempted to find other spots to add more edging to.
Additional Equipment/Tools:
You don't need much to finish up this project, just a rubber mallet and a little bit of time. You'll soon have a spruced up yard!
Value:
This is one of the cheaper and more effective edgings on the market. Stop weed spread and contain your decorative rocks all with one simple purchase. It'll take a few boxes to complete your project most likely, but you'll soon have the neighbors looking to hire you for their edging needs. Charge them fairly.

5

. Gardener's Supply Company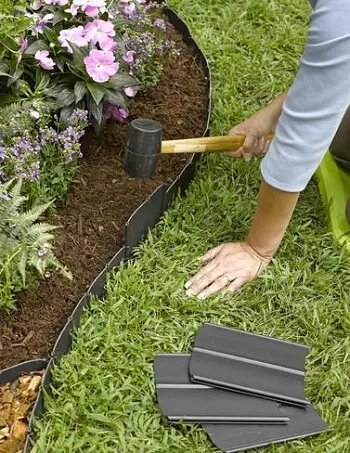 With this quick installation, you will have your garden protected from weeds and grass growth in no time at all! With an entire foot to work with, you can pound a solid 8 inches into the earth to truly cut back on weeds getting under your border and into your well-groomed garden. The best part? No digging necessary just uses a rubber mallet or a piece of wood to blunt the impact from a regular hammer.
Read more
If you want to feel good while filling your shopping cart, this is a company worth seeking out their personal website and getting familiar with them. They're great! The best part is? They're farmers making products for other farmers- and they still very much care about their small root start-up back in 1983; transforming dumping grounds to breadbaskets; 8% of profits go to charities and organizations that use gardening to impact the world, and they genuinely care about their customers and employees! Feel good about yourself while buying something you need anyway, knowing that your edging will be effective and attractive!
Installation:
Quick and easy! Lay a hose down on the ground where you want to edge for a visual and then just hammer away! Should you need to pull these up, that's easy too. Going around curves and corners isn't a problem too, bend them to shape as need dictates. A word of advice wet the soil first, this makes hammering them down that much easier! Rocky soils can be difficult - but not impossible - to work with.
Effectiveness:
You have 12" in to work with, how much you bury is up to you. What are your purposes above ground- are you trying to hold in several inches of mulch or pebbles? Maybe you need more effective root control sub-soil? How you decide to use it is up to you, but above or below ground, these get the job done.
Durability:
The Pound In Edging is made from recycled polyethylene- this edging is durable and long-lasting.
Appearance:
The Pound In Edging slide in next to each other like breaking up the flat surface every six inches or so. No extra stakes are required, so you get the beautiful look of the edging without being marred by stakes in sight!
Additional Equipment/Tools:
No digging necessary just brings that trusty rubber mallet! It wouldn't hurt to have a level handy- just to check your work- but don't let your perfectionism get carried away too far, you have a yard and summer to enjoy!
Value:
You only get 20 feets worth with one purchase, that doesn't cover that much if you have multiple gardens. But they are easy to use, can be taken up again if need be, and they cover both a lot of soil underneath and grass up above. If you want quality and effectiveness and you don't have a budget, this is where your money should go!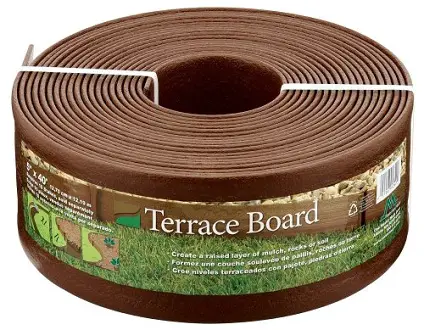 Made with 100% post-consumer recycled HDPE plastic (such as milk jugs and shampoo bottles) this product will protect nature from getting into your domesticated garden while helping to reduce on the world's wasted plastic, something we could all be more mindful of. Spruce up your garden with a natural and textured look. Strong and reliable recycled plastic, your garden will be protected from grass and weed growth for years!
Read more
Master Mark is one of the largest and most experienced recyclers of high-density polyethylene plastics (HDPE) in the world. They are family owned and operated and have been for over 50 years. From their family to yours they will be taking care of your yard needs from here on out!
Installation:
This edging product can be a bit of a pain to install. You will want to do it on a sunny day when the heat will help to unravel the coil. It will be a fine balance with the sun if you live in excessively hot areas, too much sun and the product will bend and wilt a little.
Effectiveness:
This is highly effective at keeping mulch and decorative rocks in, but it can also look really nice against pavers. Try burying more of it in the ground and it becomes a decent weed blocker.
Durability:
Made from 100% post-consumer recycled HDPE plastic, this puppy is strong with a hefty weight to it.
Appearance:
Designed with a wood grain look to it, it will stand out from the black strip competitors and have people wondering where you got it! Some find the wood grain like texture to be gaudy or too much, but for other gardens, it is just the color and texture it's been waiting for.
Additional Equipment/Tools:
You will need to make sure to buy your own stakes for this project. You'll need a shovel to dig in the ground a bit, and you'll need a hammer to knock in the stakes you buy to hold it in place.
Value:
You'll have to buy additional items/equipment to finish this project but made from recycled material you know you are making a difference to reduce on landfills while the edging makes a difference in your garden- and life. Cheaper online than in stores, this versatile edging is reasonably priced and a great buy!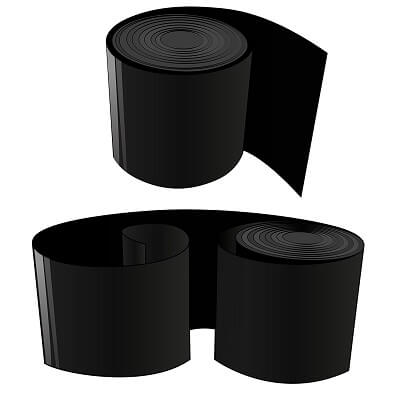 They say that nothing in this life is worth having unless you have to work for it. That could be said with this product here. Coming in on Amazon's Choice list with customers, it's easy to understand why. This is the product that gives you the most bang for your buck. 20 feet by 10 inches with every purchase your garden will be secure from underground growth into the garden for upwards of 100 years! Made from 100% recycled plastic, do your garden a favor while helping out the world too.
Read more
Containing bamboo can be an arduous task. It's an invasive plant and it spreads really easily- yet it is so functional, grows and matures (ready to be used!) in no time, and can be used in hundreds of different ways. Grass Barrier started just for that reason- the joys of bamboo. Growing bamboo can be fun- have you ever had the experience of running through a bamboo grove?! - but it can be difficult to contain. What started for one reason soon turned to others. Consumers quickly fell for this product, but not only for bamboo! With 10 inches to work with, how much gets buried is up to you! With this kind of depth your in-ground garden beds- and more- just got a lot easier to maintain- hours easier- for up to 100 years!
Installation:
Installing this product is definitely the hardest of all the edgings on this list. You'll have to dig a 'trench' around where you plan on having it edge. How deep is up to you. Something to keep in mind would be mower blade length. You'll want to bury enough of the edging in the ground so what's topside won't get caught in your mowers blade. As time-consuming as the Grass Barrier can be, it is made from plastic that will last! Choose the plot of ground wisely, you won't have to do it again for the next two generations!
Effectiveness:
If you want to keep roots in their place, this is the product you've been looking for. It is deep enough to block out- and keep in- almost all roots. We'll mention it again, it lasts 100 years, so take care of it, and it'll take care of you.
Durability:
Grass barrier is made from 100% recycled HDPE plastic. It measures in at a 12 gauge (2.5 mm or 1/10th" in.) thickness Not only will you help repurpose old plastics for a good purpose, but this puppy can also withstand up to 200 pounds of puncture resistance! This is durability at it's best.
Appearance:
Once in the ground, this edging gives the surroundings a very defined and clean look. It will hold mulch and rocks in, grass and roots out. How you design from there is up to you!
Additional Equipment/Tools:
You will definitely want a digging utensil. A full shovel might seem overkill, but you will have a lot of digging to do. Get the hand garden trowel close though, you might find the need for it. Make sure to include patience in your toolbag, once this is in the ground it is well worth it!
Value:
You get a lot of plastic for your purchase. It may take a few rolls to get the length that you need, but you won't have to worry about edging year after year once you get the Grass Barrier installed, it's a one and done deal. If you are most concerned about roots when buying edging, look no further!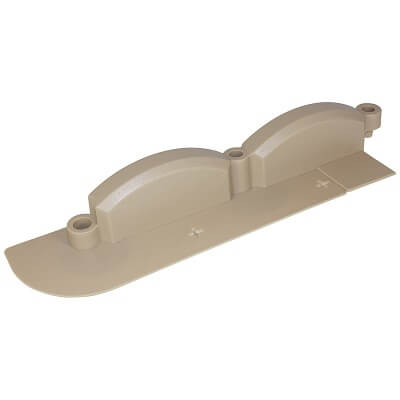 No digging necessary, trim-free lawn edging, easy installation? We have a keeper, folks. This border comes in a variety of colors and textures so you are bound to find a style that fits your garden. Not only is it stylish, but it's also durable and will last in your garden for years to come. Easily adjust the blocks with the curves of your garden, or zip right along with your straight-edge landscaping. Whatever your needs, this one will see you through.
Read more
Having started off as Theo J. Ely company back in the 1861 originally producing wooden mop buckets, mop handles, carpet beaters, crosscut saw handles, cow pokers, and buggy whips - all considered cutting edge in the mid 1800's- they have ventured out with their product line, but Emsco Group still maintains cutting edge standards.
Installation:
This installation requires minimal garden tools and minimal time. No digging is required, just set, align, lock, repeat. It should be noted that it doesn't fully measure out to a complete 10 feet as there is some space lost in overlapping.
Effectiveness:
Designed with a trim board on it- they had lawnmowers around the world in mind with this one. It will prevent grass from growing under the lip and into the garden, but it does nothing about preventing below ground assault on your little seedlings. If you are trying to hold in lots of topsoil or mulch, this is the design you want to go with.
Durability:
Get this- built from heavy-duty premium polyethylene it is durable- step on it or accidentally drive over it, it can handle it; FDA-Approved means that it is food grade! The little seedlings you'll eat one day won't be tainted by this material; the highest level UV stabilizer was used so the coloration won't fade, and it's BPA free, say no to toxins. Just say no.
Appearance:
6 colors in various modern and upscale designs give you plenty of room to work with when personalizing for your house and yard. Brown, hunter green, sand, slate, terracotta, red brick cover the gambit in colors.
Additional Equipment/Tools:
Stakes are already included in this purchase, so just get a mallet or your favorite flat rock to beat the stakes into the ground once in place.
Value:
This is decorative edging at it's finest and it has a price tag to confirm it. With so many styles and colors to choose from it'll be tempting to continue your search once you stumble across this Trim-Free Edging. Although the price is higher than the others, it is also strong and reliable, you won't have to buy a set after set in the years to come.

9

. Coyote Landscape Products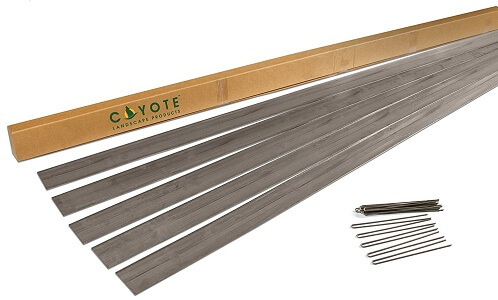 Coming in on Amazon's Choice list Coyote is a sleek design that offers strength, and durability. This steel set compliments modern gardens well, as the edging is professional and has the feel of top-notch development, all the while blending into the surroundings flawlessly.
Read more
Installation:
Coyote wanted to make sure that their products were easy to install, and they are! Simply tap the edging into the place where you want it, and there-ya-go! Use a rubber mallet, and maybe a piece of scrap wood to help distribute the impact, too much and this is known to bend or warp. You should plan to buy slightly more than you need as you have to account for upwards of 6" in. overlap per strip of edging.
Effectiveness:
How much you hammer into the ground is up to you, what function do you plan on this edging to assist in? If you want a barrier to hold in mulch or pavers, this will effectively hold up all that you need it too with added support from stakes. If you are looking to create a barrier for roots to be unable to pass through, tap more of it into the ground and create a seamless barrier for any troublesome roots.
Durability:
Steel is highly durable, and this product is no exception! Bends when needed for 90-degree angles, while maintaining its strength. This product will rust. It has a natural patina that weathers as it sits in your yard. That is the intended look, if that isn't what you are going for, consider another product.
Appearance:
Helps to achieve that 'terraced' look you have been trying to accomplish. Compliments modern homes and gardens flawlessly, drawing it all together into one imposing sight for passersby. Friends and strangers will be commenting on your edging all summer!
Additional
Equipment/Tools: 15 edge pins are included with this purchase, but many consumers found that they needed/wanted more stakes to help secure it in place further. You will need a rubber mallet to complete this project.
Value:
This is Coyote's most economical edging product on the market today. It's stylish, versatile, and it is good for the environment, Coyote should be everyone's go-to when shopping for garden edging!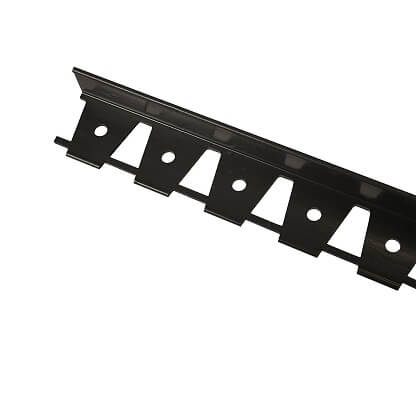 Versatility is the new black. Why be good at just one thing when you can be good at many? This border is perfect for paver, brick, or even landscape edging. Your neighbors will all be asking for a business card for the crew that installed your edging. It's your choice whether or not you divulge the secret as to how easy this DIY project for home improvement truly was.
Read more
Dimex is an American manufacturer, producing recycled flexible PVC and TPE compounds to use in their own products and to supply other environmentally-friendly manufacturers. They strive to blend innovation, expertise, and sustainability as an industry-leading manufacturer of superior quality consumer and contractor products. In the business since 1991, they have been using recycled products since the turn of the century!
Installation:
They come in 6- 10-foot strips at 1.75" in. tall. Just like the name implies, snip to fit! Place it where you need it, where you come to a curve or an angle just get the snipers ready! Stakes are not included in this purchase so you will have to buy some separately. Fairly easy and straightforward installation.
Effectiveness:
This flexible garden edging is good for pavers, for bricks, and for landscaping. Separate and hold together any garden for a beautiful work of art look you know will win all your neighbors envy!
Durability:
Designed from commercial-grade plastic, this is the strength you can count on year after year throughout the year.
Appearance:
The Dimex Easy Flex turns any drab garden into a clean and professional-looking landscape. This product won't warp in the sun like others, so once installed that is the look that will stay.
Additional Equipment/Tools:
You will need a few things for this one. Namely anchoring stakes. They are not included with the purchase, so you will have to make sure to supply your own. Dimex makes recycled steel stakes which is a great place to start your search. Once you have added the stakes to your shopping cart, do you also have a hammer or mallet to secure them in the ground with?
Value:
This commercial grade landscape edging is a great bang for your buck. You will have to buy additional stakes, but really this roll of edging will go a long way! Quality products from a quality company, you are getting what you pay for!

Subscribe to our Newsletter