Best Garden Edging
In a
Hurry? Editors choice: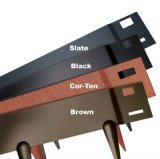 Test Winner: EverEdge Steel

When it comes to your lawn and garden the biggest pet peeve for many is weeds. Weeds have a way of finding their way into your beautiful garden and try and take up as much space as they can if they are not tended to. That is why if you are fighting the age-old battle of man vs weeds than edging may be what you are after. Edging allows you to
isolate your plants and vegetables
and stop unwanted pests or weeds from gaining entry.
It can be daunting considering all the research that you inevitably do before any purchase (or even minor life decision- we know you The-Not-Worried-Just-Prepared individuals, and we respect you)- but fear not, we weeded through the products for you (see what we did there…) and brought you only the best landscape edging on the market for your garden.
Standout Picks
Criteria Used for Evaluation
Ease of Use
The installation plays a big part when shopping for garden edging; you've heard neighbors horror stories on prices that they've paid for professional-grade products and installation- and you don't want to be their next victim- but can you do this on your own? It can be nerve-racking to set out on your first Do-it-yourself venture, but once you get one or two under your belt you'll skipping over whole aisles at big box stores convinced you can do it better yourself. And you probably can! Whether something is 'easy' or not is no way to judge whether it is a good product. Some installation can be 'easy' but not be effective. Others can be labor-intensive and still be a flop when fully finished. You're doing this yourself, there are going to be learning curves, you may have to watch some how-to videos online, but you got this!
Effectiveness
One of the most if not the most important thing you should keep in mind when looking for edging for your garden is how effective it will be at keeping weeds and outside critters out of your garden. This is subjective because it matters on the project that you have in mind. Some edging is really great at keeping weeds at bay, but buckles under the pressure of anything leaning up against it. Others are very stylish and easy to install, standing up to all the weight you need them too, but have no underground defense to weeds.
The best way to get a first-hand look at if this is the edging for you and your garden is to check out the customer reviews. By looking at the customer reviews you will see how this edging held up in other customers' gardens and if it is what you are looking for to help protect your garden.
Durability
Durability is a big deal when it comes to most garden edging products that you are on the market for today. It doesn't just seem like products used to be made sturdier in our grandaddies day- furniture really was sturdier. Even cell phones from a decade ago stand up better than most of our current phones do. Durability is even a big deal when it comes to garden edging. Everyone wants products to rely on, inside the house or out. That is why it is so important to get edging that will hold up to battling growing weeds and also the weather elements.
Longevity was a concern that came up time and again with consumers' reviews. No one wants to have to install edging year after year- but can the edging you have selected make it through the winters your area is known for? Maybe you need to take your edging in at the end of the summer, you don't want to have to dig it up at the end of every season, do you? Then again, maybe you want quality? Something that you can knock out in an afternoon and call it a one and done project? Not just durability– how well it can stand up to daily rigors- but also longevity– how many years you can expect before having to purchase a new set.
Style
Looks aren't everything, but having the best yard isn't easy, style helps! And who can blame you if you buy something that is functional and just happens to be pretty also? Appearance won't make or break deals with most consumers, but it can still be a significant part of the purchasing process. What your yard says reflects who you are- ok, corny, but ya know, maybe there is some truth to that nugget? Are you a traditional steel and straight-line kind of homeowner? Or are you curvy and wavy in all the right places kind of homeowner? Or maybe you like a stoney or concrete look? Either way, you slice it, keep the style as well as how effective the edging is so you get the best of both worlds. Edging that looks great and also protects your garden!
Subscribe to our Newsletter