Best Soil pH Meters
In a Hurry? Editors choice: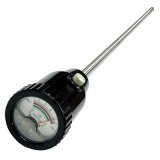 Test Winner: Gain Express

If you have
grown your own garden
or you constantly deal with live plants, a pH meter is almost mandatory for you. What a pH meter allows you to do is monitor the current hydrogen-ion activity in water-based solutions. The device will display for you the current acidity or alkalinity level of the solution you are measuring.
This "number" is known as pH. Knowing this number can be crucial as changes in pH can affect the plant's nutrition and its growth. But, some soil pH meters are designed to measure more than just soil's pH levels. On top of this, there are some digital and non-digital versions to choose from.
Standout Picks
Criteria Used for Evaluation
Use
One can never assume, but, most likely, you came here today only interested in finding a meter to measure the pH level of your soil. As you read through this guide, you got a clear understanding that these devices offer more functionality than just pH readings. But, this is their main functionality; there is no doubt about that. Yet, what on earth is a pH level and why do you need to know it?
As mentioned earlier, pH is a measurement to find out the relative alkalinity or acidity of a substance. In this case, this would be the soil beneath your plants. It generally runs from 0 to 14 and the lower the number, the more acidic it is.
This becomes important because, for some plants that require acidic soil (pH levels around 4.5 to 5.5), you want them to have the correct pH level. The same goes for plants that need a higher pH level and a soil pH meter allows you to determine that. However, sometimes they offer further functionality.
For example, they may also measure the current moisture level and if the soil is getting enough sunlight. Both of these metrics are vital to a plant's growth, as well.
Accuracy
The entire purpose of owning a soil pH meter is to better gauge the health of your plants and if they will survive. You do this by knowing the pH level (among other measurements) and reacting accordingly. But, what good is this is the pH readings your device is outputting are inaccurate.
If it is off by maybe 0.3 or 0.4 that is not too big of a deal but when it plus or minus one or two pH, that is major. When glancing over a pH meter, you may see a manufacturer rating in the specifications. Typically, this will indicate the plus or minus accuracy guaranteed from the meter. Can you trust that number or should you take it with a grain of salt?
That question is hard to answer and the best precaution you can take is to judge user feedback. See what actual customers have claimed about their real-life experiences with the pH meter. If the general consensus is that the meter is precise with others, chances are the pH reading is going to be almost spot-on with the actual level.
Ease of Use
You will fall in love with your soil pH meter for many reasons but one of the main reasons may be due to the simplicity. A lot of times with these devices, it is as simple as inserting the probe into the soil. From there, some devices will require you to press a button while others will automatically begin measuring. About the only task that will require a bit of effort on your part is the calibration, and it is still not that much.
If you are using a soil pH meter that is specifically designed to be inserted in soil and nothing else, try letting it sit in the soil for a while to allow for a more accurate reading (if it seems to be inaccurate). But, most of the soil pH meters on this list will not need to be calibrated. However, for other pH meters, you can dip them in a solution of pH value seven and allow them to stabilize. Either way, the process should not be too difficult.
Features
Without a doubt, one of the biggest questions you need to ask yourself is whether or not you require a digital display. Part of the reason why there are a few pH meters on this list that require a bit of work to measure soil (even though still feasible), is because they have a digital interface. Sure, this brings along with it the need for batteries but some will enjoy the luxuries of an LCD display. On the other hand, most basic soil pH meters will have a meter that displays the readings.
This is not necessarily a bad design aspect but at the same time, sometimes the meter display can be painfully small. Oftentimes, you will find yourself squinting to see the measurement especially when they, typically, measure more than just the pH level. Though, do not assume that all non-digital displays are horrid. As long as you can view a clear image of what you are trying to read, it should suffice.
Top 10 Picks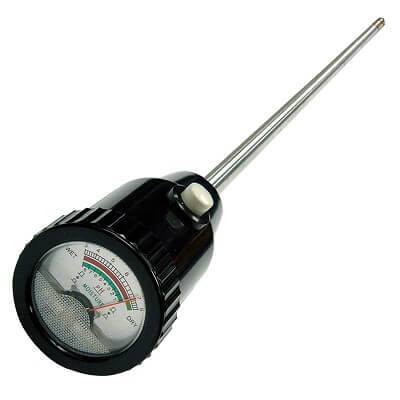 The number one soil pH meter on the market happens to be a fairly basic device. However, that is the brilliance as you do not need to worry about hassling around several nonsensical design features. Instead, place the probe in the soil and await the reading.
Read more
Use
Not only are you getting a device that precisely measures the pH level of your soil but it also has the ability to measure the moisture level of the soil. Due to the extra-long probe, you can deeply penetrate the soil.
Accuracy
Per the description, this is advertised as having an accuracy of plus or minus 0.2 pH. As users have pointed out, this seems to be about right making it an accurate meter.
Ease of Use
Truthfully, this device is so simple that you could probably operate it blindfolded. Batteries are not even required and you simply plug the probe into your soil and push the button and await the feedback from the meter.
Features
While the meter is certainly nothing fancy, and it is not digital, you can see the pH level of your soil (from three to eight) via the dial. Due to the font colors, though, it is very easy to see.
Most soil pH meters are going to be portable and this version is certainly no different. With a weight of just under five ounces and a length of 410mm, it is easy to carry around and transport if need be.
Overall
In this instance, you really do get what you pay for. If you are seeking a soil pH meter that has dual-functionality, provides precise and accurate measurements, and is pathetically easy to use, then look no further.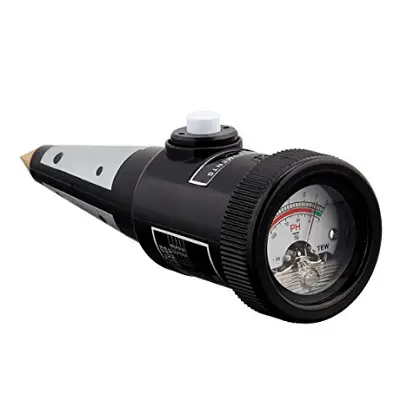 Kelway has designed a very similar pH meter like the one that was just presented to you. Yet, as opposed to the last one, theirs is a bit heavier and in the long run may hold up longer than any other model due to its durability.
Read more
Use
Two of the most important variables to keep track of with your soil are the pH level and the moisture level. Well, with this device, you can track both of them with the convenience of one meter.
Accuracy
Kelway claims that their pH meter sports an accuracy of plus or minus 0.2, with the moisture having a plus or minus 10 percent precision. These claims appear to be true, per a reviewer who tested the numbers.
Ease of Use
Once you have inserted this device into your soil, go ahead and push the button on the top and you will receive the readings you are looking for. No power source is required.
Features
The interface of this model looks eerily similar to that of the previous pH meter. It looks like a traditional meter and features a dial that will display the current pH level (from 3.5 to 8) and moisture level.
Even though this is a bit heavier than other soil pH meters (still only 12 ounces), it does come with a carrying case for transport. Howbeit, this "leather" carrying case has been criticized by reviewers.
Overall
Consider this a bulkier version of the first ph meter for soil. One benefit of this is when you are sticking it into the soil, you do not have to be extra cautious about it breaking; which can be an issue for some probes.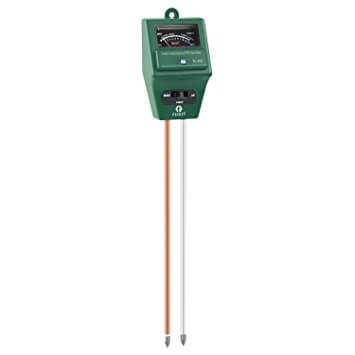 This is another classic design and one that does not require any batteries for operation. Though several users point out the included instructions could have been more detailed, this is the best soil ph tester that also allows you to monitor moisture and sunlight levels.
Read more
Use
Indeed, this is much more than a soil pH meter. While it still can measure that, it can also alert you of your soil's current moisture level and its sunlight at the root level.
Accuracy
Even though something is marketed as being accurate, does not always make it so. However, this claim seems to be appropriate as not too many users have griped about the precision.
Ease of Use
These types of soil pH meters are ridiculously user-friendly because they do not require batteries and only require you to insert the probe into your soil. It is cliché, but it is so simple a child could do it.
Features
The display is not the largest in the world that is for sure. While you can view the measurement readings with the color-coded system (which is a nice touch), you may have to squint to do so.
Whether you need to test plants that are outside, those that are inside, or even if your friend wants to use it, the portability and ultra-compactness of this meter easily allows it to be done.
Overall
It is only a guess but due to this product's accuracy, functionality, and simplicity, this may be a lot of reader's number one choice. Due to how high it is, that is certainly not a negative, is it?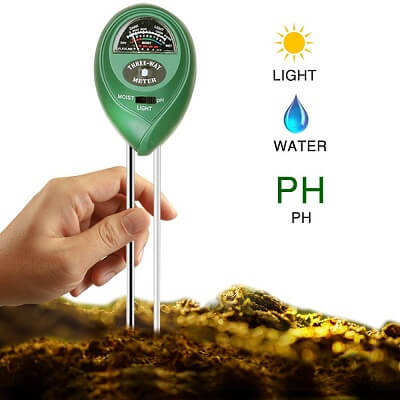 Speaking of simplicity and functionality, that essentially personifies the next pH meter. But, what is nice about this model is that the interface is a bit clearer and larger than the previous (yet still not the best).
Read more
Use
If you were to own one tool in your garden, this may be it. This tool will allow you to determine if the soil needs more water if it is getting enough light and its current pH level.
Accuracy
Despite the claims of this being scientifically accurate, users have questioned the overall accuracy of this device.
Ease of Use
About four inches into the soil, insert the probe and then from there, reference the meter to see the current levels that are being measured. Once again, no batteries are necessary.
Features
Though the interface is probably an improvement over the last meter, it can still be difficult to view the meter. But, it does feature a convenient slider to switch between modes.
Imagine hauling around a ruler that is made from premium wood. That is essentially the size and shape that you are looking at here and indeed, portability and maneuverability are not a concern.
Overall
The accuracy issues may draw a red flag and the interface (while improved from the previous meter on this list) is still not the most sufficient. All in all, though, this will get the job done nine times out of ten.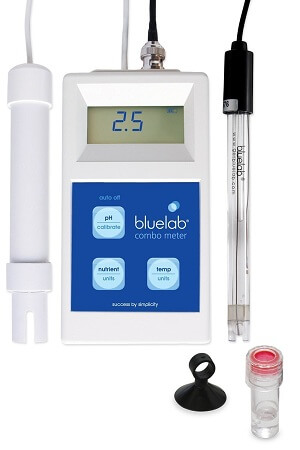 Only true plant enthusiasts will be interested in this best soil moisture meter and it is not just because of the price. It actually comes with multiple probes and if you want to use it to measure your soil, you will need to buy Bluelab's compatible soil pH probe along with this.
Read more
Use
Straight from the package, two separate probes are included that are designed to measure conductivity, pH, and temperature within a solution. As just mentioned, Bluelab's soil pH probe is required to use it for soil.
Accuracy
One of the shining features of these probes is their unparalleled accuracy. Several reviewers have raved and if precision means everything to you, this is the device for you.
Ease of Use
Instructions are on the back of the meter when calibration is required. Thankfully, it is a pretty easy process and one that can be done with the push of a button.
Features
Instead of utilizing a traditional meter, this meter is digital. The result is an easy-to-read readout of the current pH level (with one decimal point) of what you are measuring. It is not too flashy, but it gets the job done.
Due to the multiple probes and the digital handheld, while not cumbersome or difficult to carry, a separate bag may be needed when you want to transport this pH meter.
Overall
Notwithstanding that you must order a separate pH probe to create a soil ph meter, this truly is a unique design. Being fully digitalized and coming with multiple probes, gurus of pH levels will be thrilled with this design.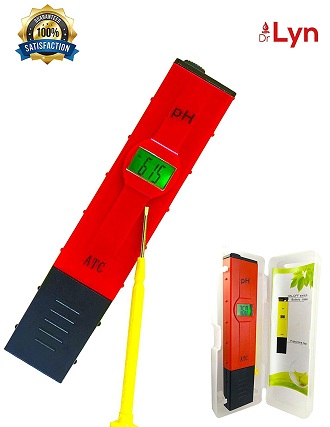 Once again, a bit of work is required to make this device work as a soil pH meter. Instead of being able to insert it into a plant, you must make a sample of soil solution to determine the pH level. It is a bit more work but it may end up being worth it.
Read more
Use
The main function of this meter is to measure pH levels. While it is primarily designed to do so with solutions, the method above has sufficed for customers looking for a soil pH meter.
Accuracy
As the manufacturer claims, accuracy is their main goal. In fact, you can let them know if you are dissatisfied with the accuracy with no risk involved. Overall, a plus or minus of 0.1 pH is the advertised accuracy.
Ease of Use
Within mere seconds after inserting the probe into your solution, you will receive the current pH level. That really is all that is required on your end.
Features
Despite the fact that the digital display only takes up a minuscule amount of the total meter, it provides the pH level to two decimal points. In addition, the backlit green screen makes reading the number easier.
Its net weight of 1.6 ounces and length of 161.9 millimeters would be enough to suffice for portability. Yet, a storage case is included to only further enhance the convenience.
Overall
No, it is not impossible for this to be a soil pH meter; it then would not be on this list. It may not have been intended that way but if other users are any point of reference, it is possible.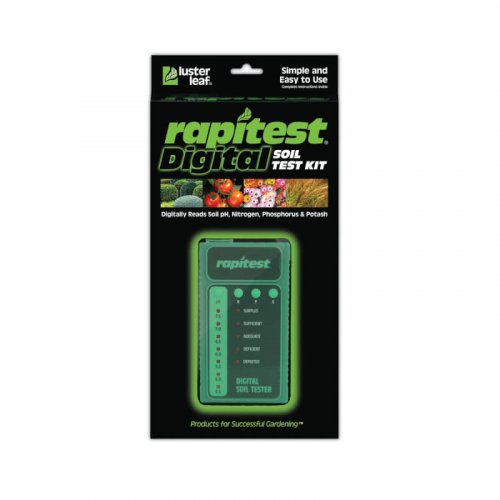 Going back to the basics is not always a bad thing and this is the case with this soil pH meter. Much like others of its kind, this three-way meter is as simple as it gets and delivers precise readings; even if it takes a long time to do so at times.
Read more
Use
With this contraption, the current pH level of your soil will be at your finger tips in seconds.
Accuracy
Precision and accuracy can be achieved with this design. The 1612 model brings you the results faster than most other testers.
Ease of Use
No need for batteries or an additional power source; as you simply insert the probe into the soil.
Features
Again, this is another non-digital pH meter that can be difficult to read. However, to switch between readings, there is a slider directly underneath the meter.
More or less, all pH meters of this design are portable. The length is the only aspect that could present itself as an issue but as for the weight, 2.4 ounces is as light as a feather.
Overall
It does not seem like it does it all the time, per user feedback, but sometimes several minutes will pass before an accurate reading is gauged. Yes, this is an unnecessary nuisance but this may or may not happen to you.

8

. HM Digital Hydrotester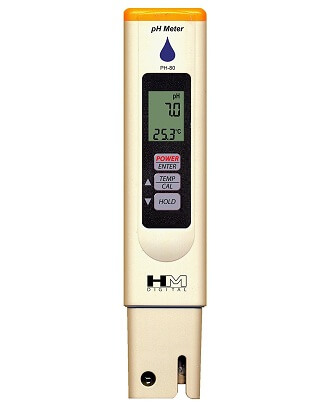 We come to another pH meter that can be used as a soil pH meter, with a bit of preparation. Doing so is worth it if you truly treasure a digital display and design.
Read more
Use
Measuring pH levels is what this bad boy was made for; and with a little work, it can do so in your soil. First water your plants lightly and let them sit until the soil is moist. Then, add water until you achieve a runoff and then measure that.
Accuracy
While there are issues with this meter, the accuracy of its pH readings is not one of them. Users seem to agree that the measurements were close to other device readouts.
Ease of Use
Utilizing this device is about as simple as it gets. Yet, you will have to recalibrate it on occasions. It comes factory calibrated but thanks to the one-touch process, recalibrating it when necessary is a breeze.
Features
As basic as the digital display is, it gets the job done and shows you the pH reading and temperature of your solution.
Weighing just less than four ounces and possessing a sleek design, this can be transported in virtually any way you can think of. It is compact enough to even slide into your pants pocket.
Overall
A small note that needs to be assessed is that when you are operating this device, you need to handle it with caution. Indeed, the build quality is a bit of a concern but if you are careful, it should not be too much of a caveat.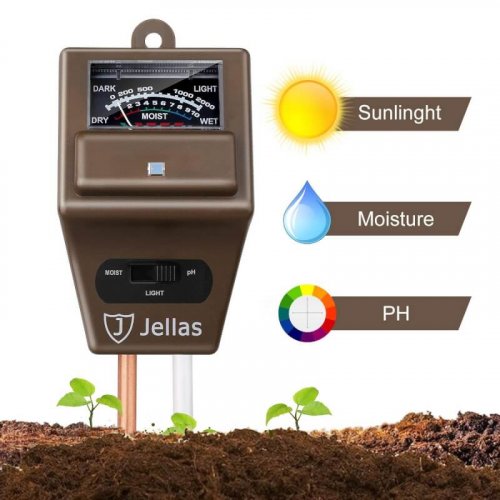 The Jellas Soil Moisture Meter is a great option that has 3-in-1 capabilities to measure moisture, pH, and sunlight. This makes it a versatile and valuable tool for any garden lover.
Read more
Use
So far, you have seen some soil pH meters with the ability to gauge three different measurements. However, Gabion designed their meter to test a soil's moisture, pH level, temperature, and sunlight.
Accuracy
Users have found that all three measurements being tested are very accurate. Designed with a double needle, the Jellas provides an added form of accuracy.
Ease of Use
All you have to do insert the pH meter 2-4 inches and wait a few minutes. The results will show quickly.
Features
Per the usual for soil pH meters, portability will not be an issue here with the lightweight nature and compact body.
Overall
It does not appear that too many know about Jellas Soil Moisture meter and that is a shame. While not without its flaws, it delivers four separate readouts on its rather impressive digital display.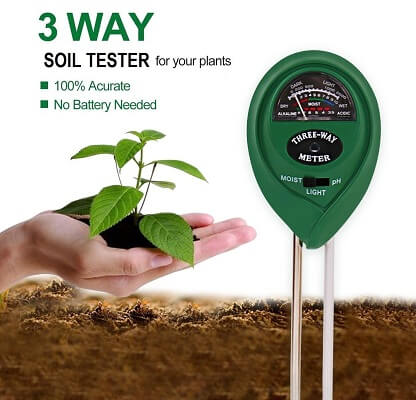 Like the ones that have preceded it on this list, the Elenest soil pH meter is what you would expect from a basic probe meter. It offers multiple measurements, does so without the need for a battery and only requires you to push it into the soil.
Read more
Use
Elenest's three-way meter is much like the others of its kind in that it measures the pH level, moisture level and light level of the soil.
Accuracy
When it is working, which will be addressed in a minute, users seem to be pleased with the consistency of the pH levels that this meter measures.
Ease of Use
Again, three-way meters are pathetically simple in that you only need to insert the probe into your soil.
Features
While the display does nothing for the visually impaired, there is a slider that can switch between pH, moisture, and light. But, everything is clearly labeled.
Because some customers have experienced durability concerns, it is best to take caution if you plan on transporting this meter anywhere. It can easily be taken anywhere but do not toss it in a random location without any care.
Overall
Per user feedback, when this meter is operating it does so admirably and holds up to people's expectations. Yet, the problem here is many users have commented on its lack of durability. As such, patience and proper care are more than required.

Subscribe to our Newsletter