Best Watering Cans
In a Hurry? Editors choice: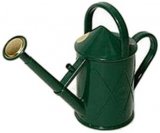 Test Winner: Haws Heritage

The most advisable and convenient way of watering plants is with the use of a watering can which trickles water from its spout without damaging the leaves and stems and affecting the
soil
. If you are an avid
gardener
then you know how important a watering can, can be for the growth and health for your garden. These affordable tools are also quite portable so you can provide water to any plants you have on your property easily and efficiently. Now watering cans are one of those products that have a variety of options on the market, and it may be difficult to find the best one for you and your garden. That is why below we have done the research and listed the top ten watering can of 2019, to ensure you end up with a reliable watering can and healthy
garden
.
Standout Picks
Criteria Used for Evaluation
Features
The product specification tells you everything about the product that often is hard to visualize. Watering cans, in particular, can have their own inherent advantages and disadvantages depending on their design, make, and model. It is important how and where you are going to use your plant watering canisters as it can affect its overall longevity. Watering cans with UV protection last longer with outside use because they are protected from damage against the harshness of the sun's rays. Scaled-down water holders are perfect inside the house because they do not take too much space when stored. Attaching spouts and nozzles also has to be considered whether your plants are within your reach or at arm's length. And specially designed nozzles are great features that allow you to use the product without having a water spillage. Overall watering cans are basic devices but any extra features that are included are a bonus and will make watering your garden that much easier.
Materials
If you are looking for a product that lasts for a long time, pay attention to the materials used for the product. Solid and sturdy high-quality plastics will do if you rarely use it outside and store it in an ideal place. Metal water canisters, on the other hand, are prone to rust. A good rust-proof water container will save you on cost and will be serviceable for a long time.
This is an important criterion to consider as the material of the watering can be a big factor in how durable and how long your watering can last you. The best way to make sure the watering can you are looking at is for you is to check the customer reviews, this way you can get a first-hand look at how this watering can work for other customers and if it will fit your garden and climate.
Style
Although sprinklers serve only one purpose of keeping your lovely plants healthy, you do not just have to go with the conventional design that you have grown to know. These products come in many different sizes, capacity, shapes, and sizes and you have to carefully determine which types and models best fit your liking.
Modern features like measurement labels help you gauge the amount of water and fertilizers while nozzle angle, length, attachment style, retraction, and opening width helps you determine where it will be best used for. Versatility is something you would look into if you want an all-purpose watering can. One that can be used both inside and outside and still maintain the same quality of water sprinkling helps you choose the best ones.
Durability
As with any of your other purchases, you might also want to look at how durable the product is. This equates to how long the receptacle can be serviceable and how convenient your purchase is. Does it deliver the same performance advertised, and does it maintain its quality of water stream over time? Because the water spout is hard to clean, over time hard water forms. Take this into consideration so you select the appropriate ones for your garden, patio, or balcony plants. Again keep the material in mind as it plays a big factor in how long your watering can will last.
Top Ten Watering Cans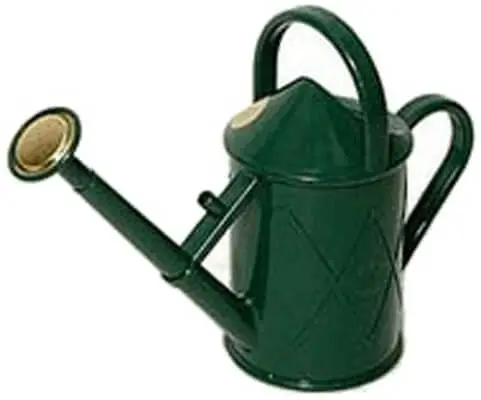 It is an excellent option for homeowners who maintain window flower boxes and smaller plants. It has a lightweight composition that makes it one of the lightest sprinklers available in the market.
Read more
Material Make
It is 100% Made in the USA. This brand is known for durability and elegance. It comes in grey and reddish pink variants.
Usability/Versatility
It can hold up to 2 quarts of water and water flow is gentle enough even for soft-stemmed herbs and perennials.
Durability
It is cleverly designed to provide aesthetics and usability you need in a sprinkler. It doesn't take too much room, unlike huge watering plants that take so much space.
Customer Feedback
It has one of the best reviews because of its capacity and design.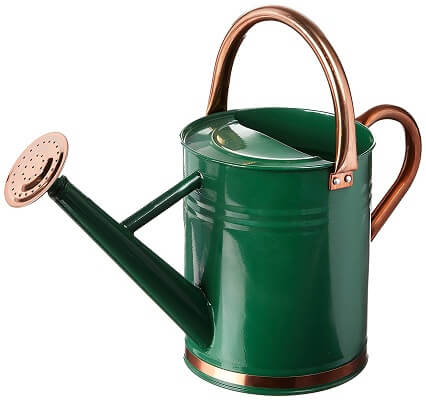 This product brings a solid combination of elegant design and dependable functionality. Made of heavy gauge galvanized steel, this product is protected from rust, and its 1-gallon capacity holds enough to water a variety of indoor and outdoor plants and flowers. It also features are removable rosette-diffuser that provides a gentle shower that is perfect for smaller plants and seedlings.
Read more
Material Make
The hearty design and eye-catching copper accents make this product a remarkable addition to your garden shed. It looks more like something from Emerald City in the Wizard of Oz. It is made from galvanized steel which protects the garden tool from acquiring rust over time. It has 12"x7.25"x17" dimensions.
Usability/Versatility
It has a removable rosette-diffuser if you want to a steady stream of water. It can be easily be attached to dissipate water and prevent harm to young plants. It has a 1-gallon capacity.
Durability
Made from heavy-duty galvanized steel and accentuated with copper handles and bottom trimmings, this product is quite a sturdy sprinkler. It has a robust design yet gently waters your plants with the attaching rosette-diffuser. Removing the attachment creates a steady and soft water stream for bigger plants.
Customer Feedback
It is a great buy and the enamel paint still looks good even with daily use.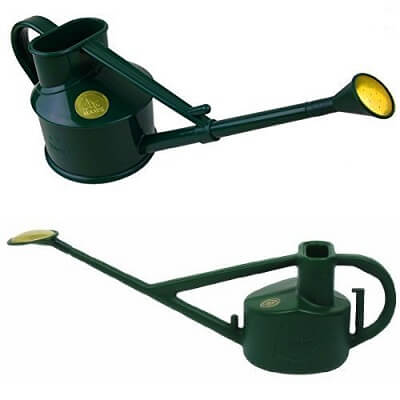 It has a long stem spout that helps control and regulates water flow, while its body is made of high-quality plastic, durable enough to withstand accidental falls on the ground. The small size, weight, and water capacity are just perfect for watering indoor plants.
Read more
Material make
Made from high-quality, shatterproof, and recycled UV-protected plastic material, it has a long curved spout and a loop handle for extra comfort and extra reach.
Usability/Versatility
It is comfortable and easy to use. It has modest dimensions making it easy to handle with its 1-gallon capacity.
Durability
It is UV protected to ensure it doesn't discolor even when placed under the sun.
Customer Feedback
It can carry lots of water thus preventing the need to go back to the faucet and fill it up again.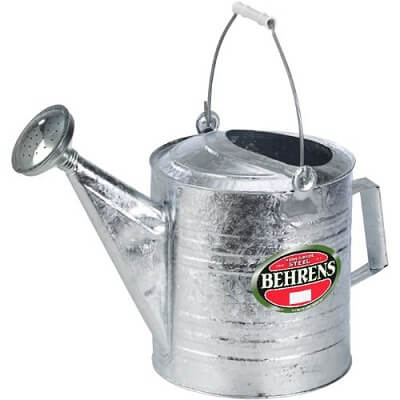 This item is one of the toughest outdoor watering accessories you can add to your gardening equipment. It is built from durable American-made steel that is capable of holding up to 2 ½ gallons of water and giving you extensive coverage among your plants in the garden. Its vintage touch also gives it a unique appeal that is always welcome to any garden.
Read more
Material Make
Made from durable American-steel, this product offers the strength you need when watering plants outdoors. The large rosette water dispenser is stronger compared to plastic. It has 19.5x11x14 inches dimensions.
Usability/Versatility
With a classic vintage look radiated by the design and zinc finish, this sprinkler can is sturdy enough to use outdoors. The large spout covers a large area of ground and disperses water stronger. It offers a firm grip and surprisingly lightweight for its material make.
Durability
The traditional design of Behrens 210 2 1/5 is what makes it attractive. It is rust-proof and weather resistant and the American steel make gives it a strong appearance and enables you to carry sufficient amounts of water.
Customer Feedback
It is ideal for patio, lawn, and garden use.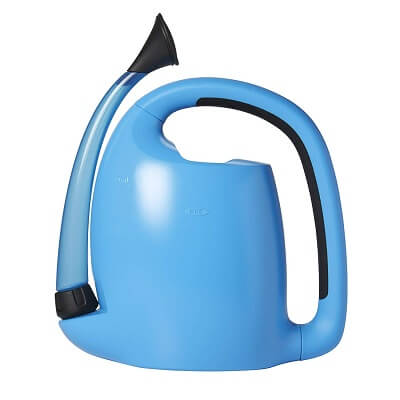 This item brings a unique combination of comfort, flexibility, and efficiency. It boasts of a design that keeps it from slipping from the users' hands even in the most demanding situations. The product is perfect for watering houseplants, as well as container gardens and window boxes.
Read more
Material Make
With a rotating stout that retracts to its body, it is made from a high-grade durable plastic material. It has a non-slip handle and a rose attachment that makes finer water sprays.
Usability/Versatility
Probably one of the most creative products in the market, it saves storage space when not in use. The continuous non-slip handles conveniently give you the grip you need to avoid accidental drops and the removable rose attachment is useful for delicate plants.
Durability
It is also intended for outdoor use which is why it was manufactured with UV protection. This protects the plastic material from aging quickly and discolorations. It is lighter than a steel can and offers a unique feature that lets you save space, unlike conventional designs.
Customer Feedback
Customers are amazed at how good looking this product is and it still looks brand new even after years of use and abuse.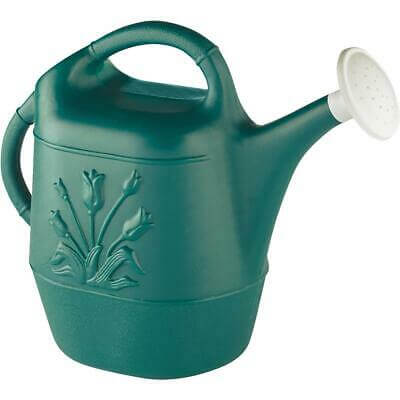 It is one of the most dependable options in the market, as it is perfect for watering different sizes of flowers and plants. With its 2-gallon water capacity, this product is able to cover different kinds of requirements, be it the smaller indoor plants, all the way to the bigger ones that are in the garden. It is also made of durable plastic, providing years of service to its users.
Read more
Material Make
This classic item is made from strong and durable plastic. It comes with a nozzle that shoots ample amounts of water to all plant and flower sizes. It also has a flower design impression on both sides for an added detailing. Made from durable materials, this product will last for a long time.
Usability/Versatility
Filled with 2 gallons of water, it is able to create a solid stream of water. It does this without damaging the plant and eroding soil quality. The ergonomically designed handles make watering plants easy and convenient.
Durability
Made from durable plastic material, this product lasts for a long time. It has a classic design with two-handle features that make watering convenient.
Customer Feedback
It has a classic look you'd expect from a receptacle. It is relatively cheaper price and usability.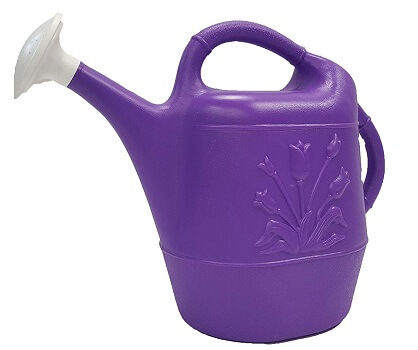 It is best used for watering plants in apartment balconies and small patios. Its design sports two handles, which gives users better maneuverability, especially when filling it up with water in the kitchen sink. It can hold up to 2 gallons of water, enough to cover all plants in a standard-sized patio. It has 17x7.2x13 inch dimensions.
Read more
Material Make
Made from blow-mold 2 plastic material, this product is as sturdy as it sounds. It comes with a variety of colors from Sage Green, Caribbean Blue, Purple, Daffodil Yellow, and Hunter Green. Accentuated with an embossed tulip flower at the sides, it is 100% Made in the USA.
Usability/Versatility
With a removable top shower nozzle, this item comes in either 1-gallon or 2-gallon capacity. It has a 1.5-inch opening when the replaceable screw-on sprinkler is removed for that added flow of water. It is lightweight and convenient and the removable sprinkler extends your reach longer.
Durability
Union is known to make durable products in the market. This sprinkler is made from a sturdy plastic material that does not easily crack or break.
Customer Feedback
It is perfect for small patio plants and the balanced handles are great features that make it convenient and easy to use.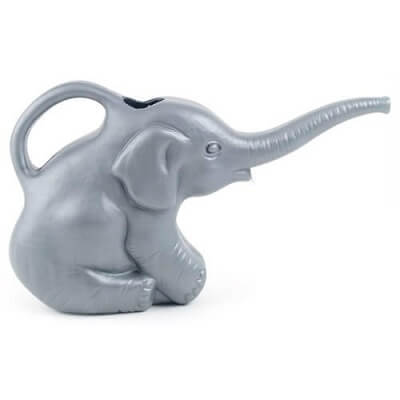 It is so light that even small children can easily carry it. Dimensions are 8" H and 15" L.
Read more
Material Make
Resembling a baby elephant with its trunk as the spout, this item is perfect for its heavy-duty blow-mold plastic material. The original mid-century design can be an elegant addition to your garden tools
Usability/Versatility
It has a small-sized opening to prevent over-watering. It is the perfect product for flowering and small perennials around your house or those plants within your window flower box.
Durability
Created from durable heavy-duty blow-molded plastic, it is lightweight enough to lift up to hanging or shelf plants.
Customer Feedback
It has over 1,600 positive reviews from buyers and ranks as the best because of its cute and imaginative elephant design.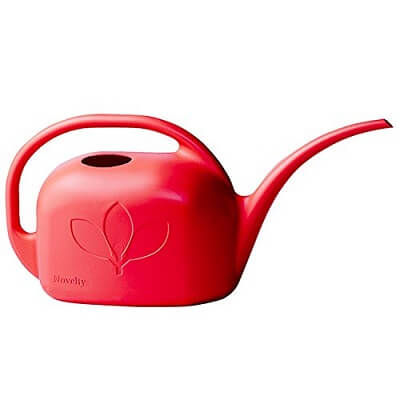 This item offers a combination of ergonomic design and remarkable durability that promises many years of service to its users.
Read more
Material Make
The long water spout has a small opening to prevent water spillage. It has an embossed flower pattern insignia for a timeless appearance.
Usability/Versatility
The garden tool can efficiently water potted flowering plants and the long-stem spout can easily reach tight spaces small without making a big mess.
Durability
An all-American product, this product is constructed from a tough quality and shatterproof plastic material. It does not break or warp easily and last for years
Customer Feedback
It has a curved loop handle for extra comfort and small spout to avoid water spillage.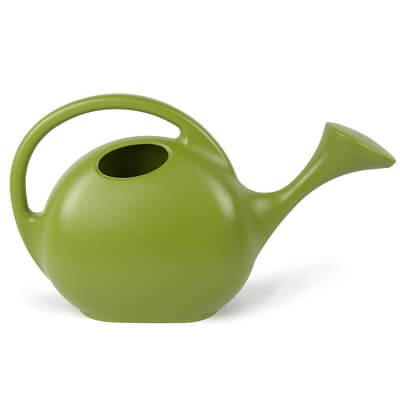 This product offers convenient watering with a modern twist. It boasts of a body made of durable translucent plastic that comes with measuring marks. The measuring marks allow users to accurately fill the item with liquid fertilizers or mixing powders. Its 1.4-liter water capacity makes it an excellent choice for users who maintain different kinds of indoor plants.
Read more
Material Make
Looking more like a teapot, it offers the convenience of a modern designed sprinkler. It is made of translucent plastic with several features that make it handy for indoor watering. It has 1.4-liter capacity enough to water small plants and flowering pots inside your house. Dimensions are 20x14.5x15.2 inches.
Usability/Versatility
More than the design, it has some modern features that make plant care convenient. It has measurements when mixing powder and liquid fertilizers. The translucent material allows you to see the water level inside. The off-center water hole also does not get in the way of faucets when filling up and the long spout makes it useful even in hard to reach spaces.
Durability
Made from sturdy plastic material, it resists damage when falling from countertop heights. It does not easily damage and the modern design makes it the perfect accessory for growing your plants.
Customer Feedback
It ranks 4.4 out of 5 stars in Amazon. It is an excellent canister with an ultra-modern design and a perfect watering tool for hard to reach areas. The refilling hole is strategically designed to prevent spills when tipping the water canister.

Subscribe to our Newsletter