Ten Best Portable Car Vacuums Rated and Reviewed
In a
Hurry? Editors choice: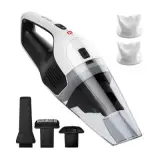 Test Winner: HoLife

Road trips can really do a number on your
vehicle
- on the outside and on the inside. All those stops at fast food restaurants and eating while driving can build on up the upholstery. The addition of kids and family pets can also build up on the interior. You undoubtedly spent a lot of money on your vehicle, so it is only natural that you would want to keep it nice and tidy. Traditional shop vacs that you keep in your garage have an insane amount of power, but they often sound like a jet engine, and they aren't very
portable
. For travelers who want to keep up with all of the mess without any hassle, investing in an effective lightweight vacuum will help ensure that your
vehicle
stays squeaky clean.
Standout Picks
Criteria Used for Evaluation
Effectiveness
This is a no-brainer. When we did our research about what makes a vac really suck (in a good way), we made sure to listen to what all of the past users had to say about the product. While companies can make claims that their products are capable of suctioning a laptop or an iPhone, the real test is always what the consumer says. Many users even go so far as to upload videos of the products in action- and those videos are where we really made our decisions as to which model works best.
Ease of Use
When something is portable, you most likely want it to be able to a snap to use. We kept an eye on products that were able to be plugged in and simply turned on so you can clean your interior and get back to all of the fun things that you had planned for the day. An easy-to-use design is also great because it means that you can put your road trip passengers in the back seat to work while you make your way to your destination. Another thing that we gravitated towards was the addition of attachments. There are various spaces in your vehicle where dust and crumbs can hide, and the standard nozzle can't get to most of them. Products that came with a nozzle that had a brush on the end were great at sucking up pet hair, and nozzles that were long and tapered at the end were better for hard to reach surfaces like in between seats.
Style
Just like your vacuum at home, no one likes a car vac that is difficult to empty. We tried to avoid models that still used messy bags because they are difficult to remove and they can also cost you more money in the long run. Some claim that bagged versions have better suction- but we just felt the benefits of bin compared to bag were just too great not to select the bin versions. Also, we kept an eye on the filtration systems. Some units have a filter that is made from a paper substance and cannot be washed- it can only be replaced. We didn't like this idea and made an effort to avoid these designs. Instead, we selected designs that offered stainless steel filters. These types of filters are not only easier to remove, but they can be rinsed under the sink for up to 500 uses. Users typically will not go the extra mile to replace the filters on their products (and instead use the dirty one over and over again), so we solved that problem by selecting products that don't need replacement filters.
Value
We tried to keep these products within the realm of reason. While there aren't a whole lot out there that are going to break the bank, some of the cordless options can really come with quite the hefty price tag. We tried to steer clear of the more expensive units because portable options can only have so much power and if the price tag is high enough, you would be better off just buying a full 5-gallon shop vac.
It's important to keep in mind that these products aren't designed to be as powerful as the full-size 5-gallon shop vacs or the coin operation versions at the gas station. They aren't made to pick up an excess of water or exceptionally dirty vehicles. It's important to temper your expectations when it comes to these products. They are designed to be used to upkeep cleanliness as it happens. If you have any terrible messes that you need to clean up- it might be in your best interest to gather up some coins and head down to the local gas station.
Top Ten Portable Car Vacuums
Subscribe to our Newsletter