Best iPhone Lenses
In a
Hurry? Editors choice: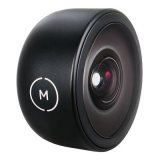 Test Winner: Moment Superfish

In the modern world, technology and especially those small
devices
we carry around are no longer designed to accomplish only one task, as in reality, they act like a million devices in one single handheld device. iPhones have revolutionized handheld technology and one method that is quite popular with every person on this globe is its ability to capture
photos
and videos that we can share with loved ones. Now one complaint that many have with the iPhone even though it is quite superior is how limited the camera lens is. This is precisely why
iPhone
lenses are created and with one installed, your iPhone can be transformed into a professional-grade compact
camera.
Standout Picks
Criteria Used for Evaluation
Style
If you were to take one thing out of this guide, understand that different types of camera lenses all perform differently. Why is this important to you? It is simple; you need to analyze right off the bat what kind of lens you are seeking. We all know that iPhone cameras are limited and if you do not want to invest in an additional compact camera, attachable lenses are a great option. However, only if they improve the aspects you were looking for. Let's take three of the most popular lens types for example (fisheye, macro and telephoto). If what you are after are wider images that offer a more panoramic view of the surroundings, a fisheye lens is your best bet. As these are designed with an ultra-wide-angle that produces visual distortion, they achieve just that.
But, what if you want a camera that offers more focus? So much so that it makes the object in the image the size it actually is in real life? Well, you would be looking for a macro lens. However, it is possible that you simply want a longer focal length to provide a narrower field of view. You guessed it; you would then be seeking a telephoto lens.
Compatibility
Above all else, this is the most important deciding factor of a camera lens. What good is it going to do you if it is not compatible with your current generation of smartphone? As this guide is centered on iPhone lenses, rest assured that all the camera lenses on this guide do work with one type of iPhone. But, they will not work with each generation and that is an area that you need to desperately assess. It depends on the overall design but sometimes, manufacturers will require you to use their mounting system to properly install the camera lens on your smartphone. This will typically involve installing a case on your smartphone and this is where compatibility can be an issue as not all smartphones will fit inside.
If possible, contact the manufacturer if you are unsure if your current smartphone is compatible. But, they should provide you with a detailed list of the accepted models.
Accuracy
This is what it all comes down to, right? The main reason why you are here today is that you are sick and tired of the limitations of your current iPhone camera and want an improvement. That improvement is going to be achieved with the image and video quality, for most people. Thus, it makes assessing it for each camera lens vitally important. As image quality could be discussed in-depth for hours on end, we will try to give you the short version and inform you of some of the most important specifications to look for.
For some, the first specification they will look for in a camera lens is the megapixels. Over the years, several have begun to realize that the sensor size is more important. However, the megapixel count is still important and the higher, the better. The same applies to the sensor size as the larger the sensor, the more prone you will be to shooting high-quality images. Another key spec is the aperture. When you see something like this, "f3.3", that is the aperture range. Without going too in-depth, a higher aperture range (which will be a lower number) can provide sharp objects and a blurred background. But, a smaller aperture range (which will be a high number) could provide a sharp background, as well.
Durability
When it comes to camera lenses, the build quality is often an underrated aspect and it is one that should not be taken lightly. First off, the lens or lenses themselves should be built-to-last. If you are going to spend a decent chunk of money on a camera lens, it should not be designed from cheap plastic. Instead, it should be crafted from premium materials such as hand-polished glass and aerospace-grade metal. However, water-resistance and dust-resistance are not bad features, either. Given it is a camera; you will probably end up using it outside eventually.
However, as some camera lenses require an additional casing system, the build quality does not end there. If you do happen to need the manufacturer's special case with their camera lens, ensure that it is built with some hardiness to it. After all, are you immune to dropping your smartphone?
Subscribe to our Newsletter