Best Portable Photo Printers
In a Hurry? Editors choice: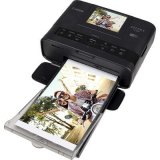 Test Winner: HeroFiber Canon

In the modern world today, it is not an overstatement to claim that technology is taking over.
Speaking of photography
, in specific, everything is becoming digital. Whether it is sharing your images on social media websites or storing them on your
hard drives
, people tend to forget just how convenient it can be to have physical photos to look at and reminisce about. But, given how many top-end smartphones are now being built with
professional-caliber cameras,
it can be tough to find a device to print off the images for you. Well, not anymore as the answer is with a photo printer and this guide is focusing specifically on
portable units.
With these bad boys, you will be able to print off any photo you want from anywhere (for the most part).
Standout Picks
Criteria Used for Evaluation
Effectiveness
When a device is dubbed portable, it typically means it can function without the use of wires. This is not always the case but the convenience of dealing with no wires lends a hand in portability. So, with portable photo printers, it really all starts with their wireless connectivity. A typical portable photo printer will use one of the following (and possible combinations of the options). Firstly, Bluetooth is a popular option. The benefit to Bluetooth is it does not require an internet connection and can be used with two compatible devices. But, for most devices, the communication range will be limited (typically around 30 feet).
Another option is Wi-Fi (or even Wi-Fi Direct). Just plain old Wi-Fi is a wireless standard and out duels Bluetooth in terms of communication range. Yet, with this, you need access to a wireless network. However, with Wi-Fi Direct that is actually not necessary but this technology is quite new. As for the last option, you may see NFC support. This is shortened from near-field communication and is another transfer technique that is limited in its short range.
Durability
For the most part, you will either see these types of photo printers designed with cartridges with real ink or without the need for them. While we will address the advantages and disadvantages of both, let's quickly document a few specifications that you can look for to determine resolutions and quality. Firstly, look for the DPI measurement (which stands for dots per inch). In this case, the higher the value the more detail will be shown in an image. Also, you may levels per color as a specification. A common value is 256 levels per color and this indicates the number of intensity values for each primary color.
Now, as for the ink debate, some designs will be equipped with Zink. This is a full-color technology that does not require ink cartridges. Instead, the paper has several layers and has all the technology integrated to display high-quality images. Yet, the main complaint about this technology is its image quality, in fact. Testers and buyers have expressed the limitations of the technology and that the colors can look washed out. So, for quality buffs, you may want to go with actual ink.
Apps
Most photo printers in the world will be designed to be used in conjunction with an app. The apps can allow you to edit your images beforehand to get the best result possible. Of course, these apps can typically also perform other actions. For example, let's take a look at Canon's Selphy app. On the official page for the app, you will see that it allows you check various photo printer settings such as current ink levels, add texts to the photos to convey more emotion, and trim your photos to cut out unneeded content.
You may also want to look for other details such as the ability to add special effects, borders, memes, and any other editing features to produce the best image possible. Now, you should not expect anything along the lines of Adobe Photoshop as most apps will be free to use. In addition to all of this, also pay attention to how intuitive and user-friendly the app is. Glance through user feedback to see if any previous consumers have had negative comments about the app itself to gauge its effectiveness.
Portability
It goes without saying that all the photo printers on this list are, at the very least, somewhat portable. This is to be expected as this guide was created to focus primarily on these types of units. But, just because they are all portable does not mean that some are not more so than others. And, in regard to how portable you require a design to be, that really comes down to your preference.
For example, if you want to carry the device around in your pocket for special occasions, look for one that is thin, lightweight, and compact. However, maybe you simply are going to carry it with you in a purse (for women) and in this case, a little extra girth is not the worst thing in the world. Either way, assess the physical dimensions and total weight to make your decision.
Top 10 Portable Photo Printers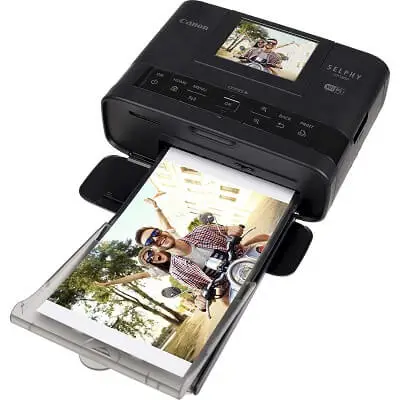 Anyone who knows anything about this technology is aware that some models simply can't produce even somewhat decent images. Yet, the Selphy from Canon most certainly does not have that issue.
Read more
Wireless Connectivity
Utilizing Wi-Fi technology, you can print from any device you have connected through the Canon Print app.
The End Result
Thanks to the Dye-Sub technology, your photos will last for up to 100 years and will instantly be dry. Also, the 256 levels per color resolution are amazing and many users have raved about the quality.
User Programming
In addition to the fact that the accompanying app is not too complicated to operate, this system comes equipped with a tilting 3.2-inch LCD screen that is fairly intuitive.
Size and Portability
Naturally, this is a very portable printer but what puts it over the top is the fact that Canon includes a carrying case with your purchase. This adds much-needed protection.
Battery Life
Now, this is interesting. If you opt to not get the battery, you can actually power this via a USB cable. But, if you do this, you will probably also need a power bank.
Overall
When it comes to image and photo quality, Canon is all but guaranteed to impress. Their Selphy model has received acclaim for its printed results and also its intuitive and easy-to-use app.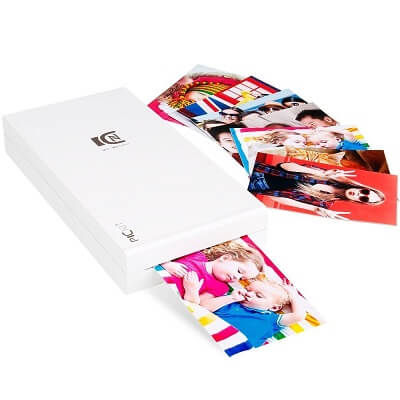 What is really nice about the M2 is that it supports both Wi-Fi and NFC connectivity. Also, Pickit designed the M2 to be used with real ink to improve the picture quality.
Read more
Wireless Connectivity
As just mentioned, this does support both Wi-Fi and NFC connectivity. Now, the NFC support comes into play for Android users and is only compatible with Android devices.
The End Result
To enhance the color quality, this actually uses real ink but this also means you need to replace the cartridge when it runs out. Also, the laminating layer on the photos prevents fading.
User Programming
Pickit allows you to download their free app and this allows you to edit any images beforehand. Now, one buyer did note that the app can take some time to get accustomed to.
Size and Portability
This is about as similar to carrying your smartphone. At just over six inches in height and just over half-a-pound, it should fit in your pocket or carrying bag with ease.
Battery Life
One blip on the radar, so to speak, here is that the battery life is not the best. What is nice, though, is on the device itself you will see an illuminating red light that indicates low battery.
Overall
Understand that this device does utilize actual ink and some buyers will not want to deal with the hassle of switching out cartridges. But, in addition to the dual wireless connectivity, the end result is more than worth it.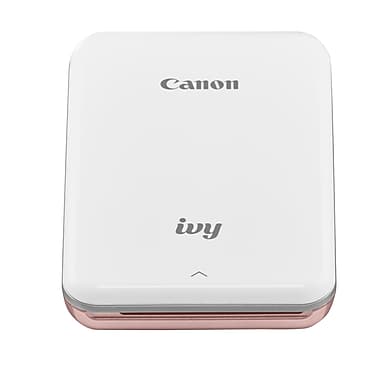 This is another model from Canon but an interesting note about their Ivy, right off of the bat, is it only supports Bluetooth connectivity. In short, this is perfect for Android and iOS devices only.
Read more
Wireless Connectivity
As opposed to their other model on this list, Canon designed their Ivy exclusively with Bluetooth technology. But, the lack of Wi-Fi support does hurt the value.
The End Result
Now, this system uses a popular ink method known as ZinkTM Zero Ink paper. So, the portable printer does not actually use ink and instead, the paper features colorful dye-based crystals.
User Programming
This works directly with your smartphone so you need the app to perform any editing. The app is very simple to use, which is a bonus and accounts for many common editing features.
Size and Portability
The Ivy could quite possibly be the most portable unit on this list. It is literally smaller than an iPhone and only weighs a minute 5.6 ounces.
Battery Life
For most users, the battery life of the Ivy will be optimal. It can last for around two packs of ten before it will need to be charged.
Overall
There is no doubt about it; the addition of Wi-Fi support certainly would have helped the Ivy be an even better device. But, the extremely portable nature and lack of the ink will be appealing to most.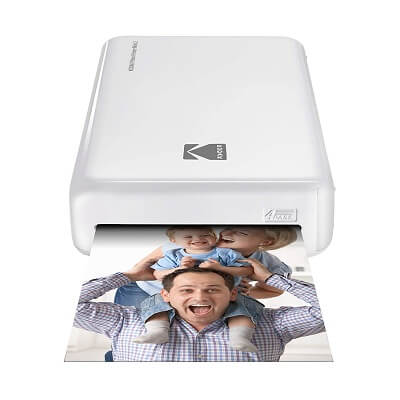 Now, the Kodak Mini 2 is arguably the best model on this list. Why is it not, you may wonder. Well, you need to replace the cartridge and various users have claimed that the availability can be scarce.
Read more
Wireless Connectivity
For Android devices, you can utilize the NFC support that this is equipped with. However, it also supports Bluetooth for both iOS and Android devices.
The End Result
Due to the combination of the easy print technology and the innovative 4 Pass D2T2 Dye Transfer Method, the 2.1 by 3.4 photos deliver high-quality and bright colors.
User Programming
To edit any of your images before placing them on paper, you can download the Kodak Photo Printer app. With this, you can perform edits such as cropping and adding filters.
Size and Portability
While this is a little bit bigger than the Ivy that was just documented, it is still very much the definition of portable as it weighs around half-a-pound and is only 5.2 inches in length.
Battery Life
Kodak rates their Mini 2 to handle around 20 prints per charge. It is also worth noting that they claim the unit takes around 1.5 hours to fully charge.
Overall
Again, it was mentioned at the beginning but the scarcity of the cartridges for this model does hurt the value a bit. However, looking purely at its design, its one of the elites.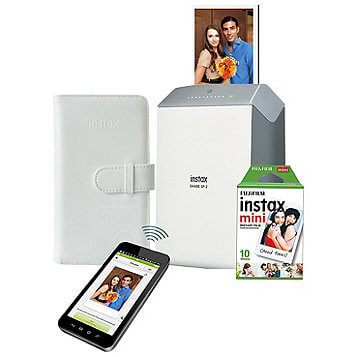 If nothing else, you can expect high image quality with Fujifilm (just look at their digital cameras). But, their Instax is not the most portable photo printer on this list, so be cautious of that.
Read more
Wireless Connectivity
The Instax is a model that connects via Wi-Fi. What this means is that you need to connect to a network in order to print off of your smart device.
The End Result
Again, this is Fujifilm so you know the quality will be great. The Instax will produce high-resolution photos with pixels of 800 by 600 dots and 256 levels per color.
User Programming
There have been a variety of consumers that have expressed issues with the app. It does allow for photo editing but many have claimed it could use improvements.
Size and Portability
As opposed to other mobile photo printers, this unit is a bit more cumbersome and you probably will not fit it in your pocket. One buyer even claimed that it almost feels like a small book.
Battery Life
Fujifilm designed their system with a high luminance LED indicator light which will inform you of the battery status. It also charges via a micro USB port.
Overall
The tradeoff here is portability, to be honest. As it sits, the Instax produces stellar and high-quality results but it does so with a bit more heft than other units on this list.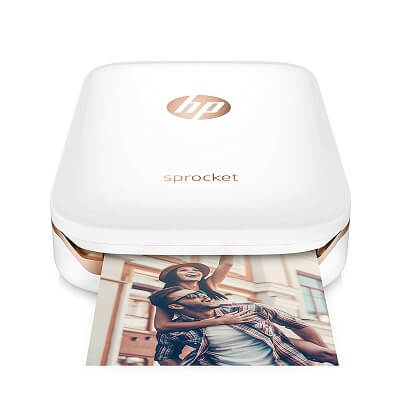 HP is HP and they have established themselves as a top-end brand through devices such as the Sprocket. Now, other sites may hold this in higher regard but it is not quite as good as the top five.
Read more
Wireless Connectivity
Thanks to the seamless Bluetooth technology of the Sprocket, it can connect to your iOS and Android devices. Although, it does not support Wi-Fi so be aware of that.
The End Result
HP recommends that for the best results for their Sprocket, consumers use the original HP Zink sticky-based photo paper. Plus, with this paper, it can be peeled off and become a sticker.
User Programming
If you decide to go with this portable photo printer, you need to download the HP Sprocket app. With this, you can perform edits on your images and even add fun text and borders.
Size and Portability
As HP advertises, their unit can fit into any bag and can literally be taken anywhere you go.
Battery Life
This is actually one of the better battery lives that you will find. It can handle 35 photos before needing to be re-juiced.
Overall
The reputation of HP warrants a purchase alone, to be honest. But, the lack of Wi-Fi and not the best image quality out there does prevent the Sprocket from being in the top five.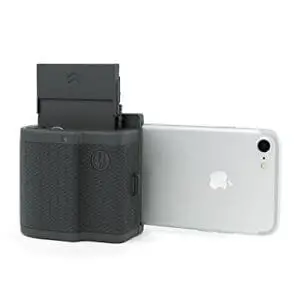 Now, you talk about a unique design, how about this one? The Prynt Pocket is specially designed to work with iPhones and literally entails you connecting your iPhone to it.
Read more
Wireless Connectivity
With this unit, you literally connect and insert your iPhone into it. So, it is only compatible with iPhones (and a wide amount of them) and prints without Wi-Fi.
The End Result
This is another design that does not utilize actual ink and instead Zink sticker paper. Do note, though, that some users have noted the colors are not quite as vibrant as the actual images.
User Programming
With the accompanying app, you can add personalized functions to your images. Yet, do note that the options are a bit limited for the app.
Size and Portability
Overall, this is half the original size of the Prynt Case. However, it is a bit thicker than other portable photo printers and will not comfortably fit in your pockets.
Battery Life
One buyer did note that they were able to continue printing even after making 10 prints. Also, the required battery is included with your purchase.
Overall
If you have an iPhone, then this is a brilliant option. Clearly, no one else will find much use with this model but even still, no one can deny the innovation and uniqueness on display here.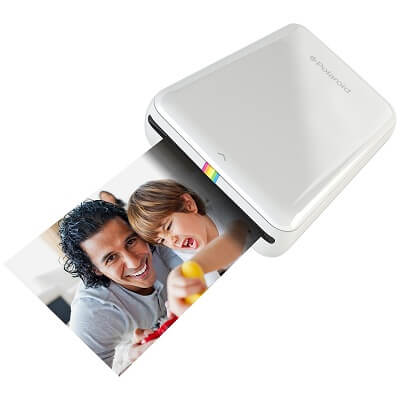 To be honest, there really is nothing too extraordinarily special about this next portable photo printer. It is what you would expect at this point but be aware, the photo quality is not perfect.
Read more
Wireless Connectivity
It seems that the Polaroid Zip has support for NFC, Wi-Fi and Bluetooth as the product description claims that all three can be used.
The End Result
The Zink zero ink printing technology integrated here does not produce the most vibrant and stunning results, as users have expressed. Still, the paper is water-resistant and tear-resistant.
User Programming
The free Polaroid app is available for both Android and iOS users. With this app, you can take your photography to the next level.
Size and Portability
Without a doubt, this is a travel-ready design and can easily be accounted for. Its small size is ideal to fit in literally any bag and probably even your pocket.
Battery Life
The smaller size of this unit does not result in a poor battery life that is for sure. With a rating of printing 25 photos per charge, the battery life is stellar.
Overall
Those who are perfectionists and those who need the absolute best quality possible may want to look in another direction, admittedly. The quality is not bad, per se, but it is not the best.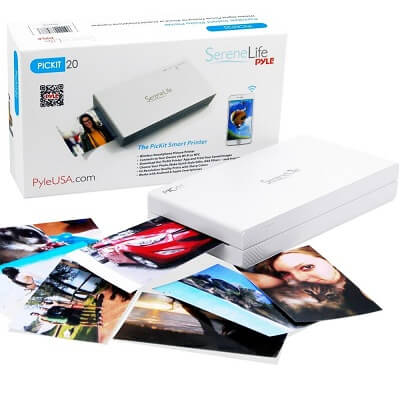 A lot of buyers across the globe seem to be impressed with this design. Even though the picture-per-cartridge ratio is limited, the picture quality and editing capabilities are suitable.
Read more
Wireless Connectivity
This does not need to connect to DSL or 4G data and instead uses the power of Wi-Fi technology to connect to your devices.
The End Result
The prints that you end up with are 291 DPI glossy images. In addition, the pages measure two inches by 3.5 inches and are ideal for ID prints and quick cards.
User Programming
With the Pickit app, you are given the ability to make a few small edits. Do not expect it to resemble Photoshop but it will suffice for smaller needs.
Size and Portability
While this model may still be a little cumbersome to actually fit in your pocket, it is still quite a compact size and will easily fit into a vast majority of carrying bags.
Battery Life
Thanks to the built-in battery, which is a staple with this technology, you can print anywhere. You can expect to print around 25 photos per charge (assuming it is a full charge).
Overall
Truth be told, this is a very stellar design. But, depending on how frequently you use this, you may be spending a lot of money on cartridges. If you can live with that, enjoy.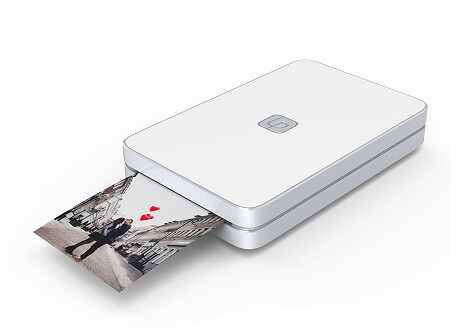 Though this last device is not without its flaws, it is most notable for its augmented reality hyperphotos. Sounds like something out of a sci-fi movie, huh?
Read more
Wireless Connectivity
Due to the Bluetooth connection, this can be used anywhere and connected with a majority of iOS and Android devices (although not all smartphones will be supported).
The End Result
Again, this uses zero ink stickers to produce high-quality results. Also, though, this system uses Lifeprint's augmented reality hyperphotos to make your photos come to life.
User Programming
For sure, this is aimed at people who use social media websites. Additionally, thanks to the full photo editing suite, you can add fun texts, memes, and other things.
Size and Portability
All these photo printers on this list are portable but this option could be the slimmest and lightest of the bunch.
Battery Life
The seller advertises that this should be able to produce anywhere from 20 to 30 printed photos on one charge.
Overall
Does this have its issues? Of course, as it is at the tail end of this list. But, its super portable nature and Bluetooth technology make it perfect for mobile users.

Subscribe to our Newsletter