Best Portable Photo Printers
In a
Hurry? Editors choice: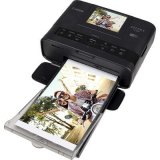 Test Winner: HeroFiber Canon

In the modern world today, it is not an overstatement to claim that technology is taking over.
Speaking of photography
, in specific, everything is becoming digital. Whether it is sharing your images on social media websites or storing them on your
hard drives
, people tend to forget just how convenient it can be to have physical photos to look at and reminisce about. But, given how many top-end smartphones are now being built with
professional-caliber cameras,
it can be tough to find a device to print off the images for you. Well, not anymore as the answer is with a photo printer and this guide is focusing specifically on
portable units.
With these bad boys, you will be able to print off any photo you want from anywhere (for the most part).
Standout Picks
Criteria Used for Evaluation
Effectiveness
When a device is dubbed portable, it typically means it can function without the use of wires. This is not always the case but the convenience of dealing with no wires lends a hand in portability. So, with portable photo printers, it really all starts with their wireless connectivity. A typical portable photo printer will use one of the following (and possible combinations of the options). Firstly, Bluetooth is a popular option. The benefit to Bluetooth is it does not require an internet connection and can be used with two compatible devices. But, for most devices, the communication range will be limited (typically around 30 feet).
Another option is Wi-Fi (or even Wi-Fi Direct). Just plain old Wi-Fi is a wireless standard and out duels Bluetooth in terms of communication range. Yet, with this, you need access to a wireless network. However, with Wi-Fi Direct that is actually not necessary but this technology is quite new. As for the last option, you may see NFC support. This is shortened from near-field communication and is another transfer technique that is limited in its short range.
Durability
For the most part, you will either see these types of photo printers designed with cartridges with real ink or without the need for them. While we will address the advantages and disadvantages of both, let's quickly document a few specifications that you can look for to determine resolutions and quality. Firstly, look for the DPI measurement (which stands for dots per inch). In this case, the higher the value the more detail will be shown in an image. Also, you may levels per color as a specification. A common value is 256 levels per color and this indicates the number of intensity values for each primary color.
Now, as for the ink debate, some designs will be equipped with Zink. This is a full-color technology that does not require ink cartridges. Instead, the paper has several layers and has all the technology integrated to display high-quality images. Yet, the main complaint about this technology is its image quality, in fact. Testers and buyers have expressed the limitations of the technology and that the colors can look washed out. So, for quality buffs, you may want to go with actual ink.
Apps
Most photo printers in the world will be designed to be used in conjunction with an app. The apps can allow you to edit your images beforehand to get the best result possible. Of course, these apps can typically also perform other actions. For example, let's take a look at Canon's Selphy app. On the official page for the app, you will see that it allows you check various photo printer settings such as current ink levels, add texts to the photos to convey more emotion, and trim your photos to cut out unneeded content.
You may also want to look for other details such as the ability to add special effects, borders, memes, and any other editing features to produce the best image possible. Now, you should not expect anything along the lines of Adobe Photoshop as most apps will be free to use. In addition to all of this, also pay attention to how intuitive and user-friendly the app is. Glance through user feedback to see if any previous consumers have had negative comments about the app itself to gauge its effectiveness.
Portability
It goes without saying that all the photo printers on this list are, at the very least, somewhat portable. This is to be expected as this guide was created to focus primarily on these types of units. But, just because they are all portable does not mean that some are not more so than others. And, in regard to how portable you require a design to be, that really comes down to your preference.
For example, if you want to carry the device around in your pocket for special occasions, look for one that is thin, lightweight, and compact. However, maybe you simply are going to carry it with you in a purse (for women) and in this case, a little extra girth is not the worst thing in the world. Either way, assess the physical dimensions and total weight to make your decision.
Top 10 Portable Photo Printers
Subscribe to our Newsletter