Best USB Power Strips
In a
Hurry? Editors choice: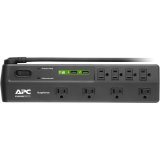 Test Winner: APC Surge Protector

With all the
electronic devices
and pieces of entertainment that have flooded humanity, it is becoming increasingly difficult to keep track of the devices that you own. Even more of a problem is finding a means to power all of them, or at least some of them, simultaneously.
Well, that is no longer going to be an issue for you when you invest in a USB power strip. Unlike traditional power strips, these versions not only include standard AC outlets but also USB ports. After all, charging your smart devices is probably priority number one, correct? To help save you time we have listed the top ten best USB power strips in the market today and included detailed criteria for each product to help you decide which one suits you best.
Standout Picks
Criteria Used for Evaluation
Effectiveness
It is important to understand that not all best power strips are going to have built-in surge protection technology. If you currently own one that does not, though, you need to upgrade as soon as possible. "Okay, what is the big deal anyway? I have used my power strip for many years now with no issues", you might say.
First off, a power surge happens when the flow of electricity is interrupted. You may notice your lights flicker off and then on again; that is most likely a power surge. Without protection from it, your devices can be damaged. In other words, it is a precaution that is necessary. As far as the Joule rating of a surge protector, this indicates how much energy it can withstand before it fails. Thus, the higher the rating of the surge protector the more protection it provides.
However, a circuit breaker can also be important. With one built into the power button of a usb power strip, it can protect your devices in the instance of an overload or a short circuit. Again, overloads and short circuits can have negative effects on your devices and it is better to avoid them at all costs.
Power Source
Just as not all power strips will have surge protection, not all of them will integrate USB ports. However, for the sake of this guide, we only included models that did. But, while you may have come here for just the USB ports, these types of power strips are still more than capable of charging your AC powered devices. But, to you, their most important function may be their USB ports. After all, you probably use your smart devices more than anything. While the amount of ports included is an important criterion in its own right, what is also vital is the power they can handle.
Each smart device may require a different amount of voltage to properly charge. For instance, most tablets require 2.1 amps of power. As such, a power strip with USB ports that can handle up to 2.4 amps of power could suffice. The same goes for the included outlets as even if there are eight included, it does not mean you should plug in eight different devices. Certain devices will require less power than others; such as an alarm clock compared to a crockpot. Understanding this is key to preventing an overload.
Features
While assessing convenient features can be very broad in scope, this section is basically for any other features that are worth your time. For the most part, there are two extra criteria that you could factor into your end decision. One of them is if the power strip comes with mounting holes and the other is if you want a compact and portable design.
If you plan on leaving your power strip on the ground at all times, mounting holes will be of no use to you. The same concept applies for portability as if your intent is for your power strip to be home-based, its portability may mean nothing to you. Still, you may change your mind so having the convenience of a portable power strip with integrated mounting holes in the back could be worth the admission.
Size
With so much of your time spent focusing on the main design of a power strip, it is easy to forget about the power cord. It can easily slip by unaddressed but you will be kicking yourself afterward because the design of the power cord is a vital design element of power strips. There are two important factors to assess; the first of which is the length of the cord.
From one person to the next, the length needed is going to be different. After all, it is all dependent on where you plan to use the power strip and how much room for error you have. In order to be 100 percent certain the cord is an appropriate length, measure the furthest distance that you will ever need it to go from one of your home outlets. Remember, you can work with too much cord but there is nothing you can do with a cord that is too short.
Subscribe to our Newsletter