Best USB Power Strips
In a Hurry? Editors choice: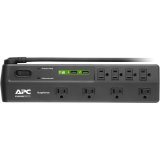 Test Winner: APC Surge Protector

With all the
electronic devices
and pieces of entertainment that have flooded humanity, it is becoming increasingly difficult to keep track of the devices that you own. Even more of a problem is finding a means to power all of them, or at least some of them, simultaneously.
Well, that is no longer going to be an issue for you when you invest in a USB power strip. Unlike traditional power strips, these versions not only include standard AC outlets but also USB ports. After all, charging your smart devices is probably priority number one, correct? To help save you time we have listed the top ten best USB power strips in the market today and included detailed criteria for each product to help you decide which one suits you best.
Standout Picks
Criteria Used for Evaluation
Effectiveness
It is important to understand that not all best power strips are going to have built-in surge protection technology. If you currently own one that does not, though, you need to upgrade as soon as possible. "Okay, what is the big deal anyway? I have used my power strip for many years now with no issues", you might say.
First off, a power surge happens when the flow of electricity is interrupted. You may notice your lights flicker off and then on again; that is most likely a power surge. Without protection from it, your devices can be damaged. In other words, it is a precaution that is necessary. As far as the Joule rating of a surge protector, this indicates how much energy it can withstand before it fails. Thus, the higher the rating of the surge protector the more protection it provides.
However, a circuit breaker can also be important. With one built into the power button of a usb power strip, it can protect your devices in the instance of an overload or a short circuit. Again, overloads and short circuits can have negative effects on your devices and it is better to avoid them at all costs.
Power Source
Just as not all power strips will have surge protection, not all of them will integrate USB ports. However, for the sake of this guide, we only included models that did. But, while you may have come here for just the USB ports, these types of power strips are still more than capable of charging your AC powered devices. But, to you, their most important function may be their USB ports. After all, you probably use your smart devices more than anything. While the amount of ports included is an important criterion in its own right, what is also vital is the power they can handle.
Each smart device may require a different amount of voltage to properly charge. For instance, most tablets require 2.1 amps of power. As such, a power strip with USB ports that can handle up to 2.4 amps of power could suffice. The same goes for the included outlets as even if there are eight included, it does not mean you should plug in eight different devices. Certain devices will require less power than others; such as an alarm clock compared to a crockpot. Understanding this is key to preventing an overload.
Features
While assessing convenient features can be very broad in scope, this section is basically for any other features that are worth your time. For the most part, there are two extra criteria that you could factor into your end decision. One of them is if the power strip comes with mounting holes and the other is if you want a compact and portable design.
If you plan on leaving your power strip on the ground at all times, mounting holes will be of no use to you. The same concept applies for portability as if your intent is for your power strip to be home-based, its portability may mean nothing to you. Still, you may change your mind so having the convenience of a portable power strip with integrated mounting holes in the back could be worth the admission.
Size
With so much of your time spent focusing on the main design of a power strip, it is easy to forget about the power cord. It can easily slip by unaddressed but you will be kicking yourself afterward because the design of the power cord is a vital design element of power strips. There are two important factors to assess; the first of which is the length of the cord.
From one person to the next, the length needed is going to be different. After all, it is all dependent on where you plan to use the power strip and how much room for error you have. In order to be 100 percent certain the cord is an appropriate length, measure the furthest distance that you will ever need it to go from one of your home outlets. Remember, you can work with too much cord but there is nothing you can do with a cord that is too short.
Top 10 Picks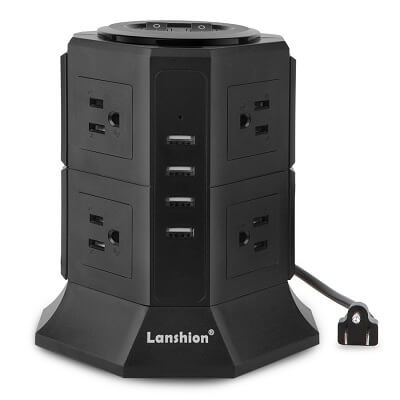 Among the USB best power strips on this list, none are more unique than this model. Instead of a standard horizontal design, this stands vertically and features two separate on and off switches for operation.
Read more
Surge Protection Technology
Both overload and surge protection technology has been built-in to protect your expensive devices. However, the power strip itself has been designed from fireproof ABS plastic and PVC copper.
Included Outlets
There are eight regular outlets, which are all surge protected, that you can plug AC devices into. In addition, four USB slots allow you to charge a multitude of your smart devices at once.
Outlet Spacing
Due to the vertical design that holds two outlets per side, plugging in a larger AC adapter will not limit how many devices you can plug in at one time. Per each plug, there is around an inch of space in-between.
Power Cord
With a 6.5-foot power cord, you are provided with a lot of leeway. Given not every square inch of your home will have a built-in outlet, this much length will certainly come in handy.
Convenience
There are actually two separate power switches and this can allow you to conserve some energy. One of the switches controls the four USB ports and four outlets, while the other handles the remaining four outlets.
Overall
From top to bottom, literally, this is an absolutely breathtaking design. If one change could have been made it would have been to add a little more weight for stability reasons. But, that is it.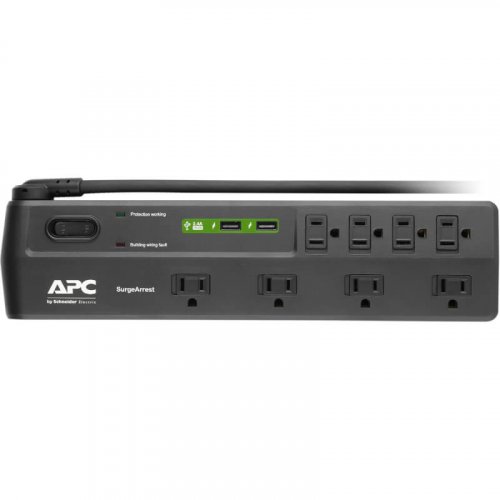 So many power strips do not accommodate for larger AC adapters but with four separate outlets, APC has certainly prevented this from being an issue. Plus, with its six foot, 180-degree rotational, power cord, it becomes a must-have power strip.
Read more
Surge Protection Technology
Utilizing state-of-the-art circuitry, in the case of a power outage or power surge, your connected devices will be safe from harm. It would take a direct bolt of lightning to damage them.
Included Outlets
In total, there are eight AC outlets and two individual USB charging ports. If this is not enough options, though, APC does offer 10-outlet, 11-outlet, and 12-outlet models.
Outlet Spacing
While there are four outlets that have minimal space between them, the other four outlets feature block spacing. This means they are adequately separated and will accept larger adapters.
Power Cord
Due to the 180-degree rotation of the power cord, it adds more versatility when you are plugging it into your home outlet. Additionally, at six feet in length, there should be enough cord to work with.
Convenience
Now, there are mounting holes on the back but the only issue is with the way they are configured. You can only mount the strip upside down, which is rather disappointing.
Overall
By simply leaving this surge protector on the floor, you eliminate its only issue. Without a doubt, if the first power strip on this list is not your cup of tea, this will more than fill the void left behind.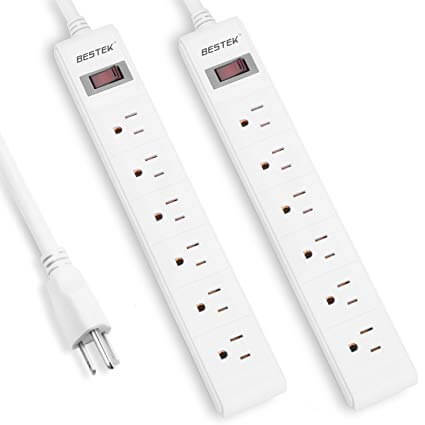 Consider this an all-in-one power strip. It has 6 outlets with 200-Joule which provides 3-Line basic surge-protection.
Read more
Surge Protection Technology
With a 200-Joule energy rating for surge protection, you can rest assured that your connected small appliances, phones, and lamps will be safe. Also, the usb power strip has a circuit breaker to prevent accidentals shutdowns.
Included Outlets
The majority of the outlets present on this power strip are traditional AC outlets (a massive 6 in total).
Outlet Spacing
It still may not be thought of as a perfect design but because of the outlet configuration, larger plugs should pose no issue. Six outlets are individually placed with block spacing.
Power Cord
You will surely fall in love with the included power cord as it is not only six feet in length 14 AWG power cord with right angle plug in.
Convenience
There are many different ways to install the Keyhole mounting tabs in a wide variety of applications.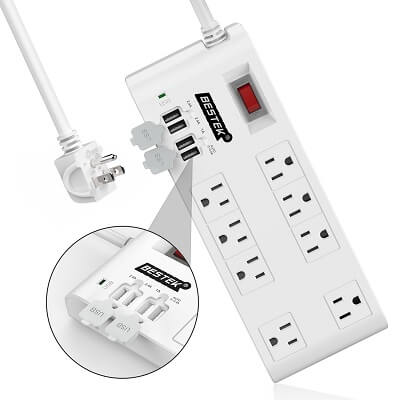 Consider this an all-in-one power strip with usb. It has 12 outlets, two USB ports, a telephone and fax connection, and a coaxial cable connection. On top of this, it is surge protected for up to 5560 Joules of energy.
Read more
Surge Protection Technology
With a 5560-Joule energy rating for surge protection, you can rest assured that your connected laser printer, home-theater systems, and even telephones will be safe. Also, the power switch has a circuit breaker to prevent accidentals shutdowns.
Included Outlets
The majority of the outlets present on this power strip are traditional AC outlets (a massive 12 in total). But, there are two integrated USB ports capable of handling 2.4 amps of power.
Outlet Spacing
It still may not be thought of as a perfect design but because of the outlet configuration, larger plugs should pose no issue. Six outlets are individually placed with block spacing and the other six are directly down the middle.
Power Cord
You will surely fall in love with the included power cord as it is not only six feet in length but the actual plug can be rotated 360 degrees when plugged into your home receptacle.
Convenience
There are both telephone and cable ports and connectors available on the bottom of this unit. On top of this, there are keyhole slots integrated into the back that allow this to be mounted on a wall.
Overall
The pure amount of functionality that this surge protector possesses is absolutely phenomenal. There are 12 individual outlets, two integrated USB ports, and connectors for both a telephone and cable hookup.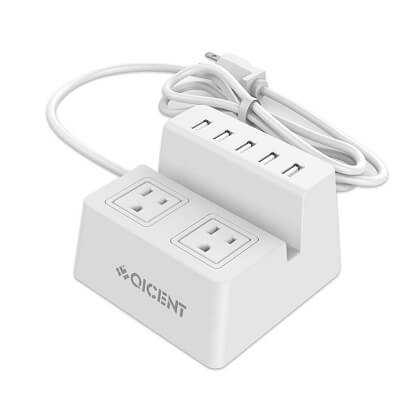 As compared to some of the other best power strips present on this list, the QICENT surge protector actually sports more USB ports than traditional outlets. In addition, features a sleek and clean design to blend into any environment.
Read more
Surge Protection Technology
Any type of built-in protection that you can imagine being beneficial for electronics, this has it. This includes 1700 Joules of surge protection, over-temperature and overload protection, and short-circuit protection.
Included Outlets
While there are only two outlets located on the lower portion of this strip, there are five integrated USB ports. Per each port, using intelligent charging technology, you can receive 2.4 amps of power.
Outlet Spacing
The lone two outlets are not directly next to one another; however, there still may not be an adequate amount of space to plug in larger plugs and adapters.
Power Cord
For the most part, the 4.9-foot power cord should suffice. Yet, it is a bit shorter than some of the other power cords on this list and if you know that is not enough distance, it could be an issue.
Convenience
Ironically, the physical design is the most convenient aspect of QICENT's surge protector. It sports an incredibly compact design and easily could be transported if need be.
Overall
Is this overflowing with electrical outlet connections? No; but it does feature enough USB ports for your entire family to charge all their smart devices at once. Add in the plethora of protection technology and this deserves a massive thumbs up.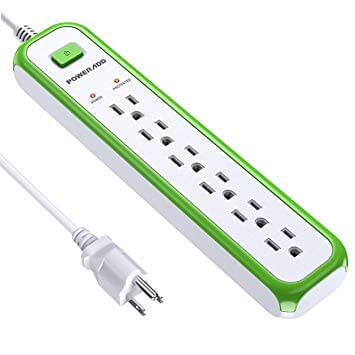 For whatever reason, Poweradd decided to design their outlets with the third prong on the inside. Most power strips will switch this orientation and even though it is not a catastrophic flaw, it could complicate things down the road. Yet, everything else is up to par.
Read more
Surge Protection Technology
Poweradd protects their investment and your electronic devices due to implemented surge protection technology for up to 900 Joules. As such, when a voltage surge is detected the over-load switch will cut the power down.
Included Outlets
In total, there are 6 ports and 1 AC outlet that you can utilize.
Power Cord
With its thick, five-foot power cord, both overheating and finding an appropriate outlet in your home should not be problematic as it has a fireproof housing.
Convenience
Poweradd is very confident you will be pleased with their product and because of this, they offer a 30-day money back guarantee and also a 24-month product warranty.
Overall
Criss-crossing several power cords and adapters can turn into a slight nuisance with this design. It will not bother some people but for those who are more anal, it may be enough to warrant a pass. Still, one can't ignore the pure amount of quality here.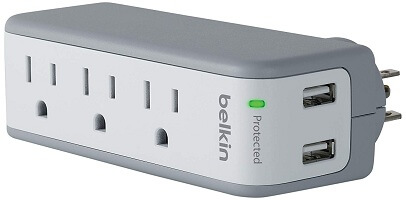 Now, this is technically classified as a usb power strip but note that Belkin's SurgePlus plugs directly into an outlet. What is convenient about this, though, is you can rotate it 360 degrees to ensure the other outlets on your wall are accessible.
Read more
Surge Protection Technology
When all your devices have been grounded, the indicator light on the SurgePlus will turn green. Indeed, your devices are protected from power surges up to 918 in Joules.
Included Outlets
There are not an abundance of included outlets on this model but you can still power and charge up to three AC powered devices and two USB devices. Sadly, the USB ports share 2.1 amps of power (which is not that much).
Outlet Spacing
Truthfully, this is not an ideal product if you have multiple AC adapters that you need to be powered. Due to the tight spacing of the outlets, consider this a feasible option for smaller plugs.
Power Cord
As mentioned earlier, this is actually not designed with a power cord. Instead, it plugs directly into your home outlet. While you may think this will prevent any other receptacle from being used on the outlet, it can rotate 360 degrees when plugged in.
Convenience
Not all power strips are bulky and impossible to manage. The SurgePlus is a great example of one that is extremely compact and a tremendous space saver.
Overall
Due to the lack of receptacles and limited powering of the included USB ports, this is not going to be for everyone. However, because of its space-saving design and 360-degree rotation, it is highly convenient.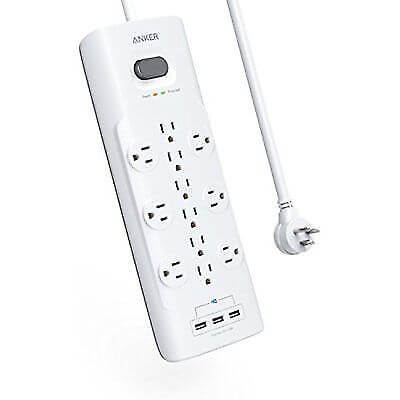 Anker does not provide you with an overpowering design with loads of features and functionality. Yet, what they do deliver is a power strip that brings the goods and provides a suitable solution for your powering needs.
Read more
Surge Protection Technology
Anker guarantees safety with their design and with a 15-amp circuit breaker and 380 Joules of surge protection technology, that guarantee is not far off.
Included Outlets
Included on this power strip are four USB ports and with the power of VolatgeBoost and PowerIQ technologies, each port delivers 2.4 amps of power. Additionally, there are six AC outlets.
Outlet Spacing
Everyone has probably seen a power strip with usb before and this is exactly what the average person will depict in their mind when thinking about one. As such, the outlet spacing is tight and large adapters will take up two spots (unless used on the outside).
Power Cord
Despite the fact that this is not a 90-degree plugin, which could draw red flags for some people, the power cord is an adequate length of five feet.
Convenience
If you so choose to, because of the hanging slots that have been designed into this surge protector, you could mount the PowerPort on the wall instead of leaving it on a surface.
Overall
If you are grading this product for its capabilities as a power strip, it would receive a highly impressive grade. Yet, some consumers will take issue with the lack of convenience of the plug and the outlet spacing.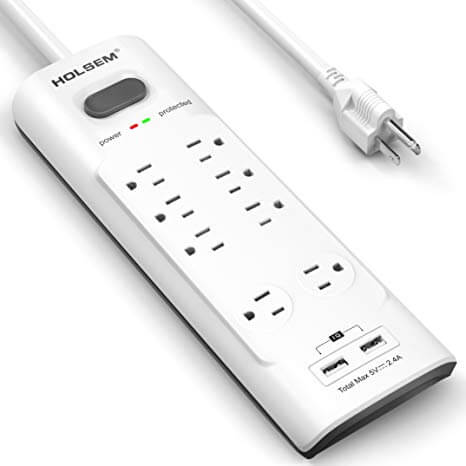 In terms of its performance, this next power strip is going to satisfy the average consumer. Its lower positioning on this list is more indicative of its limitations in certain areas.
Read more
Surge Protection Technology
No matter the situation, your connected devices are guaranteed to be safe when plugged into this power strip. It has built-in overload protection with a double breaker switch and a 2000-Joule energy rating of surge protection.
Included Outlets
Up to 2.4 amps of power can be achieved from the two USB ports. If you are looking for more, though, you can also plug up to two AC powered devices into this unit, as well.
Outlet Spacing
This is where the "limitations" start to come into play. Much like with Anker's power strip, it is going to be difficult to fit anything but standard-size plugs into this without making some of the outlets inaccessible.
Power Cord
Once again, as compared to other models on this list, there are some limitations with the included power cord. With its four-foot length, it could be more challenging to find an appropriate place for this in your home.
Convenience
What is nice about this design is there are four individual keyhole slots integrated into the back. This allows you to easily and safely mount this power strip on the wall.
Overall
Do limitations automatically indicate that a product is not worthwhile? Absolutely not and instead, they are more a reminder that there are simply better usb power strips out there. Yet, that does not make it bad.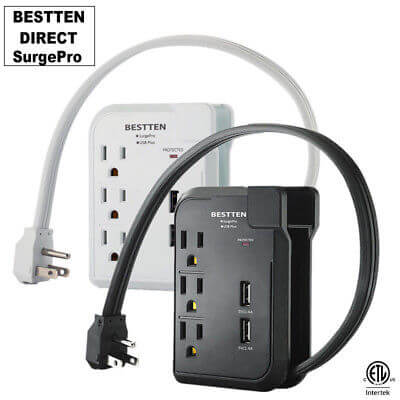 If portability is what you want, then that is what you shall receive with BESTTEN's surge protector. Due to its compact design and 18-inch power cord, you can easily transport this piece of equipment wherever you please.
Read more
Surge Protection Technology
Not only is there surge protection technology built-in, with a 300-Joule energy rating, but also an EMI/RFI line noise filtering system that helps all the components perform at their peak.
Included Outlets
As this is designed to be more compact, there are only five power strips with usb and electrical outlets in total. There are two USB ports on one side and three outlets on the other side.
Outlet Spacing
Due to the spacing of the outlets and the amount of them, this is not a great design if you are looking to power a ton of your devices and equipment.
Power Cord
The power cord is actually designed to wrap around the unit and because of this, it is only 18 inches in length. As you can no doubt tell, this offers virtually no leeway for where you can power it.
Convenience
Among all the power strips on this list, this is arguably the most portable of them all. In fact, as just mentioned, the power cord wraps around the unit for storage purposes.
Overall
This right here is the epitome of a product that will only appeal to a certain demographic. That demographic is going to be individuals who are looking for an ultra-compact power strip who do not mind the lack of integrated outlets.

Subscribe to our Newsletter