How to Dress for Resort Skiing and Snowboarding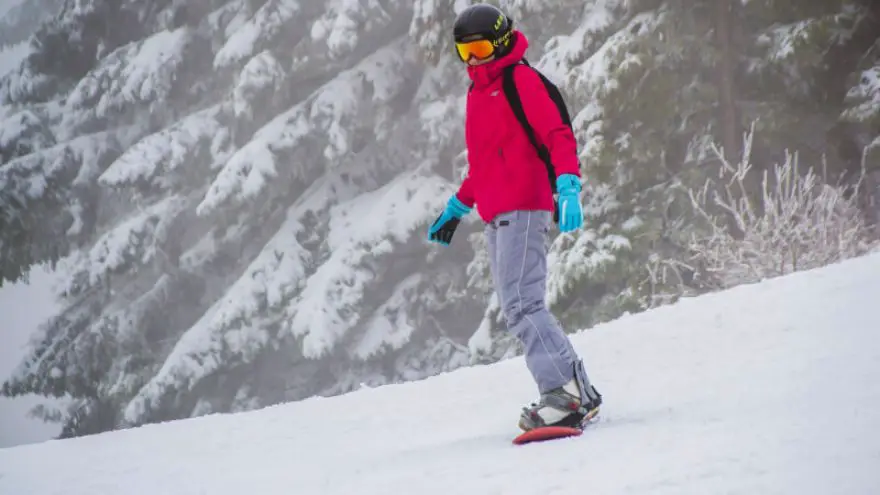 How to Dress for Resort Skiing and Snowboarding
gearweare.net
Where I live in Colorado the snow has started to fall in earnest and the resorts are already filled up on the weekends. One of the most important things that the people visiting these resorts need to think about is how they will dress for days of lapping chairlifts and slashing powder. In cold weather, the extended periods of time sitting on the lift can chill one to the bone, while warmer resort days might cause the overlayered to become uncomfortably hot. Striking the perfect balance between these two extremes is a critical piece to optimizing the fun while skiing or snowboarding.
Once you've figured a system for what the ideal outfit is for a day of resort skiing or shredding at any weather, you can start incorporating your personal style. Skiers and boarders both have different trends in terms of what looks coolest. These trends can sometimes overlap, depending on the style of terrain one likes to send it on the most. Personal preference for what one thinks looks cool also factors into slope style.
The layering system that everyone should use when hitting the slopes, whether they slide on two planks or one, is presented below. These should be utilized as rough guidelines, and be adjusted to one's individual preferences.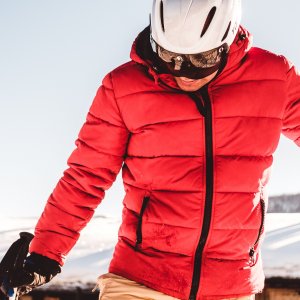 It's All About Layers
Proper laying is the most important aspect that will determine if one is comfortable on the mountain. Not only can the wrong layers lead to either a chilly or sweaty day, but improper dressing can be dangerous as well – being too cold can lead to hypothermia, and materials that don't dispel moisture can get wet and freeze, which increases the chances of this life-threatening affliction by an even greater margin. Even on cold days the danger of cotton clothes becoming wet from sweat is possible since skiing and snowboarding are high exertion sports. Just avoid cotton, choosing layers that are made of Marino wool, which is breathable and retains warming properties even when damp, and synthetic materials which have been specifically designed to wick moisture away from one's body.
Now, on to the clothes that are actually part of a proper layering system. First comes the base layer, which should be a long-sleeved shirt that fits snuggly. More than any other layer, moisture wicking properties are critical here, as this is the layer that will pull sweat directly off of one's skin. A breathable base layer can is therefore critical for keeping one dry, which also means warm. For added core heat, one may also want to wear a synthetic tank top
After the base layer there is, logically, the mid-layer. This piece of clothing is especially important on cold days because it is where you get extra warmth so that you don't freeze on the chairlift ride back to the top of the mountain. What mid-layer one chooses to wear will depend on the temperatures that day. A heavily insulted layer that is less breathable so that it will trap warmth against your body is the most appropriate on truly cold days, while a thinner layer, like a hoody or a light fleece, may be appropriate on days where the temps are hovering around freezing. On days where it is downright warm when the temperatures are above freezing and the sun is shining, a mid-layer may not be necessary at all.
The final layer is the outer layer. This is your jacket, and the most important thing about it is that it is waterproof and windproof. These properties will keep you dry and cozy on days when it is dumping and will stop you from getting wet if you fall. Jackets come in many different styles. Those who get cold easily should think about getting one that is heavily insulated or that comes with a removable liner, which provides more versatility. It is also possible to get one that is just a shell, with no insulation at all. Shells, which provide full wind and waterproofing without any extra weight or heat, are the most versatile option, and therefore the best choice for resort riders, especially beginners who only want to buy one jacket. They will keep you dry on a warm spring day, when all you need underneath is a T-shirt, as well as on a mid-winter pow day when the temperatures are hanging out in the single digits when you've stacked the warmest, thickest layers possible underneath.
A layering system should also be used on one's lower half. A pair of snow pants with leggings or long johns underneath is ideal. Marino wool socks specifically designed for snow sports are also ideal. Never where two pairs of socks at once as this can cut off the circulation to your feet, and will actually result in colder toes.
Once you've figured out the types of layers you want to wear in what weather, you can begin to incorporate your own personal style. Trends are always changing, so scan the sites of high profile brands like Arc'teryx, Spyder, Volcom, and Burton, as well as discount sites like Backcountry and Sierra Trading Post to get a sense of what is happening in current skiing and snowboarding style. Also, pay attention to what other people are wearing on the slopes to get a better sense of what you want to look like.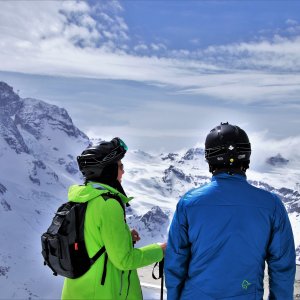 Accessories
There are also a number of accessories that should always be included while skiing or snowboarding. These are a helmet, hat or some type of ear protection, gloves or mittens, goggles, and a neck gaiter or some other type of face protection. When buying a helmet and googles make sure they fit together since this will prevent a gap between the two. Minimizing the gap keeps you warmer and is considered better style.
Après Ski
At the end of the day when it is time to kick one's feet back at a local watering hole for après ski, proper attire should be considered as well. Dressing for après is casual, and some people even show up in their ski clothes directly after their last run. Still, even these folks should bring a change of shoes and maybe some jeans, since ski and snowboard boots are uncomfortable and snow pants are hot. Try to ditch your helmet and goggles as well, since it's hard to find places to store these bulky items at the bar.
Most Read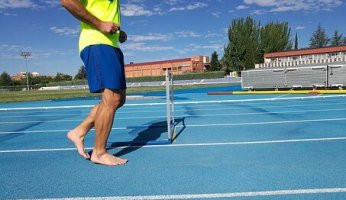 Subscribe to our Newsletter