Best Ski Pants
last updated:
May 26, 2020
As ski resorts open around the country, and as you begin to get itchy feet in anticipation for the new slope season, it may also mean that it's time for some new skiing gear. And while you may not be interested in replacing your full ski ensemble, investing in a crisp new pair of ski pants is never a bad idea.
A good pair of pants for skiing is essential for staying in good spirits on the slopes. Nobody wants to spend their time on a long chairlift shivering in wet, cold pants. Instead, a reliable pair of water-resistant pants will keep your mind off the severe conditions, because you will feel warm, dry, and comfortable.
Depending on what style of skiing you do, what you will look for in a pair of pants differ. If interested in snowboarding check our guide on snowboarding pants.
This is the best product on our list that is currently in stock: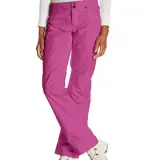 Burton Society
Why is it better?
Come in lots of colors
Well insulated
In a
Hurry? Editors choice: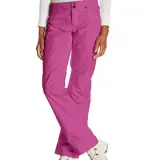 Test Winner: Burton Society

27
Researched Sources
14k
Reviews Considered
13
Hours Researching
16
Products Evaluated
Insulation
Breathability
Fit
Value
By Default
Criteria Used for Evaluation


Insulation
Skiing in the backcountry involves more time spent trudging through heavy snow than flying down the side of a mountain. Skiing is a cardio exercise that will have you sweating even on a chilly day. For more cardio exercises check our guide on the best treadmills.
Because of this, uninsulated snow pants are the best for backcountry skiing. On truly freezing days, where temperatures dip into the single digits and below, some insulation is a good idea. Make sure that the pants you choose still have breathable fabric and are well ventilated though.
If you will be primarily skiing at resorts, then staying warm on cold chairlift rides is of a more significant concern than breathability. Insulated pants will be a lifesaver on chilly days in December and January, especially if you visit a mountain during peak times when you will most likely spend longs spells waiting in lift lines.
Most insulated pants use synthetic insulation, which is measured in grams. The number listed is a representation of how much a 1 meter by 1-meter piece of that insulation weighs. The higher the number, the warmer the synthetic insulation is.


Breathability
It is overheating while skiing is uncomfortable and can impair performance. It can also be dangerous since wet clothes from sweat can cause hypothermia, pneumonia, and other problems when you become cold again. For more on common ski injuries read our blog.
Ventilation is especially important for backcountry skiers since they may be many miles from civilization when an issue arises. Therefore, any ski pant that is going to be used outside of a resort needs extra vents in the legs.
The larger the vent, the better. Look for ones that are on the outside of the leg, which will release heat more quickly than one's against the thigh. Also, duel vent systems, with one on the inside and outside of the pant leg, gives extra versatility and dramatically increases the airflow throughout the pant.
Additional ventilation is not integral to resort skiing but can be useful if you want to have one pair of snow pants for every type of weather. Small vents on the inner part of the thigh or outside of the leg work just fine to cool down a pair of insulated pants on warm days in bounds.


Fit
More than anything else, the style and fit are a matter of preference. In general, skiing style favors athletic, streamlined cuts that hug the body. However, exceptions exist, such as park skiers, who tend to prefer a baggier look that is similar to the way snowboarders dress. The way winter pants fit can be broken down into slim, medium, and baggy. Well-made pants will look good and have shape no matter what fit they are designed with.
There are a few other variables that can inform the style that you choose. Bib pants are very functional in the snow and can be a good choice if you prefer to ride with a sweatshirt instead of a jacket. The extra protection in the front and back of your torso will keep you warm on days that aren't especially cold. What colors a pant is available it can also be a deciding factor if you can't choose between a couple of different styles. Think about what colors your jackets, sweatshirts, skis, and boots are. You want to make sure the pants you choose will match the rest of your outfit.


Value
When looking for a pair of skiing pants, you will find the price tag varies depending on the pair you are looking at. When looking for a great pair for this winter season, do not be solely swayed by the price tag and do the research by checking the customer reviews to make sure you are getting all the features you are looking for in a pair of pants for skiing. If you just purchase solely on price, you may end up with an expensive pair that will not hold up this winter season.
Expert Interviews & Opinions
Most Important Criteria
(According to our experts opinion)
Experts Opinion
Editors Opinion
Users Opinion
By Default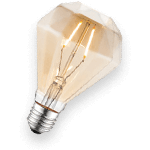 Base Layer
Remember that wearing a pair of pants is only the first step, you should always wear a base layer underneath your skiing pants. The base layer ensures that you maintain warmth created from your body and that if any snow sneaks its way into your pants, you will not be uncomfortable.
Safety
Whether you are new or a novice, safety equipment is always a good idea. It seems that some people feel that a helmet is optional, but it shouldn't be. Even on a well-groomed slope, something unexpected can get in the way and cause a nasty fall. If you are new to the sport, there are also padded shorts that you can use to protect your butt and hips from aches and pains caused by falling.
Length
While it may seem strange at first, skiing pants should be about four to five inches longer than your everyday pants. They should cover your boots for the most part. This gives them a great fit and also lessens the chances of cold weather sneaking in. If your pants are way too long, you can tuck them up and add in a few stitches to keep the cuff in place.
Other Factors to Consider


Weather Resistance
Most pants are made from fully waterproof materials. There are levels of the effectiveness of water resistance, though. For most this property is measured in 5,000 – 20,000mm, with a higher number signifying more waterproof material. Good water-repellent pants also have taped seams. How waterproof you need your pants to depend on the types of environment you typically ski.
For example, if the mountain your frequent are in the Rockies, where snow is light and dry, a less waterproof pant will do just fine. However, if you mostly ski in the Pacific Northwest, which has a humid, wet climate, highly waterproof pants are a prudent investment. Other situations when waterproof pants are important is in the spring when snow is very slushy, and if you are a beginner and know you will be falling a lot.


Features
Sometimes it's the little things that make a product shine. The features of the pants for skiing can provide extra comfort, ease of use, and confidence on the slopes. Here are a few of the most important features to look for:
Pockets
Although jackets have pockets as well, having more places to store your things while you always ski helpful, especially if you don't like to wear a backpack. On warm days, when a heavy coat is a hindrance, pants pockets may be the only space you have for storage. Hand pockets in the front, back pockets in the rear, and a cargo pocket located halfway down the right leg are the typical spots to find pockets on the pants.
Gaiters
Gaiters are cuffs that are placed around the outside of your boots to help keep snow out. They sometimes have hooks that can be attached to your shoe to keep them firmly in place. Zippers on the bottom of pants allow for gaiters to be easily put on or taken off. Remember, this feature only works if the pant legs and gaiter are placed outside, not inside, your ski boots.
Jacket/Pants Connection
Some snow pants include hooks that can be attached to your jacket to stop it from moving up your back if you fall and to keep snow out. This feature typically works best if the same manufacturer makes the jacket you use as your pants. However, as long as your skiing pants and ski jacket both include the necessary straps for connection, they can be made to work.
Adjustable Waist Belt/Belt Loops
The ability to adjust the waist of your winter pants can make a big difference in terms of comfort – Nobody wants to spend their day pulling their pants up or worried they would fall halfway through a run. Many include adjustable waistbands, which typically work using Velcro. If the pants you choose don't have this feature, make sure they do have belt loops.
Frequently Asked Questions
q:

Why are some ski pants so expensive?

a:

When it comes to these pants, you get what you pay for. A more significant price tag typically means higher quality. Highly breathable and durable fabrics cost more to make, as do extra features. More expensive ones are also better designed and will look more flattering on. Other qualities that make a pair of snow pants more expensive are waterproofness and a bib.

There are economy options. However, you do often loose functionality, versatility, and style when opting for the cheaper option. Another solution is to buy last year's apparel. Also, if you can wait until the end of the season, many shops will have liquidation sales as they prepare to stock items for the summer.
q:

What is the difference between skiing and snowboarding pants?

a:

The only real difference between skiing and snowboarding pants is fit. Ski style prefers a slimmer fit, while snowboarders tend to wear baggier, loose-fitting clothes. However, in recent years, snowboarding pants have begun to favor a style that hugs the upper part of the leg, and flares near the bottom, which can look very stylish with a pair of skis. At the end of the day, skiing and snowboard pants are basically the same and what you choose really comes down to the style that you prefer.
q:

What is the purpose of bib pants?

a:

Bib pants are the snow pant equivalent to overalls. With a big panel of fabric in the back, bibs offer added protection when skiing powder. Even if snow makes its way up to your back, the bib will stop you from becoming cold and wet. Some bib pants also have a panel in the front, which helps to keep your chest warm, while others are styled more like suspenders.

The final advantage to bib pants is that there is no restrictive waistband, which allows for greater versatility of movement while you ski. Bib pants do tend to be heavier and bulkier than other pants for skiing. The extra fabric also makes it more expensive. Finally, when buying bib pants, look for ones that have zippered drop-seats. This extra feature makes going to the bathroom in the type of ski pant much easier.
q:

Where should I look for good ski pants besides this guide?

a:

There are many sites on the internet that cater specifically to clothing designed for outdoor recreation. These sites often have last year's apparel at a significantly discounted price. Backcountry.com, Moosejaw.com, and sierratradingpost.com are all examples of great places to look for pants for skiing. Other retailer giants like REI and EMS are also good places to look at.

These two stores are also great if you want to try some winter pants on – they both have locations all over the country, although EMS stores are concentrated in the Northeast. Keep an eye out for when REI has their garage sales. These discount sales are a great place to find deals on any type of gear imaginable.

If you want to try some pants on, going to a brand brick and mortar store is a good option. Most cities have at least one store for each major outfitter. If you live outside the city, your town may have a ski shop where you can try on many different pairs at once.

Throughout this process, the most important thing is to take your time and carefully think about what you need. Pants for skiing are expensive, and buying the right pair can be an investment that will last you for years to come.
q:

What kinds of ski pants are there?

a:

Hardshell Pants

Hardshell pants are typically made of nylon or polyester. These snow pants are usually a trifecta of being breathable, waterproof, and windproof. One thing to note about these winter pants is that they sometimes offer some insulation, but not as much as genuinely insulated skiing pants.
The benefits of wearing hardshell pants are that they tend to be more lightweight and less bulky than other types. If you find that you are a person who is always warm, hardshell pants are a good option. When it comes to freezing temperatures, you may want to opt for pants that offer more insulation.

Insulated Pants

Like the pants above, insulated ski pants have a waterproof shell; however, they come with more insulation to keep you warmer. The more padding that comes with these pants means that they will be a touch heavier and bulkier. The level of insulation that you find in these ski pants is measured in grams, so if you want a warmer pant, you will most likely want a pair of ski pants with more grams of insulation.

Softshell Ski Pants

Unlike hardshell pants that will make a rustling sound when you wear them, a softshell pant is made from softer fabric that is quieter. These winter pants are useful because they offer a lot of breathability and freedom of movement. One thing to note with softshell ski pants is that they are generally not as waterproof as hardshell ski pants, so they are best suited for dryer skiing situations.
Subscribe to our Newsletter