Best Ski Pants
In a
Hurry? Editors choice: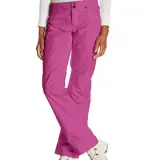 Test Winner: Burton Society

As ski resorts open around the country, and as you begin to get itchy feet in anticipation for the new slope season, it may also mean that it's time for some new
skiing gear
. And while you may not be interested in replacing your full ski ensemble, investing in a crisp new pair of ski pants is never a bad idea.
A good pair of pants for skiing is essential for staying in good spirits on the slopes. Nobody wants to spend their time on a long chairlift shivering in wet, cold pants. Instead, a reliable pair of water-resistant pants will keep your mind off the severe conditions, because you will feel warm, dry, and comfortable.
Depending on what style of skiing you do, what you will look for in a pair of pants differ. If interested in snowboarding check our guide on
snowboarding pants
.
Standout Picks
Criteria Used for Evaluation
Insulation
Skiing in the backcountry involves more time spent trudging through heavy snow than flying down the side of a mountain. Skiing is a cardio exercise that will have you sweating even on a chilly day. For more cardio exercises check our guide on the best treadmills.
Because of this, uninsulated snow pants are the best for backcountry skiing. On truly freezing days, where temperatures dip into the single digits and below, some insulation is a good idea. Make sure that the pants you choose still have breathable fabric and are well ventilated though.
If you will be primarily skiing at resorts, then staying warm on cold chairlift rides is of a more significant concern than breathability. Insulated pants will be a lifesaver on chilly days in December and January, especially if you visit a mountain during peak times when you will most likely spend longs spells waiting in lift lines.
Most insulated pants use synthetic insulation, which is measured in grams. The number listed is a representation of how much a 1 meter by 1-meter piece of that insulation weighs. The higher the number, the warmer the synthetic insulation is.
Breathability
It is overheating while skiing is uncomfortable and can impair performance. It can also be dangerous since wet clothes from sweat can cause hypothermia, pneumonia, and other problems when you become cold again. For more on common ski injuries read our blog.
Ventilation is especially important for backcountry skiers since they may be many miles from civilization when an issue arises. Therefore, any ski pant that is going to be used outside of a resort needs extra vents in the legs.
The larger the vent, the better. Look for ones that are on the outside of the leg, which will release heat more quickly than one's against the thigh. Also, duel vent systems, with one on the inside and outside of the pant leg, gives extra versatility and dramatically increases the airflow throughout the pant.
Additional ventilation is not integral to resort skiing but can be useful if you want to have one pair of snow pants for every type of weather. Small vents on the inner part of the thigh or outside of the leg work just fine to cool down a pair of insulated pants on warm days in bounds.
Fit
More than anything else, the style and fit are a matter of preference. In general, skiing style favors athletic, streamlined cuts that hug the body. However, exceptions exist, such as park skiers, who tend to prefer a baggier look that is similar to the way snowboarders dress. The way winter pants fit can be broken down into slim, medium, and baggy. Well-made pants will look good and have shape no matter what fit they are designed with.
There are a few other variables that can inform the style that you choose. Bib pants are very functional in the snow and can be a good choice if you prefer to ride with a sweatshirt instead of a jacket. The extra protection in the front and back of your torso will keep you warm on days that aren't especially cold. What colors a pant is available it can also be a deciding factor if you can't choose between a couple of different styles. Think about what colors your jackets, sweatshirts, skis, and boots are. You want to make sure the pants you choose will match the rest of your outfit.
Value
When looking for a pair of skiing pants, you will find the price tag varies depending on the pair you are looking at. When looking for a great pair for this winter season, do not be solely swayed by the price tag and do the research by checking the customer reviews to make sure you are getting all the features you are looking for in a pair of pants for skiing. If you just purchase solely on price, you may end up with an expensive pair that will not hold up this winter season.
Subscribe to our Newsletter