Best All Mountain Skis
In a Hurry? Editors choice: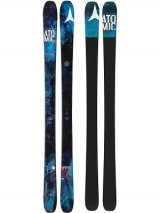 Test Winner: Atomic Vantage Theory

For some,
the first snowfall
brings feelings of nostalgia for warmer days. For others, we realize that the ski season is upon us! There is truly nothing like a day on the slopes. Nothing is better than gliding down the fresh powder with the cool wind blowing your hair back. Actually, ending the day at the chalet for a warm meal and
hot chocolate
afterward is equally as amazing.
Now that you have decided that
skiing is your "thing,"
it's time to quit renting and invest in a pair of your own all mountain skis. Not only will this save you money, but you'll also feel more comfortable and confident in your skis with your personal style. Choosing the best pair for you can be a daunting process. Enjoy our heavily researched list that will drastically narrow things down for you.
Standout Picks
Criteria Used for Evaluation
Materials
Core
All-mountain skis come with one of three core types: wood, foam or composite. Each type has differences in cost, durability, liveliness and vibration damping.
Wood cores are highly prized for their ability to store and release energy between the trail and the skier. Furthermore, it imparts more "dampness" than other materials, which contributes to a stable feel. Foam core quality and cost varies between manufacturers and between ski models. None of them provide the damping and "pop" that wood cores do. Composite cores use a combination of fabric and epoxy and sometimes wood. Usually, the fabric is fiberglass, but carbon fibers and Kevlar are utilized too. Heat and pressure form the core and cure the epoxy. In general, composite cores provide adequate stiffness. Fiberglass cores are the least expensive but also the heaviest. Look out for all-mountain skis that tout carbon, Kevlar or aramid fibers, however, as sometimes the amount used is only enough to improve marketing hype.
Base
Every all-mountain ski maker uses ultra-high-molecular-weight polyethylene for their ski base. UHMW-PE comes in either extruded or sintered form. Sintered is preferred for improved wax hold. The most important characteristic for would-be ski purchasers is the base thickness. Thicker, harder bases resist tears, are easier to re-finish but add weight.
Top Sheet
The top sheet's function is to keep out water and support the application of graphics. Some top sheets are clear to show off the core beneath. Top sheet materials can be decorated in several ways including being directly printed on by specialized equipment.
Sidewalls
Sidewalls protect the core and support the edge. They contribute to stiffness, vibration and hold the edge firmly in the turns. Tapered sidewalls reduce weight. Some manufacturers use side caps instead of sidewalls by simply wrapping the top sheet.
This reduces cost but also performance and durability. Sidewalls are made from thermoplastic polyurethane, ABS or UHMW-PE. TPU is the cheapest but also the heaviest material. UHMW-PE is the slipperiest on snow and lightweight.
The Edge
Edges have specially designed teeth that dig into the snow on turns to increase control. They are made from special formulations of tough, ductile steel. These properties vary according to the expected use of the all-mountain ski. Touring skis use thinner, lightweight edges, whereas park skis need tough, heavier edges.
Style
-Frontside Skis are fast and used to make skidded or carved turns on groomers.
-All Mountain Skis are designed to handle all terrain and snow conditions. This name usually applies to skis with a waist width from 85-95mm.
-All Mountain Wide Skis, or Fats, are all-terrain skis with waists in the 95-105mm range. They typically perform well on powder, plow through crud and sail over bumps.
-Freestyle Skis are for skiers that enjoy catching air in parks or on trails. Typically, they have twin tips to allow forward and backward skiing.
-Powder Skis have widths greater than 105mm with plenty of rockers to achieve maximum flotation and stability on deep days.
-Race Skis are simply designed for speed all day long.
-Alpine Touring Skis are very lightweight to accommodate hiking and skiing down fresh snow on non-groomed slopes.
-Skis with bindings are called system skis, whereas those without bindings are referred to as flat skis.
Features
In general, a ski with a short turn radius is more agile but a higher turn radius indicates a faster ski. A smaller waist size contributes to a tighter turn radius, but the overall length and amount of rocker also affect this. A turning radius in the range of 16 to 20m is comfortable for most intermediate to expert skiers.
Stiffness refers to the ease with which you can flex a ski along its length.
This depends on the type of core material used and how composite materials are distributed throughout the downhill ski's length.
There is no hard and fast rule for measuring stiffness, so you have to rely on subjective measures or try skis yourself to ascertain their stiffness.
Camber and rocker are blended in varying proportions in all-mountain skis. Both create arcs along the ski's length in the vertical plane but in opposite directions. Camber is the upward arc along the center that supports the skier's weight. Rocker, sometimes called negative camber, is the upward arc at the tip and tail.
Camber compensates for the weight of the skier in order to maintain even pressure along the length of the edge for improved turn bite. It also contributes to the top of the all-mountain ski as it exits a turn.
Rocker effectively shortens a ski, which decreases turn radius. Full rocker improves flotation on powder and improves performance over crud. In general, look for less rocker if you are mostly skiing on groomed trails and more rocker if you spend more time off-piste or in powder.
Size
Skis range in lengths from 70 cm for kids up to 200 cm for tall adults. The general rule of thumb for length for adults is that the tip should touch the face between the eyebrows and nose. For kids under 6, the length should be no longer than their chin.
The preferred all-mountain ski length depends on other factors such as the sidecut, the amount of camber or rocker, the snow conditions and your level of experience.
Generally, beginning skiers prefer a shorter length because they turn more easily.
Ski weight is a tradeoff between stability and how often you carry your skis and how much weight you want dangling on your legs on the lift.
Sidecut is designated by three numbers in millimeters. These designate the widest part of the tip, the narrowest part under your feet and the widest part of the tail in that order.
Thus, a fat all-mountain ski might have a sidecut of 140/95/126.
Of these, the underfoot width or waist size tells you the kind of snow conditions on which the skis work best. Skis smaller than 95mm are best for on-piste skiing and firm snow.
Wider waists up to 105 mm are called "fats" and work well off-piste in soft snow due to their greater flotation.
Top Ten Pairs of Mountain Skis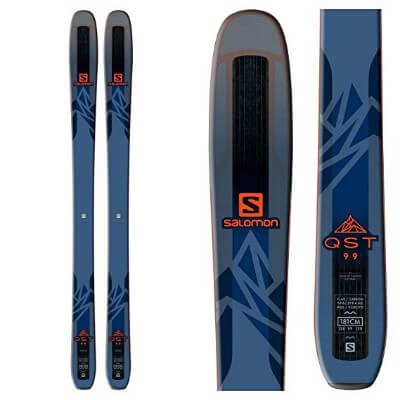 If you are looking for a versatile, free-ride, all-mountain ski, the QST is a great option. Salomon has created a ski that can go anywhere from pow, slush, and hardpack with ease. The 99mm underfoot looks large but has a small feel that carves well. The top-of-the-line materials give these skis a damp feel that is poppy and agile.
Read more
Materials
The Spaceframe wood core extends into the tail of the ski and makes this a super versatile mountain ski. The CFX Superfiber combines carbon stringers with flax fiber that keeps the all-mountain skis lightweight while providing a smooth and damp ride. The titanium power platform provides increased underfoot power for optimal edging in hard snow.
Style
The QST isn't exactly built for beginners, but if you've been in the game for a while and are looking for a great pair to boost your skills and confidence, this is a great set for you. They roll well into turns, function great on piste with long cruising carves, and have a stable feel in the moguls. This free-ride all-mountain ski is incredibly versatile and can go almost anywhere, including hard packed snow.
Features
Light and damp are two of the greatest features of these downhill skis. The 99mm underfoot provides great stability without hindering their versatility. When cruising, the skis feel much smaller than they look and have a great float. The Superframe inverted 3D wood frame has a basalt layer between the core and base to absorb vibration.
The slight rise in the tip and the tail mixed with the camber in the middle gives the snow skis full contact. They easily roll into turns on all terrains with their ABS sidewall construction.
Size
The QST is available in four different sizes, 167, 174, 181, and 188cm. For 174cm, the sidecut measurements are 118/136/99 with a turning radius of 19m.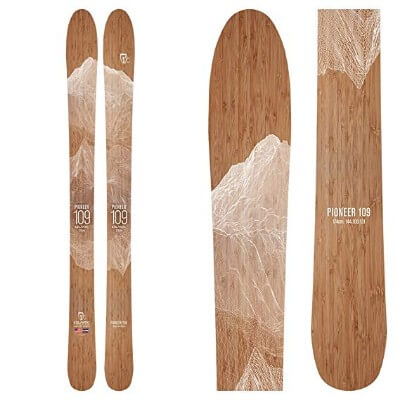 The fattest ski in the All Mountain collection, The Pioneer 109 has become the new favorite of many skiers. It is best suited for high intermediate to advanced skiers and shines in a multitude of conditions. We wouldn't mind if it were a bit more nimble, but it still provides a great edge.
Read more
Materials
The Poplar wood core gives us a strong and reliable board that still has great flex. For optimal carving, it features 2.2mm steel edges. The 109mm waist is quite wide and doesn't allow you to speed down the mountain, but it's by no means a slow ski.
Style
This all-mountain ski is best left to high intermediate to advanced skiers. It is a versatile downhill ski but shines in powder. It's also great off-trail, in crud, and tree-lines. Additionally, if it comes down to it and you have to blaze a groomer, it holds up a good edge but could be more nimble.
Features
This energetic all-mountain ski provides you with quick and snappy turns and tip to tail smearing. The tip and tail are rockered and the underfoot features a 7mm chamber. Even in the deepest pow, you'll be floating on ice thanks to the 109mm waist. The Pioneer is both forgiving and stiff, and not to mention, beautifully designed!
Size
These all-mountain skis are available in three sizes, 174, 182, and 190cm. The sidecut measurements for 182cm are 144/109/131 with a turning radius of 19m.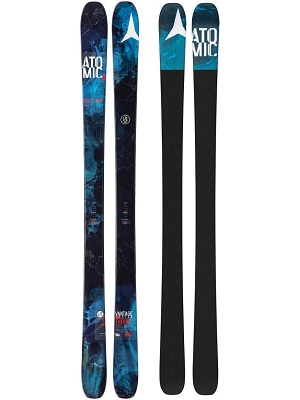 Atomic's Vantage Theory are well-balanced, twin-tip all-mountain skis built to work equally well on- and off-piste. The 95mm waist makes a savvy compromise shines on pow trails and groomers with good float and excellent turn bite. They have a very comfy 18.9m turn radius. The generous tail and tip rocker impart extra stability off the trail.
Read more
Materials
The medium stiffness, camber, and active wood/carbon core make these comfortable on hardpack as well. It does not have the biggest pop out of the curve, but it is definitely tangible and the sidecut produces a nice, tight turn radius with a taut grip. Vibration is never an issue even on the steepest slopes and iciest hardpack. If you are looking for an all-mountain ski in this class with a bit more playfulness, then the Atomic Panic Ski might suit you better.
Style
If you are an intermediate to advanced skier and have been dying to get off-piste into the powder, then Atomic Vantage Theory skis are the perfect tool to accomplish that. They are ideally balanced to perform under all snow and terrain conditions. You will never have to fret whether the slope conditions are going to keep you home on the weekend after you buy these all-mountain skis.
Features
The Atomic Theory is an excellent choice in a highly versatile, well-built and economical snow ski. It gets top scores on groomed trails from intermediate skiers who also want to tackle the deep snowfall days. The rocker on both tail and tip glides right over powder while imparting a powerful, reactive response to the skier, especially when negotiating the trees.
A 70 percent camber underfoot and step-down sidewall ensures full edge digs as you lean into the curves, while the wood core with carbon fiber backbone core damps out chatter at any speed plus adding excellent turn exit rebound. With a medium flex, intermediate skiers will be quite comfortable putting the Vantage Theory skis through their paces. Their easy maneuverability and unsurpassed versatility mean you can take them anywhere there is snow.
Size
The Vantage is available in five different sizes, 149,156,163,170, and 177cm. The 75mm waist is great for hard snow. With a 163cm ski, the sidecut measures 120/75/103.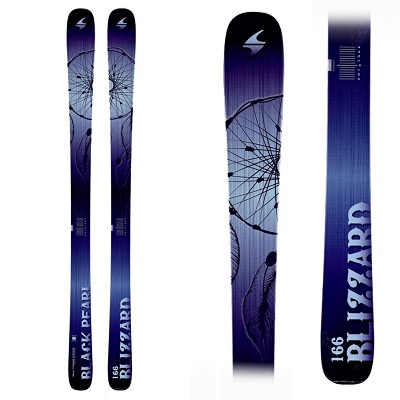 The Black Pearl is by far most versatile ski in the Blizzard women's ski product line. These reward your skill as an intermediate to the expert skier with lightweight, energetic construction, a medium flex, biting turn initiation, and a popping exit. These all-mountain skis live for carving on hardpack, groomers, through crud and even on powder. That is all thanks to the 88mm waist, an early rise tip and plenty of underfoot camber.
Read more
Materials
The Black Pearl core features a tuned core of poplar, beech and ISO wood with a phenomenal strength-to-weight ratio for power on every turn, reduced vibration and firm control. Off-piste it performs admirably thanks to a rocker/camber/rocker profile that floats effortlessly on pow trails. Tapered Sandwich Compound Sidewalls add to these all-mountain skis' impressive torsional stability and improve edge grip. The solid feel, power, and maneuverability of this downhill ski match or exceed anything else on the slopes. These are nothing short of the best intermediate all-mountain skis for women.
Style
If you are a female fanatic planker who prefers the front side of the mountain, then you probably already have a pair of Blizzard Black Pearls. If you do not yet own these snappy skis, they definitely have a place in your quiver. These all-mountain skis are more nimble and latch onto the edge better than any other 88s you will find. Buy these to increase your speed, skill, repertoire and as a complement to your all-mountain powder skis. You will never regret it.
Features
What is wrong with a two-ski quiver? Combine the Blizzard Black Pearls and a pair of Liberty Envys to equip the perfect quiver for performance on any type of snow in any region of the country. The Black Pearls excel at carving and are incredibly quick all-mountain skis through the turns and trees. The all-wood core provides ample rebound and nearly eliminates chatter on icy flats. Buyers of these downhill skis love how they work overall terrains, cut through crud and confidently power over bumps, moguls and rough trails.
Size
These all-mountain skis are available in five different sizes, 145, 152, 159, 166, and 173cm. At size 159cm, the sidecut measures 126/88/110.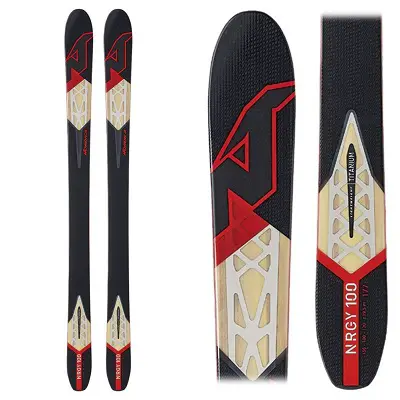 Nordica's All Mountain camRock supplies camber/rocker that snaps into turns and tip rocker for floating over the soft stuff. Flaired tails add maneuverability as you charge through trees or winding trails. NRGy 100s let you take charge of any terrain or snow condition with three-dimensional responsiveness and a stable sidecut.
Read more
Materials
Built around a lively wood/metal laminate core, sintered base, and full sidewalls, the NRGy 100s are ideal on- or off-piste skis with plenty of control and power through turns and on moguls or over the crud. These all-mountain skis feature Nordica's i-Core Torsion Bridge Ti Construction with vertically laminated wood for stiff flex without excessive weight.
Style
Medium to expert skiers find the Nordica NRGy 100s tackle all snow conditions, which makes them the best all mountain skis for any region. They delight through the curves on steep hardpack and float like feathers over less certain terrain and soft snow. If you like to try out different trails or different mountains, the NRGy 100s will not disappoint.
Features
These all-mountain skis get high marks for stability and versatility. They are decent carvers with good edge contact for a solid lean-in bite. They have a comfortable turn radius, high stiffness and solid underfoot camber for a feeling of control with minimal vibration at high speeds. These all-mountain skis excel off-piste through soft snow, powder nuts and gliding over moguls. These will charge through all your moves on the groomed trails with plenty of float off-trail as well.
Size
The NRGy is available in four different sizes, 161, 169, 177, and 185cm. At 177cm, the sidecut measurements are 136/100/120 with a 19.5m turning radius.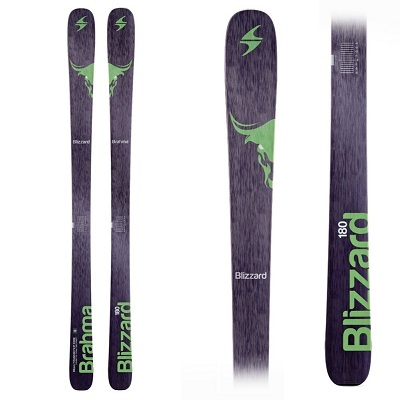 Strong, aggressive skiers love Blizzard's Brahma on the steep slopes, pounding the bumps and blasting through crud. It is an all-mountain ski that loves to carve as it grabs an edge and holds on tight until the exit when it pops like a cork. The rockered tip dives into turns and damps out the chatter on the iciest hardpack. The rockered tail adds smooth maneuverability.
Read more
Materials
Brahma wraps a poplar/beech core with two layers of titanium for bucket loads of power and stability and adds titanium at the binding points as well. The core and a generous camber provide plenty of rebounds and full edge clamp-on. Besides being a hard charger, these all-mountain skis perform quite admirably off-piste as well. It has excellent flotation and dashes nimbly around trees. If you like fast, action-packed skiing, the top-selling Blizzard Brahma is just what you need.
Style
The Brahma is Blizzard's narrow-waist version of the Bonafide, both of which are great skis. The Brahma is the better carver of the two and loves hard snow, although it performs quite well off-piste too. If you are looking to elevate your ski game or are an expert skier looking for more speed, the Blizzard Brahma's speed, pop, and mobility are at your command. These are unbeatable as responsive carvers for all snow conditions.
Features
If you take charge of groomers or powder, there is much to love in the speed, mobility, bite and turn pop the Brahma brings to any slope. It regularly receives top ratings from expert skiers for its superior stability and responsiveness. Although it has a phenomenally solid underfoot and high torsional stiffness, it is very quick on the snow, around the trees, and through the turns. It is probably most at home on hardpack, but the early rise tip and tail rocker floats quite well on powder and trashes the crud. Less skilled skiers might be put off by the stiffness of the dual-jacketed wood core, but if your confidence is high, these are all-mountain you need to take you to the next level.
Size
These all-mountain skis are available in four different sizes, 166, 173, 180, and 187cm. At 180cm, the sidecut measures 127/88/111 with a turning radius of 17m.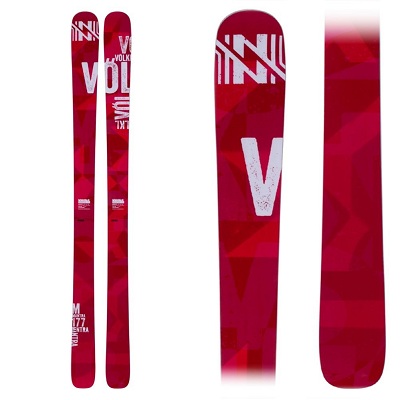 The Völkl Mantra enters their second year on top of the all mountain ski reviews with a slightly wider sidecut and all the great features and technology that won awards last year. The same know-how that goes into Völkl racing skis is also in the Mantra whose conditions profile is 40/60 piste/off-piste.
Read more
Materials
These all-mountain skis feature poplar wood tips and tails plus denser ash underfoot to add stiffness where it counts and for secure binding hold. A top layer of titanium adds the power, stability and torsional flex that high-charging skiers love. A full rocker profile shortens turns, provides full-on edge contact and adds to the Mantra's well-known soft snow capabilities. A super stiff flex makes this a favorite among the strongest, most able skiers on the steepest trails. Whether it is off-trail or hardpack groomers you want to conquer, the Völkl Mantra is the best weapon in the quiver.
Style
The Völkls exhibit a bit of shudder and vibration on well-traveled, hardened piste but it is barely noticeable even on steep slopes. These all-mountain are very stiff skis, by the way, which hard chargers love, but which may put off less confident skiers. Overall, these are an excellent choice for expert skiers who spend more time off-piste than on.
Features
These all-mountain skis are brilliant off-piste, where they float through clouds of pow or damp snow with ease thanks to the full rocker design. That same full rocker with tip and tail taper makes sloughing through turns a breeze. Super hard, iced-over snow will present a challenge compared to narrower waist skis though.
The Volkl Mantras are terrific all mountain wide skis made to tackle snow conditions good and bad. Although it really shines as an off-piste ski, it is versatile enough to behave as a carving ski with great turn latch-on. If you are a hard-charging skier and favor high performance, stability and off-trail versatility, these all-mountain skis are bound to please you.
Size
From 2014 to 2015 Völkl widened the Mantra's waist a couple of millimeters to 100mm. They added full rocker and gave an earlier taper to the tip to improve its float on soft snow and improve its crud-blasting power. Despite the improved off-piste performance, it is still a superb carver. The sidecut width does show up in the 25m turn radius, however.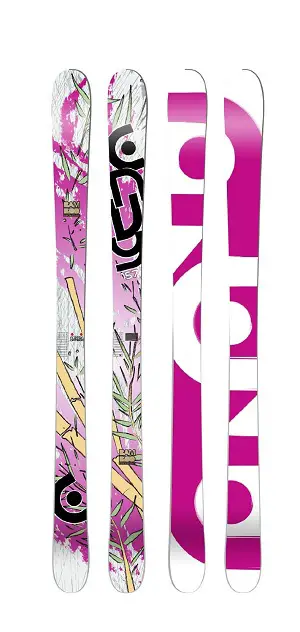 Despite the 105mm waist, built for silky smooth gliding over powder, Liberty Envys provide excellent carving on groomers and hardpack. The Liberty Stealth Rocker features a rockered tip, plenty of camber underfoot and a flat tail that improves floatation and turn entry. Whether you are flying over the moguls or gliding on pow trails, these lightweight and highly responsive downhill skis will please any advanced female skier.
Read more
Materials
Liberty Skis receive tons of buzz for their unique XCore design that utilizes a laminate core of bamboo, paulownia and poplar wood for high energy, durability and weight reduction. You get a firm edge grip with the softer tail and tip and plenty of liveliness from the camber and snap that bamboo provides.
Style
Liberty Envys not only look great but have loads of energy for whatever type of skiing catches your fancy on a particular day. Their eco-friendly and female-friendly materials and design feature lightness, pop and maneuverability with stable, smooth handling. If you are looking for the best all mountain women's skis that reward finesse plus style thrown in, you have found them.
Features
Plenty of pop, an eco-friendly core, smooth gliding over powder and the ability to carve the groomers is what the Liberty Envy skis offer advanced women skiers. At well under 3kg, you hardly know you are wearing them. That 105mm waist does not mean these are only for powder. Liberty's specialized rocker and the snap of bamboo provide plenty of grips and pop through the turns. The bamboo-paulownia-poplar core plus rugged sidewalls and top sheet spell durability. These stand up to ice, chocolate chips, kids and marathon skiing days without complaint.
Size
At 167cm, the sidecut measures 135/105/125 with a turning radius of 19.5m.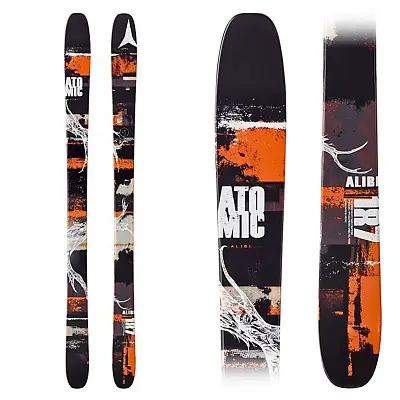 Atomic's new Alibi skis are their top line skis from their Vantage collection. Stability is provided by Atomic's All Mountain Rocker profile and the 98mm waist, which is not so wide to reduce their awesome carving abilities. There are all-terrain, all-snow, all-regions skis that you can take anywhere on the trails and beyond.
Read more
Materials
They feature a titanium backbone inserted into the wood core for a medium to stiff flex pattern and powerful exits out of the turns. These best all mountain twin tip skis are stable and bite firmly on sharp turns with plenty of width to float over the pow trails.
Style
The Atomic Alibi is remarkably nimble and stable underfoot, which you would expect from a 98mm waist, but that does not mean it cannot do its share as a carver. For a mid-fat alpine ski, it has an impressive 18m turn radius. Both tip and tail have a good deal of rocker, which provides plenty of float through the powder but super maneuverability through the trees.
Features
Eastern skiers might prefer an all-mountain ski with zero chatter on icy hardpack, but it is minimal with the Alibi. Otherwise, it can do it all, especially in typical Midwestern and Western snow conditions. If your specialty is off-piste and crud, these all-mountain skis will amaze you, while still yielding good performance on the groomers.
The Alibi is a high-quality ski that performs fantastically under all conditions and overall terrain. It does not carve quite as well as the Atomic Theory, but it more than makes up for that off-piste. Beginner skiers might find it a bit squirrely, but more experienced skiers love the versatility, bite and speed. These planks could absolutely fill out your one-ski quiver.
Size
The Alibi is offered in three sizes, 173, 180, and 187cm. At 180cm, the sidecut measures 132/98/118 with a turning radius of 18m.

10

. Rossignol Experience 75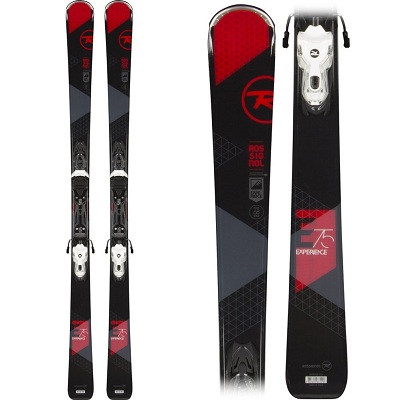 For beginner to intermediate skiers, the Rossignol Experience 75 is all the ski you need to gain confidence and up your abilities on groomers or hardpack. It has a very soft flex, excels in the turns and its full rocker means it performs well off-piste too. It is an excellent downhill ski for progressing from plowing to parallel turns up to carving. The extended sidecut lets more of the edge come into contact as you lean into your turns, especially as your speed increases.
Read more
Materials
Rossignol's Air Tip technology with air-filled honeycombed tips cuts down on the chatter over icy hardpack. The carbon/poplar core is lightweight, comfortable, and strong. The lighter tips along with full rocker make for a shorter edge and high mobility that requires the least effort when initiating turns. The full rocker also means these all-mountain skis float well over crud and powder. Experience 75 skis come with breakaway Rossi Xelium 100 bindings, so they are ready to go at a bargain price.
The under $250 price of the Experience 75s does not include fancy titanium backbones and they use cap sidewalls, but once you have perfected your carving you are going to be moving on anyway, right?
Style
If you are just getting into skiing or have been skiing a while but want to perfect your carving, the Rossignol Experience 75s are an excellent way to get going. These are comfortable, lightweight, soft flex skis made for groomers. The extended sidecut and narrow waist support carving without being overly aggressive.
Features
Their stability is superb, which is a big plus for those skiers still shaky on the trails. It has a responsive, all-wood core with adequate rebound and plenty of rockers to facilitate turn entry and float over powder. Despite these all-mountain skis' relatively short turning radius of 15m, they handle well on larger turns too.
These are just what the doctored order to cure sloughing the turns and starting to take a bite out of them instead. Despite their softness and stability, you will be amazed at how quickly your carving skills progress with these snow skis. They are no slouches over the powder either. Experience 75s come with high-quality, breakaway bindings, which makes them a one-stop buy for your next pair of all-mountain skis.
Size
These all mountain skis are available in five different lengths, 144, 152, 160, 168, and 176cm. At 168cm, the sidecut measures 120/75/110 with a turning radius of 15m.

Subscribe to our Newsletter