Best Snow Shovels
In a Hurry? Editors choice: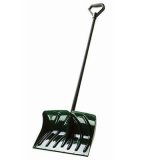 Test Winner: Suncast Combo

Even though winter has come and passed for most of the world, it is never too early to begin shopping for a new snow shovel. Some of you will want to avoid this as you do not want to even think about snow for several months and that is fair. But, when you live in certain areas in the world, you truly never know when a bucket of
snow is going to unexpectedly drop
. Might as well be prepared, right? If you live in an area that has
regular snowfall
, it is essential to always have a snow shovel handy near your front door to prevent literally getting snowed in at times. That is why we've put together this buying guide for snow shovels. Read on to find the right on for you so that you can always be prepared and able to dig yourself out of your winter driveway.
Standout Picks
Criteria Used for Evaluation
Style
When it comes down to it, there are two major design elements that make up a snow shovel and the first one is the handle. But, there are two critical components that make up the handle and the first is the actual grip at the end of it. You have probably accustomed to a snow shovel with a single handle grip and while most sport this design, you will also find some with a handlebar design. Much like a snowblower, this can provide you with additional leverage and comfort. However, if you are investing in a singular handle then you want to pay special attention to the manner in which it is engineered.
To provide extra room for you (to accommodate for gloves in the winter), look for a wide D-grip. Of course, the handle grip should also be comfortable, as well. But, the handle shaft is also important. It is either going to be designed with an ergonomic bent-handle or a traditional straight-handle. The former is made to be more efficient and deliver superior comfort when you are shoveling. Also, you want to ensure the handle is an adequate height and sometimes, the handle will be adjustable.
Effectiveness
The handle of a snow shovel is where it begins for you but it is the blade that is responsible for all the hard work. Without the right blade on a snow shovel, a great handle is not going to do much for you. Without question, the blade is just as important as the handle. Question is, what do you need to look for? First things first assess the width and size of the blade. Is your driveway enormous or is it fairly compact? Clearly, a larger driveway may require a larger blade to save you time in the long run. Next, analyze what the blade is made out of and if it sportswear or metal strip.
Some will be made of tough plastic, while others from aluminum or powder-coated steel. No matter, the important aspect to this is its durability (which will be covered in a minute) which also makes the wear strip important. Finally, not all snow shovel blades are ideal for pushing snow so looking for a versatile blade capable of both lifting and pushing snow with ease is recommended.
Durability
Ironically, both of the previous sections tie directly into this next one. Indeed, the durability of your snow shovel is almost everything. What good would it do if your snow shovel became inoperable in the middle of the winter? But, it is not just the blade that you need to be wary of but also the handle. Firstly, let's assess the blade, though. Going back to what was previously alluded to; the blade can be manufactured with different materials. One could automatically assume that a metal blade is superior to a plastic blade. While metal grades generally are stronger than plastic grades, plastic can still be quite tough and strong. But, the key area where plastic holds an advantage is in its weight as it is typically lighter than metal.
However, no matter how the blade is designed you should always look for a wear strip. Basically, with this integrated, it will provide protection for the blade and prevent wear from surfaces such as gravel and concrete. Once it wears down, you can simply replace it with a new one. As far as the handle goes, you just want to make sure it can handle what you need. Remember, not all will be designed to handle wet and heavy snow.
Portability
This may not be a deal breaker for you but all things considered, it is something to keep in mind. For the most part, snow shovels are not cumbersome and massive pieces of equipment that are impossible to store. Yet, some of them will be designed more compactly than others. As an example, some designers will engineer their snow shovel with a folding mechanism to save you space. In addition, you may even see some designs that can be completely disassembled when you are finished. Besides taking up less room in your garage or shed, this can also be useful if you wanted to keep a snow shovel in your vehicle for emergency situations.
With all that being said, though, it is generally not too difficult to store an assembled snow shovel upright and out of the way.
Top Ten Snow Shovels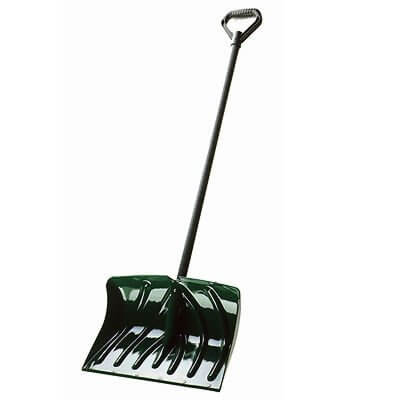 Suncast designed their shovel with a blade that acts as a combo of a traditional snow shovel and a snow pusher. Because of this, the versatility of this shovel is ideal and allows you to adapt to the amount of snowfall you receive.
Read more
Handle Design
While Suncast has a different version of their shovel/pusher combo shovel, this one actually does not have an ergonomic handle. But, it does feature a 37-inch handle with a textured handle grip.
Blade Design
The 20-inch blade has been coated with a non-stick bronze finish and has the functionality of both a traditional snow shovel and a snow pusher.
Durability
With both a galvanized wear strip and a steel core shaft, this snow shovel is built-to-last. As one user pointed out, both of these features are going strong for them after two seasons of use.
Ease of Storage
Although it does not appear as if this shovel folds down for storage, it is a standard snow shovel that you are probably accustomed to. As such, storing it should prove an easy task.
Seller Options
This specific shovel does not have any additional seller options; however, there is any version available that actually integrates an ergonomic handle.
Overall
It is tough to match the durability of this snow shovel but one thing worth noting is some users have expressed their beef with the weight. Simply put, you will be getting a workout with this combo shovel.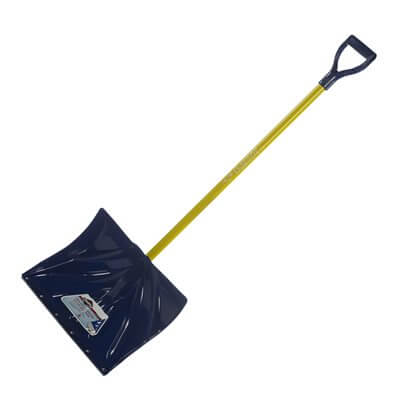 Garant makes another appearance on this list and their more traditional Yukon Snow Shovel deserves some recognition in its own right. Despite some needed improvements in the durability department, its handle design is great.
Read more
Handle Design
One of the better aspects of the Yukon Snow Shovel has got to be its handle. Besides the D-handle which is much appreciated by users, it is designed for fiberglass.
Blade Design
The Yukon's poly blade features extra support ribs on the back of the blade for enhanced stiffness and strength. Additionally, it can act as both a scraper and a shovel.
Durability
One fact is certain; an integrated metal edge would have paid wonders for this blade. Past this, the quality of the steel has been questioned and some have claimed their blade has bent as a result.
Ease of Storage
By itself, the Yukon is fairly easy to store; even though it is a bit excessive in weight. For whatever reason, however, it is shipped with an abnormally large box.
Seller Options
Alright, what if 18 inches, which is the size of this specific blade, is not sufficient? Fair enough and do not fret, as there are additional options for a 21-inch, 24-inch, and 26-inch blade.
Overall
Shoveling snow is not what the Yukon struggles with and it will accomplish what you need it to. Multiple users have griped about the weight, though, claiming it to be excessive. Yet again, expect a workout from this beast.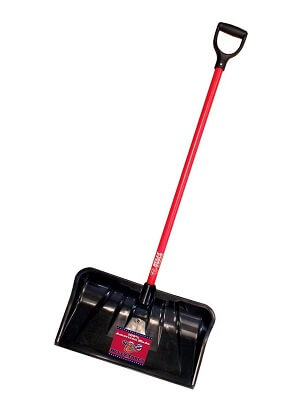 This combination of a snow shovel is probably more up-the-alley of several users. And while the sturdiness is sacrificed a bit to improve the overall durability of the shovel, it is designed to handle the toughest of winters.
Read more
Handle Design
Two design iterations ensure an excellent handle design. First off, the handle grip is engineered with a wide D-grip design and this adds extra room for gloved hands. Then, the long fiberglass handle allows for greater power and maximum control when lifting.
Blade Design
The blade itself is made from a poly and this alone extends its life and maximizes its strength. On top of this, the 22-inch width provides you with an ideal base for picking up snow.
Durability
One thing is for sure, Bully Tools designed their snow shovel to last you a long time. Even though the blade is technically plastic, it is very durable and also features a wear strip to further enhance longevity.
Ease of Storage
If you have owned a traditional snow shovel, then you should be familiar with how this shovel is going to store. It is not too cumbersome to handle and you should be able to find a place in your garage for this.
Seller Options
Much like the previous snow shovel, there are actually no additional seller options available for this design. Given its impressive nature, it is something that can be glanced over.
Overall
In an attempt to maximize the durability, Bully Tools actually ended up sacrificing the sturdiness a bit. Clearly, with its placement on this list, it is not enough to hold this snow shovel back too much.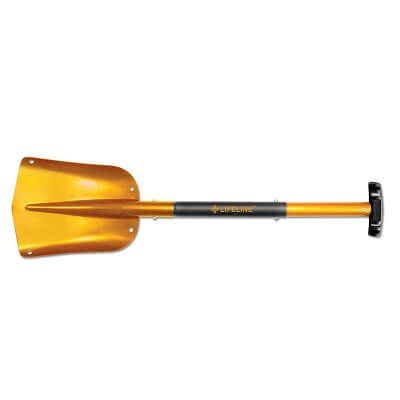 One would think at first glance that this is not a snow shovel. However, it is indeed constructed for this purpose and is entirely made from aluminum for enhanced durability. It does suffer a bit in comfortability; so that is a bit of a downside.
Read more
Handle Design
There is both good and bad news here. The good news is that the handle is adjustable from 25 inches to 32 inches and that it is designed from aluminum. Yet, the bad news is the handle has been reported as being very uncomfortable.
Blade Design
Much like the handle, the blade is also designed from aluminum. However, it is not shaped like a traditional snow shovel and because of this, it may not be ideal for larger areas.
Durability
As one consumer pointed out, the fulcrum point that connects the shovel to the handle tends to warp and bend when you shovel heavier snow.
Ease of Storage
Good luck finding a snow shovel that is more portable and compact than this. Because it can be disassembled into three individual pieces, it can be stored anywhere you can possibly imagine with ease.
Seller Options
The three different color options change the entire design of the shovel as the entirety of the aluminum can be changed to red, blue or gold.
Overall
Let's just be brutally honest for a second, this is not a viable solution for an everyday snow shovel. Instead, if you desired to have a shovel with you at all times this would come in handy due to its portability.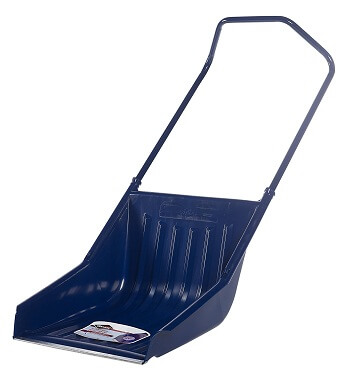 Unlike a typical snow shovel that you may have been using in the past, the Sleigh Shovel from Garant is great for those mornings you wake up to extensive snow. Its design is ideal for larger accumulations of snow and wider driveways.
Read more
Handle Design
To provide a more comfortable experience, Garant designed this sleigh shovel with an ergonomic handle made from steel. This not only aids in comfort but also ensures stability when handling heavier snow.
Blade Design
First off, the extra-large scooper on this shovel enables you to pick up more snow than a traditional snow shovel. Plus, it is made of polyethylene and is reinforced with a galvanized steel wear strip.
Durability
The aforementioned galvanized steel wear strip reinforcement aids tremendously in durability and for the most part, this shovel is very well-built.
Ease of Storage
While it is bigger than a traditional snow shovel, it is still compact enough to be relatively easy to store. But, you will need a decent amount of storage space to work with.
Seller Options
What you see is what you get here so if you are appalled by the color or require a larger blade or different handle, this may not be the right snow shovel for you.
Overall
Even though this ranked number one on this list, it is worth noting it will not be ideal for everybody. Due to its size, it is not optimal to clear steps and enclosed areas. Instead, it is more convenient and useful for large driveways and flat areas.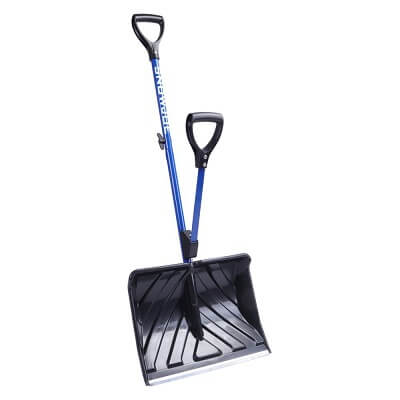 Speaking of a unique design, we now turn to Snow Joe's Shovelution which sports two individual handle grips for better leverage on larger loads. Additionally, due to the spring-loaded design, it creates a much simpler and easier shoveling experience.
Read more
Handle Design
The reason why the spring-loaded design creates an easier experience is that it captures your expended energy when you lift the snow off the shovel and returns it to your next load. It also helps that there are two D-ring handles for enhanced leverage.
Blade Design
Not only is the shovel blade 18 inches in width allowing you to pick up a good amount of snow each time, but it is also designed with heavy-duty plastic.
Durability
This may not be the most durable shovel on the planet but it is far from cheap. The metal strip certainly assists in extending the longevity of the blade.
Ease of Storage
From the get-go, you need to combine the two rods together and in theory, you could disassemble it for storage. During the winter, this will be rather inconvenient and it may suit you best to store it upright.
Seller Options
To add a bit of style to your choice, there are three different color options (blue, red and gray) to choose from. It is worth noting, though, they may have slightly different prices.
Overall
While this is an impressive design as a whole, the handle design is clearly what stands out. Everything is implemented to ensure an easier shoveling experience and that is really all you can ask for.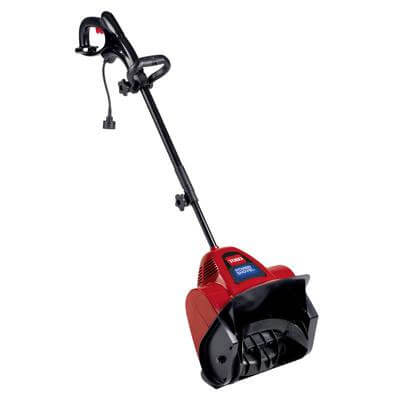 This could be classified as a snowblower, which is clearly not a snow shovel, but it sports a similar design as a snow shovel. Consider this a motorized snow shovel of sorts and if that is what you are into, this delivers the goods.
Read more
Handle Design
Overall, the handling of this power shovel is similar to a weed eater and is simple as a whole. But, what is truly convenient is the handle is adjustable to adapt to your height.
Blade Design
Unlike a normal snow shovel blade, this is motorized and features an inverted funnel, curved rotor, and 7.5 amp motor to efficiently remove the snow from your desired path.
Durability
While the auger is made of plastic, it still remains durable. Yet, one user questioned the metal handle and claimed they were afraid it would break while pushing deep snow.
Ease of Storage
Due to its ultra-compact design, you will not need too much room to store this in either your shed or garage.
Seller Options
Yes, there are additional seller options but the two other variations are literal snow blowers and this is more of a power shovel.
Overall
Some may feel this is a technicality but in reality, this is essentially a motorized snow shovel. A cordless design may have been more convenient but when you need power, this is the way to go.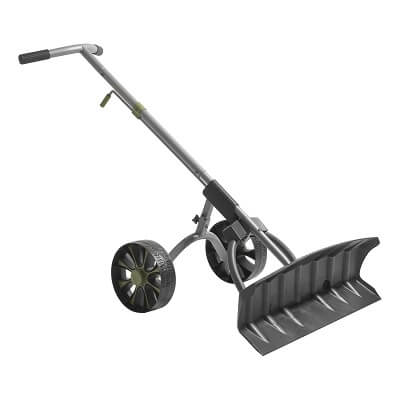 Once again, here is another snow shovel that integrates a set of wheels for an easier experience. While the Power Dynamics SnoDozer is not without its flaws, it is incredibly easy for both men and women to operate it.
Read more
Handle Design
In the same manner as a snowblower, the SnoDozer allows you to stand upright with its two-handed system; which provides you with enhanced leverage.
Blade Design
This blade is rather unique as it is designed with powder-coated steel for longevity and is actually supported but extra-large wheels.
Durability
The blade has certainly not been brought into question in regards to durability but the same can't be said about the wheels and the handle. The support for the wheels is attached merely by a few tack welds and the handle is kind of flimsy.
Ease of Storage
Because the attached wheels do fold up, it is easy to store the SnoDozer in an upright position; saving a decent amount of room in the long run.
Seller Options
Vortex must have thought that their SnoDozer was close to perfect as they did not provide any additional seller options.
Overall
While someone could actually customize their current snow shovel to mimic this design, why not save your time and effort and buy the SnoDozer? No, it is not perfect but all things considered, it is much more convenient than a standard snow shovel.



There are many different variations of True Temper snow shovels and this specific model is their 18-inch ergonomic snow shovel. Besides its fantastic comfort and feel, the blade sports nylon wear strip to extend its life.
Read more
Handle Design
Not all of the shovels from True Temper sport an ergonomic handle but this specific shovel does. In addition to this, there is an oversized D-grip that easily accommodates gloved hands-on freezing mornings.
Blade Design
The 18-inch blade is almost a combination of a pushing snow shovel and a traditional snow shovel. To extend its life, there is an integrated nylon wear strip on the blade.
Durability
One reviewer pointed out that the aforementioned nylon wear strip has not rusted or corroded on them. With this integrated, it protects the blade from damage.
Ease of Storage
Unlike a standard shovel, True Temper designed their model with the ability to fold down for storage. When you have finished shoveling, simply fold this in half and store it away.
Seller Options
This is one of many snow shovels from True Temper. They have several different variations with larger blades, different handle designs and different blade designs altogether.
Overall
On those days where you wake up to around two to three inches of snow, this snow shovel is practically perfect. It may not be as effective picking up heavy and thick snow, but that is to be a bit expected because it is a snow shovel.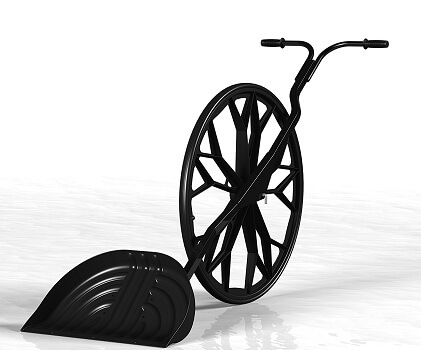 Talk about an impressive and unique design; how about this wheeled snow shovel? As the name indicates, instead of a traditional design, an integrated wheel allows you to easily push the snow out of your path and can be much more efficient and user-friendly.
Read more
Handle Design
Much like a snow blower, this sports a handlebar design and has two textured grips for both of your hands. Overall, it is designed in a way to minimize the risks of back and heart injuries present in snow shoveling.
Blade Design
With the wear strip, the shovel blade is fairly well-built. Even though it is plastic, more-so resembling a tough ABS plastic, it is a high-quality design as a whole.
Durability
Users and reviewers seem to have mixed feedback on durability. Some question the blade because of its plastic while others have experienced excellent longevity from their shovel.
Ease of Storage
The frame on this wheeled shovel is foldable and this significantly aids in storage. Due to the wheel, without this integration storing it would actually be quite the hassle.
Seller Options
What is interesting is there are two different options available. One of them sports the aforementioned foldable frame while the other one does not. Do yourself a favor and go with the foldable version.
Overall
Now, this is the lazy man's shovel. In all seriousness, shoveling snow is something that need not be underestimated as heavy and wet snow can completely destroy your back. If you can't afford a snowblower, this may be your most convenient option.

Subscribe to our Newsletter