Best Snow Broom
In a
Hurry? Editors choice: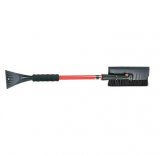 Test Winner: Hopkins Quick-Lock

If you live in a place where the temperature is always
zero
or below zero, probably you are very much acquainted with ice scrapers or a snow broom. These days, there are many tools of various sizes and designs available on the market. Several models even integrate
ice
scrapers to have multiple functions. With the wide array of option available today, choosing the best snow broom can seem like a slightly daunting task. In this buying guide, we will try to narrow down your choices by providing you with ten of the best
snow
brooms of 2019 to ensure you can clean your vehicle with ease and get to where you need to. Each comes with pros and cons so that you can easily match it with your preferences. Check out the product reviews below.
Standout Picks
Criteria Used for Evaluation
Features
The most important criteria when it comes to snow brooms are the handle and the head.
The biggest part of a snow broom is its handle. If you check the products in the market, you will see that different kinds of models have handles with varying sizes and shapes. Preferably, lengthier telescopic handles are better if you plan to utilize the broom to remove the snow or ice on hard to reach areas. This includes the roof or top of trucks, vans, and SUVs.
Curved handles are perfect for short users because their bend allows them to bend it beyond the edges to reach several areas. Handles that are short are more durable and allows you to remove the ice with much force. This type of handle is perfect for areas that are easily accessible like windshields and windows. If you own a van, a truck or an SUV, it is best to choose a long handle. Smaller vehicle owners can use the broom with a shorter handle.
Aside from the length of the handle, it is also important that it should have a good grip. Grips could be made of a soft material like neoprene. Grips that are made of hard plastic materials are usually slippery especially if you have a glove in your hand. Another vital factor that should be given consideration is the lock of the handle. This is especially applicable to long or extended types of handle.
The lock should allow you to automatically lock it in place. Avoid getting a model that entails lining up the locking pins using lock holes. Handles should be sturdy and strong but when collapsed, short be short so you can easily store it away in your vehicle.
The head of the tool is another important criterion that should be given consideration when looking at the details of the design. Several units have heads made of foam while other models contain squeegees and stubble brushes. All of these are crafted to achieve the same thing. That is, to remove the layers of ice or snow from your car. But, their varying designs also give them various advantages.
Style
When you are looking for a snow broom to rid the snow and ice from your vehicle, you need to keep the style in mind. This does not mean that it is colorful and stylish but rather the type of snow broom it is. Is it just an ice scraper? Or just a broom? or maybe both. This is important as depending on the terrain and weather that is common in your area will determine what snow broom you will want to keep an eye on. The nice thing is that snow brooms come in a variety of different shapes, lengths, and styles so you should have no problem finding a snow broom that will work for you and your vehicle.
Accessories
The accessories decide whether the product is an average one, or if it is reliable and will help you through the winter.
Foam Head
This type of head is easy to utilize. Usually, they contain plates that disperse the load on the foam. This allows it to dig deep into the snow with the ease of pushing or pulling it. However, the drawback of this type of head is that they can only be used on smooth surfaces.
Bristle Brush
This type is more flexible compared to the foam heads. A bristle brush can be used to remove the snow from uneven surfaces like in the wipers of the windshield. While this type can be versatile, it can be a little tedious to utilize. This is because you need to press it down really hard and requires you to execute a scrubbing action on several areas.
Squeegees
This type functions like foam heads but they are much lighter. This type is perfect for removing the snow loosened or left by the brush bristles. The option between a foam head and a squeegee will be based on the personal preference of the user. Most of this type of head comes with an ice scraper.
The head of the broom should at least have a bristled side. This side can be utilized for loosening the ice shavings and snow. It should also have a squeegee side to make a fitted seal on the windows and body panels when removing the snow from the vehicle. It should also at least have a plow-like structure for efficient snow pushing. Heads that can be locked at several angles are also ideal. This enables you to maximize your efficiency when plowing. A foldable head is also helpful but it must not become a nuisance with your grip.
Size
These brooms vary in sizes and each is crafted based on the dimension of your car and the level of snow that needs removal.
If you are going to remove a large pile of snow or ice from your vehicle, choose the wider and bigger model. It will allow you to simply remove the snow from the vehicle. Large size brooms are perfect for SUVs or trucks. Bigger brooms with wide brushes and top quality bristles will enable you to accomplish your task faster and easier.
On the other hand, compact or smaller brushes are perfect if you are the type who prefers a more detailed cleaning. While the bigger size brooms can do the job faster, smaller brooms can cover the corners and edges of the vehicle and remove the ice or snow.
Weight
Another considerable factor in choosing a broom is its weight.
You will the tool in your vehicle at a suspended position. If the broom is too heavy, you will easily get tired or will strain your muscle. On the other hand, if it is too light, it might not be efficient enough and might entail you to exert extra effort. In choosing the weight of the broom finds the right balance between the two.
Subscribe to our Newsletter