Best Snow Bikes
In a
Hurry? Editors choice: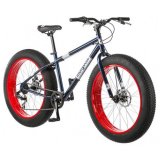 Test Winner: Mongoose Dolomite

Winter is hard. The snow, cold and ice make for an unfortunate trifecta that keeps a lot of us indoors during the winter months. Well, we have good news. It doesn't have to be this way. There are many bike manufacturers who have started to make snow bikes for use during the winter months. These bikes use a wide tire and low air pressure to 'float' on top of terrains such as ice and sand. Now there is no longer an excuse as to why you can't keep
on top of your cycling routine
in the winter months. Let's take a closer look at some of the ten best options for snow bikes on the market today.
Standout Picks
Criteria Used for Evaluation
Value
Snow bikes require an investment but it will really pay off.
It probably doesn't come as a surprise that snow bikes are expensive. These are more of a specialty bike than what you're probably used to seeing being sold at your local Wal-Mart. Most of the time you will need to go to a store that specializes in bicycles in order to find a high-quality snow bike ('high-quality' being the keyword here). That said, we were pretty shocked to find a number of the products that made our top ten list actually fall well below what the average price is for this type of bike. It's not unusual to see products of this nature in the $3000 range but we managed to find the best options available online for around half that price and lower.
You might be asking yourself just why fat-tire bikes cost as much as they do. Well, we touch a lot on the benefits of this particular bicycle throughout our entire buying guide but one of the greatest features of this bike is that it can be used throughout the entire year. This is fantastic for people who love to cycle but have to hang up their bike in the garage during the winter months. Realistically, you are going to get more use out of your snow bike if you are a bit of an adventurer who feels held back by what their road or mountain bike can achieve in certain terrain.
Warranties are another factor to consider as we looked at the overall value of the product. Those who offer warranties or guarantees are always a safer bet.
Size
You should ensure the snow bike you choose is rated to hold your height and weight.
There are a number of factors that play into the 'Size' category here. We didn't only judge the bikes on our list on their physical size and weight, but also on the size that they are rated to carry. We also looked at the size of the tires. These are all important factors to consider as you begin your hunt for the perfect snow bike for you. If you're too large to ride the bike, why would you spend your hard-earned money on it? If the bike is going to be to bike for you, you will be pretty disappointed when it comes in the mail and you have to deal with sending it back. Tire size is important because the wider the tire, the more stability, and traction you're going to get from your bike.
Advanced Features
Many snow bikes are equipped with high-tech features.
There are plenty of special features that the snow bikes on our list can boast and you can rest assured that we have chosen the best options on the market today with only the most beneficial features. Some of the advanced features to look for as you begin to peruse our list are: whether or not the bicycle is electric, USB charging ports for your phones, headlights, gear shifters, handlebar styles and more. Not every option on our list has all of the above features but there are a number of products who offer far more in terms of advanced benefits than others.
Materials
Frame, tire and motor materials all matter when considering a snow bike.
While most of the options on our list are made from a type of aluminum, we still wanted to include a materials section in the criteria because this is something you, as a consumer, should always be watching for. When we talk about materials in this buying guide, we are not only talking about the materials used to construct the frame of the bike but also other sections such as the motor (if applicable) and the tires.
Style
You don't have to choose a one style fits all bicycle anymore.
Manufacturers are starting to slowly realize that when it comes to anything they're creating, there is no one size (or, in this case, style) fits all rule. Not everyone is happy with having just a plain black bike anymore so many of the snow bicycles on our list are actually available in a multitude of different colors. This is a great thing to pay attention to as you begin your hunt for the best snow bike for you because you are then able to choose a bicycle that is available in color and style that appeals to you.
Many of the bike options on our list look like regular old beach cruisers that have just been outfitted with humongous tires. But this rule doesn't apply to all of the bikes on our list. The product in our number one spot, for example, looks like a bike from the future and, even with the tires removed, doesn't really resemble a bike you've seen on the trails before.
Subscribe to our Newsletter