Best Cycling Pants
In a
Hurry? Editors choice: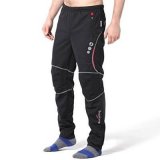 Test Winner: Cycling Windproof Athletic

Like any athlete, being a cyclist means that you have specific needs that need to be met so that you can safely and comfortably enjoy your sport. Not only do you want to feel comfortable on the
bike trails
or roads, but you need to make sure that the pants you are wearing offer you optimal freedom of movement, airflow, warmth, and compression.
Finding the perfect pair of quality pants might seem a bit overwhelming, but not to worry, that is why we are here. We have researched the best cycling pants on the market to ensure that you have a good base when selecting pants to hit the roads or Tour de France with. Check out our list below.
Standout Picks
Criteria Used for Evaluation
Materials
When you're searching around for the best pants, you'll want to take a look at the material. Since pants for cycling are made to be worn when the weather is at its worst, you'll want to make sure you get enough weather protection designed into the materials. So, you want to make sure you get something that can keep you warm and dry, as well as providing plenty of ventilation so that you don't overheat or wind up sitting in your sweat as you ride.
The material becomes essential with these types of pants to help with both weather protection as well as ventilation, and sometimes, this can be a bit of a balancing act. So, you need to make sure that the pants for cycling you decide upon are both waterproof and breathable. Many styles of waterproof pants for cycling are made to be worn over cycling tights or regular pants, and that means you can wind up sweating a lot if you are wearing layers. That's why you need some ventilation.
If your pants don't breathe, then your legs will wind up getting soaked with sweat as you ride, which can be a very miserable experience when the weather outside is freezing. That's certainly an issue you'll want to avoid. The best materials used in pants for cycling will help keep the rain from coming into the interior while pushing water vapor from your perspiration out of the interior of the pants. That means the best pants for cycling are made from materials that offer you plenty of weather protection as well as ventilation.
You want to make sure your pants have some pores in the fabric for ventilation, so that water vapor can escape that way, but are also not so large that rain can trickle into the interior of the pants. Again, if you wind up with pants that can't keep the rain out, you're likely to get soaked with a lot of cold rain, and that can be another miserable experience for you. In addition, you can check our guide on the best rain boots.
Water Resistance
Gore-Tex waterproofing offers you some of the best technology to help your pants keep both the wind and rain out while you are on your bike. Invented in 1978 by the W.L. Gore Corporation, this waterproofing method is considered the best on the market, and it's also more expensive than most other waterproofing techniques used to make pants good at protecting your legs from the weather.
Gore-Tex fabrics give you a fully waterproof type of pants, and many other brands have attempted to create generic versions of this waterproofing technology.
Gore-Tex technology is known to make outdoor garments both breathable and waterproof. While Gore-Tex is not the only company known to do offer great weather protection for outdoor wear, they are the best-known manufacturer, and their brand ensures that the pants you purchase are waterproof, and not just water-resistant.
Fit
Fit is going to be an important thing to consider when you select your pants for cycling. You may wind up layering underneath your pants, so you need to have something that is baggy and offers a relaxed fit. You're probably used to your clothes being form-fitting when you hit your bike, but usually, these pants themselves have to fit a bit baggier since they are made to help you layer.
We've noted what elements of the fit were like for each one of our products, and exactly how the pants fit. Along with fit, we also mentioned the pants that offered the most comfortable feel and even had things like drawcord to help adjust the fit of your pants. Make sure you search around for pants that offer you the ability to easily adjust them, so you always get the best fit.
Also, since the fit can be hard to determine and a matter of personal preference, it's almost always better to go to the store and try your pants on before you decide on them. That way, you'll know you like the fit, and you'll be able to pick the pants that are most comfortable for you.
After all, if they don't fit right, you'll probably never enjoy wearing them, stop using them, and then you'll wind up wasting your money. So, make sure you take a bit of your time to determine the best fit for you, and that way you'll always feel comfortable when you ride your bike.
Features
When we reviewed each one of the products on our list above, we also covered the essential features that each style of pants offered you. Features on each style of pants vary quite a bit from brand to brand, but there are two important features you'll want to consider. First, make sure your pants for cycling are seam-sealed, and second, also check to make sure your pants are easy to get on and off. Other than that, we focused on features that offer conveniences, such as pockets or reflectiveness (click here for a list of reflective jackets). Pockets are always a useful feature, even if the pocket only boasts enough space for a twenty-dollar bill.
The holes from any sewing are sealed with either a fully taped or critically taped approach. If you are in a need of a good sewing kit check this guide. If the pants are fully taped, then you'll see that each seam that's on the pants is taped and sealed, and this offers a lot of weather protection.
If pants are critically taped only, then you'll only see the seams taped in areas that are more prone to weather exposure. If you need full water and wind protection in your pants, then you'll want to focus on getting a pair of pants that are fully taped, and that will prevent any cold air or water from getting into the seam areas. If you live in a very moist climate, then fully taped seams are a must-have to keep you feeling comfortable and warm when you venture outdoors on your bike.
Also, if your pants are too wide at the bottom part of the leg, they might even catch in your chain, and that can create further problems. To make sure you get pants that offer you quality design, make sure you can get them on and off easily and look for the velcro or zippers at the ankles and bottom of the pants legs.
Value
Value is another essential factor to consider when you are purchasing a good pair of pants for cycling. You'll want to get the most for your money, so we've noted the value of each pair of pants we reviewed. Some pants on our list are more expensive than others, and in many cases, that has to do with the durability of the pants and how long they last.
So, if you have the money to invest, you can probably make it go further by purchasing pants that are very durable. If you aren't able to afford pants that are a bit more expensive and more durable, then we've also listed plenty of affordable options that can still work well if you are shopping on a budget.
Typically, when you are getting more affordable pants, you'll be giving up some weather protection features and durability. So, if you are okay with taking that step and do need to save money, then you can still get a decent pair of pants on a budget. We've covered some pants options that are incredibly affordable, so you should be able to make the best choice for yourself.
Subscribe to our Newsletter