Best Base Layers
In a
Hurry? Editors choice: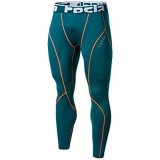 Test Winner: Tsla Thermal

When you're hiking or traveling, layering is a great way to stay warm and comfortable without packing any bulky jackets. In brisk weather, you may be able to get away with only a top or a bottom, but in extreme conditions, you'll be happy to have both. The best base layers will be breathable, comfortable, and easy to wash. Base layers
pack down
to the size of a normal long sleeve shirt but provide much more warmth. Certain styles are good looking enough that you may not even want to hide them. With so many options available, it can be difficult to decipher the good from the bad. Here, we have compiled the best of the best and provided clear and honest reviews of each.
Standout Picks
Criteria Used for Evaluation
Top 10 Picks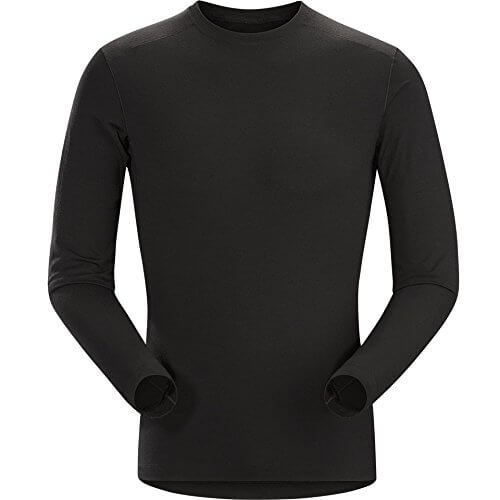 Arcteryx has been known to top a list such as this every now and then, and they are back again. For every single man looking to go on an adventure where weather could play a factor, this base layer is a must-have.
Read more
Materials
The main material of this baselayer is Merino Wool, 81%. The other materials included are 12% Nylon and 7% Elastane. The advanced fabric technology of Nucliex STR 180 wool allows for high-performance protection against the weather. Besides adapting for multiple activities, the nylon core provides the necessary strength and durability.
Comfort
To provide next-to-skin comfort, all the textiles are made from natural fibers. Past this, the long V-neck will keep you extra-warm and the merrow stitching will minimize the amount of chafing against your skin.
Breathability
The materials used in this baselayer work together to absorb sweat and release them quickly, keeping you cool and dry. Made from wool, this fabric has a natural repellent to odor and sweat. After a while, you will need to wash them, but they will not stink up the joint.
Size
You can expect a next-to-skin fit and you can choose between small all the way up to xx-large. For guys, there should be enough colors to satisfy everyone with black, macaw, Vermillion, woad, and Nighthawk available.
Overall
With this base layer, your upper body will be ready for the harshest of conditions. To be honest, the issues present are technically not even issues (more personal preference).

2

. Carhartt Base Force Legging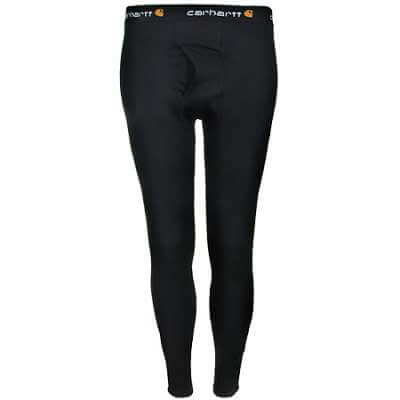 Carhartt is a well-known brand when it comes to clothing catered toward winter conditions and not because they are notorious for bad quality. On the contrary, they always deliver top-notch quality and their Men's Base Force Legging is right up there with anything they have ever made.
Read more
Materials
They are constructed from 9.5-ounce, 100 percent cotton. Besides this being incredibly soft, there is reinforced stitching on all the seams that add an extra amount of durability and strength.
Comfort
The cotton material itself will provide softness, comfortability, and warmth throughout the entire day. However, its design will also keep you dry even when you are sweating in the freezing weather. Also, although a simple addition, the neck label is tagless and will not chafe against your skin.
Breathability
Integrated into this base layer is FastDry technology. What this delivers is an odor-resistant material as it will wick away the sweat from your body.
Size
Carhartt surely accommodates for every guy on the planet as you can select size options from small all the way to 4x-large. Be aware, though, that these leggings tend to fit long.
Overall
Your hard-earned money will be put to excellent use here. What they do so efficiently is keep you warm even in the most extreme weather conditions, but also provide enough comfort to want to wear them all day long.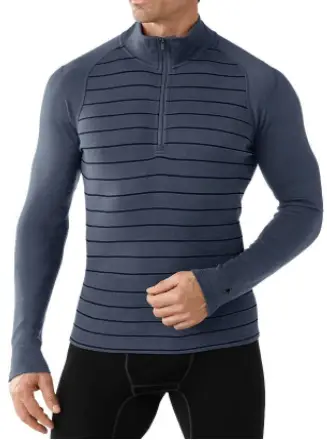 Smartwool is another manufacturer that proves that wool might just be the best fabric possible for base layers. Past this, their Men's NTS Mid 250 Pattern Zip T also delivers a great amount of comfort (past a slight itching issue) and a natural repellent to odors.
Read more
Materials
Indeed, the fabric is 100 percent wool. Being one of the most advanced fibers in the world and being flatlock stitched makes it an article of high-performance clothing that eliminates abrasion. In addition, it has a UPF 50+ rating to protect it against harmful ultraviolet rays.
Comfort
The flatlock stitching not only protects against abrasions but also adds increased comfort and an enhanced fit. Also, the shoulder panels eliminate the need for top shoulder seams which reduces the amount of chafing on your skin. But, the shoulders can be itchy at times.
Breathability
The wool will naturally resist odor to prevent harmful bacteria. Plus, it also wicks away moisture to deliver quick-drying capabilities.
Size
There are plenty of sizes for everyone as you can select from small all the way up to xx-large. Additionally, each guy should be able to find an appropriate color for them with choices of charcoal and black, dark blue steel, olive and bright orange, Moab rust, among others.
Overall
Despite its slight itching issue, there is not too much to harp on with this Zip T. Smartwool knows how to make a terrific base layer, as they understand comfort, design, and fabric.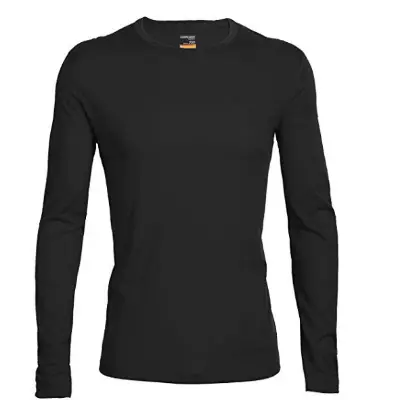 This lightweight base layer is a great addition to any wardrobe. It is easy to pack, soft on the skin, and odor resistant. Whether you plan to use this shirt for traveling, hiking, or running errands, it won't let you down.
Read more
Materials
This long sleeve base layer is made from 200g 100% Merino Wool. It is naturally UV resistant and offers UPF 50 protection.
Comfort
This lightweight baselayer has a slim fit and feels great against the skin. Some people immediately remember that itchy wool Christmas sweater from their Grandma and turn the other way, but wool has come a long way since then. Additionally, the seams of this shirt sit slightly off the shoulders and are flatlock, meaning they won't rub or chafe, even while wearing a backpack.
Breathability
The Oasis will help to keep you warm, but not sweaty. If you do happen to break a sweat, the wool material is innately breathable and will quickly wick away moisture. The material is odor resistant and can be worn for multiple days at a time, without washing.
Size
This shirt is available in a wider range of sizes, from Small to XXXL. For the most part, reviewers agree that it fits true to size. Only a few have had issues with the sleeve length being a bit long. As an added bonus, the shirt is available in over twenty different colors. There really is something for everyone here.
Overall
This is a great base layer that could play a crucial role in each camping trip you take. To ensure its durability, you will want to make sure you follow the directions and wash and dry it correctly.

5

. Smartwool NTS Mid 250 Crew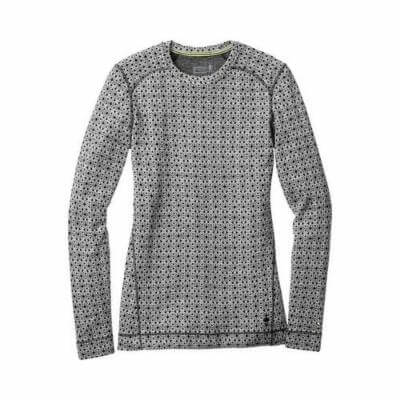 To complete the full ensemble, Smartwool gives women both the bottom and the NTS Mid 250 Pattern Crew top. It shares some of the same properties of the bottoms and for all women in the world, you might as well complete your outfit.
Read more
Materials
Just as the bottoms, the top is made from 100 percent Merino wool. For an enhancing fit, the body seam wraps around the front of the body. But, as you know so well, Merino wool provides the utmost in high-performance clothing.
Comfort
The included shoulder panels eliminate the need for top shoulder seams, while the flatlock seam construction is designed to eliminate the amount of chafing. Both of which, combined with the wool fabric, provide enhance the overall comfort.
Breathability
With its natural resistance to odors, you can wear this top for hours on end without scent becoming an issue. Its wicking moisture technology will also keep your legs dry, hence preventing a gnarly smell.
Size
To accommodate for several women, you can select size options from extra-small all the way up to extra-large. Color options include dogwood white and black, indigo heather, mountain purple, and blue ice, potion pink, and several others.
Overall
This completes the ensemble masterfully, but be aware of the washing instructions. If you do not follow them, you may end up shrinking the material. But, as long as you can follow directions, you will not compromise the quality of this fantastic base layer.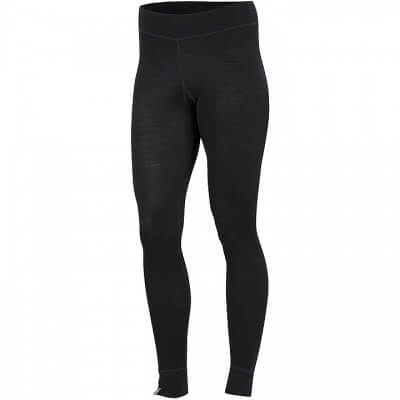 This is yet another pair of women's leggings and while Ibex could have done a slightly better job with the fitting issue, it remains an ideal choice for its terrific odor-resistance and comfort.
Read more
Materials
The fabric is a breathable and lightweight 150 GSM wool. Besides this, most notable is the gusseted crotch that keeps the leggings from splitting.
Comfort
Although it seems simple, the tag-free label is paramount as it prevents unnecessary irritation. Plus, the flatlock seam ensures easier layering for a more comfortable fit. However, after walking for a while they can become a little baggy. For some, this could be an issue.
Breathability
You are already aware of the wool's resistance to odors, but it also properly regulates temperature and provides great breathability by wicking away moisture to allow for long and extended uses.
Size
The choices are available from extra-small to extra-large. Also, take note that it is a form fit with a wide-comfort waistband.
Overall
It is unfortunate that bagginess becomes an issue over time. It does not necessarily hinder these from being a sensational base layer, but it is something to take note of.

7

. Burton Midweight Capri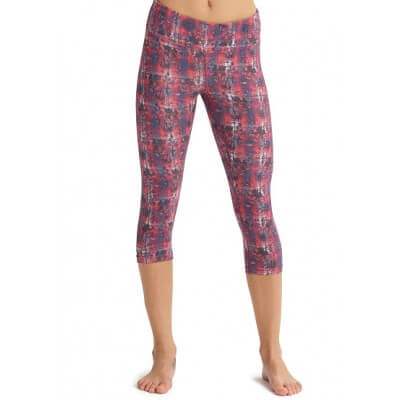 These are a little different than a traditional pair of base layer leggings, as these are capris. No matter, they still work great as a base layer and it is mostly thanks to its all-purpose design.
Read more
Materials
The body is made from 93 percent polyester and 7 percent spandex. With its UPF 50+ Rating, ultra-violet rays will not negatively affect the performance and appeal of the capris.
Comfort
No doubt about it, these capris maximize comfort with all their features. Included with this are the elimination of overlapping fabrics for smooth and chafe-free seams, 360-degree unlimited mobility and four-way stretch for unrestricted mobility, and soft lock seams for extra comfort.
Breathability
This type of DRYRIDE UltraWick fabric will pull away any moisture with their microscopic fibers. With its stink-proof finish, it also will fight away any funky bacteria and prevent the need of you washing it after each use.
Size
Featuring a traditional women's specific contoured waistband, it fits naturally. For sizes, you can select from extra-small to extra-large.
Overall
It really depends on your preference whether you prefer a Capri base layer, but if you do, you may not find a better one than the Midweight pair from Burton. Its high breathability, comfort, and fast-wicking technology all combine to make it a terrific garment.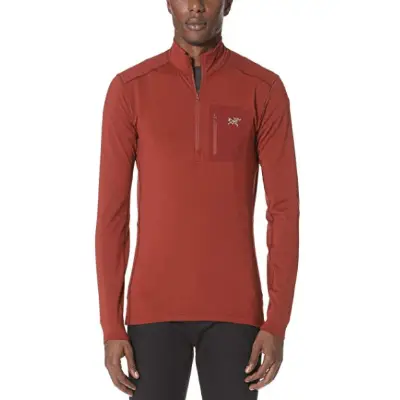 The RHO is slightly different than many of the additions on our list. Instead of using Wool, this base layer is made from Polyester and Elastane. The armpits are gusseted for flexibility and comfort, and the shirt is overall very comfortable. If you have the faith to invest in this shirt, it'll be with you for many years to come.
Read more
Materials
This base layer is slightly different than our other additions. Instead of being made from Merino Wool, this long sleeve is made from Torrent brushed Polyester with 16% Elastane. The combination of these materials gives the shirt a great combination of stretch and heat regulation. The minimalist design helps to keep the jacket lightweight.
Comfort
As long as you are aware ahead of time that this shirt is meant to fit tightly, there should be no gripes with comfort. The underarms are gusseted, providing you with a full range of motion. The seams are flatlock seams, avoiding the possibility of chafing. Additionally, this long sleeve features a laminated chest pocket for easy access to money or keys.
Breathability
The Torrent finish of the polyester allows moisture to be absorbed and released through the shirt. For additional temperature control, there is a deep chest zipper and a high collar. If you need to let off some steam, simply unzip it to your desired length. For odor control, the shirt is finished with Polygiene.
Size
This base layer has a "next to skin fit." Almost all reviewers say that the fit is true to size. It is available in sizes S-XXL and in seven different colors.
Overall
The RHO from Arc'teryx is a great base layer option. Reviewers love the zipper that allows them to control the airflow within the shirt. The addition of a chest zipper also allows you to easily access your most commonly used items, or items that you would like to keep safe.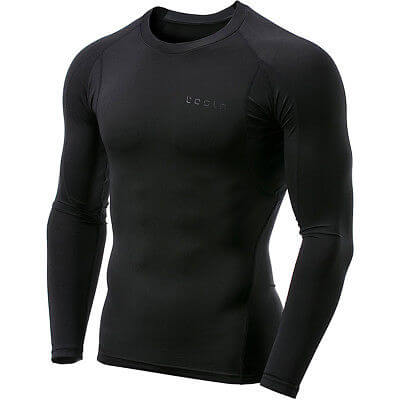 This base layer is one to check out as it offers a variety of features such as quick drying, non-abrasion material, a variety of colors and styles, and looks great. The other bonus with this base layer is the price tag, with an affordable price on this base layer it wouldn't be a bad idea to pick up a couple for your next outdoor adventure.
Read more
Materials
For ultimate comfort and flexibility, this shirt is made from 87% Polyester and 13% Spandex.
Comfort
Being a next-to-skin fit, it provides a superb amount of comfort while also remaining breathable. This shirt is also quick to dry which means that you will never feel uncomfortable from sweat with this base layer.
Breathability
To kill all odors to prevent bacteria from becoming an issue, it has integrated Dry Moisture-Wicking Quick Drying Acclimate technology. Expect only the best moisture-wicking.
Size
Has body form-fitting and is designed to fit close to your skin. As such, you may want to go a size larger. For options, you can select from x-small to 2x-large. Even better, three are a variety of colors and styles. You will not have any problems finding a style for you.
Overall
The only true factor to take note of here is the tight fit, but besides that, expect nothing but pure-quality and comfort with this base layer. Its superior moisture-wicking technology is only the icing on the cake.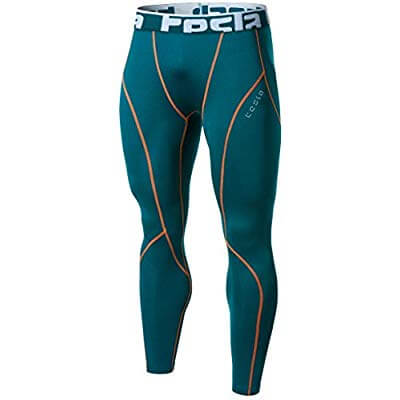 These thermal pants not only come in a variety of colors but also are a great addition to your base layer collection. These pants will keep you dry and warm when the chilly weather starts to hit on your next camping or hiking trip as they have fleece linings and great ventilation.
Read more
Materials
Similar to the TSLA shirt, these leggings are made from 87% Polyester and 13% Spandex. They provide a great range of motion and flexibility. To keep you even warmer, they are lined with fleece.
Comfort
These pants will not only keep you warm during those chilly nights but also feel comfortable. There is plenty of stretch and the interior fleece material feels soft against the skin.
Breathability
Even if you happen to use these for several days in a row without washing, they will maintain their odor-resistant capabilities. The ventilation also allows for the odors to escape while keeping your body heat in.
Size
When looking at sizing for these pants it is best to get a size larger then you are as the sizing can run small. It is designed to fit next to your skin and you can choose from small to xx-large. Although, some sizes may not be available.
Overall
Hard to argue with the results and specifications with these bottoms. There is nothing but pure-quality here and a worthy addition to your next adventure.

Subscribe to our Newsletter