Best Travel Pillows
In a Hurry? Editors choice: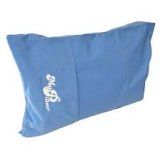 Test Winner: My Pillow Roll N Go

Have you ever been
traveling
and looked over at the car beside you only to see the passenger
sleeping
with their mouth wide open and their neck rolling around like a bobblehead? How about the last plane trip you took? Remember that person next to you who thought you were a pillow? If these people had a good travel
pillow
we wouldn't be comparing these scenarios leaving us with nothing to talk about. If that's the case, you should consider investing in a great pillow to keep your head steady and comfortable during your trip. There are many things to take into consideration when choosing your next travel pillow, and with all the choices out there, you might need some help, that's why we decided to do the research for you and put together a list of the top ten
travel
pillows on the market today, explaining why they are the best of the best.
Standout Picks
Criteria Used for Evaluation
Portability
Nothing could be worse than trying to stuff your pillow away in a hurry as you exit the plane, nor do you want to be trying to get air in an inflatable one while everyone is trying to sleep. For these reasons you need to make sure the pillow is easy to use and there are no complicated instructions to follow. The more portable your travel pillow the better, and while an inflatable pillow is perfect for toting with you, inflatable pillows don't always last as long as traditional pillows do. Be sure it's in working order before you attempt to use it during travel to avoid an unexpected mishap.
Ease of Use
Finally, when it comes to the ease of use, always check the labels for care instructions. It's so easy to slide off a pillow case and throw it in the washing machine, and even some pillows can go in the machine, but others need to be washed by hand. The stuffing could become misshapen or the seams could come apart, so if it says to hand wash only, follow those directions to avoid unnecessary problems with the pillow. If you move your head a lot when you sleep then you will need one that will fasten together by some means. You don't want one that's too bulky because that could cause you to move around more defeating the entire purpose. You will want one with a good grip and traction so that it doesn't slide all over the place every time you move your head.
Features
Features are important to your needs. One thing you want to consider is space. If you're traveling by plane or train the space will probably be limited, so you don't want a pillow that's going to get into someone else's space. Seat placement could be another problem; will you be sitting by a window, in the middle, or will you have an aisle seat? You also want to think about how you will carry your pillow when you're running from terminal to terminal. Of course, travel in a car could be a bit different unless you have limited space there as well. In any case, you need to consider a pillow that will be travel-friendly; one that's not too bulky and will tuck away nicely.
Comfort
When it comes to the comfort from a travel pillow you want to make sure the one you choose has a design that will fit your needs. There are several shapes to choose from; U-shaped and tube pillows are common along with pillows that are designed to support one side of your neck at a time. You will want to check to see what kind of stuffing makes up the inside of the pillow. The most common stuffing is microbead and basic foam, but if you can get a pillow design that contains memory foam that is the best choice you can make. The design on the outside of the pillow is just as important since that's the part that will touch your skin. Velour, plush, and jersey material make excellent covers. Make sure the material won't cause too much heat because that can put a damper on your comfort level.
Top 10 Picks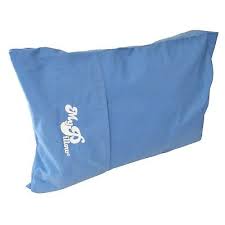 From the first pillow in 2004 to the over 30-million pillows that have been sold as of today, Mike Lindell solved another common problem once again with this ingenious creation of the travel pillow. Filled with comfort and convenience, this pillow will have you resting no matter where you go.
Read more
Design
The My Pillow travel companion is designed with the same great materials and stuffing that is put into the standard My Pillow bed pillow. It's designed to roll up and stuff inside its pillowcase, so you can pack it tight in your bag or carry it under your arm through the airport. The design is perfect to place on top of standard pillows for added comfort, and the many color choices make it easy to match your blanket.
Features
The My Pillow travel pillow offers the same satisfaction as the standard My Pillow and can be used anyplace you need comfort. It's not just ideal for the plane and car but it's the perfect size for the couch. Use it in a chair for lumbar support or use it when you sleep for knee support. You can fluff it up and it won't lose its shape, or you can push the foam to one side to make the perfect fit in small spaces. No matter how you choose to use it, the comfort will always exist.
Ease of Use
Finding a travel pillow that can be packed up tight into a duffle bag isn't always easy, but with this pillow, you won't have that problem; just roll it and stuff it inside its pillowcase making it a cinch to fit in your bag. When you're ready to use it all you have to do is pull it out, place the cover on it, and fluff it up, it doesn't get any easier than that. When you're ready to clean it, just throw it in the wash and it will come out as good as new.
Value
The price on this one is what you would expect from this popular brand name, but it isn't the name that gives it value, it's the comfort and convenience. Another thing to consider is that the pillowcase is included, so that's an extra expense that you don't have to worry about.

2

. in-1 Convertible U-Shaped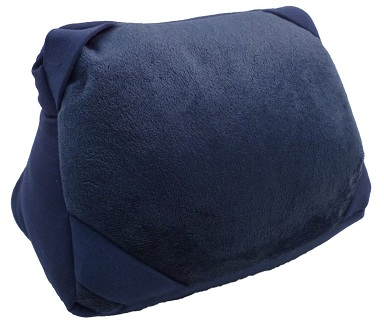 No longer will you have to suffer from discomfort trying to curl up with your iPad, and you won't have to worry about eye strain because it's too close to your face. When It comes to versatility and functionality, this travel pillow earns its place on the top of the list.
Read more
Design
The brilliant design of this pillow will kill two birds with one stone: you can prop it up and hook your iPad onto it using the four corner straps. When you're ready to sleep you can turn it into a "U" shaped pillow and snooze away. It's made of a soft, comfortable fabric that's offered in six different color options.
Features
If you want to lay in bed and read, you can take this convenient companion with you. No longer will you have to prop your book or tablet on your legs, having to readjust every ten minutes trying to get comfortable. The stretch straps keep the iPad in place, so you don't have to worry that it will fall. Use it to watch videos while you're in your recliner and when you're finished, form it into a pillow and go to sleep. Use the pillow while traveling on a plane and when you wake up, you will have an instant reading table. You can use it in a vertical or horizontal position, it will hang from the headrest, and you can store your phone, earbuds, or charger in the convenient storage pocket. It's so versatile and convenient that you won't want to put it down.
Ease of Use
It's so easy to convert from a pillow to a table in a matter of seconds, all you do is unzip it and convert it into a pillow. When you want to make a table, tuck the pillow back inside. You will find it's easy to hold, so your hands won't cramp, and you can throw it in the machine to wash.
Value
Anytime you get two products for the price of one, that's a bargain, and you get added value with this price tag. Think about the money you will save by not having to buy a separate stand for your iPad, and the pain you will alleviate in your neck will save you money in muscle relief aids. So, you can see the value adding up in this phenomenal travel pillow.

3

. BCOZZY Chin Supporting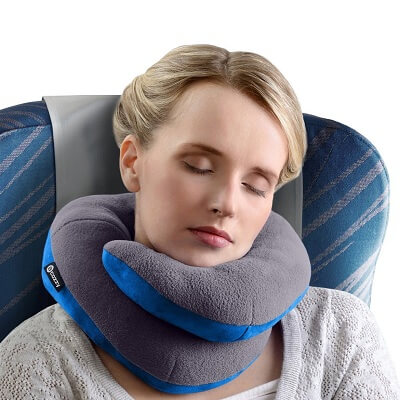 Just when you thought you would never find a travel pillow that would support your cheeks and chin, BCOZZY came along with this one just for you.
Read more
Design
Designed to keep your head steady and your chin in place, this travel pillow wraps around your whole neck to give you the support you really need. It's made so that your chin won't fall forward like it does with some of the others and your cheeks will have that soft comfort and security that you might get from a blanket. It is covered with a fleece material and it comes in so many color choices there is sure to be one, or maybe even two that you like.
Features
It is compact allowing you to stow it away easily in your bag and it is light enough to carry under your arm if you need to. You will find the straps are convenient for wrapping it around your luggage while running from terminal to terminal. Although it doesn't have a way to connect the bottom together, it does stay tucked under the chin quite well. It's so soft and comfortable that you could use this pillow as an extra support on top of your bed pillow, and you would be surprised at how well it will support your older child's head while in the car seat.
Ease of Use
It's easy to use and compact enough to carry anyplace. Wrap it around your neck and tuck it under your chin for the comfort you need while on a long trip. When you're finished it will wash up nicely in the machine and you can store it in your dresser drawer until you need it again.
Value
If it means comfort, then it means value no matter what price you have to pay. No more money wasted spent on the chiropractor simply because you slept wrong. The price is right, and the pillow will solve all your problems, so the value of this one is understandable.

4

. Therm-a-Rest Compressible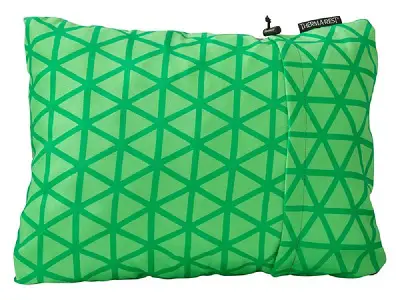 If you're looking for a travel pillow that offers a different size for each occasion, look no further, this one not only gives you your choice of sizes, but you will not be disappointed in the comfort you will get from it either.
Read more
Design
Designed to fit in with any of your activities; you have four different size choices, and the variety of colors give it style with a look of elegance, so you can travel in fashion. It is stuffed with thick foam chips and it provides a soft outer cover.
Features
Different sizes for different things mean you can get a small one for the car or plane, use the medium one for camping, and the larger ones can be used for home or even in the hotel. The smaller one is great for backpacking, but with these, the uses are endless. It rolls up within itself, so you can stuff it in your bag, and its machine washable. This stow and go pillow makes traveling so much better.
Ease of Use
When you want to tuck this pillow away all you have to do is roll it up and store it inside the pouch. Pull the drawstring as tight as you can to make it compact, and when you're ready to use it, unroll it and fluff it up. You will find the best results from the pillow after you machine wash it, but even after it has been in the dryer it will take some time to completely dry.
Value
With this pillow, you have many different size and color options and the pillow tucks into itself, so there is no need to purchase any other accessories. When you take all that into consideration along with the great price, you can see where this one is packed with value.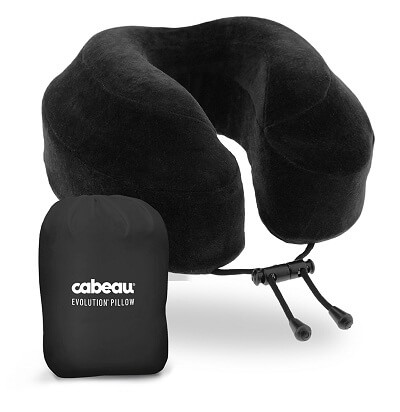 This is probably the best travel pillow you will find to give you the maximum comfort you need while traveling a long distance in the air.
Read more
Design
This unique design has the traditional "U" shape but it gives you a flat back which makes for a comfortable fit on an airplane seat. It is filled with memory foam and with the adjustable string, you can form the pillow to fit perfectly around your chin.
Features
Rest assured you will have no problems finding the comfort you need from the memory foam packed inside this travel pillow. Not only does it feature a flat back for added support, it also offers higher sidewalls than the others to give your face added comfort. Be aware though that the higher sidewalls make it more difficult to use larger headphones, so you will want to consider earbuds for this one. The memory foam does make it a bit hotter than the others and although there is a pocket on the pillow for your cell phone, it will only hold a smaller phone; if you have a larger one you might consider storing your earbuds in the pocket instead. It comes with a convenient storage bag that can be hung from your luggage for easy toting.
Ease of Use
This pillow is simple to use, just pull it out of its bag and its ready. While you're using it, you can adjust it to fit with the string on the front and when you're finished, take off the cover and throw it in the washing machine. It doesn't get any easier than this.
Value
If you're planning a long trip, this pillow is certainly worth every dime spent. The features can't be beat, and knowing you won't be cramped up on a long flight makes value a plus in this travel pillow.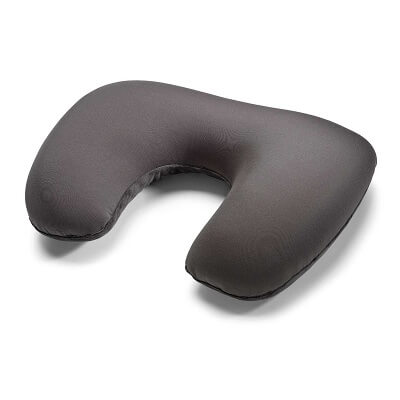 For neck, lumbar, or knee support this one is versatile enough to do it all no matter where you want to use it.
Read more
Design
This pillow is designed to form into a "U" shape to give your neck support while you sleep, or you can magically flip it into a square shape for your lower back or to support your knees when you're in bed. It's filled with tiny beads and one side of the pillow is plush while the other side is soft and smooth. It has a zipper to keep the "U" tucked safely inside when it's not in use.
Features
Although this pillow is soft, it does provide the firm support you need. It is lightweight and even though it might not be as compact as others, it does offer a clip on the "U" part of the pillow for hanging from your luggage or backpack. This pillow is ideal for flying, camping, or even at home. When you're driving you could use the square part for lumbar while your travel companion can use the "U" for neck support. It would make an excellent sleeping bag pillow in either form and if you need an extra pillow for your knees, you will have it right there waiting. It is offered in three color choices, so you and your spouse can each have your own.
Ease of Use
It's simple to convert, all you do is unzip the square part, flip it to form the "U", and rezip it again. Reverse the steps when you want to go back to the square and you're all set. The clip works easily to your bags and it might be best if you wash this pillow by hand.
Value
Knowing this pillow can be used in so many different ways will save you the hassle of carrying many different ones with you, not to mention the money you will save, that says a lot about the value of this travel pillow. Never again will your kids have to fight over the pillow, for the price you will pay for two of these, it would be the same as buying one big pillow.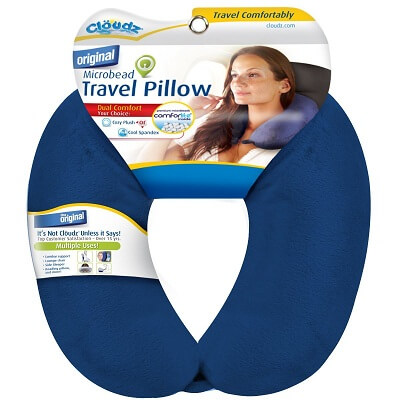 This one is more of the traditional "U" shaped travel pillow and works great on an airplane and in the car.
Read more
Design
Designed in a "U" shape to fit perfectly around your neck, this pillow is stuffed with small microbeads. Its covered in plush on one side and smooth on the other so it will satisfy both, people who get too hot and people who get too cold. It has a snap on the bottom, so it can hook together for added comfort to your chin.
Features
This pillow is sleek enough to convert to a lumbar support and when it's hooked together you can comfortably turn it around to rest your head. It doesn't fold easily to pack in a bag like some, but it will attach to a bag handle or strap. You could easily use this pillow when you go camping, it will work nicely on an airplane, use it on a massage table, or you could keep it on the couch.
Ease of Use
This is a traditional travel pillow that's simple to use. Leave it as it is or simply hook the bottom together for a more secure hold. Since its filled with tiny fibers, you should consider hand washing this one but read the care instructions for best results.
Value
There is a lot of value in a pillow with so much versatility. It's convenient for travel, one side is cooler than the other, and the price is right making this one of the best choices on our list.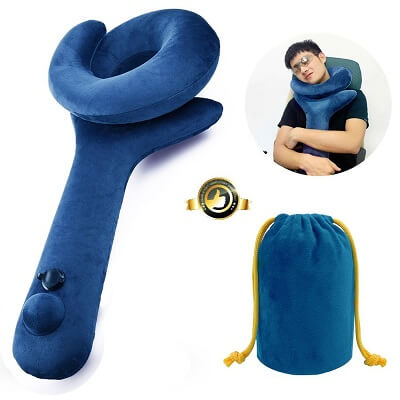 If you are comfortable hugging a pillow while you sleep, then this rare travel pillow will be the perfect companion for you.
Read more
Design
Designed to wrap around your neck to keep your head steady, this pillow can be inflated or deflated to suit your comfort level and will fit down your chest, so you can hug it like a pillow for added security and relaxation. The colors are designed to make dirt less noticeable, and the cover will come off for cleaning.
Features
This soft comfortable inflatable pillow makes a great travel companion through the airports and train depots. You could easily use it to relax while boating, sleeping in the car, or while watching tv. It fits to adjust around your neck for individual comfort and you can rest your arms over the part that covers your chest. It comes with a drawstring bag and can easily fit in your backpack or hang it from your luggage handle.
Ease of Use
The easy push button will have this pillow inflated within seconds and can be adjusted to your firmness. When you're finished using it, just open the cap to deflate. It's easy to mold to your neck and can be removed with ease. The cover can be tossed in the machine for washing.
Value
Comfort is import and that's why this one is so clever, No longer will you have to carry an extra pillow to wrap your arms around, so for this one you can consider it one price for the cost of two pillows, now that's a bargain.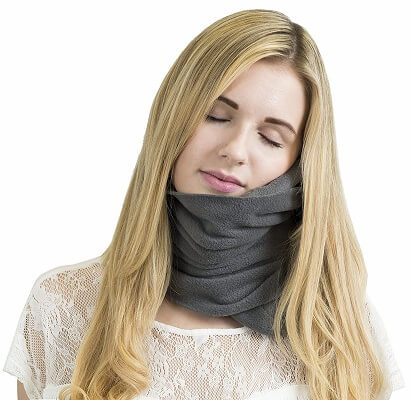 This pillow will not only support your neck, but it will keep you warm too, and the design will even match your clothes.
Read more
Design
This is more like a scarf or light blanket than it is a pillow. The heavy support is much like a neck brace and rests inside the fleece wrap. It is designed to form to either side of your neck or rest it on your chest to keep your head comfortable and secure. It's lightweight and it won't cause you to get overheated.
Features
Not only does this keep your head in place but you can also put it behind your neck to give you more support from the headrest. When you don't want to sleep you can easily use it as a prop for your phone, so you can watch videos or movies. You can conveniently hang it from your bag while traipsing through the airport and it comes in four different color choices, so you can get one to match your clothing.
Ease of Use
This travel pillow is convenient and easy to use, just position it on your neck and wrap it like a scarf. It folds up easily to fit in your luggage and it's machine washable. This is one of the simplest pillows on the list.
Value
The convenience and comfort you get with this one say it all when it comes to value. It will blend in with your clothing and it's easy to carry, what more can we say.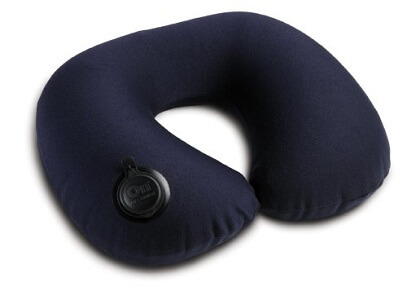 An inflatable pillow is a perfect alternative to a beaded or foam pillow because you can adjust the firmness. If that sounds like something that peaks your interest, then this might just be the one suited for you.
Read more
Design
This inflatable pillow shapes into the standard "U" shape and is made of a high-quality material that won't puncture or leak. It's covered with a comfortable jersey material that will keep you cool. It's designed to inflate or deflate for your desired firmness. The neck doesn't have annoying seams that scratch and cut into your skin.
Features
Traveling has never been easier, not to mention the comfort when you have this pillow in tow. You can use this one for just about any trip you're planning, and you can even use it to substitute your bed pillows if you don't want to use the ones on the bed. It's lightweight, soft, and it folds up compactly into the carrying case.
Ease of Use
This has an easy valve that you blow into and the pillow will be inflated in no time. Just release the valve when you want to let some or all of the air out, it's one of the simplest inflatable pillows to use. When it gets dirty, simply unzip the cover and place it in the washing machine.
Value
This is a good quality inflatable for the low price. It's convenient and easy to carry. The comfort and convenience add to the value of this travel pillow.

Subscribe to our Newsletter