Best Lumbar Pillows
In a Hurry? Editors choice: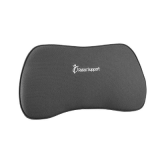 Test Winner: RELAX SUPPORT

If you work in an
office
or do a lot of driving than most likely you spend quite some time sitting. With extensive amounts of
sitting
comes back pain and ill alignment of your posture. We have all been there, after sitting for a couple of hours constantly and needing to get up and stretch as our back is pulsating with pain. The good news is that there is a solution to your back and posture problems and that is a lumbar
pillow
. A lumbar pillow allows you to sit but keeps your posture upright and allows you to feel more comfortable while sitting for hours at a time. Below we have listed the top ten lumbar pillows of 2019 and also explained why these pillows will change your life at the office or while driving on long trips.
Standout Picks
Criteria Used for Evaluation
Effectiveness
What good would a lumbar support pillow be if it could not provide support to your lumbar region? It sounds stupid but means the world here.
At their core, any pillow or cushion you invest in that is designed to help with the lumbar region of your back needs to be effective. If it is not then you are wasting your money. With every single option that was chosen for this list, they are, at the very least, effective. The real question, though, is what makes them effective and what do you need to look for? For starters, pay attention to the main shape of the design. You will want them to be ergonomically designed with a curvature shape in order for them to relieve your back pains and also to promote superior posture when you are sitting.
If any old pillow would do just fine, then you could simply use the one you sleep with and stick it behind your back. It is the shape that is so vitally important. Also, these types of cushions will be specifically fitted to contour to your back. And, while they are not a cure for your back, they can help tremendously because of this.
Comfort
Comfort is absolutely everything in this case as is any cushion or pillow. Really, who wants to sit on a cushion that is too firm and uncomfortable?
Oh boy, is this ever important? Of course, who really wants a cushion or a pillow that is uncomfortable? It all but contradicts the entire design and what it is set out to do. Now, it is important to note that lumbar pillows are designed to provide support for your back and are not necessarily intended to be pillows for sleeping. They still need to be comfortable. Here is how most of them will accomplish this. First and foremost, almost all of them will be designed with memory foam and there are several reasons why.
For starters, memory foam is a durable type of material and has a high enough density to provide you with optimal support and pain relief (especially in high–pressure spots). It also is able to use the heat of your body to form the exact shape of your body. So, your body heat will soften the foam and then it will basically make a mold of your body (and, in this case, the lumbar region of your back). Speaking of heat, you should also look for models that come equipped with 3D breathable mesh covers. These covers will help enhance the air circulation and will prevent your back from overheating.
Features
You do not have to worry about too many design features here but there are a few that are incredibly vital. Especially when it comes to stabilizing the cushion to your chair.
When it comes to the features, there is one critical one that tends to stand above any others when it comes to importance. It is worth noting, for the record, that this will only come into play with back cushions and not seat cushions, though. If you have been reading this entire guide, then you should have a good idea of what this design feature is as it has come up time and time again. It is, of course, the elastic strap. One of the most annoying instances to deal with when you place pillows behind your back is when they constantly need adjusting to stay in place.
With a strap integrated, this pain (for the most part) is eliminated as you can secure the cushion to your chair or seat. Now, we say "for the most part" because some straps will still not stop the cushion from falling all the time. Of course, those with anti-slip back covers also help. Speaking of which, in regard to seat cushions you can look for non-slip bottoms and also built-in handles for transport.
Size
Oh yeah, do not forget about the size. There are many variables you need to take into consideration here, though.
Everything that has been discussed thus far is of the utmost importance, this will not be disputed. But, it is arguable that this right here is the most important consideration you can make. You may be wondering why the physical size of a lumbar pillow is so important but do not overthink it, because this one is easy. First off, you need to choose a cushion that will suit the size of your back. If you are a shorter individual, you may want a thicker cushion. Oh yeah, and speaking of thickness, this comes into play with the type of chair you want to use your pillow with.
For example, if your chair already has padding then you may need a thinner cushion to prevent yourself from sitting too far forward in the chair (which can be uncomfortable). Also, make sure that it is going to fit in your chair, in the first place.
Value
It is never a bad thing to look for sellers that maximize your value. Some will include a back cushion and a seat cushion and this is a nice bonus.
As a consumer, it is only natural for you to desire to get the most out of your purchase. While it is typically never advisable to buy solely based on price (as this can lead to buying cheap items that are really not worth it in the long run), you can look at the items-to-cost ratio here. In other words, some sellers will include multiple cushions (perhaps a lumbar support back cushion and seat cushion) with your purchase and not jack the price up too much. For some of you, you may only require a back lumbar pillow and if so, then you really do not need to worry about this section too much (besides purchasing a high-quality design, in the first place).
OUR TOP PICKS FOR THE BEST LUMBAR PILLOWS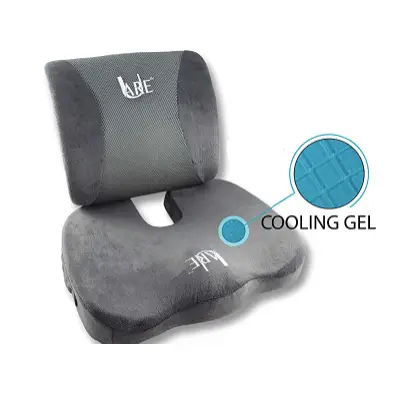 In addition to the breathable mesh that is integrated here, this lumbar support also incorporates heat disbursement gel that will enhance the comfortability of your rear.
Read more
Effectiveness
The key to this design is the cushion never loses its shape (the back cushion) and is able to provide relief for your tailbone and your coccyx.
Comfortability
A number of features attribute to the comfortability of this model including the memory foam, breathable mesh core, and heat disbursement gel.
Design Features
While an elastic strap is included here, one buyer noted that it does feel cheap and that it is easy to stretch it to its limit quickly.
Physical Size
The back support is an absolute beast at 6.6 inches in thickness. For some people, this will simply be too thick to work on office chairs and such.
Value
Let's just say that the value here is almost unmatched. Not only does it come with a lumbar support cushion and a seat cushion but it also comes with a rainproof cover for outdoor use.
Overall
Some modifications to this design would have helped a bit but the value can't be overstated. The addition of the heat disbursement gel is also a nice touch.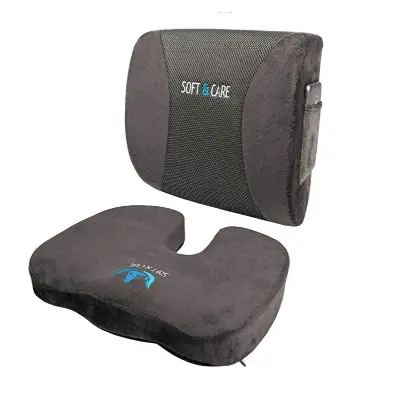 As you can tell, this actually comes with a support pillow and also a seat cushion. The actual lumbar support cushion sports 3D breathable mesh and also 100 percent memory foam.
Read more
Effectiveness
Due to the anatomic shape of this design, it is able to provide decreased pressure on the coccyx and also provide relief from sciatica, tailbone injuries, and herniated discs.
Comfortability
In addition to the natural comfort provided from the 100 percent memory foam, this is also engineered with 3D breathable mesh to prevent overheating.
Design Features
The bottom cushion sports a non-slip bottom and a built-in handle. As for the back cushion, it has an integrated pocket and also two adjustable straps for security.
Physical Size
The dimensions of the coccyx cushion read as follows, 18 inches by 14 inches by three inches. The three-inch depth, in specific, is not too bulky which is nice.
Value
This is a marvelous set of two and even though they are difficult to use together, the fact you get a buttocks cushion and a back cushion is a huge plus.
Overall
While these types of pillows will never be perfect, this may be as close as it gets. The fact that you get two cushions is simply the icing on the cake.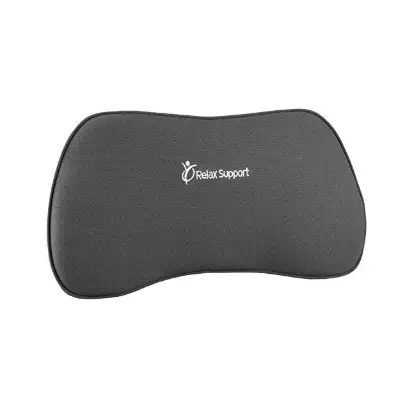 Now, this right here is a one-piece deal. And, most everyone agrees that it is excellent at its designed purpose in life. Of course, some buyers note it is smaller than you think.
Read more
Effectiveness
To provide ideal spine support and an enhanced experience, this is designed with an ergonomic design and a specially optimized curvature structure.
Comfortability
The memory foam itself provides awesome comfort. But, the true sensation here is with the breathable 3D cotton cover as this helps to keep air circulating to prevent overheating.
Design Features
Thanks to the fact that this is equipped with adjustable and removable straps, it can be placed in a multitude of positions as it can be secured to your chair.
Physical Size
Amongst user feedback, it is the general consensus that this is smaller than you may think. For the record, it measures 8.3 inches by 16.5 inches by four inches.
Value
Note that this is not a packaged deal and that it is not the cheapest model out there. Still, the immense quality makes the value dramatically improved.
Overall
In a way, the smaller stature of this model makes it even better as it is not overly bulky and does not make it awkward to sit in your chairs. Plus, its overall design is nearly impeccable.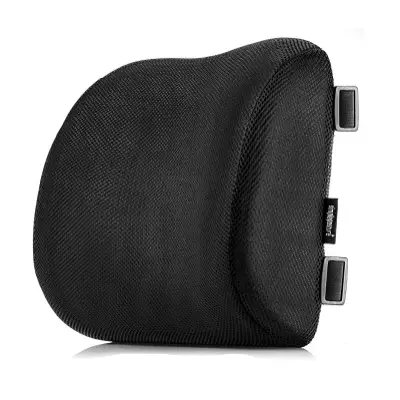 As compared to other designs on the market, this feels very familiar. Is that a bad thing? Well, in this case, we do not believe that this is a bad thing at all.
Read more
Effectiveness
This cushion accomplishes what many on this list do. That is, it helps improve your posture and also provides gentle support to your lower back to relieve pain.
Comfortability
First off, the balance between firmness and softness with this design is superb. But, what also helps the overall comfort is the breathable mesh.
Design Features
While vertical straps may have worked a bit better, it is still nice that double adjustable straps are included. Also, an anti-slip back cover is integrated.
Physical Size
Though this is described as being non-bulky, it can struggle to be in a vehicle. At 15.5 inches by 13 inches by five inches, it could be considered a little large.
Value
What you see is what you get here and that is not necessarily a bad thing. But, just know that all you are receiving is the back lumbar cushion.
Overall
Really, this is no different than many of the other pillows on this list. After all, it provides superb support and comfort but it is a bit thick and does lack exceptional straps.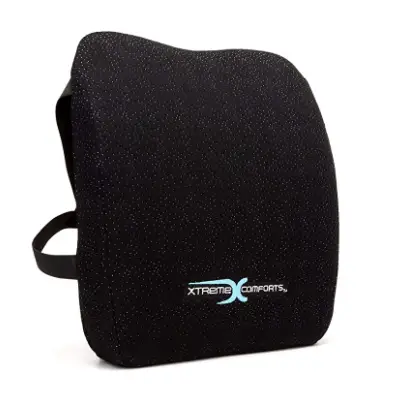 There is just not enough to be said about the quality of this next model here. To be fair, though, the adjustable straps could have been engineered with better quality and consistency.
Read more
Effectiveness
Due to the contoured and ergonomic design of this back support, it is able to promote enhanced spinal alignment, reduced pressure points, and improved blood circulation.
Comfortability
Outside of the 100 percent memory foam construction, this is also equipped with a zippered bamboo cover (that can be removed) to enhance the breathability.
Design Features
Despite the four-point adjustable elastic strap that is integrated, some buyers complain that this can still slide too low and become uncomfortable.
Physical Size
This measures 16 inches by 13 inches by 5.2 inches and is certainly not one of the smaller options on this list.
Value
The overall value comes down to your needs, quite frankly. You can buy this in a pack of two or three if you want and can even add in an additional seat cushion.
Overall
Xtreme Comforts secured a spot in the top three due to the performance of their model. Although, the issue with it sliding down too frequently can be annoying.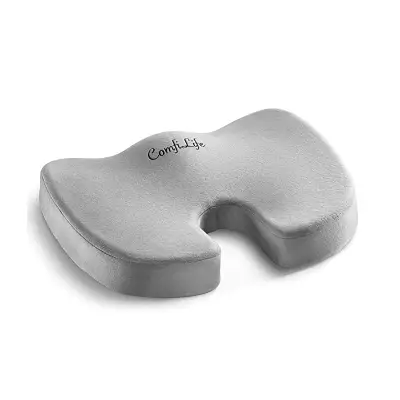 This design is a bit different here. Instead of resting behind your back, this is an actual seat cushion and is ergonomically designed to reduce pressure on your tailbone.
Read more
Effectiveness
Due to the U-shaped design and the ergonomic stature of this cushion, it is able to do wonders for your back pain and can enhance your overall posture.
Comfortability
Interestingly enough, a few buyers noted this could be wider as it can be a bit uncomfortable for certain users. But, few will complain about the 100 percent memory foam composition.
Design Features
No straps are needed with this design and, instead, this is designed with a non-slip rubber bottom and also a built-in handle for transport purposes.
Physical Size
In spite of the fact that some consumers have had issues with the width, the 2.8-inch thickness will be a welcome sight for some of you.
Value
The lone lumbar pillow you receive is worth the investment alone. But, for the record, that is all you receive here.
Overall
All the main complaints about this model are in regard to the size. Well, size is always going to be subjective so this could be the lucky ticket for you.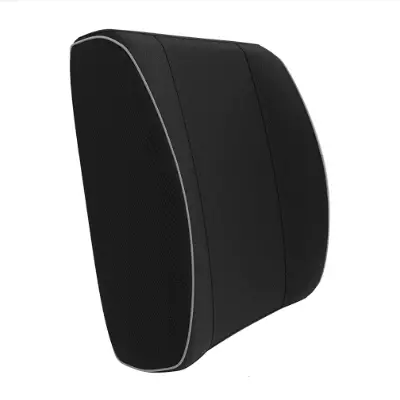 With 100 percent memory foam, a breathable mesh cover to help circulate air and a decently small stature, it is no surprise that this cushion lands so high on this list.
Read more
Effectiveness
You can dub this as a posture corrector as it is going to help to promote healthy spine alignment and also reduce your overall back discomfort.
Comfortability
Two very important features are present to ensure optimal comfortability. The first is 100 percent memory foam that will mold to your back and the other is the breathable mesh cover.
Design Features
The dual elastic straps have been designed into this to provide stability when you need this to stay in place. However, they can struggle to do that at times.
Physical Size
For a car seat, this may be a little too thick at 4.25 inches. But, with a width and height of 13 inches and 12.5 inches, respectively, this is small enough to transport.
Value
With your purchase, you only receive the one back cushion. For the price of admission, however, it is a really good value.
Overall
Slight minor issues aside, this is one of the best in the business here. It is nothing overly fancy but as you are starting to figure out, it does not need to be.

8

. COOP HOME GOODS CUSHION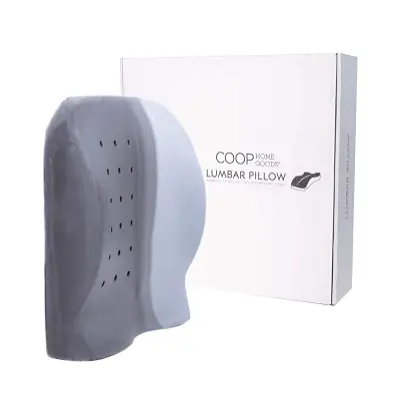 Let's just say that Coop Home Goods really thought about their design. This is because they infused bamboo charcoal in their cushion to prevent it from smelling up the joint.
Read more
Effectiveness
To help both relax and align your spine and posture, this has been designed with a molded frame.
Comfortability
The real point of emphasis here is the bamboo charcoal integration. In addition to the memory foam, this will control the humidity, regulate the temperature, and prevent odors.
Design Features
Though this does come with a strap to avoid constant falling, one buyer noted it broke within the first month.
Physical Size
This is as wide as it is tall and this makes it pretty large. At 16.1 inches by 16 inches (with a 4.9-inch thickness), this is a big boy.
Value
Once again, this is a solo package deal and you are not receiving any additional cushions or items.
Overall
Something as simple as the addition of bamboo charcoal can make all the difference in the world and Coop Home Goods proves that. This alone makes this option very intriguing.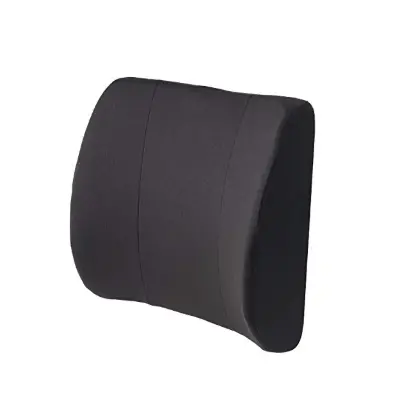 Now, this is an interesting design here. Instead of using memory foam, the Relax-A-Bac uses molded foam. As some users have reported, though, this is much firmer and may be less comfortable as a result.
Read more
Effectiveness
Much like other designs, this has been specifically optimized for back support. It will help reduce slouching and will keep its shape for years to come.
Comfortability
Now, this is molded foam and some users have noted it is not as comfortable as memory foam. Overall, it appears that it is much harder and firmer.
Design Features
One extra feature that is included that you do not see a lot is a wooden lumbar support board (which can be inserted inside for extra support). Also, this comes with an alignment strap.
Physical Size
With dimensions of 14 inches by 13 inches by five inches, some buyers have taken issue with the bulkiness of this design.
Value
For the price, this is an easy recommendation. It is a solo piece but it just so happens to be one of the most affordable options out there.
Overall
The actual foam is what holds this back a bit. For some users, it will simply be too firm to be comfortable. It is all about preference, though, as you may be quite fond of this.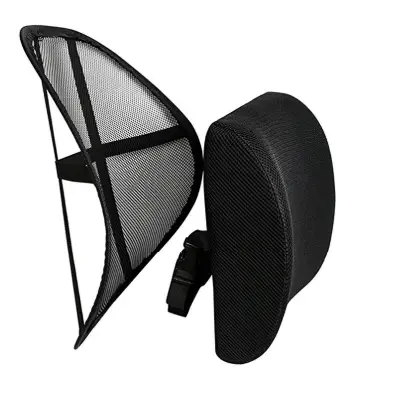 You get two for the price of one here. In addition to the actual lumbar pillow, you also receive a bonus mesh back support. Not a bad value, not bad at all.
Read more
Effectiveness
You know what to expect at this point. This will help to reduce lower back pain and also to maintain better posture while you are sitting.
Comfortability
The combination of the memory foam and the breathable mesh ensure optimal comfort. Then again, the firmness may be a little too extreme here for some users.
Design Features
What is nice is this comes with an elastic strap that can extend from 20 inches to 36 inches. But, it is removable and does not have to be utilized.
Physical Size
This is advertised as being travel-friendly and can easily be taken with you on the go.
Value
With your purchase, you are getting both a lumbar pillow and a mesh back support. Of course, the mesh back support is a bit flimsy.
Overall
While not the best model out there, it will get the job done and at the end of the day, that is the main thing.

Subscribe to our Newsletter