Best Workout Headphones
In a Hurry? Editors choice: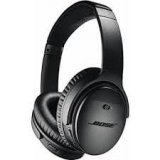 Test Winner: Bose QuietComfort

When working out, there is nothing better than getting focused by listening to your favorite music which will get you in the zone so you can get the best
workout
you can in. Some people like to listen to the general radio that is playing at your gym, but the issue with this is that you have no control over what songs are playing which can interrupt your workout and focus. By having a great pair of headphones, you not only get to choose the music you will listen to but you also can dial into your workout without getting distracted. Now if you are looking for a new pair of headphones, but do not quite know which brand will best fit your
workout
routine or you, the list below will shed some
light
as we have listed the top ten of 2019.
Standout Picks
Criteria Used for Evaluation
Sound Quality
If you are running out in the open, it is highly probable that there are people around you. For this reason, it is necessary to be aware of the surrounding sounds. This way, you will be safe and tuned-in to the surrounding. Even though this might seem unnecessary to you, all kinds of situations could occur and being prepared for them with all of your senses is crucial. Most headphones have sound isolation that does not allow you to hear the surrounding sounds. However, if your workout session is outside it is important to look for workout headphones without sound isolation features.
Overall all of the headphones listed in our guide are great sounding headphones for any budget. Some come with some extra features which make the sound quality better, but overall if you are looking for a set that simply allows you to play your tunes and focus on your workout, than any of the above listed will be perfect for you.
Features
Workout headphones should have a high-quality sound, flexibility, remain stable during your workout. Above all, they should endure harsh weather conditions and of course, be moisture resistant. There are various models of workout headphones and they all have moisture resistant properties. However, the quality of these features varies from one another. Some are able to endure sweat and others could be submerged under water and still retain their properties and features.
Although the most important thing is that they are sweat resistant, workout headphones tend to gather a lot of bacteria. For this reason, it is nice to be able to wash them after each use instead of maintaining them with antibacterial wet tissues.
Comfort
Earbuds are a style of headphones which is most frequently used because they are lightweight. However, most of the earbuds are not as comfortable because they tend to fall out of your ear during your exercise. This makes them unstable and a problem instead of a motivation for your workout. Nevertheless, as with every other model, there are earbuds that fit you perfectly and are as stable as any other headphones model out there. Some of the suggested models have an extension that helps in keeping the earbud in place. In order to fix this common issue, some companies have included foam tips that will make the fitting better, therefore the earbuds more stable.
Another reason why earbuds are the preferred style of workout headphones is that they don't cause pressure to the user if used for longer workout sessions.
Connectivity
When you are working out, you are entering the world of your own thoughts. It is what makes you keep moving and what gets you through the workout session. If you have found yourself in these statements, you won't appreciate being interrupted by the end of your playlist. Stopping when you are on a roll, just for skipping the song or taking a call to your device is proving that the headphones are far from ideal. Instead, it is better to look for workout headphones that have an in-line microphone which will be compatible with your phone and you will be able to take calls through it. This way, you will stay focused on your exercise routine and finish it without needless interruptions.
Top Ten Workout Headphones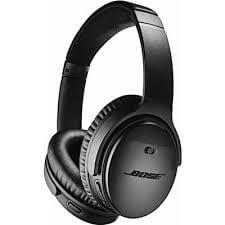 If you have ever listened to any product manufactured by Bose than you know their sound is not only crisp but also is incomparable to any other brand. If you decide to go with these headphones, we can ensure you will not be disappointed.
Read more
Sound Quality
The Bose sound is not comparable and produces a crisp and quality sound.
Features
Not only do you get access to the Bose app to adjust the setting of the headphones, but you also will have access to Alexa where ever you are. This, in turn, gives you the ability to perform a variety of other tasks simply by using your headphones. The battery life on a single charge is 20 hours which is more than enough to get your workout in and some.
Comfort
These headphones do not only look quite stylish but also fit comfortably to the shape of your head and on your ears.
Connectivity
Not only will these headphones to connect to your devices via Bluetooth but they also can connect to Boses' specified app which you can control the setting of your headphones. Some of the settings you can adjust are the noise canceling ability, music sharing, etc.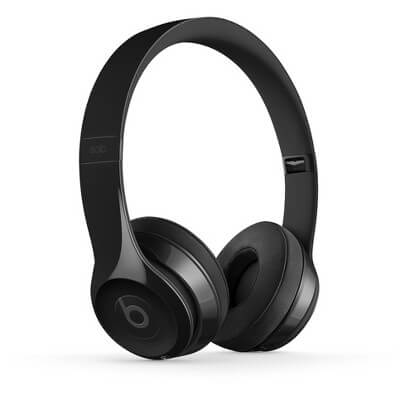 The Beats Solo3 are a very popular brand if you like the over the ear headphone style. Not only is the quality great on these headphones but they stay secure on your head while you get a workout in. The highlight of these headphones is definitely their 40-hour battery life. Check them out, they are worth a listen.
Read more
Sound Quality
The sound quality is great and even though they are quite a bit more than your average pair of headphones, the sound quality is well worth it.
Features
The battery life is fantastic on these pair of headphones, they will last you a total of 40 hours on a single charge.
Comfort
The Beats Solo3 are ergonomically designed and are very stable when being worn. Although for most users they are comfortable, there are those who rather the earbuds.
Connectivity
Even though the casing is made out of plastic they are very reliable. They are also wireless giving you the advantage of getting a workout in and not having to worry about a cord getting in your way.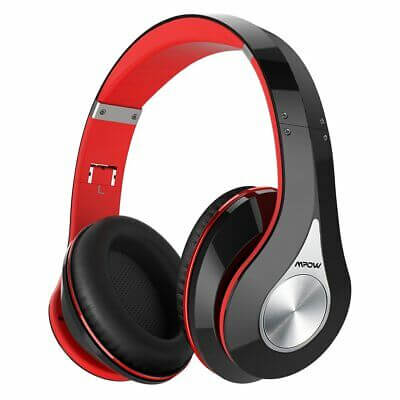 These headphones are not only comfortable and fit great around your head but also produce a high-quality sound so you can focus on your workout and play the music that you want to hear.
Read more
Sound Quality
These headphones produce crips quality sound due to the CSR processing chip. If you are looking for a durable pair of headphones that will produce great sound, then these may be the ones for you.
Features
This set of headphones on a single charge will last 20 hours, which is great if you forget to charge them overnight as they will be good to go for your workout the next day. These headphones also have the ability to connect to your phone for hands-free calling.
Comfort
Thes headphones come with memory phone padded headphones to ensure a comfortable fit on your ears and thus not causing discomfort.
Connectivity
These headphones are not only wireless but also have a wired plugin as a backup in case you are having trouble with the wireless connection. With regards to the wireless connectivity, it connects to your devices through Bluetooth. This is convenient because when you are working out, you can keep your device in your pocket and it will still connect, thus not getting in the way of your workout.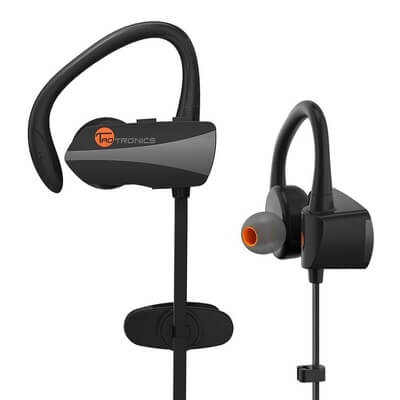 Taotronics brings you a quality pair of Bluetooth headphones that will give you the ability to workout and listen to your tunes comfortably. These earphones are sweat proof as are many of our options on our list of the top ten. These earphones bring a noise canceling feature to ensure you only hear your music and fell the sweat as you get a quality workout in.
Read more
Sound Quality
Even though the design itself feels a bit plastic, the functionality is undeniable. The sound quality it is providing is lower compared to higher-end models, but it is certainly better than competitive models from the same price range.
Features
The battery life on these headphones is great as they have seven hours of battery life to ensure you can listen to your tunes no matter how long your workout. The noise canceling feature is definitely a plus, as it allows you to get a proper workout in and you will not get distracted by outside noises.
Comfort
These headphones are comfortable but not as comfortable as a set that fits over your head and gets that extra support. These headphones also have a wire which can get in your way when working out and make you uncomfortable.
Connectivity
Connects to most devices but the wire that is connected can get into the way. But with regards to connecting to your device, you should have no issue.

5

. Bose SoundSport Wireless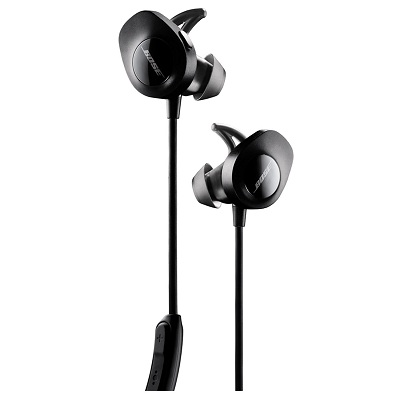 If you need workout headphones without wires to hold you back, Bose Sound Sport is the perfect choice for you. What you need when working out is a consistent sound even when your body is jumping up and down and these sports headphones offer you just that. The audio performance will certainly make you forget about the surroundings and focus on your workout.
Read more
Sound Quality
Usually, the earbuds are placed deep inside your ears in order to prevent the noise from the outside from disturbing you. However, compared to other competitive models, the Bose headphones are placed shallower which is why there is a bit greater sound leakage than similar workout headphones. Nevertheless, this must not be a downside. In some situations, it is nice to be aware of what is happening outside in order to prevent accidents.
Features
Even though they feature an outstanding audio quality, battery life is a bit lower than the JLAbs. The Bose comes with 6-hour battery life, after which you will have to charge for about 1 hour. However, the quality of the battery remains the same for a long time, which is not the case for some of the competitive models.
Like most workout headphones, the Bose is moisture and sweat proof and they have a one year warranty.
Comfort
It is important to mention that their size is a bit larger than your usual headphones that will fall right into your ears. Instead, they are a bit large and if you tend to fall asleep with them, it might be a good idea to look through our other suggestions.
Connectivity
The most useful feature the Bose possess is that you don't have to reach for your device every time you want to change a song or turn up the volume. They come with an NFC pairing that provides the user his wireless freedom. The StayHear tips are specifically designed for greater stability, comfort and unrestricted movements.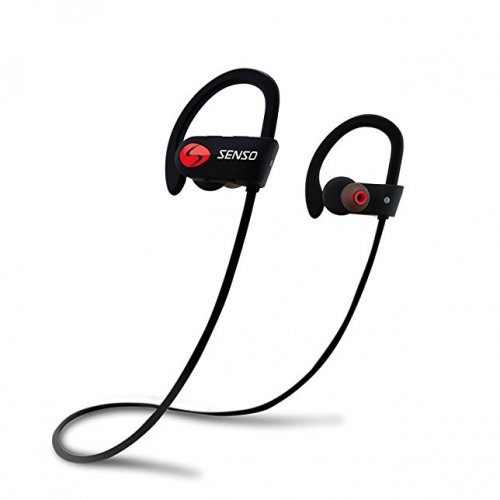 Senso's Active Earbuds are a very popular product, and there is a reason for their success. They aren't just affordable, which is great if you are shopping on a budget, but they also provide a lot of quality to their users. So they make a great pair of earbuds to buy if you are looking for something that will give you everything you want without costing you too much. In fact, these headphones are some of the best selling ones you'll find on Amazon.
Read more
Sound Quality
These headphones also give you great sound, and that's one thing you are going to want and might not expect from a product that doesn't cost too much. They aren't totally perfect, but for their price, they really do give you what you need, especially if you are shopping on a budget. In fact, the sound quality is so good here, these headphones can easily compete with some of the higher-priced sports headphones you'd find on the market today.
Features
These headphones are designed to have a very long battery life, and you'll get music for up to eight hours with this headset. That's an impressive amount of time for a product that won't cost you a lot of money. Also, you'll get 240 hours of standby time as well, and it only takes about an hour and a half to charge them.
Comfort
These headphones are designed to be small and lightweight, and that's a great benefit when you plan to use them during your workouts. You'll also get headphones that won't tangle while you work out since they are designed to be tangle free. Plus, the earpieces are made to stay in place while you are moving so you won't have to worry about the earbuds falling out of your ears while you are active, because if they do then you'll have to stop your workout to get your earbuds back in. While that can be quite annoying, you'll never have to worry about that with these headphones while you are moving.
Connectivity
These headphones also feature Bluetooth 4.1 wireless technology and allow you to hear music from 30 feet away. You'll also get a great set of headphones that comes with noise suppression technology, so you should always be able to hear them. The sound is really great on these headphones and resembles high fidelity sound so that you can hear your music easily.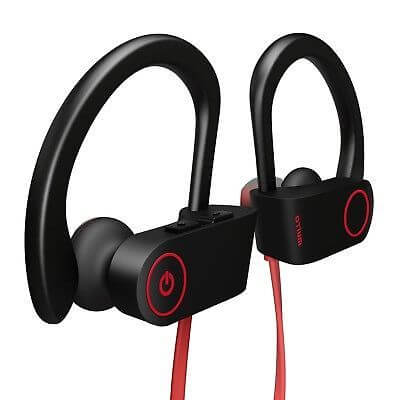 The Otium Wireless headphones are a great pair if you are an avid exerciser. These headphones are wireless using Bluetooth technology and offer a great sound. Definitely, a pair to check out, as they will get you jamming during your next workout.
Read more
Sound Quality
Since this set of headphones use a Bluetooth 4.0 that means the connectivity is crisper and the sound quality will be better.
Features
Otium Wireless has a battery life of 8 hours which is certainly long enough for your workout. In fact, it would come very useful that you don't have to charge them after every workout since you have enough battery for a week worth of exercise. And if you exercise less frequently, you could maybe even squeeze a two-week worth of workouts with just a single charge.
Comfort
There is a reason why there are regular and workout headphones. The main reason for this is because sports headphones are usually sweat resistant and they cannot be damaged by moisture. The Otium Wireless even has a sweat warranty that guarantees that they will last you for a year.
Connectivity
These headphones connect via Bluetooth and should have no problem connecting to any of your Bluetooth devices so you can listen to what you want when you want.



Soundpeats Wireless Earbuds offer you a neat little design opportunity in your earbuds. If you can't stand the way cables often connect to your earphones, then this might be something you want to get. It's a known fact that even most sets of wireless headphones still have a cord that you have to deal with as a connection, mostly between your two earbuds, depending on the design of the headphones.
Read more
Sound Quality
Another thing we don't like is that the sound quality isn't as great as some of the other options on our list, but that's because this set is made to be affordably priced. You aren't going to get great bass or treble when you work out, but they are still efficient enough to get the job done.
Features
The battery life of these headphones is about eight hours, which is pretty decent for their affordable price. That means eight hours of music or eight hours of talking on the phone, depending on what you prefer. However, how loud you play your music can affect the battery life, so if you do tend to play your music loud, the battery life on your headphones might drop to about six hours, and that still isn't bad. You get about 100 hours of standby time, and the headphones themselves charge quickly, usually in about an hour.
Comfort
The entire kit comes with quite a bit, and that's a nice bonus. You'll get 3 pairs of earbud tips so you can pick your size, and 2 other different sizes, one smaller, one larger. You'll be able to find a secure and comfortable fit that way with these earbuds. Plus, the hook in features is helpful to keep you from losing or dropping your earbuds as you are working out. Also, you get a bag to store everything in, which will help prevent you from ever losing anything you need.
Connectivity
However, it is Bluetooth compatible and works with all smartphones, so you'll be able to use them often. These earpieces have hooks on each side of them to help keep them securely in place. So, when you start your work out, you can hook these earbuds to your ears so that they stay in place, and you won't have to worry about stopping your work out in case they fall out of your ears. That is going to save a lot of worry and irritation since it can be very frustrating and de-motivating to stop everything you are doing simply because your earbuds just dropped.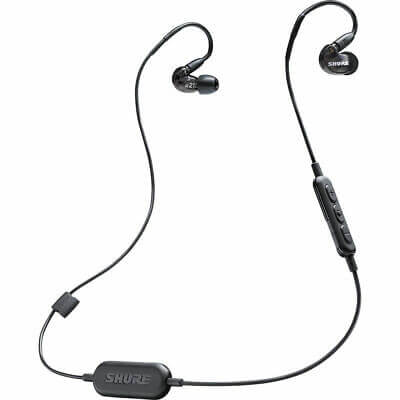 The main advantage of the Shure SE215 Sound headphones is that they provide a high-quality sound for all genres which is quite rare. However, a good sound does not come without great sound isolation. Although this is a great feature for the gym, there are situations where it is important to be aware of the surroundings.
Read more
Sound quality
These headphones produce a great sound, but are quite basic and have no extra sound features that would make them different. Shure does make great sounding quality sound, so if you are looking for something lightweight and smaller that will produce a quality sound, then these may be the headphones for you.
Features
The battery life could last up to 5 hours which is enough for a few days. However, the battery life is quite durable and stable and the quality of the battery remains unchanged after months of using the headphones on a daily basis.
Comfort
The comfort of headphones comes with their stability. If they are constantly falling off, they will interrupt your workout and this is certainly not pleasant. However, it is important to mention that the Shure headphones are not as comfortable for people with really small earbuds since they tend to fall off during the workout.
Connectivity
These headphones will connect via cable and directly into your device. This could be an issue when you are working out as the cable can get in the way. But you do not have to worry about losing or an interrupted connection.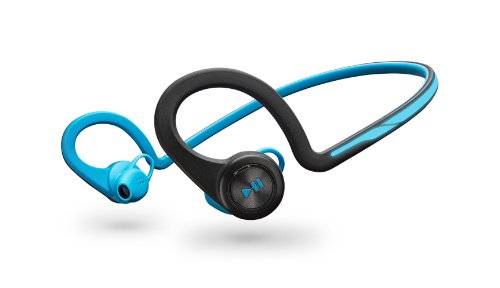 These Plantronics Bluetooth headphones have a more flexible design than other suggested items and they are able to remain stable throughout your entire workout program, regardless of its intensity. They are constructed with nanotechnology which is used in the coating in order to keep the moisture away from the technical parts. This makes them highly reliable and functional in any form of exercise routine.
Read more
Sound Quality
Even though the sound quality is not as impressive as previously reviewed models, they have extra stability and their water-resistant properties are incomparable to any other model on the list. In fact, they have an Ip 57 rating which means that they are able to be submerged under water for 30 minutes and up to 1 meter in depth.
Features
The battery life is not their most impressive feature, although it can last for up to 8 hours.
Comfort
On first sight, they might seem too bulky, but in fact, they are so lightweight that you won't even feel that they are on your head. This makes them perfect for long workout training. However, if you haven't used behind the neck headphones before, it might be a while before you get used to the new feeling.
Connectivity
These headphones do not only connect wirelessly to your devices via Bluetooth but also can be connected to the Plantronics app to change and adjust settings on the headphones.

Subscribe to our Newsletter