Best Workout Headphones
In a
Hurry? Editors choice: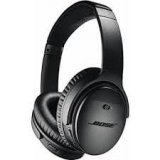 Test Winner: Bose QuietComfort

When working out, there is nothing better than getting focused by listening to your favorite music which will get you in the zone so you can get the best
workout
you can in. Some people like to listen to the general radio that is playing at your gym, but the issue with this is that you have no control over what songs are playing which can interrupt your workout and focus. By having a great pair of headphones, you not only get to choose the music you will listen to but you also can dial into your workout without getting distracted. Now if you are looking for a new pair of headphones, but do not quite know which brand will best fit your
workout
routine or you, the list below will shed some
light
as we have listed the top ten of 2019.
Standout Picks
Criteria Used for Evaluation
Sound Quality
If you are running out in the open, it is highly probable that there are people around you. For this reason, it is necessary to be aware of the surrounding sounds. This way, you will be safe and tuned-in to the surrounding. Even though this might seem unnecessary to you, all kinds of situations could occur and being prepared for them with all of your senses is crucial. Most headphones have sound isolation that does not allow you to hear the surrounding sounds. However, if your workout session is outside it is important to look for workout headphones without sound isolation features.
Overall all of the headphones listed in our guide are great sounding headphones for any budget. Some come with some extra features which make the sound quality better, but overall if you are looking for a set that simply allows you to play your tunes and focus on your workout, than any of the above listed will be perfect for you.
Features
Workout headphones should have a high-quality sound, flexibility, remain stable during your workout. Above all, they should endure harsh weather conditions and of course, be moisture resistant. There are various models of workout headphones and they all have moisture resistant properties. However, the quality of these features varies from one another. Some are able to endure sweat and others could be submerged under water and still retain their properties and features.
Although the most important thing is that they are sweat resistant, workout headphones tend to gather a lot of bacteria. For this reason, it is nice to be able to wash them after each use instead of maintaining them with antibacterial wet tissues.
Comfort
Earbuds are a style of headphones which is most frequently used because they are lightweight. However, most of the earbuds are not as comfortable because they tend to fall out of your ear during your exercise. This makes them unstable and a problem instead of a motivation for your workout. Nevertheless, as with every other model, there are earbuds that fit you perfectly and are as stable as any other headphones model out there. Some of the suggested models have an extension that helps in keeping the earbud in place. In order to fix this common issue, some companies have included foam tips that will make the fitting better, therefore the earbuds more stable.
Another reason why earbuds are the preferred style of workout headphones is that they don't cause pressure to the user if used for longer workout sessions.
Connectivity
When you are working out, you are entering the world of your own thoughts. It is what makes you keep moving and what gets you through the workout session. If you have found yourself in these statements, you won't appreciate being interrupted by the end of your playlist. Stopping when you are on a roll, just for skipping the song or taking a call to your device is proving that the headphones are far from ideal. Instead, it is better to look for workout headphones that have an in-line microphone which will be compatible with your phone and you will be able to take calls through it. This way, you will stay focused on your exercise routine and finish it without needless interruptions.
Top Ten Workout Headphones
Subscribe to our Newsletter