The Best Trail & Fell Running Shoes Reviewed
In a
Hurry? Editors choice: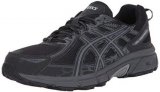 Test Winner: ASICS GEL VENTURE 6

The simplicity and wonder of a run through nature can decrease stress and push people out of their comfort zone. If you are already an avid runner, taking your run off-road is a great way to get more out of your run and enjoy a new experience. The transition from road running to trail running is pretty simple. However, runners need to understand that though some people might say "all you need is a trail", the reality is "all you need is a trail and a great pair of trail running shoes." Having the best pair of trail running shoes will help you get the most out of your run and boost the fun and fitness gains. Luckily, for the off-road runner, there are plenty of great options for trail-specific running shoes, with each having something different to offer.
Standout Picks
Criteria Used for Evaluation
Comfort
This area really has more to do with your own personal preference, as well as your specific feet and what they need as far as comfort is concerned. Most trail shoes, by design, have a decent amount of stability. In most cases that account for the wider splay of the shoe's outsole and tread layout. And, as far as comfort is concerned, many models are cushioned to take the changing surface that is encountered with off-road terrain. Although the dirt, grass, and sand is much softer than pavement or hardtop, you have to take into account exposed tree roots, rocks and the loose surfaces that may have debris underneath.
There are also quite a few minimalists and barefoot type trail runners available. With these, you shouldn't expect much or any cushioning. So, if you are a bit more sensitive to the ground feel, or have foot conditions which require more cushioning and support, it may be wise to stay away from those more minimalistic designs.
Besides fit, other features on a fell running shoe can also dictate how comfortable the shoes will feel each time you put them on. One feature is the level of cushioning you find in the shoe, and how well that cushioning is at absorbing shock to help reduce fatigue and injury. The cushioning system found inside the shoe also needs to be flexible enough to help you out with your range of motion, so that you never feel restricted.
Also, some shoe manufacturers provide extra stability and support in certain areas of the shoe, like in the foot arches as well as the heels and toe boxes. It's important to check out the features your trail running shoes have because having extra support in your arches, heels, and toes can also boost the level of comfort you experience in your shoe. The way to look at it is, do these provide enough stability for the area I want to run? And, will they get me through my entire run comfortably?
Traction
This is a big one for most types of footwear but can make all the difference on the trails or rougher terrain. The obvious visible difference with trail shoes is, often times, the more aggressive tread and outsole. The level of aggressiveness may depend on where you plan to normally run. If you are usually going to a park where the paths are well groomed without any major obstacles, then a less aggressive tread pattern will suit your needs well.
When trail running shoes first came out as a product on the market, they were designed mostly for racing, and many of the designs we find on the market today still have that activity in mind. Most trail running shoes don't have bulky cushioning, but still, provide enough cushioning so that you get effective shock absorption. The reason there isn't an abundance of cushioning on these shoes is that it keeps their weight to a minimum, and also helps runners fell to the ground so they get better balance and stability. Also, most trail running shoes are made with long-term adventures in mind and are built so that they won't create fatigue or restrict your flexibility even if you're outdoors all day long. Since trail running shoes are still manufactured today to provide this closeness to the ground as well as great stability, they also come designed with excellent grip systems to help you handle all types of terrain.
If you want to really push yourself, going for the sections of the forest or hills where the beaten paths end and the challenges begin, Then you will need to choose something that will help keep you upright and attached to the ground. A more rugged and aggressive sole and the tread will then be your best option. For those more challenging areas, a model with deeper lugs and even outward facing treads on the outsole would be something you may want to consider. If you intend on keeping your run focused on clean paths and light trails, all that extra grip is probably overkill. However, it is better to still have something with a bit more traction than a road shoe.
Weight
Weight is another important thing to consider for all types of runners. Do you really want to lug heavy shoes over any type of terrain, no matter if it is easy or technical? Of course not. With the technology that goes into manufacturing new footwear, most options that are currently available will not be super heavy. However, there are still options which are much lighter weight than others. Although newer materials are much lighter these days, the more cushioned models may still weigh a bit more than those with a lower profile design. Lighter is always better, but this can also be left to personal preference. There really aren't too many super heavy runners being made these days, but, as I said, there will always be those which are lighter than others.
When looking for a pair of trail & fell running shoes the best way to ensure that you are getting a pair of lightweight shoes, which would be the best option for trail running as the ground is uneven and there are obstacles that you would not have on the road would be to check the weight of the shoes & the customer reviews if buying online or to go into a store and try the shoes on. By checking the customer reviews you will get an inside look at how these shoes felt on other customers feet and how they felt while they went on their runs. If you can go into a store and try on the shoes, this is always best when looking to invest in footwear as you will get a feel of how these shoes will fit before you purchase.
Durability
Simply put, you want these to last. Trail models can often cost a little more than road models, so you definitely want to get your money's worth out of your purchase. You will see many brands producing runners with abrasion-resistant panels, protective overlays, and even heavier duty laces and proprietary lacing systems. They have to stand up to rough use.
As far as a pair of fell running shoes go, the overall durability will depend much on the materials that are used to create the shoe and the overall design of the shoe as a whole. All of the products we've mentioned on our list are decently durable, but some shoes will last longer than others. When you are deciding what pair of trail running shoes to buy, you don't want to sacrifice too much quality for the price, since most of the shoes on our list are not overly expensive in the first place, while still bringing ample quality and functionality to your outdoor runs. The less quality you find in a shoe, the more affordable it will be, but also, the less durable. The shoe you pick needs to be able to stand up to the particular type of terrain you plan on attacking. This is absolutely a situation where you quite often do get exactly what you pay for.
Top Ten Trail & Fell Running Shoes
Subscribe to our Newsletter