Best Running Vests
In a Hurry? Editors choice: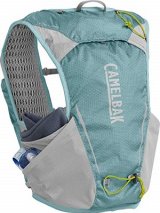 Test Winner: CAMELBAK

Keys? Water? Phone? Reflective item? Money? Check! Ready to run! But where are you going to
store all of these items
? A slightly chilly day, not enough for a jacket but too cold for just a long sleeve. What to wear? Today is the day. You are going to participate in the 5K but do you have enough water to prevent the terrible feeling of dehydration?
ALL of these issues can be solved by a running vest! There are so many versatile options on the market that you can often solve all of these issues with just one garment. Depending on your intended use, some features may seem frivolous to you. However, there are a few features that we can all agree on- it should be comfortable, fit well, be durable, and hopefully incorporate at least a hint of reflectivity.
Standout Picks
Criteria Used for Evaluation
OUR TOP PICKS FOR THE BEST RUNNING VESTS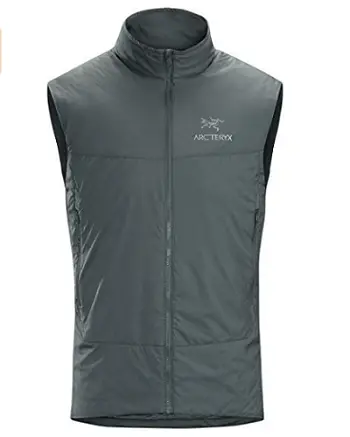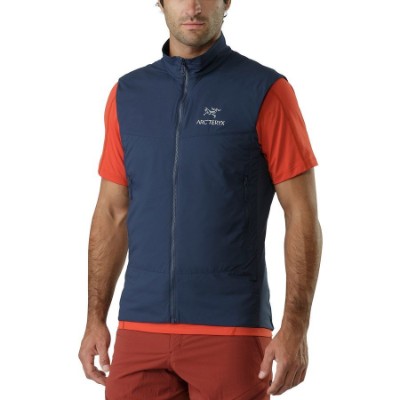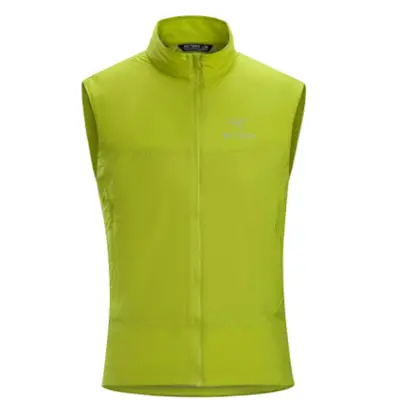 When you talk about high-end models in the world of athletic garments, Arcteryx's name often comes up time and time again. Their Atom SL Vest is a great example of why and it is the best in the business.
Read more
Fit
The trim fit of the Atom SL makes it suitable for both mid layering and also base layering. Additionally, the adjustable hem cord will help to seal out cold drafts.
Comfort
Two main factors contribute to the comfort of the Atom SL. The first is the amazing breathable and moisture-wicking material and the second is the lightweight nature of it. Oh yeah, there are also stretch side panels that help too.
Weather Resistance
Even though this is equipped with synthetic insulation, it is not as heavily insulated as previous Arcteryx garments. That said, it does sport a DWR treatment to repel moisture and also a shell that will block the wind.
Features
There are two pockets integrated here near the midsection. For the record, they are also zippered so you can store essential items safely.
Durability
What really caps this garment off is its shell. It has been alluded to a few times but it is also comprised of heavy-duty nylon (100 percent nylon, as a matter of fact).
Overall
Yes, you are certainly going to pay for this but can't you see how great of an investment this truly is. And, unlike other options, due to the quality, this really is an investment.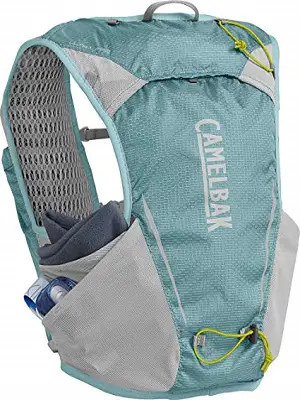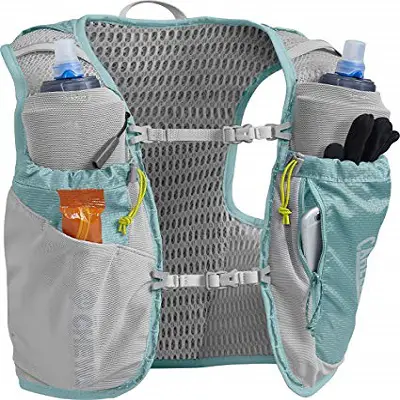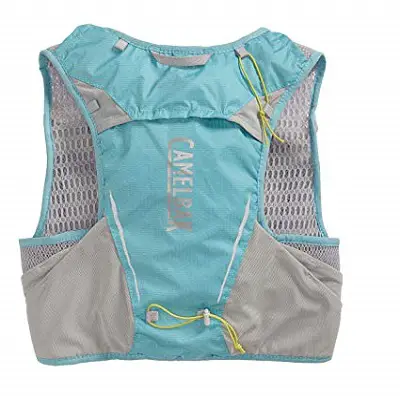 What would this list be without a hydration pack option? This garment from Camelbak is well-known for being comfortable and breathable. It comes with two flasks and has the capacity to fit a 1.5 crux reservoir.
Read more
Fit
Designed for women, this option is available in sizes Extra Small to Large. If you are a man with a smaller frame, there is no reason that this would not work for you as well. Some reviewers have mentioned that it runs slightly small, especially if you are large chested.
Comfort
As long as you are fine with having most of the weight and accessories on the front of your body, this is a very comfortable option. It is lightweight and features incredibly breathable 3D micro mesh ventilation. The shoulder straps are thick and there are two sternum straps.
Weather Resistance
While there is no mention of weather resistance, we can tell you that the 70-denier nylon will provide you with some protection. Nylon is a material that water tends to roll off of unless you get stuck in a rainstorm.
Features
This Camelbak features an abundance of pockets. Some of these pockets are zippered and others are meant for quick-access items. Two 500ml flasks are included and there is room for you to add a 1.5L Crux reservoir. There is built-in reflectivity and a safety whistle as well.
Durability
This product has seemed to withstand tales of time. Reviewers say that it is easily washed and shows no signs of weakness after multiple washes. Camelbak also includes their Got Your Bak Lifetime Guarantee.
Overall
This product is only available in two colors, an aqua sea/silver or Gibraltar navy/silver. While more options would be nice, we still think it's a great option. Some reviewers wish that the weight of the water would be more balanced between the front and back of the body. Either way, this is a comfortable and breathable option.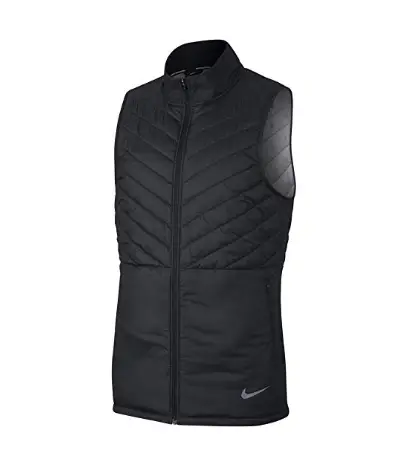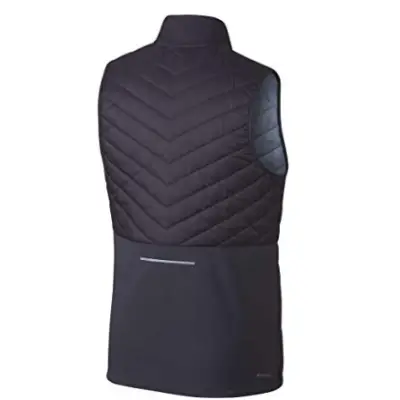 Would a list of this magnitude really be complete without an appearance from Nike? Their AeroLayer garment offers superior lightweight insulation and can work great as layering or on its own.
Read more
Fit
What allows for a more structured fit is the elastic binding that is present on the armholes. Also, this is not bulky in the slightest so that is really nice.
Comfort
All in all, the lightweight nature and comfortable fabric present here are fantastic. In addition, the hem (that is slightly curved) in the back will keep you covered a bit more.
Weather Resistance
Okay, so this will probably not keep you warm in shivering conditions but that is not the point. The lightweight insulation makes this an excellent layering of clothing and, overall, this is also water-resistant.
Features
Even though this is a dark-colored vest, there are reflective elements that allow you to be visible in low-light conditions. Oh yeah, there are also zippered pockets present.
Durability
This is the high-quality you expect from Nike. In spite of this, one user did note that threads were beginning to pill near the zipper on theirs.
Overall
Sometimes, it is best to put your trust in a high-quality brand. At the end of the day, you know what you are going to get with Nike which makes this a massive thumbs up.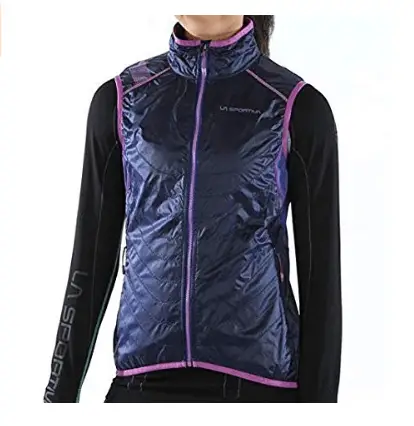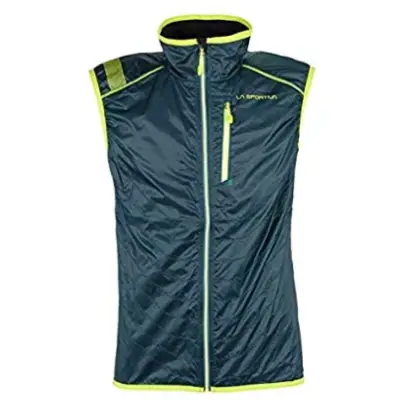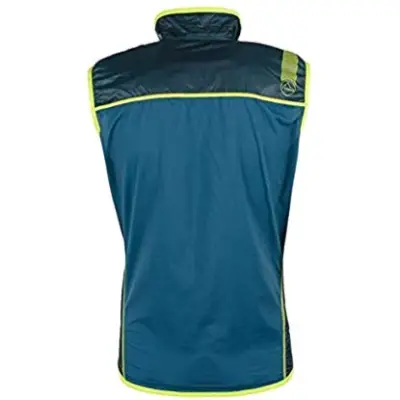 What an excellent vest this is and it is headlined by its superb combination of warmth (with insulation targeted in the chest) and weather resistance (with its protective outer shell).
Read more
Fit
For all you women out there, you may want to order a size up if you go with this option. As one buyer noted, your normal size may end up being tight in the upper region.
Comfort
Though mundane in principle, the main feature that vastly enhances the comfort here is the anti-chafing flatlock seams.
Weather Resistance
It was just noted and it really reigns true here. The protective shell is going to keep the wind at bay and the insulation that is located in the chest will offer warmth.
Features
In low-light conditions, the reflective detailing that is integrated will improve your visibility. Furthermore, there is an integrated chest pocket for storage purposes.
Durability
A blend of nylon ripstop polyester was utilized in the engineering process of this model and it goes to show the attention of detail that was exerted.
Overall
For all you women readers out there, you could just stop reading now and forever be happy with this running vest. It literally is that impressive and that well-designed.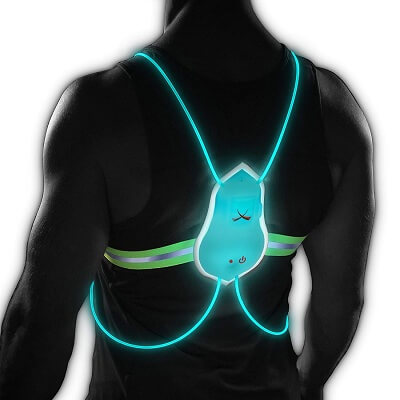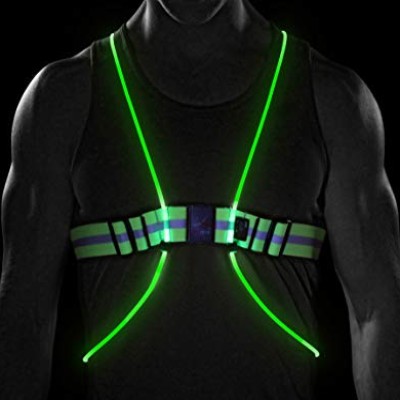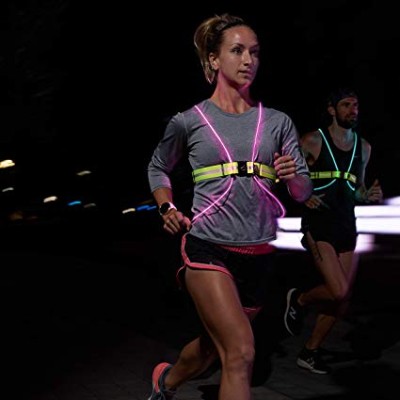 Okay, so do you really want a model that allows you to be seen in lowlight environments? If so then your search may be over. Then again, you may or may not enjoy the battery system that this employs.
Read more
Fit
A few previous buyers have noted that you do need to keep the chest strap rather tight to prevent the back module from moving around. But, this is a fully adjustable model so that is nice.
Comfort
Amazingly, this only weighs 6.5 ounces. And, in addition to the light weight, it also minimizes the fabric-to-body contact and does not trap your sweat. All this enhances overall comfort.
Weather Resistance
It is touted that this is an all-season and rainproof design. So, even with the electrical components in play, it can still be used in the rain.
Features
Clearly, the biggest feature present here is the LED lighting. There are even different modes you can select from and all in all, there are six different super bright colors. Also, this system requires AAA batteries which is fine and all but it eats through them very quickly.
Durability
One previous reviewer reported that the lighting system failed in just three short months. Not everyone has experienced this but it has happened.
Overall
Truth be told, the concept and premise of this model sell it. That means that if you have little to no interest in fancy light-up LED lighting, you may want to look at other options.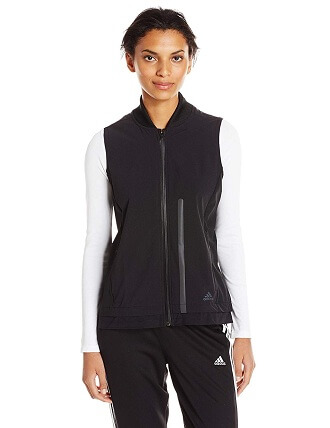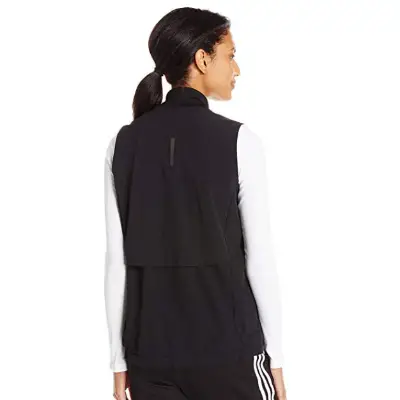 Much like with Nike, what would this list be without Adidas? The one thing to note (about the women's version specifically) is that this is not lined and is more suitable for warmer weather.
Read more
Fit
According to a previous buyer, even the extra-small size of this model is a little big. Expect this going in and buy accordingly.
Comfort
For certain, this was optimized for comfortability. Not only can you point to the breathable nature to prove this but you can also look at the super-soft collar that prevents skin chafing.
Weather Resistance
Now, as mentioned, the women's model is devoid of any insulation. So, for winter months, this will not keep you warm. For spring and mild summer runs, however, this will be darned near perfect.
Features
There is actually a pocket that is integrated inside of this vest and this can allow you to keep certain items hidden. Also, there is another pocket on the front.
Durability
It is Adidas so you know, at the very least, this is well-constructed (it is made of 100 percent other fibers). The issue comes in the lack of consumer feedback, quite frankly.
Overall
That last sentence you just read is pretty critical. Much like with Nike, you can put your faith in a top-name brand most of the time. Yet, there is a general lack of feedback here which can make for a "risky" purchase.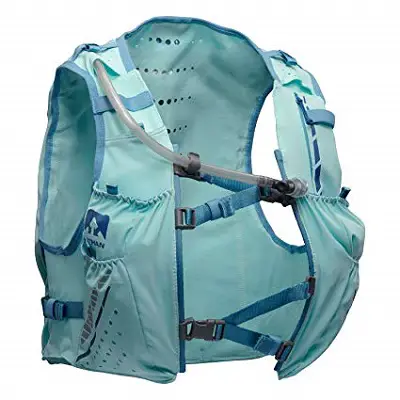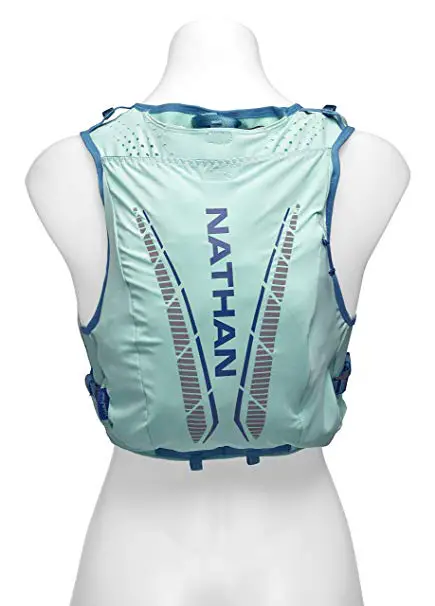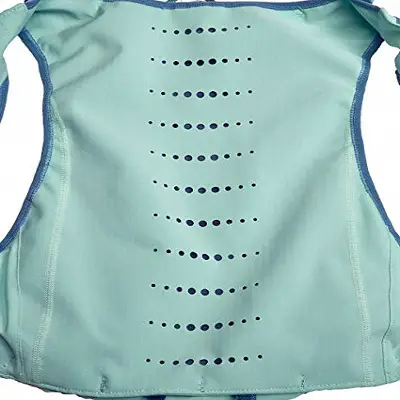 Water is the key to a great run. This garment allows you to take your water with you without a clunky backpack or having to grip it in your hand the whole time. What is great about this product is that the 1.8-liter reservoir is included with the garment!
Read more
Fit
Here is another hydration style that is designed for women. It is available in sizes XXS to XL. There are adjustment straps on the sides to dial-in the fit and keep the garment close to your body as you run. There are also two sternum straps, one that sits over the bust, and one that sits under.
Comfort
Besides the excess weight, many women do not even notice they are wearing this while jogging. In most cases, it does not cause chafing, but if you are running in a sports bra, it might. Reviewers love the breathability and light weight of this garment.
Weather Resistance
While it is not specifically specified, this garment can withstand mild weather. It is made of nylon and polyester. In a sprinkle, you won't need to worry. However, in a heavy rainstorm, it would be wise to run for cover if you have your phone or other electronics with you.
Features
The total capacity of this option is 12 liters. It includes a 1.8-liter reservoir. There are also two front pockets that can accommodate bottles up to 22-ounces. The zippered front pocket is a great place to store a phone and is large enough for an iPhone 7 Plus. There is also adequate storage for snacks, a light sweater, and trekking poles.
Durability
This garment is easily tossed in the wash after an intense run. It was designed by Stephanie Howe, a champion runner, and is a great durable piece that fits and feels great. There have been no documented concerns with durability.
Overall
This versatile garment is great for running, hiking, or camping. It is comfortable, durable, and leaves enough room inside for customization. Perhaps the biggest downside to this item is the price. It is quite expensive.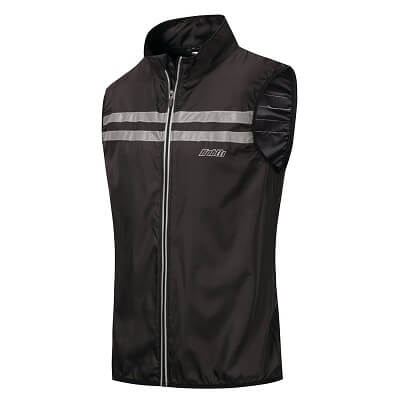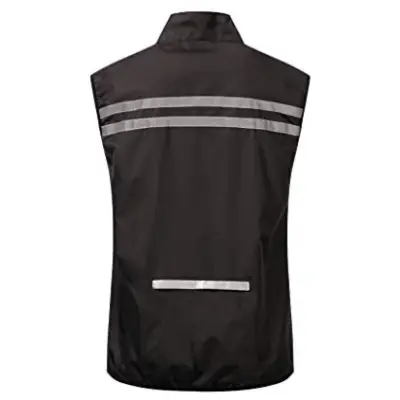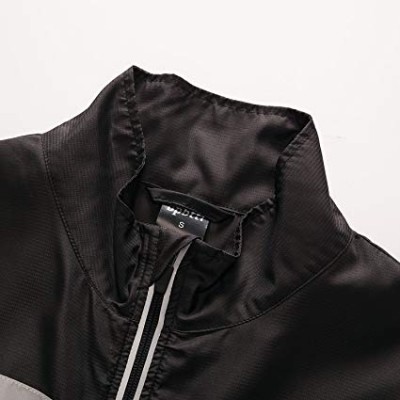 If there was a better zipper that was implemented here perhaps this could have ascended even higher on this list. As is, though, it is a great design with that one unfortunate hiccup.
Read more
Fit
The good news is there is a vast array of sizes available. Yet, the bad news is the sizing can be very inconsistent with various buyers claiming certain sizes fit them too large while others too small.
Comfort
When you can find the right size for you, the comfort will not be a concern. Thanks in large part to the ultra-lightweight design, this is highly comfortable overall.
Weather Resistance
Not only is this garment water-resistant (with its water repellent technology) but it is also wind-resistant. Oh, and also, there are elastic bands that are strategically placed to seal out the breeze.
Features
First off, this is designed with light-reflecting tapes for enhanced visibility. However, also, there is an integrated back pocket that can be used to store small items.
Durability
Though the ripstop material is thin it is still durable. The main problem here, though, is with the zipper. It is not well-designed and it can get stuck on occasion.
Overall
Some flaws prevent this from competing with the superior options on this list but it still secured a spot on this list, so keep that in mind.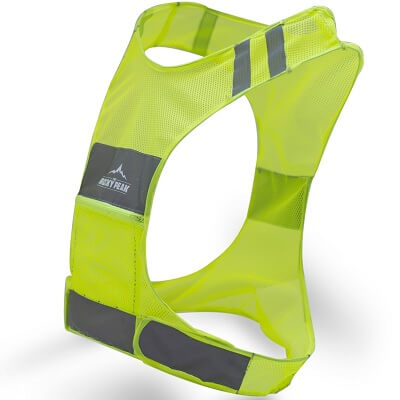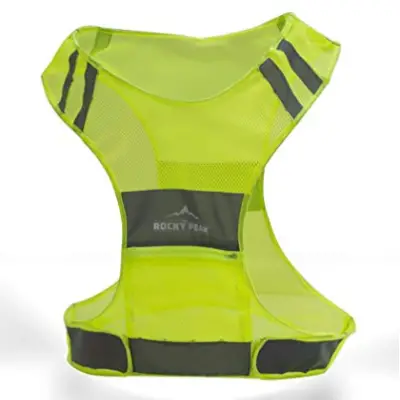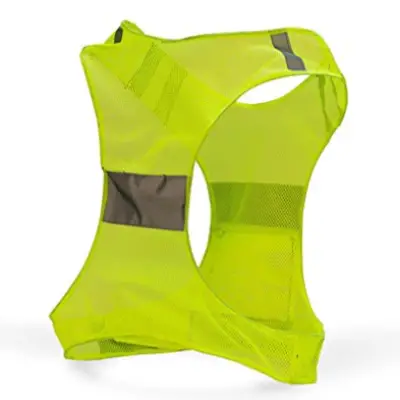 Let's just get this right out of the way; this is not a fashion statement. This model is designed to provide enhanced visibility when you run at night, for the most part.
Read more
Fit
It is not specifically claimed but it is implied by various users to order a size down here because this will move a bit while you run.
Comfort
You will be hard-pressed to find a lighter and more breathable model out there. This is all thanks to the mesh fabric that was used to design it.
Weather Resistance
Let's just say this is not exactly designed for downpours or winter nights. It is made of mesh so it will not provide virtually any weather resistance, quite frankly.
Features
In addition to the built-in zippered front pocket, the bright yellow nature and reflective detailing of this allow you to be seen in the dark from over two football fields away.
Durability
For the most part, not too many previous buyers have had issues with the durability of this garment. Do not be too aggressive with it, though.
Overall
Is this going to be for everyone? Absolutely not as it is more designed for safety for those of you who enjoy late-night runs. If you are primarily a daytime runner, you may have little interest here.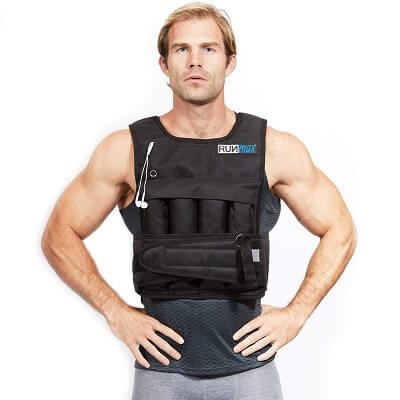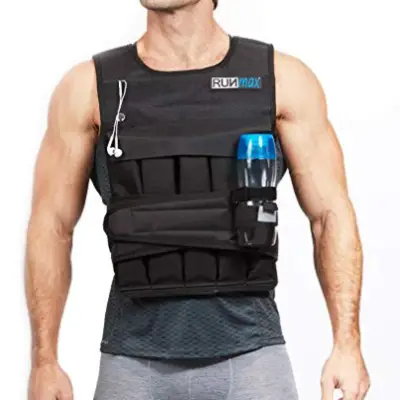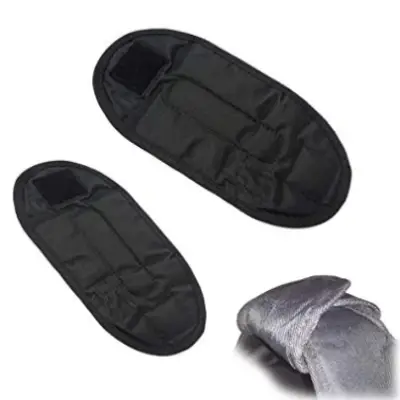 Many of you will probably have zero interest in running with a weighted piece of clothing on but if you are looking for a more serious experience, then take a look at this.
Read more
Fit
As opposed to the others on this list, this is a one-size-fits-most vest. Unfortunately, as one "fit" reviewer alluded to, it is simply not the best for smaller and more petite users due to its size.
Comfort
You can actually buy this with or without shoulder pads. Now, these are supposed to enhance the comfort, in theory, but some reviewers have reported they can actually cause chaffing.
Weather Resistance
The manufacturer did not optimize their design to be weather-resistant; let's just leave it at that.
Features
Without question, the addition of the weights is the deal-breaker. What is nice is you can select between different weights (from 12 to 60 pounds) and you can also remove them.
Durability
Durability is arguably the most impressive aspect of this model, quite frankly. This is because it is made of heavy-duty ballistic nylon.
Overall
Though this may not have been engineered with the sole purpose of runners in mind, it can certainly be used for such. The addition of the weight can completely change the experience that is for sure.

Subscribe to our Newsletter