Best Weight Vests for Running
In a
Hurry? Editors choice: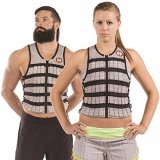 Test Winner: Hyperwear Hyper Vest PRO Unisex

Running
can be a great way to both get in shape and stay in shape. However, when you are ready to take your running exercises to the next level, you should consider purchasing a
weight
vest to help you train even harder as you run. Running weight vests provide the opportunity for you to strength train while you get your cardio in hitting the trails or the roads. So while you are running you can not only hit your
leg
and core muscle groups but also train your upper body. Now if you have been running for quite a while and want to move to the next level for your cardio, check out a weighted vest. To help you find the best weight vest for you and your training style, we have done the research and created a list of the top ten best weight
vests
on the market today.
Standout Picks
Criteria Used for Evaluation
Comfort
How comfortable your weight vest for running feels each time you hit the trails or pavement is probably the most important feature for you to evaluate. If the vest doesn't fit well or feel comfortable, you probably won't use it much. Make sure you get the padding and adjustability you really need to feel great as you run. Also, make sure you purchase a vest that has a good ventilation system so you won't need to worry about overheating. A shorter design helps give you more mobility as you move, so you get a lot of flexibility and comfort with that. These vests are also designed to give you a lot of ventilation, so they breathe very well and helps keep you cooled down as you run. You also get the ability to adjust most vest easily to get the perfect fit and a lot of padding for maximum comfort.
Features
These vests come with a number of features depending on the brand you buy. Some vests come with the weights already in the vest, and sometimes you have to buy them separately. Some vests also require that you buy padding separately, while others come with all the padding you need. You'll also find vests with pockets and other features, like the ability to carry water bottles or hydration packs, as well as reflectivity features. Many vests offer a bevy of features that make them an excellent choice. One great feature to look out for is the ability to throw it in your washing machine and dry it, and that helps you easily keep it clean. These vests are also very breathable, and that's a great bonus. You can also look into getting weights included with the vest and a nice Velcro belt that can help you make adjustments more easily.
Durability
All of the products on our list here are designed with durability in mind. It is always a great idea to get a durable product because it will last you for a long time, and you'll get ample amounts of use with it. The materials of the vest determine a lot about the vest's durability, so make sure you check those out. These vests are designed by manufacturers that are well-known for making high-quality and durable products. You also get a durable outer shell that can resist abrasions, tears and scratches with ease if you run with it on the trails. You can also get a vest that you can easily maintain by washing it easily, which adds to the durability. So, you won't need to worry about replacing this vest for some time.
Value
If you are shopping on a budget, value becomes important. We always want to get the most out of our money. For all of our products, we covered their specific value points including price as well as durability. We also reviewed satisfaction guarantees and warranties. Depending on what type of weight you want to hold with your vest, the price of these vests can vary. The heavier weight options tend to cost more, but since you get a lifetime guarantee they are well worth the price. Plus, you'll get a vest with a durable design that you'll be able to keep and use for quite some time.
Subscribe to our Newsletter