Best Heated Vests
In a Hurry? Editors choice: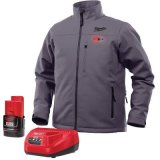 Test Winner: Milwaukee M12

It is one thing to invest in a garment that is heavily insulated and it is an entirely different animal to actually invest in an article of clothing that uses advanced technologies to heat itself. Well, if something like that sounds intriguing to you then you may want to stick around. Of course, as you can see, this guide is not going to cover all types of heated garments and, instead, is going to focus on vests. Besides being fashion statements, in their own right, they are also versatile articles of clothing that can be used as base or outer layers. But, let's take a bit of time to strictly focus on those models that deliver heat, as well.
Standout Picks
Criteria Used for Evaluation
Effectiveness
It seems simple to say but a heated vest needs to be able to provide heat to match the standards that you have.
While we will get into the logistics of how these vests are able to deliver heat, let's first talk about the importance of them to deliver that heat. After all, would you really want to buy one of these if it was incapable of delivering the heat that your body requires? The simple answer is no and to avoid this from happening, you need to keep some specific features in mind. For starters, you need to assess which heating technologies are used in the model that you are looking into. Most of the top-end models will implement carbon fiber heating and this is due to a lot of reasons. This type of heating method efficiently distributes heat and manages to eliminate any hot spots. Additionally, it emits rays that are more beneficial to your health and better penetrate into your skin.
But, you also need to pay attention to which areas are being heated. Some models will only feature heating panels in two areas, while others will do so in three or four. The more core body areas the better, clearly. The most popular areas will be at the back, the shoulders, the collar, the chest and the pockets (just to name a few).
Comfort
Who enjoys wearing uncomfortable clothing? Yeah, that is this section in a nutshell.
Does anyone really want to don an article of clothing that is not comfortable to wear? You could bring up this rhetorical question a million times and it would be relevant every single time. It speaks volume to how important the comfortability is in any garment you ever buy. So, this means that this is no different with heated vests. Now, yes, it does go without saying that the heating efficiency comes into play when assessing the comfort. However, there is a lot more to it. Yes, the heat is needed but the fabrics and linings that are integrated need to be pleasing.
Here is the good news; most of the fabrics and linings that will be implemented will be very familiar materials. Materials such as nylon, polyester and fleece will come up time and time again and all of them are suitable. While nylon is a bit stronger than polyester, it is a man-made fabric that sports elasticity and the feel of silk. Polyester is not bad either, clearly, and is made of synthetic fibers and is comfortable in its own right. As for fleece, this contains air pockets and is made of a wool and synthetic fiber blend. So, this makes it one of the warmer fabrics out there.
Overall Fit
Whenever you are in the market for any type of garment, you just need to accept the fact that the fit is going to dictate everything.
The same rhetoric that was spewed about the comfort could be claimed for the sizing and fitting, to be perfectly honest. So, let's not waste your time by reiterating it and get right into why it is important. Well, in regard to heated vests, the best thing you can do is gauge the fitting by glancing through user feedback. When ordering online, you can't physically try one on so the closest you can get is to do your research. But, this leads to a very interesting question, how is one supposed to fit you?
This can be tricky to answer, quite frankly, and the reason is because it comes down to personal preference. The question you need to answer is whether you want a model that is tight-fitting or if you want one that is a bit loose. An easier way to answer it is to first conclude how you want to wear one. Do you want it to be your base or mid-layer or is it going to be the outmost layer? Answering this helps because if it is a base layer, you will want it more tight than loose. And, clearly, as the outmost layer, it should probably be the other way around.
Battery Life
Indeed, these vests will be run via batteries. Due to this, the batteries themselves will have limited capacities and durations.
Let's just let the cat out of the bag; heated vests are not magically powered by nothing and will require the use of a battery. Yes, this means that it is going to need juice to deliver the heat you desire. It is quite the simple concept, is it not? What this also means is you will need to travel with the battery itself. So, it may be in your best interest to assess the size and weight of the battery included. On a similar note, not all designs will accept any type of battery source. Some will be exclusive designs meaning you can only use the seller's provided battery (or any other from them that are compatible).
But, this section really all comes down to the physical battery life. Even top-end models will typically max out at around 10 to 12 hours on a single charge. Of course, this is going to vary greatly on which heating setting you run your vest on. The more heat you want emanated, the more the battery will need to work and the more juice it will exert.
Features
There are not too many design features to assess but you still can't overlook this section.
The main design feature, and this was just alluded to, you will need to assess is the different heat settings. These can typically be controlled from the main battery unit. Most models will include the standard low, medium, and high settings and that should suffice for most of you. In addition to this, you can also pay attention to the integrated pockets and which pocket the battery rests in. Oh, and some models will come with protection modules that will prevent overheating (this being a very handy safety feature).
OUR TOP PICKS FOR THE BEST HEATED VESTS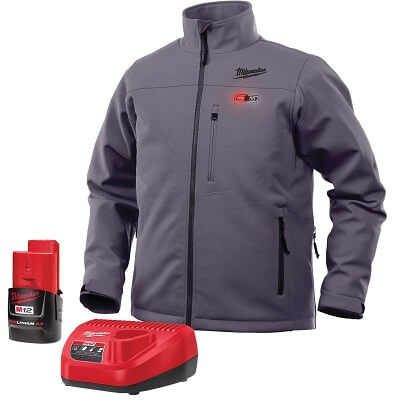 If you take away the somewhat decent battery life of the M12, you get a flawless design that is top-of-the-line. Whether you want to point to the durable ripstop fabric or the advanced carbon fiber heating elements, it really does not matter.
Read more
Performance
In addition to the high loft insulation and the thermal fleece lining, the M12 is equipped with carbon fiber heating elements that will provide heat to three main areas of your body.
Comfortability
The thermal fleece lining adds a layer of comfort and makes the M12 incredibly soft. However, this softness does not take away from the durable ripstop construction.
Sizing and Fitting
Milwaukee accommodates quite a few users with their M12 as they sell it in all types of sizes. From small all the way up to extra-large, you can buy this garment.
Battery Life
It is advertised that you can achieve a battery life of up to six hours. One buyer, however, said the elapsed time is closer to three hours. Yeah, it is not the best battery life out there.
Design Features
All in all, you have some different heat settings that you can mess around with. This can be powered on low, medium or high.
Overall
The craftsmanship of the M12 is top-notch and anyone with eyes will agree with that statement. If you are really keen on exceptional battery life, though, this may end up being disappointing to you.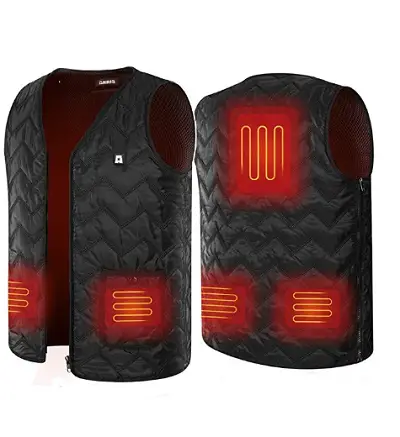 Without question, the most impressive aspect of this model is the vast array of heating panels and temperature controls. With both of them, there are five each, which is quite amazing.
Read more
Performance
Overall, there are five heating panels built into this design. The actual technology that is used is a function of carbon fiber and this is used to improve your blood circulation.
Comfortability
As with the last model, the vest itself is very comfortable but the battery weighs it down a bit. Really, it is just something you have to get used to.
Sizing and Fitting
What is so unique about this is it is designed to fit anyone. To adjust the size, all you need to do is unzip the zippers under each arm and replace the panels as needed. It seems surreal but it is ideal for men, women and boys.
Battery Life
Once the battery is fully charged, it should last up to seven hours (this will vary based on the temperature you use). Now, this is an exclusive design and will only work with the supplied battery from the manufacturer.
Design Features
From 104 degrees to 176 degrees, you can adjust the temperature (with five settings in all). Also, this has a built-in thermal protection module that will protect against overheating.
Overall
If you can look past the heavy battery, which can't be replaced by a lighter and third-party battery, you can enjoy an absolutely fantastic garment that provides optimal warmth.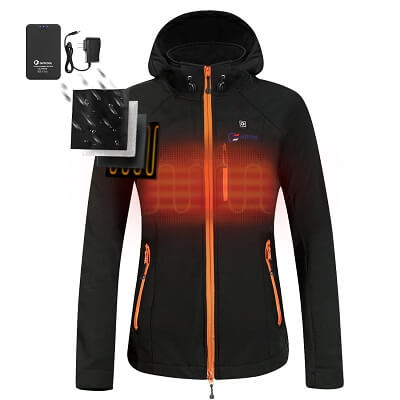 In virtually every area of this design, this hits it out of the park. With that said, the notorious sizing issues have been documented by users so be aware of that aspect.
Read more
Performance
To heat with advanced efficiency, Outcool designed their model with advanced carbon fiber heating technology. Overall, also, their garment sports three heating zones in the back and the chest.
Comfortability
The combination of the soft nylon fabric and the 230-denier taffeta enhance both the warmth and the comfort of this model. But, this is also waterproof and breathable.
Sizing and Fitting
Outcool notes that they designed their garment with a slim-fit style. What this means is you may need to order one size up if you want the garment to be more comfortable.
Battery Life
On high, you could feasibly get four hours of battery life out of this unit (this increases to six hours and eight hours for medium and low, respectively).
Design Features
The battery is located in the inner pocket. As for the heat settings, as alluded to, there are three in total that you can select from.
Overall
Going in, understand that this runs very small. But, this is done on purpose to enhance the slim fit. To combat this, simply order larger than you normally would as the heat efficient and comfort will be worth it.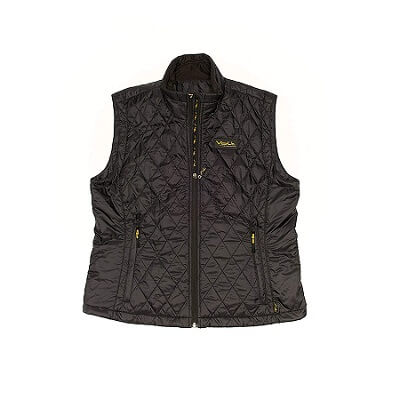 Much like the M12, the Volt Cracow is a nearly flawless design that comes with one flaw. That one flaw, however, as you may expect, does not prevent the Cracow from being considered elite.
Read more
Performance
Due to the four-panel, three-zone heating system that has been implemented into the Cracow, it is able to deliver an optimal amount of heat. In fact, it can reach blistering temperatures of 170 degrees.
Comfortability
Volt crafted their Cracow with a 20-denier ripstop nylon lining. Due to the lower denier count, the lining has been engineered for softness and this enhances the overall comfort.
Sizing and Fitting
One nice aspect of the thin nature of this garment is that it can actually be used as a base layer.
Battery Life
On the highest setting, you will only get around two hours of use, so be efficient with it when you use that setting. If you lower the heat, though, the battery life becomes quite good.
Design Features
While you can toggle between heat settings, as alluded to, it is very inconvenient to do so. The battery unit does not have intuitive controls and only implements a single button.
Overall
The good news is once you get used to the controls, they become less of an issue. So, more than likely, after a week or two you will be absolutely loving the performance of the Cracow.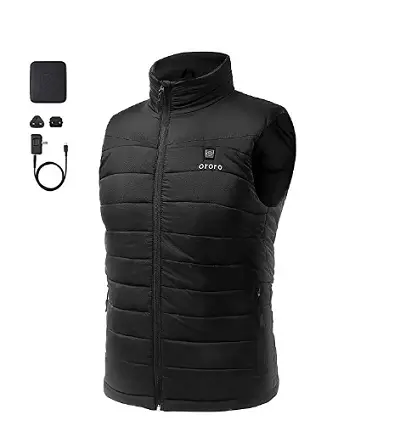 Thanks to the new and improved redesign of this next model, it now is equipped with a heating system that is comprised of four carbon heating elements and three different heating settings.
Read more
Performance
As mentioned, this is a redesigned heating system and it provides four carbon heating elements. In the core body areas (the mid-back, collar, and left and right-hand pockets), this will deliver optimal heat.
Comfortability
While the material, which is 100 percent polyester, and the insulation deliver fantastic comfort, the battery itself is quite heavy. It may be in your best interest to replace the current battery with a lighter one.
Sizing and Fitting
As opposed to the last model, this is not an ideal base layer. Consider this a mid-layer article of clothing. Also, one user noted that this does run small.
Battery Life
On a single charge, it is advertised that this can last up to 10 hours. This will be dependent on the heating level you select, however.
Design Features
There are pockets on each side and also three different heating settings that you can select from. With just a simple press of a button, you can toggle between the different heats.
Overall
Is it really hard to see why so many buyers have raved about this design? Sure, the battery is quite heavy but the craftsmanship of the actual vest is incredible.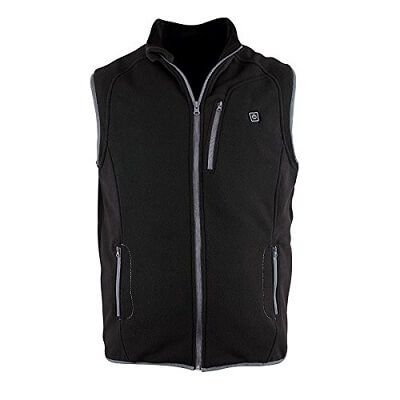 Most of the feedback has been exceptional here. What you do need to realize, however, is only two areas of the vest will provide heat and this makes the design limited as a whole. Still, it does deliver the goods.
Read more
Performance
Again, there are only two heating zones inside of this vest. The heat comes from the upper and lower back regions, which is a bit limited.
Comfortability
Prosmart made their model with a fleece material and this enhances the comfort. In addition to this, it features anti-static technology.
Sizing and Fitting
If you wish to wear layers underneath this, you will need to order one size up. As is, though, it is a tight-fitting garment that can be worn by both men and women alike.
Battery Life
The battery design is arguably the best aspect of this design. First off, it can last up to 12 hours if you efficiently use it and, secondly, the vest itself can be powered by any power bank that supplies 2.1-amps of power.
Design Features
There are actually quite a few pockets that can be used for storage purpose. Additionally, you can also select from three different temperature settings (low, medium and high).
Overall
Really, the only real "problem" is that this only provides heat in two different areas. Now, it still provides warmth but in terms of pure performance, there are better options out there.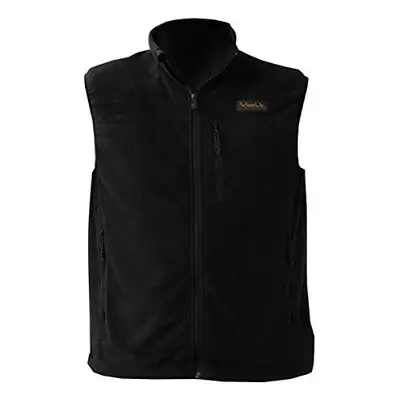 This is another option from Volt Resistance and it is another one that hits it out of the park. Now, breathability can be a bit of an issue but in frigid temperatures, you are not going to care about that.
Read more
Performance
Volt Resistance designed their garment with performance in mind. This is clear with their four-panel heating system, 150-degrees of maximum heat and the three-volt heating technology.
Comfortability
The lightweight fleece craftsmanship is not only warm and soft to the touch, but it also does not restrict your movement which is a bonus.
Sizing and Fitting
It is quite ironic that this model follows the last because this one actually tends to run large. So, unless you want a really loose fit, you may want to order a size down.
Battery Life
At its lowest setting, you could eke out around eight hours of life from this battery. When on high, though, this decreases to around 2.5 hours on a single charge.
Design Features
Included with this is a built-in four level microprocessor controller. Though it is nice to have, it can be a bit of a nuisance to dig it out from its pocket to change the heat.
Overall
As with the other Volt Resistance heated vest that made an appearance on this list, this is a highly comfortable garment that delivers an optimal amount of heat.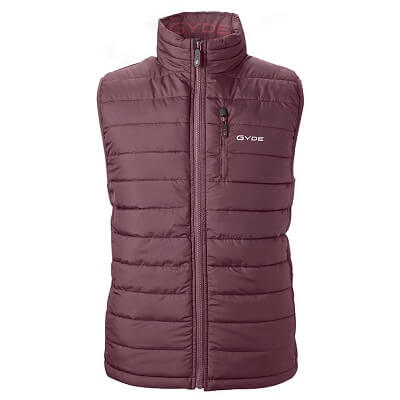 Is this the most popular model on this list? No, and it is not even close, to be honest. That does not necessarily insinuate, however, that this is lacking in quality because that is simply not true.
Read more
Performance
The synthetic insulation and the water-resistant and windproof outer shell improve the performance of this design. However, this also heats in four different areas (the collar, chest and back).
Comfortability
The warmth naturally enhances the comfort and, overall, most users concur that this nails it in the area of comfort.
Sizing and Fitting
Some users feel the sizes run true while others feel they run small. The conclusion, because this provides a snug fit, is that you should order a size up if you do not want a tight fit.
Battery Life
This is equipped with a dual-mode, seven-volt battery and it produces a solid amount of battery life. There was one user, however, who mentioned they were only getting around 3.5 hours on 50 percent capacity.
Design Features
Perhaps it would have been better if you could place the battery in the chest pocket but that will be a matter of preference for each and every one of you.
Overall
This is a good example of a vest that is not necessarily flashy but is instead high in quality. Remember, though, this will fit tight and if that is an issue for you then you need to order a size up.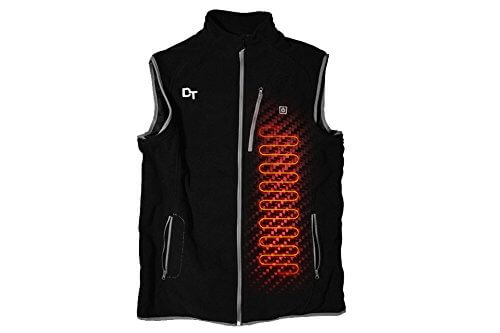 Even though this is the caboose of this list, it is actually a hot commodity and can be hard to get your hands on. While there are superior designs out there, clearly, this is still stellar.
Read more
Performance
Electric heat technology is present in both the front and the back of this garment. But, it does not handle the wind very well so you will need an additional windbreaker on windier afternoons.
Comfortability
At the end of the day, you can't go wrong with fleece and that is what you get here.
Sizing and Fitting
Instead of talking about the actual sizing of this model, it seemed appropriate to talk about the inventory. As the designer mentions, they sell out quickly so finding your size can be tough.
Battery Life
It is advertised that you can get up to 12 hours of battery life on a single charge. This will drop, though, when you use the higher heat settings.
Design Features
There are different indicator lights that signify different levels of heat, for the record. Also, there are pockets but they are a bit on the small side.
Overall
Though this model is not that great on frigid days when the wind is howling (and even then it can act as a great mid-layer), it will suffice basically anytime else.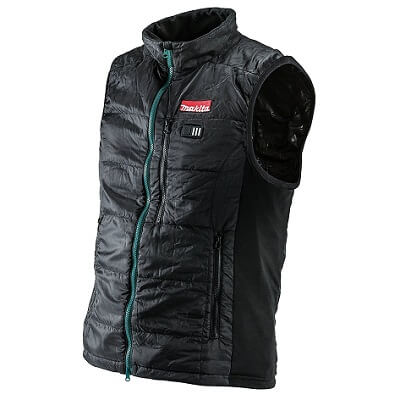 Makita has designed their version of a heated vest and theirs is also a bit limited, admittedly. It is not without its flaws, but anyone would be remiss to say this is not a great garment.
Read more
Performance
In the shoulder area and at the back, this will deliver the heat that you crave. Again, this is a design that only integrates two core heat zones, which is limited.
Comfortability
Whether you want to attribute the superb comfort of this model to the fleece lining, nylon shell, or polyester fill, it really is irrelevant as the comfort is evident here. With that said, the battery pocket makes it very annoying to wear while sitting down.
Sizing and Fitting
To provide a better fit, this has been outfitted with storm cuffs and a drawstring waist. Also, there are size options from small all the way up to 3X-large.
Battery Life
What is interesting to note is you do not receive a battery with your purchase. This vest is compatible with compact lithium-ion batteries and if you use the BL1850 battery, you can power this for up to 28 hours.
Design Features
This is actually packed with all sorts of features including four separate pockets, three different heat settings and an integrated belt clip to hold the battery in place.
Overall
Before you decide to invest in this model, and it is worth the money, you need to be aware that it does not come with a battery. So, you will need to account for a compatible one yourself.

Subscribe to our Newsletter