Best Heating Pads
In a
Hurry? Editors choice: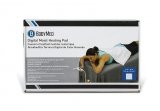 Test Winner: BodyMed Digital

It really is amazing how the body works, when you think about it. While we are not going to bore you with human anatomy in this guide, it is fascinating to know how much heat can help to alleviate pain in your body. Now, clearly, this does not mean if you expose yourself to an open fire that it will feel soothing. Instead, it is referring to a more controlled form of heat and heat that is outputted by heating pads. Indeed, with this useful device at your disposal, you can stimulate the sensory receptors in your skin. In layman's terms, it can help to decrease the transmission of pain signals to your brain and help to alleviate the discomfort, because of it. But, when it comes to buying one, things can get a little tricky. This is because they come in many shapes and forms and offer different types of advanced features. So, given that there is no time to waste, let's get this show on the road.
Standout Picks
Criteria Used for Evaluation
Versatility
Depending on what body part you need heating, you will need to base your buying process off of it.
The other sections of this guide will break down the overall design and the important features to look for. But, without question, you need to begin with this. What area do you need to be heated? This question is vitally important to answer because it will dictate the design you need to shoot for. The reason for this is not every model will be optimized to heat all areas of your body. So, which body part is it? Is it your neck, back, upper body or some other body part? And, before you get ahead of yourself, also be sure that heat is the optimal remedy to the pain that you are suffering through (either by consulting your doctor or by conducting some research).
So, let's say that you really are in desperate need for a neck wrap. As you have seen in this list, a lot of microwavable and electric models will be specially engineered to contour to your neck. While these, in theory, could be used in other areas, their geometry is optimized for your neck. The same can be said about larger heating pads as these can be perfect for lower back pain.
Effectiveness
There are different types of design types out there and they will have differing performances.
For starters, you have your standard non-electric models that use moisture to heat your body. With these models, they either need to be microwaved or placed in the freezer (for chilling instead of heating). One of the major benefits of these designs is that they deeply penetrate the heat into your muscles. But, they do not hold heat as long which is a major drawback.
Another type is electric pads. These typically will not be run off of integrated batteries and instead will require AC power. Outside of the array of features, which will be discussed in a minute, these designs will produce dry heat and will hold heat much longer than non-electric models. Then, there is the granddaddy and this is alluding to designs that utilize infrared. Infrared rays are very similar to the type of heat you feel from the sun and penetrate the body better than any other method. But, these can get quite expensive, so be aware of that.
Features
Yep, this is technology and that means that design features come to the forefront.
In the world of technology, it is all about the features ladies and gentlemen. Although you would initially assume that a heating pad would not come packed with features, certain ones can. As mentioned earlier, the options that will have features will be electrical models. Those that simply require the microwave to deliver heat have the distinct disadvantage of being devoid of any kind of design features. In specific, they will not have the ability to alter the temperature or the time. Indeed, those are the two vital design features to look for in electrical models.
But, why are they so important? The ability to change the temperature is an obvious one but be aware that not all designs will do it in the same manner. For example, from model to model, the number of heat settings and how you change the temperature can differ. One design may have the ability to lower or raise the heat from one to six. Meanwhile, another design could give you literal temperature control in one-degree increments (say from 100 to 160 degrees, as an example). As for the time, some users will find this limiting. There are designs out there that will only allow a maximum run time of 60 minutes or 90 minutes. You can program the digital timer to go as long as you wish and when the time concludes, you then simply need to restart the unit.
Advanced Features
Past the main design features that some models possess, there are some additional features to keep an eye out on.
Ah, why not add more features, right? In reality, there are not really that many extra or advanced features to keep an eye on. Of course, it is never a bad idea to pay attention to the length of the cord. With electrical models, they will need to be powered somehow and this typically will be via an AC wall socket. But, depending on where you want to use your heating pad and the close proximity of your home wall socket, you may need to look for a longer cord (upward of nine to 10 feet).
But, there is also a very important feature that has not been discussed yet. You see, with electrical heating pads, there are burning risks. Take, for example, if you accidentally fall asleep with one on your body? Now, if the model has a short timer then this will not be an issue. But, if it is allowed to be run for several hours that could be an issue. This is where an automatic shut off feature comes into play. With this integrated, the system will automatically stop heating at a certain time (most often it is one or two hours). This can prevent potential burning and also save on energy.
Comfort
Never forget that this is a device that will rest on your body. So, it needs to be comfortable.
With all the emphasis being placed on heating, you can forget that the model you invest in still needs to be comfortable. Comfortable in the sense that the fabric is not irritating or the weight is not overbearing. As for the fabric, when it comes to comfort, you can never go wrong with soft fabrics such as microplush (which is a common fabric you will see). Yet, with others, such as some infrared models, they will be a bit uncomfortable on their own. With these, you could add something underneath to minimize the discomfort.
As for the weight, this one is simple. The heavier a pad is, the more strenuous it will be to use for longer periods. Oh yeah, and this is a good time to talk about an issue with electrical models. Because they are corded, it means you have to deal with the connection and the control pad. At times, this can be cumbersome and downright annoying. It is one of the tradeoffs to superior performance.
OUR TOP PICKS FOR THE BEST HEATING PADS
Subscribe to our Newsletter