Best Heating Pads
In a
Hurry? Editors choice: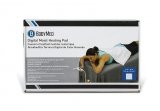 Test Winner: BodyMed Digital

It really is amazing how the body works, when you think about it. While we are not going to bore you with human anatomy in this guide, it is fascinating to know how much heat can help to alleviate pain in your body. Now, clearly, this does not mean if you expose yourself to an open fire that it will feel soothing. Instead, it is referring to a more controlled form of heat and heat that is outputted by heating pads. Indeed, with this useful device at your disposal, you can stimulate the sensory receptors in your skin. In layman's terms, it can help to decrease the transmission of pain signals to your brain and help to alleviate the discomfort, because of it. But, when it comes to buying one, things can get a little tricky. This is because they come in many shapes and forms and offer different types of advanced features. So, given that there is no time to waste, let's get this show on the road.
Standout Picks
Criteria Used for Evaluation
Versatility
Depending on what body part you need heating, you will need to base your buying process off of it.
The other sections of this guide will break down the overall design and the important features to look for. But, without question, you need to begin with this. What area do you need to be heated? This question is vitally important to answer because it will dictate the design you need to shoot for. The reason for this is not every model will be optimized to heat all areas of your body. So, which body part is it? Is it your neck, back, upper body or some other body part? And, before you get ahead of yourself, also be sure that heat is the optimal remedy to the pain that you are suffering through (either by consulting your doctor or by conducting some research).
So, let's say that you really are in desperate need for a neck wrap. As you have seen in this list, a lot of microwavable and electric models will be specially engineered to contour to your neck. While these, in theory, could be used in other areas, their geometry is optimized for your neck. The same can be said about larger heating pads as these can be perfect for lower back pain.
Effectiveness
There are different types of design types out there and they will have differing performances.
For starters, you have your standard non-electric models that use moisture to heat your body. With these models, they either need to be microwaved or placed in the freezer (for chilling instead of heating). One of the major benefits of these designs is that they deeply penetrate the heat into your muscles. But, they do not hold heat as long which is a major drawback.
Another type is electric pads. These typically will not be run off of integrated batteries and instead will require AC power. Outside of the array of features, which will be discussed in a minute, these designs will produce dry heat and will hold heat much longer than non-electric models. Then, there is the granddaddy and this is alluding to designs that utilize infrared. Infrared rays are very similar to the type of heat you feel from the sun and penetrate the body better than any other method. But, these can get quite expensive, so be aware of that.
Features
Yep, this is technology and that means that design features come to the forefront.
In the world of technology, it is all about the features ladies and gentlemen. Although you would initially assume that a heating pad would not come packed with features, certain ones can. As mentioned earlier, the options that will have features will be electrical models. Those that simply require the microwave to deliver heat have the distinct disadvantage of being devoid of any kind of design features. In specific, they will not have the ability to alter the temperature or the time. Indeed, those are the two vital design features to look for in electrical models.
But, why are they so important? The ability to change the temperature is an obvious one but be aware that not all designs will do it in the same manner. For example, from model to model, the number of heat settings and how you change the temperature can differ. One design may have the ability to lower or raise the heat from one to six. Meanwhile, another design could give you literal temperature control in one-degree increments (say from 100 to 160 degrees, as an example). As for the time, some users will find this limiting. There are designs out there that will only allow a maximum run time of 60 minutes or 90 minutes. You can program the digital timer to go as long as you wish and when the time concludes, you then simply need to restart the unit.
Advanced Features
Past the main design features that some models possess, there are some additional features to keep an eye out on.
Ah, why not add more features, right? In reality, there are not really that many extra or advanced features to keep an eye on. Of course, it is never a bad idea to pay attention to the length of the cord. With electrical models, they will need to be powered somehow and this typically will be via an AC wall socket. But, depending on where you want to use your heating pad and the close proximity of your home wall socket, you may need to look for a longer cord (upward of nine to 10 feet).
But, there is also a very important feature that has not been discussed yet. You see, with electrical heating pads, there are burning risks. Take, for example, if you accidentally fall asleep with one on your body? Now, if the model has a short timer then this will not be an issue. But, if it is allowed to be run for several hours that could be an issue. This is where an automatic shut off feature comes into play. With this integrated, the system will automatically stop heating at a certain time (most often it is one or two hours). This can prevent potential burning and also save on energy.
Comfort
Never forget that this is a device that will rest on your body. So, it needs to be comfortable.
With all the emphasis being placed on heating, you can forget that the model you invest in still needs to be comfortable. Comfortable in the sense that the fabric is not irritating or the weight is not overbearing. As for the fabric, when it comes to comfort, you can never go wrong with soft fabrics such as microplush (which is a common fabric you will see). Yet, with others, such as some infrared models, they will be a bit uncomfortable on their own. With these, you could add something underneath to minimize the discomfort.
As for the weight, this one is simple. The heavier a pad is, the more strenuous it will be to use for longer periods. Oh yeah, and this is a good time to talk about an issue with electrical models. Because they are corded, it means you have to deal with the connection and the control pad. At times, this can be cumbersome and downright annoying. It is one of the tradeoffs to superior performance.
OUR TOP PICKS FOR THE BEST HEATING PADS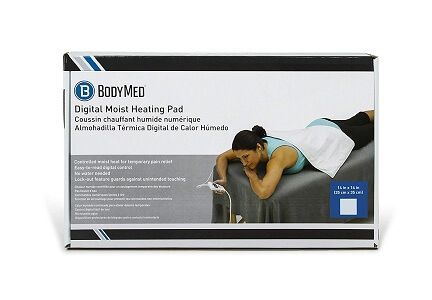 This list kicks off with this amazing model from BodyMed and even though the 60-minute timer will be found insufficient by some, the overall design certainly should not be.
Read more
Versatility
What is nice is you can tailor this model to fit your needs. It comes in four different sizes and is flexible enough to be wrapped around a specific body part such as your shoulders.
Performance
Let's just say that when it comes to performing, this model excels with flying colors. It not only can heat up quickly but can also deliver optimal heat for long periods.
Features
Okay, so even though the control pad can be unintuitive and overly annoying to program at times, this is equipped with both temperature and time settings on the LCD control pad.
Advanced Features
Not only is this designed with an automatic shut off function, but it can also actually be programmed. After 15 minutes, up until 60 minutes, this can be set via one-minute increments.
Comfort
Each size that is offered comes with a soft fleece top that provides optimal comfort. However, this model is quite thick and heavy and can become unpleasant after too long.
Overall
It says a lot that the control pad does not stop this from landing on the top of this list. It really goes to show just how brilliant this design is because, at the end of the day, it really is.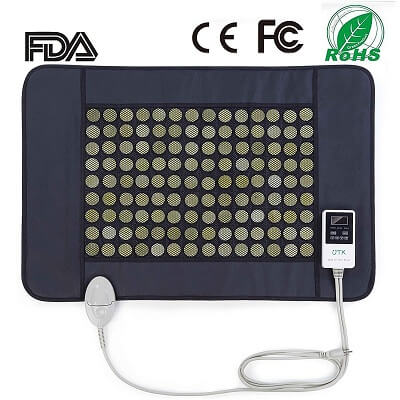 This might as well be a carbon-copy of the last option, to be perfectly honest. It also sports jade stone and infrared technology to provide optimal heat for longer periods of time.
Read more
Versatility
Due to the size, this is really only ideal for use on your back, shoulders, legs, arms, and other body parts when you are either lying down or sitting down.
Performance
Yep, as with the last model, this uses jade stone and infrared technology. This combination is optimal for heat and this offers deeper penetration of heat.
Features
With the smart digital controller, this is able to remember your favorite settings and adjust the current heat output from 103 degrees to 159 degrees (with one-degree increments). Plus, it has a digital timer that goes from zero to 240 minutes.
Advanced Features
In addition to the four-hour automatic shut off feature, this is also certified by the FDA and is registered as a Medical Device Class II.
Comfort
While both sides are made of soft PU leather, the mesh covering has the same comfort issues as the last model. In fact, the manufacturer recommends using a towel over this.
Overall
Admittedly, the price is a bit steep on this one. Due to its safety certifications, performance, and an array of features, though, this steep price is warranted.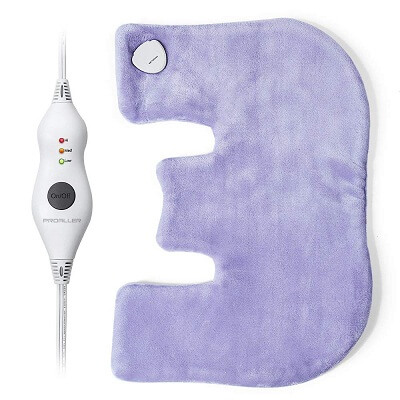 Even though this next option can be highly versatile, it is actually specially optimized to wrap around your neck and shoulders. And, thanks to the electrical components, you can adjust the heat output.
Also read about most comfortable neck gaiter
Read more
Versatility
What is really nice about this wrap is the fact it is equipped with a button. So, you can literally secure it to your neck to prevent it from falling.
Performance
Due to the fact that this does not fit evenly on your neck, the heat distribution becomes a bit flawed and you are left with uneven heating (which is a bit annoying).
Features
In addition to the three heat settings, you also have the choice of dry sauna heat or deep steam heat (with the option for dry or moist heat, in other words).
Advanced Features
Equipped with a two-hour automatic power-off function, there is no need to worry about this overheating your body in the instance you want to go to sleep with this.
Comfort
Wow, is this fabric ever soft? In fact, you could call it ultra-soft. This is because both sides are made of soft flannel and micro plush fibers for maximum comfortability.
Overall
Yes, the uneven heat distribution is a bit of a letdown but it can be tweaked a bit. It is not an astronomical flaw but it is one that you do need to think about.

4

. Pure Enrichment PureRelief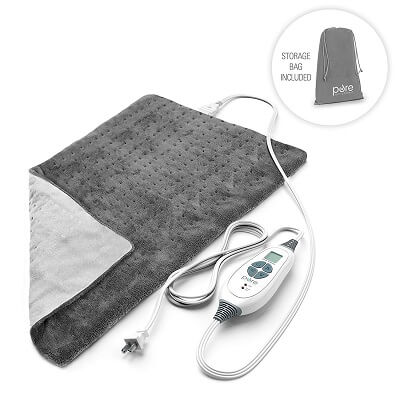 Though this still ranks high on this list, this has the feeling of a product that could have gone down in history as one of the greatest ever. It still does, but not as much as it could due to one flaw.
Read more
Versatility
Indeed, this is a highly versatile heating pad and can offer full body relief. This includes your legs, abdomen, shoulders, back, arms and other areas.
Performance
The PureRelief XL is advertised as a pad that will heat up in mere seconds to provide your body with instant relief.
Features
All in all, the six different temperature settings (from 105 degrees to 140 degrees) should be suitable for everyone. Also, this has a moist-heat option for either moist or dry heat therapy.
Advanced Features
First off, the included nine-foot power cord is a nice touch and fairly long. Also, this is equipped with a two-hour automatic shut off function to prevent burns and conserve energy.
Comfort
It is time to address the elephant in the room. Even though this is made of thick micro plush fibers aimed for comfort, the cord connection and the control pad are very bulky and cause annoyance.
Overall
Wow, if it were not for that one flaw. Still, it is hard to go wrong here with its optimal performance, superb functionality, and otherwise comfortable core.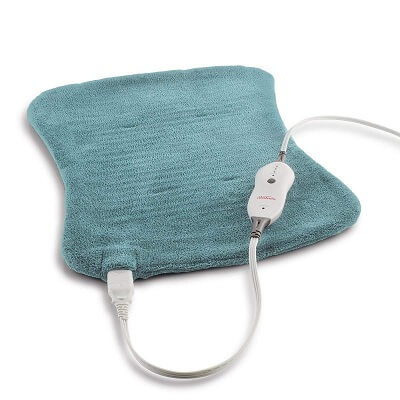 When this bad boy lasts, it is one of the best in the world. It really is as simple as that; but, the problem is some users have claimed their unit randomly stopped working after a few months.
Read more
Versatility
Due to the engineering of this model, it is shaped to fit common areas of your body. It is also near perfect for your lower back, neck and shoulders.
Performance
Thanks to the fast-heat technology that has been implemented in the Xpressheat, it can provide heat in as little as 30 seconds. But, as claimed, this model does have longevity issues.
Features
This is equipped with a digital LED controller and has four built-in heat settings. In addition to this, it has a moist-heat option for additional effectiveness.
Advanced Features
Sunbeam designed their Xpressheat with a two-hour automatic shut off feature and also with a nine-foot power cord.
Comfort
For ultimate comfort, this has been engineered with micro plush fabric. But, it has this fabric on both sides and this essentially doubles the comfort.
Overall
Sometimes it is tough to recommend a product that has had longevity issues. But, not all buyers have had this issue so maybe you will be one of the lucky ones.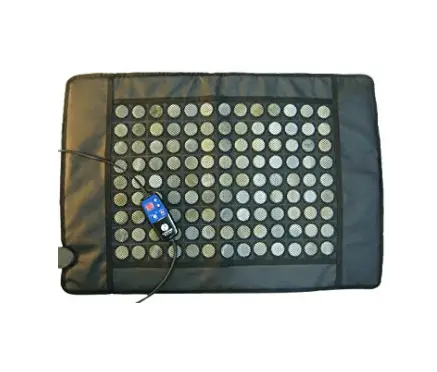 As opposed to the top model, this is not one that can easily be wrapped around body parts. Instead, it uses advanced infrared technology to achieve an amazing performance.
Read more
Versatility
As was just mentioned, this is not the most versatile design in the world due to its stone discs. With that said it is perfect for covering a body part while you are lying down or sitting down.
Performance
This lives and dies with its performance. It features infrared heat negative ions and natural jade. When the jade is heated, it will emit infrared heat that penetrates deep into your body.
Features
You can change both the time and the temperature of this unit. Yet, the timer has a maximum of 90 minutes and for some users, that will be a bit of an annoying limitation.
Advanced Features
If you wanted to use this while you sleep, you could take comfort in knowing that the automatic shutoff feature prevents it from heating the entire night.
Comfort
Really, it is advisable that you either put this in a pillowcase or have something comfortable underneath it. Due to the mesh over the jade disks, it is not the most comfortable option out there.
Overall
At the end of the day, it is all about the performance and that is what this excels at. Sure, the comfortability could have been enhanced but it is also not as if it is painfully unbearable.



As you can probably garner from the title of this, it comes with more than just a heating pad. While that is worth it alone, Nature Creation also includes their eye mask, mint pack, and spine and back pack.
Read more
Versatility
The two wraps that you are given here target your upper body (the upper body wrap) and your spine and back (the other wrap), respectively.
Performance
When it comes to providing relief, this is superb due to the heating elements and the aroma which helps to promote relaxation. But, some buyers have claimed it does not maintain its heat very long.
Features
At its core, this is a very simple design. You see, it is electrical and instead requires either heating from a microwave or cooling in a freezer (it is up to you).
Advanced Features
Relatively speaking, there are not too many extra features to speak of. Yet, Nature Creation does include all the aforementioned products for your convenience.
Comfort
The overall comfort of this model has not been received with negative feedback, which is good. But, this does give off quite the scent which could be unpleasant for some users.
Overall
If you are not a big fan of needing the power of electricity for your heating pad to function, this is a very suitable model for you. Plus, you get some extra items with your purchase.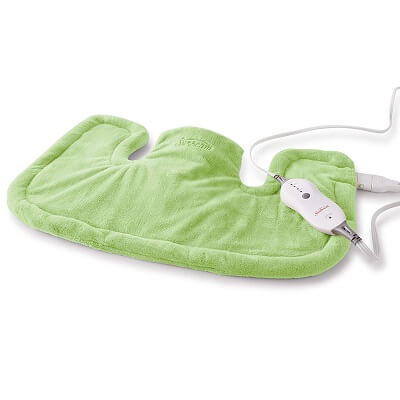 Yet again, this is an electrical model that is actually tailored for your neck and shoulders. However, once again, you will also need to deal with the somewhat cumbersome control pad.
Read more
Versatility
As mentioned, this is tailored for your neck and shoulders. Also, it sports a magnetic clasp that will keep it in place to avoid the annoyance of it constantly falling off.
Performance
In order to get the heating you desire, you may have to leave this at its highest setting (as has been pointed out by a few reviewers).
Features
This is powered via the extra-long power cord and its digital LED controller. With this controller, you can switch between four different heat settings.
Advanced Features
It is pretty much a staple for these types of heating pads as, once again, a two-hour shut off function has been programmed into the LED controller.
Comfort
Okay, so the super-soft micro plush fabric is soft against your skin and very soothing. Yet, the cord and the control pad add extra weight and can be bothersome.
Overall
This is a bit bittersweet here. Everything is in order for it to be one of the absolute best but its cumbersome nature will be too much to overlook for certain consumers.

9

. Sunny Bay Microwavable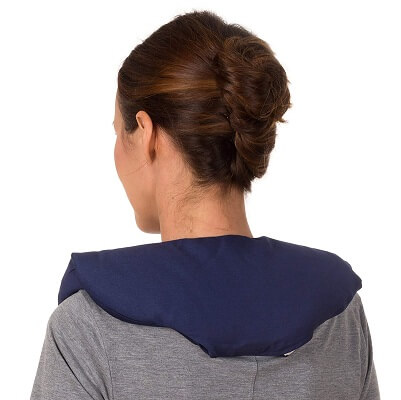 Unlike some electrical units on this list, this is not that and instead requires either a microwave or a freezer. This is because it can be heated and cooled for ailment benefits.
Read more
Versatility
Truth be told, this is really optimized for your neck. It can be used for other body parts but due to the construction, it is perfect for your shoulders and neck area.
Performance
The general consensus amongst users seems to be that this is only somewhat sufficient at holding heat. So, you may be making multiple trips to your microwave and back.
Features
As was just hinted at, this is not an electrical unit and instead requires the power of a microwave or a freezer to heat or cool, respectively.
Advanced Features
Truth be told, there really is no extra features here due to the fact that this is not an electrical model. It is pretty straightforward in its design.
Comfort
Though this is a bit thicker in scale, it sports a cover that is 100 percent cotton that adds a suitable amount of comfort.
Overall
Yes, this does have its flaws. It is not perfect in its design but Sunny Bay still deserves a lot of credit for providing their customers with a suitable means to relieve pain.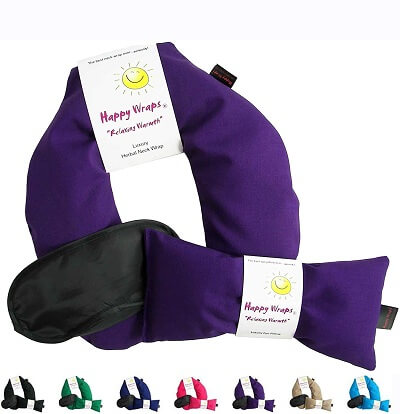 You know, there really is nothing special to this last model. It does not mean it is of poor quality as, on the contrary, it is quite soothing with its heating elements and 12 herb blends.
Read more
Versatility
Yet again, this is a model that is pretty much only suitable to wear around your neck. But, it could, in theory, be used in other places.
Performance
As one user, this does not seem to be filled with enough beads. So, what happens is they will navigate to one side and leave another area with too much open space.
Features
No electrical components or design features to worry about here. Instead, simple microwaving or freezing will do the trick.
Advanced Features
This is another model that is pretty much devoid of any advanced features. But, it comes with a French lavender eye pillow and an eye mask free of charge.
Comfort
Do note that the 12-herb blend is very strong. Outside of this, the 100 percent cotton construction provides optimal comfort for long periods of time.
Overall
Do not get it twisted; this is a great option. But, there is a reason it is last on this list as there are some potential concerns that could scare you off.

Subscribe to our Newsletter