Best Massage Machines
In a
Hurry? Editors choice: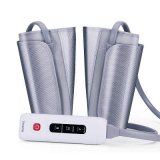 Test Winner: NURSAL Leg Air Compression

In the world we currently live in, given all the stress and forms of burden that adult life brings, it would always be refreshing to end a
long
day with a nice massage. If you know of a service that is affordable enough to give you the therapeutic feel that you need, you are one of the luckier ones, then. But in many
cases,
people are unable to have access to this kind of service and are usually left with a 90-minute rubdown that can cost them a small fortune. So what would be the next option, a personal massaging
machine
that can be a convenient addition to anyone's life. With enough Google research, you will likely stumble upon a good number of options for a viable
massager,
but that will only leave you with some option paralysis. Let us help you decide.
Standout Picks
Criteria Used for Evaluation
Portability
Whether it is a portable back massager or a personal massage chair, choosing the right equipment would be important. When doing so, here are some of the important facets that you must consider. The idea of having your very own massage device is that you can use them anywhere you want to. The ideal scenario would be that your chosen machine can be brought along in road trips, camping adventures, or hiking trips, and should not be a hassle. Of course, this would not apply to full-on massage chairs, but do find something that is portable enough for you to bring along. Once you do, you will automatically feel the convenience level in your life shoot up by at least ten notches.
Size
This might be a peculiar one for many people, considering that all they would need is a massage machine that vibrates strong enough to target those specific areas of their body. But that would not be as efficient if the device is not physically built to for such a task. A good hand-held massage machine must, first and foremost, feel secure one you get hold of it. Additionally, it should be designed well enough to be able to give you ease and comfort in reaching certain parts of your body. Depending on each and every person, the speed and intensity of a massage greatly matter. Some prefer hard, deep-tissue massages that penetrate through the muscles, while others opt for a lighter intensity that is just enough to get the job done.
Battery Life
n connection with portability, you would want a massage device that can run on batteries for as long as possible. Granted that you would not have it turned on for hours on end, but if it dies after just 30 minutes of use, then you might not have a good product on hand. Good massage devices can usually last for a little over two hours after one charging session, and these are the kinds that you should be looking for if you want to have a bang for your buck. Basic vibrations may not be enough, and you will have to consider other factors such as the equipment's capabilities in terms of kneading, tapping, shiatsu, and reflexology. If you can find a machine that can fulfill most of these tasks (if not all), you may very well have just struck gold.
Weight
In the same manner, you would want a portable massage machine to weigh just right when you have it at the palm of your hand. Rightfully, it must be built strongly enough to accommodate the pressure and intensity that you want, but at the same time, it should not be too heavy that it is already a burden to hold and grasp. The key here is still convenience, and ease of use. Before sealing the deal and making a payment, test it out first to see if it feels perfect while you use it. For this particular aspect of finding a massage machine, we are talking more about the power that drives your device to work. While referring to the number of watts that is indicated on the box, some brands can be a bit deceiving about this.
Top 10 Picks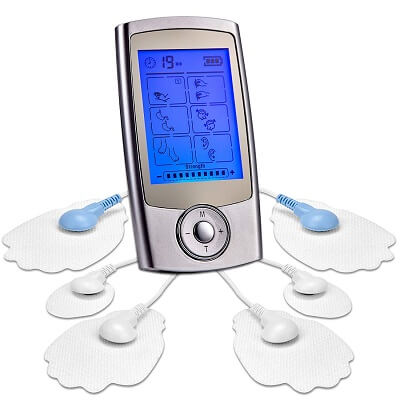 Another FDA approved portable machine that can be greatly utilized is this product. If you are looking for a device that offers something as soothing and effective as a full body massage, this would be a good choice to make.
Read more
Portability
Just like the other Tens massage models, this one is highly portable as well. It can also target a wide range of areas in the body, including the back, deltoids, sciatica, as well as the arms and feet.
Power
You can never go wrong with this option in terms of the power that they bring. And because this particular device operates under this specific technology, you likely won't be disappointed with its power.
Battery Life
This device comes with a rechargeable battery, which is always convenient. You will not need to worry about buying batteries whenever you are on the road or in transit.
Affordability
This device can be purchased at an affordable price which is below 50$ on Amazon.

2

. NURSAL Leg Air Compression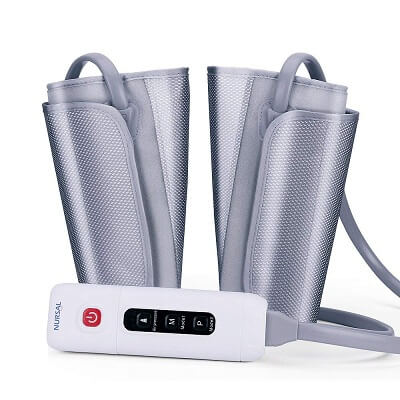 The legs are probably the most overused limbs of the body. And what better way to relax them after a long day of work than the use of this product
Read more
Portability
The device use of the device is pretty simple. You simply strap them on to both of your legs as it compresses and deflates to relieve your body from aches through air compression. With a weight of 2.8 pounds, this gadget is pretty portable.
Power
According to users, this device is powerful enough to alleviate themselves from sore legs. It has three intensity levels that can be adjusted accordingly.
Battery Life
This product comes with a 15-minute auto-shut off functionality, which makes it battery-efficient. But using this device, all you will need is up to 20 minutes of daily use.
Available Massage Techniques
Similar to the previous item, this product is limited to leg, arm and calf massages. However, it does help in preventing spasms.
Affordability
When purchased via Amazon.com, this is affordable enough for a buyer on a budget.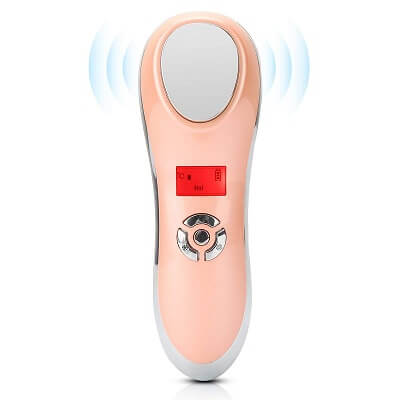 Among every other item in this list, this device is probably the best option for minimalists out there. Not only is it compact enough to be easily stored, it gives you a relaxing enough feeling to relieve yourself from stress.
Read more
Portability
This can be brought literally anywhere, and used whenever pleased or needed. It can fit right inside your front pocket, make-up kit, or purse, that you probably won't notice that you have it on you.
Power
You cannot expect that much power from a face massager, but it does get the job done. It gives off a warm effect that can relax the skin, as well as accelerate the blood circulation. At the same time, it also has a cooling effect to close those pores and lock in the moisture, ultimately keeping the skin young-looking and free from wrinkles.
Battery Life
With a charging time of three hours in total, this device can run for five minutes straight. This amount of time, after all, is sufficient enough in terms of face massaging. With that being said, the battery life of this device is good enough to suit your needs.
Available Massage Techniques
This is probably the one downside of this device. Given that it is a face massage the capabilities are limited to just that. However, it does have both warm and cooling functions that beat any trip to the spa any day.
Affordability
For a compact device with these capabilities, this product comes at a reasonable price.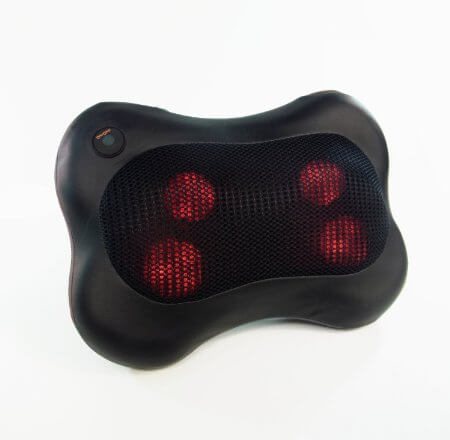 The idea of having a "revolutionary" neck pillow may only be a pipe dream years ago. But with the emergence of this device, the realm of massage therapy has been forever changed.
Read more
Portability
As mentioned, it comes in the shape of a neck pillow, which as many frequent travelers would now, is very portable. With additional straps that are included, you can adjust it accordingly. From a pillow massage, you can strap it up to a chair and turn it into your very own massage seat.
Power
This brand boasts of its abilities to relieve people from sore muscles. It comes with a rather powerful three-dimension deep-needing shiatsu massage node that will definitely relax those tight and overused muscles on the neck and back.
Battery Life
The product is equipped with an anti-overheating function as well as a 20-minute shut-off to prevent the device from being too overused. The downside, however, is that it does not come with any batteries, which you will need to buy separately.
Available Massage Techniques
While it mainly operates with the shiatsu style of massage, its ergonomic design makes it versatile enough to be used for the back, thigh, abdomen, and calf muscles. For such a small, portable device, you can get the benefits that a full-body massage offers.
Affordability
When purchased via Amazon.com, this product is affordable and can help you save a few bucks.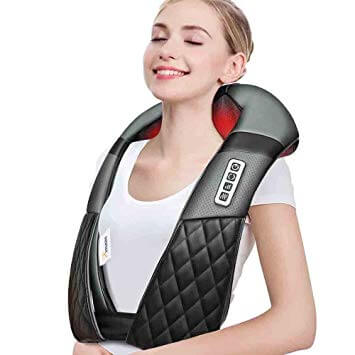 Also similar to the previous item, the electric item is also shaped to be perfectly draped over the neck. But of course, this device will have its unique features.
Read more
Portability
Similar to the previous item, this device can also be stored and folded with ease. It may be 4.3 pounds in weight, but it is still portable enough to be brought around, whether you are on the road, or just sitting at home.
Power
Most people that have used this product have been greatly satisfied with the power that brings. It does come with three intensity settings to choose from, allowing you to pick which one would suit you best.
If you choose to use this as a neck massager, the amount of pressure will be dependent on the corresponding amount of weight you will be putting on the hand loops.
Battery Life
People who have been able to use the product have also been satisfied with its battery life, so far. But in terms of the technical aspects, this device is built in with an automatic shut-off functionality that activates every 15 minutes.
It also comes with an overheating protection device to give added safety assurance to those who are using it regularly.
Available Massage Techniques
Users of this product will be given a choice between eight deep-kneading shiatsu massage modes, depending on your particular need for that moment. These modes can be applied onto the neck, back, and shoulder blades, as well as other hard to reach areas.
It is also built with three automatic programs, namely timed interval, auto-reversing, and single-direction, adding more versatility to this product.
Affordability
When purchased this product is an affordable but the batteries, however, are not included.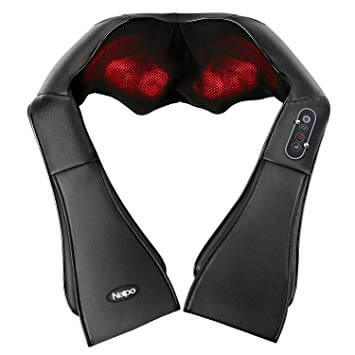 It is one thing to be able to just stick stick the pads of your portable massage device onto your body. However, it is another unique and satisfying thing to be able to wear it over your neck like a scarf. This is exactly what this product which is a back, neck and foot massager does.
Read more
Portability
Upon first glance of this product, you can easily conclude that it may be a little too bulky to bring around. But with only 15.8 x 6.3 x 8.4 inches in size and 4.4 pounds in weight, this device is actually very easy to bring around everywhere.
Just by changing up the target areas to which this will be used, you can bring it around as you travel by car, or as you relax on your office couch after a long, stressful meeting.
Power
This product comes with three simple intensity adjusting features. With the choices between low, medium, or high, you will get to enjoy the benefits of this product according to how you prefer it to be.
According to users who have personally tried the product, it does give a "hard, deep massage". For those who are a fan of this kind of intensity, this device should suit you well.
Battery Life
Those who have used the product have not encountered any issues in terms of battery life. The general sentiment is that it gets the job done perfectly. It also has an auto-shut off function to prevent overheating and immediate battery drain.
The product on the cheapest price range, however, does not include the batteries.
Available Massage Techniques
This is initially shaped as a neck pillow, but it can be used for other parts of the body, as well. Just shape it up however you need it to work for you, and this alone will already give you a good number of ways to do so.
Apart from the neck, foot and back, you can also use this device for the hips, shoulder, legs, and waist. It can do techniques such as Shiatsu, kneading, spot massaging and vibration, making it a better option than your overpriced neighborhood spa.
Affordability
You can purchase this product through Amazon.com for a relatively affordable price.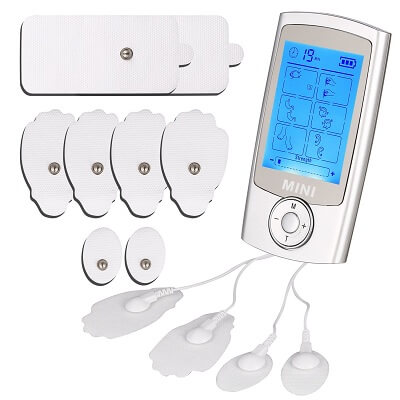 Reading through this article, you may see great physical similarities between this massager, and the previous item that preceded it. But obviously, there are stark differences between the two, as you will see below.
Read more
Portability
As mentioned, this product is very similar looks with the Healthmate product, which means that it also looks like a pocket-sized remote control. It is a bit lighter, though, weighing 11.2 ounces.
Portability is a major plus for massagers users who are always on the go, and this product definitely fits that bill.
Power
With 16 pre-programmed modes to choose from, you can be assured that this device has the power that you will need for whatever purpose. But the nifty feature about this device in terms of power and intensity is that it is very adjustable.
Once you get hold of this gadget, you will be able to use it for a maximum of 60 minutes, with a default setting of 20 minutes. It automatically shuts off as soon as your set timer is up.
Battery Life
This device operates under a rechargeable lithium battery, and given the length of time it can operate consecutively, the battery is quite reliable in that sense. It is also adaptable to today's technology, as it can be connected to either a wall unit or a USB slot.
It also comes with a power saving feature, as it automatically shuts off when not in use, as well. And for your added convenience, the battery level indicator also sends reminders about charging it at the right time.
Available Massage Techniques
As mentioned, users will be able to choose from 16 pre-programmed therapy modes. Among those included are knocking, kneading, shiatsu, vibration, and even acupuncture. Through electronic massage stimulation, you will be able to target those overworked areas of your body, such as the back, knees, neck, and shoulders.
This product boasts of its therapeutic benefits like promoting healthy blood circulation, improvement of sleep quality, and the enhancement of the immune system, among many other benefits.
Affordability
This product can be purchased for a great deal through Amazon.com. For a portable device with such functionalities and a very low price, this is definitely a good buy, to say the least.

8

. Healthmate Forever YK15AB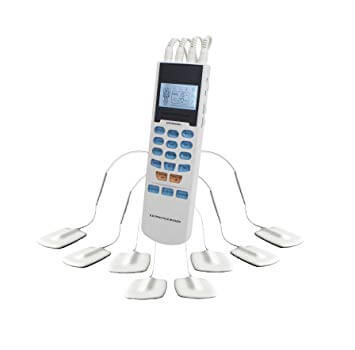 Here is another product that is not only very easy to use, but serves multiple purposes as well. This is a great answer to all of your aches and pains.
Read more
Portability
This product weighs approximately 13 ounces, which is quite a lightweight. It is similar to having a television remote at the palm of your hand, and can easily fit inside your front pocket.
This little contraption can fulfill almost everything you need in a massager, and given how portable it is, it should be major plus points for the product itself.
Power
If you are looking for a portable massage appliance that packs enough power to alleviate your body from those deep-tissue aches, this product is very reliable when it comes to that. With six settings to choose from that includes high-frequency pulses, you can be assured that you will not be disappointed in terms of strength.
To put things into perspective, this device is not advisable to be used if you just had undergone surgery, because the muscle contractions due can easily disrupt the healing process.
Battery Life
This product has an automatic shut-off feature, making it a rather battery-friendly device. People have so far been satisfied with how it works for them, given how the gadget runs through one full usage.
However, the ones that are at the lower end of the price spectrum are operated by AAA batteries, which is very similar to a TV remote. You may need to stock up on those if you plan on using it for a long road trip.
Available Massage Techniques
This is the one great feature of this product: multiple features that includes 15 modes with four outputs that can bring 20 levels of intensity. It comes with eight different pads, but all of which can be used simultaneously, as you place them on your neck, shoulder, back, wrist, knee, and even in the ankle.
This is why this particular product is a favorite of many, as it can fulfill many functions in one sitting. Experiencing both a head ache, a sore ankle and shoulder pains all at once? No problem.
Affordability
As mentioned, products within the more affordable range can be purchased through Amazon.com. But if you choose to go for the more upgraded version that comes with rechargeable batteries and touch screen features, that will cost you more.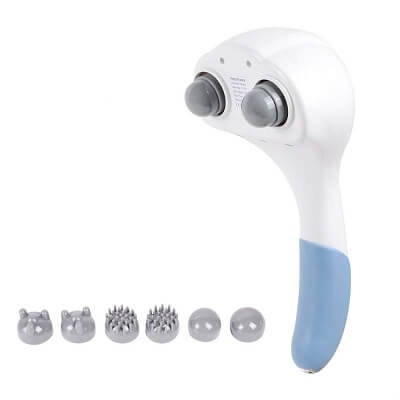 Here is another great hand held product that can be helpful for those constant head, neck and shoulder pains. This massager is an ideal brand for deep tissue massages for the entire body.
Read more
Portability
This product is 7.9 x 6.6 x 16 inches, and weighs around 3.2 pounds, which is a good enough fit in terms of a portable device. It can be used anywhere, whether you are at home, on the road, or at work.
It also comes with various attachments, and comes with a non-slip handle with a comfortable rubber grip.
Power
According to the product description on Amazon.com, this should be used at low intensity during onset of usage. This is to allow the body to adapt and be used to the kind of power that it brings, which is a strong statement about its capabilities.
It is also recommended that this device should only run for up to 15 minutes upon powering it up the first time. After which, you can extend it, but it should not go beyond 30 minutes of consecutive use.
Battery Life
There have been no complaints in terms of the battery life of this particular product. Based on reviews, it is able to do the job done and relieve its users from whatever physical pain they are feeling at the moment.
The downside of the product, however, is that it does not come with batteries, which means that it is not rechargeable. You will need to have a stock of batteries with you during travels, which can add to the bulk when bringing this device along.
Available Massage Techniques
Similar to the previous item, this device also comes with a number of attachments, therefore making it versatile in terms of the massage techniques that it can do. The percussion massage feature can easily provide relief for an aching neck, head, leg or foot.
Upon purchase, the package will include one double head massager, along with six alternative heads. This should give you a wide variety of choices to play around with.
Affordability
The item can be purchased through Amazon.com at a low price. This includes the shipping fee that is free of charge in the United States and selects areas outside.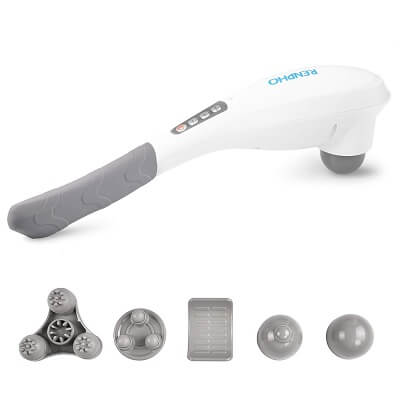 This is a rechargeable hand held deep tissue massager. As the name itself suggests, it is made to penetrate into those deep tissues, specifically targeting the back, legs, shoulder, neck, and even calf muscles.
Read more
Portability
This device can be brought along anywhere, making it ideal for home use, outdoor trips, and even as an added gadget to your workplace. You can use it anytime you wish, even during those moments in between long meetings at the office.
One great takeaway about his gadget is that it comes with head attachments that are interchangeable. You can customize it and use it according to your preference.
Power
The RENPHO deep tissue massager will not disappoint you in terms of power. Its motor can run for up to 3,600 pulses per minute, making it a lot easier to target those deep tissue muscles that are left aching from your previous exercise routine, perhaps.
You can also choose between four speed modes and three strength modes, making this device a lot more versatile compared to other brands.
Battery Life
Another good thing about this product is that you can guarantee that its battery will not fail you in a time of need. First off, it can up to a total of 140 minutes after a full session of charging.
To ensure battery efficiency, manufacturers of this product added in an automatic shut-off feature that activates after 20 consecutive minutes of use. This prevents the device to overheat and ultimately break down permanently.
Available Massage Techniques
Because of the different attachment that comes with the product, users are able to use it according to their liking. The round ball and one-point head attachment, for one, allows for effective deep tissue massages.
Depending on the setting that you will choose, this device will be able to break up the knots on your muscles, which helps for a quicker recovery time.
Affordability
When purchased on Amazon, this product is not that costly. Shipping fees around the United States and other select countries outside are already included.

Subscribe to our Newsletter