Best Foot Massagers
In a Hurry? Editors choice: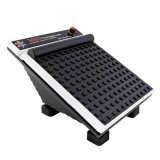 Test Winner: MedMassager MMF06

When my feet start to
ache
and I feel my body getting really stiff from too much work and stress, I always resort to
getting a massage.
But lately, I learned that getting a foot massage is just as effective as having a whole-body massage and you can reap the same benefits may be even more. This form of
therapy
often localizes its pressure on particular points to address certain health problems.
Thanks to modern technology, you too can enjoy the benefits of foot massagers in the privacy of your own home. Deciding which features are important to you and which model will address your
personal
needs can be overwhelming. On this list, we have combined a little bit of everything and brought you the best options available today.
Standout Picks
Criteria Used for Evaluation
Use
Get more bang for your buck. Many of these foot massagers can be used for other purposes as well.
The intended use of all of these products is obvious, their main function is to massage your feet. However, many of them have multiple uses. Perhaps going hand in hand with massages, these machines are great for sore muscles and relaxation.
If you have pain in other areas of the body, the Kendal machine works with reflexology and can target certain muscles that are not even in your feet and help to relax them. If you are looking for a full spa treatment, the massager from Ivation can be filled with water and set to a certain temperature, allowing you to soak and relax. We recommend adding a few drops of essential oils into the water to create an even more relaxing experience.
If you live in a very cold environment, a Shiatsu massager may be the ideal choice for you. The Shiatsu products on our list incorporate heat and can also be used a foot warmers during the harsh winters.
Ease of Use
Adding on the stress of fumbling with the machine before you turn it on could put you over the edge.
When you're ready to sit down and relax for a foot massage, the last thing you want to do is fumble through an instruction manual to figure out how to turn it on. The same feelings apply when you're in the middle of a massage and ready to change the mode or temperature. Luckily for us, these companies thought of this ahead of time and each product on our list is fairly simple to use. Most require a few clicks or the tap of your foot. For each product, we read the instructions and listened to the reviews to let you know how easy each one is to use. Frustration has no place in a foot massage.
Features
It's the little things, right?
Just being able to use these machines in your home is a great feature in itself. Luckily, all of the products on our list possess that feature. Other than this, each machine has it's own charm that makes it stand out.
Most of the electronic models feature an LCD screen and/or a remote. The screen usually lists the current setting, temperature, and speed controls. When you are relaxing, it is convenient to have a remote so that you don't have to lean down to change the setting or temperature.
A few of the other features that we investigated were the stability of the machine, how easy to it is to clean, and the speed options. As for the stability, many of these devices feature rubber grips on the bottom to keep them in place. Depending on the model, it is fairly simple to wipe down the machine. However, if you are looking at the Relaxen or Gideon, these both feature fleece covers that can be removed and washed. We looked into the speeds because with a few speed options, you can adjust it according to how tired you are, how painful your feet are or if you just want a slow relaxing massage. With the information at hand, you can also choose whether you want a weak or a hard massage or a combination of both. You can't afford to overlook this important feature because this will determine the type of massage or therapy you can get out of your massager.
Portability
The importance of portability is that because it's a massager that you can use at home you have to be able to bring it to different spots that you prefer.
Ideally, these items should be designed for the user to be able to carry them conveniently. Chances are that the place you decide to store the massager is not the same place you plan to use it. You should double check the weight of the item and also if it has handles, wheels, or even a carrying case so that you can transfer it easily.
Best Foot Massagers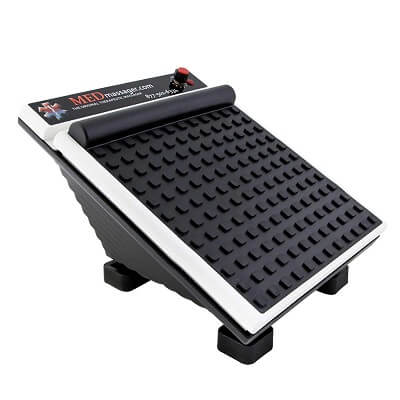 This is one of the best electric massagers we came across and it functions with an oscillating pad that is fully functional. The foot pad provides localized pressure on target surfaces for fast relief.
Read more
Use
This improves leg and foot circulation and best for individuals with neuropathy.
Most expert criteria: Ease of Use. This machine is one of our top choices in the ease of use criteria because it only has a knob which you turn to set the program you want. It doesn't take a lot of effort to enjoy a relaxing massage. This machine is one that is widely used by doctors prior to it being a commercial item. Commonly used in the treatment of patients with diabetes and plantar fasciitis. But it works just as well with providing relief from pain or just a relaxing foot massage at the end of the day.
Ease of Use
It is designed to strategically target specific points to heal and provide relief from pain and improve circulation. It is angled in a way that it will not skid or move.
Features
This machine provides 12 settings including the "off" option. You just need to turn the knob to your desired speed and intensity. Not the as comfortable as other foot massagers in the design department but once you get the hang of it, you will understand that it was designed as such for a purpose.
Portability
While this does not come with a handle the design makes it possible to still carry it with you. It is not as heavy as other massagers so it will not be inconvenient to lift and carry. It has a product dimension of 16 x 12 x 9.5 inches and weighs 11-pounds.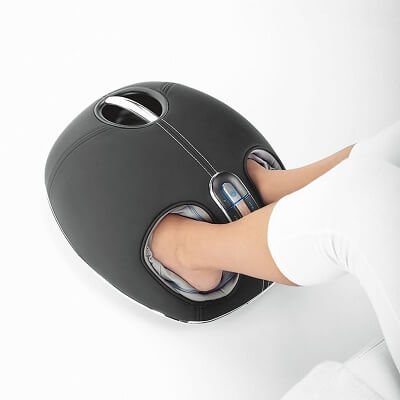 This is one of the best shiatsu massager in the market. Not only does it look cool it also offers the most relaxing foot massage that you can have at your own home.
Read more
Use
This product is effective in relieving sore feet and muscle tightness. It is best for relaxation and therapy. Most people find this product therapeutic because the mechanism helps to relieve pain, tension, and fatigue.
Ease of Use
This is the best criteria we observed about this product. It is very user-friendly. No complicated mechanisms and operating style, just a simple push of the button for on/off and massage options.
Features
It has a comfortable lining for your feet, which can also be detached for easy cleaning. Once you put your feet in, you will not feel any discomfort as your feet is kneaded and massaged. This machine has 3 auto massage options available; the Soothe, Pulse and Energize. It feels very stable because it is packed a little on the heavy side. It is designed as such so you can enjoy optimum relaxation.
Portability.
It comes with a handle so you can easily carry it when you feel like changing spots. Even if it is packed a little heavy, it is still easy enough to move. It has a product dimension of 16.8 x 8.8 x 14.4 inches and weighs 12.65-pounds.

3

. HoMedics Triple Action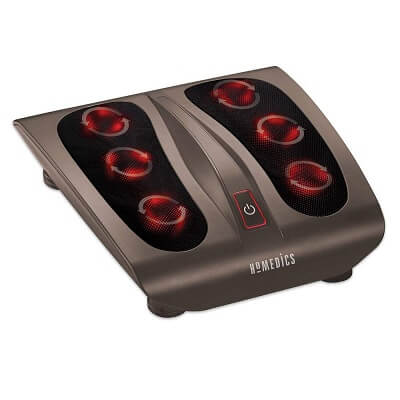 This is another shiatsu massager that we think will catch the attention of buyers. It does not only offer a shiatsu-like massage, but it also has heating options for better relaxation and therapeutic benefits.
Read more
Use
Deep penetration is brought by the heating feature of this product. It is effective in soothing pain in the legs and relieves discomfort. It mainly used for relaxation and therapy because of the heating option. The otherwise low-key rotating nodules are reinforced with heat to better help your tired muscles.
Ease of Use
Another top notch in this category. You can easily turn it on or off with the use of your toe. No need to crunch over and set the machine. Easy touch features help you to set the machine as well without much fuzz.
Features
While there is no speed option, the machine has 6 rotating nodules that provide just the right amount of speed for a most relaxing massage. It is not as heavy as the other units, but this light massager made up for that with its design. Even with its weight, you can enjoy an uninterrupted foot massage. The heat option makes it very comfortable to sit back and enjoy the foot massage. It's angled strategically to fully massage your feet.
Portability
This again does not come with an easy to carry handle, however, its design allows you to easily pick it and carry it. You can still choose to have your foot massage anywhere you like. It has a product dimension of 14.5 x 13.5 x 4.5 inches and weighs 6.65-pounds.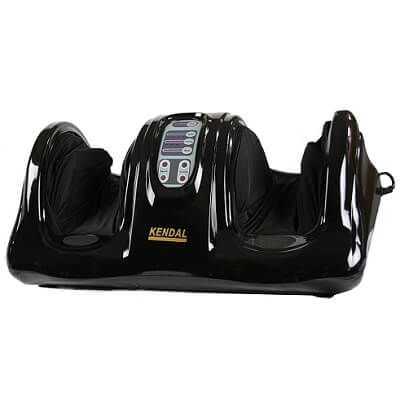 This is a multifunctional massager it offers shiatsu massage, a kneading, and rolling massage and heating options. It can even be used as a hot compress, 3D press massage, ozone function, and UV sterilization.
Read more
Use
This target your feet's acupuncture points. It is very effective and offers different massage options. This is for a variety of health issues. It works around the principle of reflexology so you are sure that this is not a foot massager alone.
Ease of Use
This is very easy to use with touch button options to set the machine according to the type of therapy you want.
Features
It is very comfortable because it is ergonomically designed to provide the best acupressure in the comfort of your own home. It has 3 modes with different intensity and speed. You have a choice to either put it on manual or auto mode. While it is not that heavy it is still stable enough to get the job done. It does not skid or move.
Portability
This one does not have a handle to easily lift and carry but it is light enough to be moved or transported. It has a product dimension of 16 x 16 x 9 inches and weighs 9.5-pounds.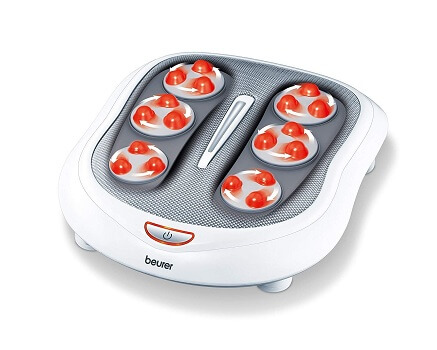 This machine offers one of the most effective reflex foot massage in the market. It has 18 rotating massage nodules that effectively relieve tension and aches.
Read more
Use
This is effective in relieving pain caused by arthritis and plantar fasciitis. It is best for therapeutic massage because it is designed to offer reflex massage therapy that not only relaxes your tired muscles but also relieves other health issues by targeting strategic points in the soles.
Ease of Use
This is a single button operation machine. You can use your foot to tap on the switch, massage levels, and heat function.
Features
This machine offers heat option for better relaxation. It even has an adjustable foot so you can sit back and relax without the inconvenience of having to dangle your foot. It has 12-speed options for the right massage. While it is not as heavy, it is made up for the design which makes the machine stay in place.
Portability
It is compact and designed to easily lift and carry it with you wherever you feel like having your foot massage. It has a product dimension of 15 x 17 x 5.5 inches and weighs 6.8-pounds.

6

. Best Choice Therapeutic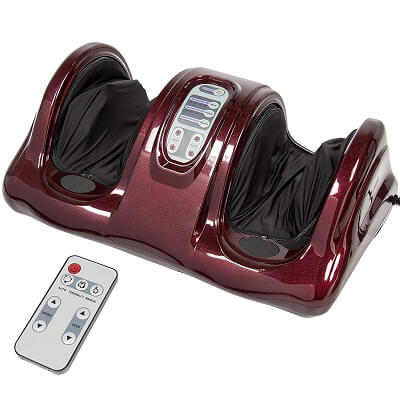 This machine is one that offers the optimum remedy for foot pain. This machine specifically targets areas by kneading, pulsing and rolling.
Read more
Use
This eases aches effectively by targeting pressure points on your feet. It is suitable for a therapeutic foot massage to address different health issues.
Ease of Use
This machine is very portable, you can move it and place in the most relaxing area of your home. With easy touch button options so you can choose your type of therapy.
Features
You have 3 customizable options. You can choose the speed and direction of the mechanism. This machine offers a relaxing massage that gives you a spa-like comfort. You just slip your feet and the machine will do its job.
Portability
This machine is designed to be compact and lightweight so you can easily move it to where you want to enjoy a relaxing foot massage. It is compact and weighs enough to provide stability. It has a product dimension of 26 x 16 x 13 inches and weighs 17.6-pounds.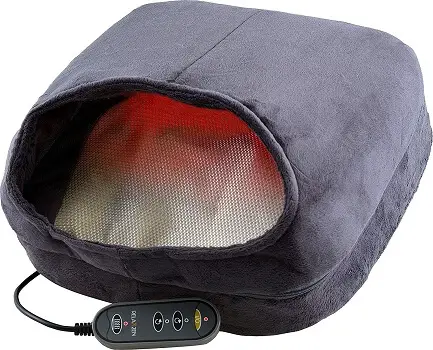 This a really eye-catching design. Just one look and you'd get the idea of comfort and coziness. It offers a soothing heat form of therapy for a purely relaxing treatment.
Read more
Use
This is effective in relaxing fatigued feet with two types of massage option to choose from. It is suitable for therapeutic use. The mechanism does not offer much diversity but the heat is very relaxing.
Ease of Use
It has a hand controller for ease of use. You can easily adjust the direction, turn on or off the switch with one easy touch.
Features
The machine has detachable cover for easy cleaning. The fabric offers warmth and comfort and the heat makes it even more relaxing. While it is lightweight, the mechanism does not really move the unit that much to give you much to worry about. It can do stay in place and provides stability while enjoying a relaxing massage.
Portability
You can easily store and carry it to your place of preference. You can use it while sitting on a chair. It is even versatile enough to be used as a back massager. It has a product dimension of 4.3 x 12.4 x 12.2 inches and weighs 4-pounds.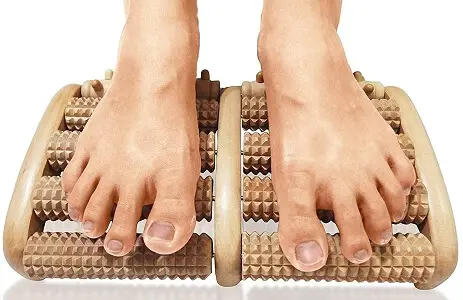 This is the best example of manual massagers that really does the job. The design is based on the principles of acupressure/acupuncture therapy.
Read more
Use
It is designed to relieve foot and heel pain caused by plantar fasciitis, neuropathy, and other conditions. It incorporated the traditional foot reflexology principle behind the design and it works really well in soothing your tired feet and in relieving common ailments.
Ease of Use
This is manual massager and there is no complicated mechanism involved in it. You can take it anywhere with you and just as easily adjust the pressure you want on your feet.
Features
It has no speed controller you will be the one to determine how much pressure you want to put into your feet as you step on the massager. It is very stable despite the lightweight material. Since it is manual, you can easily put it down and step on it without worrying about it slipping or moving while you are enjoying a massage. It is very comfortable to use anytime anywhere. Although some people might complain about the pain it can cause when stepping on it because it is manually operated you can just as quickly adjust the pressure to your comfort.
Portability.
This is very lightweight and compact which makes it easy to store when not in use and carry with you wherever you want to enjoy a relaxing massage. It has a product dimension of 7.5 x 11.2 x 2.5 inches. Compared with other massagers this is the smallest in size and can be easily stowed in your bag and carry with you wherever you go. It only weighs 1.6-pounds.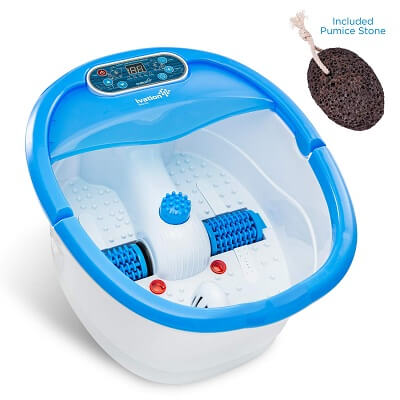 It features oxygenated bubble action for a calming therapy.
Read more
Use
It offers a multifunction foot spa and massage to relieve pain, improve circulation and soothe tired feet. This is suitable for therapeutic massages. You can enjoy the benefits of spa treatment in the comfort of your own home.
Ease of Use
It has easy to operate function and you can enjoy a relaxing spa treatment with a touch of a finger on its multi-function option.
Features
It offers a heat option that adds more comfort as you enjoy a relaxing massage. You can choose the type of massage and even add essential oils for added relaxation. Although it is lightweight, it is designed to offer stability. It is deep enough to submerge your feet and with added water, it stays in place even while the machine is at work. It has multi-function selections so you can choose the speed and the motion of the rollers for optimum relaxation.
Portability
It has a carry handle for easy transport. You can carry it with you wherever you want to enjoy a spa-like treatment. It has a product dimension of 16.5 x 9,2 x 14.9 inches and weighs 6.7-pounds.

10

. Gideon Quilted Shiatsu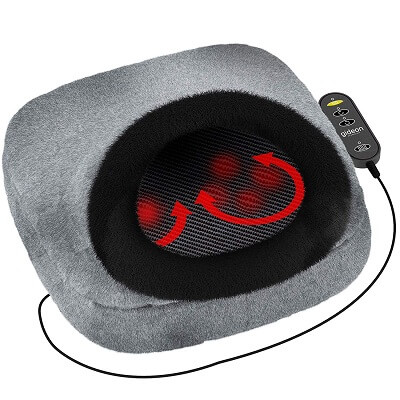 You can use it as foot massager or a heating pad alone.
Read more
Use
This is a cozy and warm foot massager that is not just ideal for a relaxing foot massage but also during wet and cold weather. It is suitable for a relaxing foot massage but also doubles as a foot warmer during wet and cold weather.
Ease of Use
It is very convenient and easy to use with a corded hand controller. You can easily select the motion of the massage nodules.
Features
The luxurious ultra-plush fabric made of fleece is very soft and offers warm cushioning for your feet. The massage nodules also imitate real hands working on your feet to provide ultimate relaxation. You can easily select clock-wise or counter-clockwise massage with a hand controller. You can also choose to use the massager or just provide heat as a foot warmer on very wet or cold weather. Despite the lightweight machine, it is very stable because the therapy it provides does not cause a very strong movement from the machine to make it skid or move while in use.
Portability
It is designed to easily lift and carry with you so you can conveniently change your position or area where you want to enjoy a massage. It has a product dimension of 12 x 12 inches and weighs 4.2-pounds.

Subscribe to our Newsletter