Best Foot Massagers
In a
Hurry? Editors choice: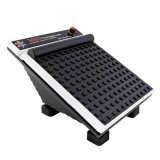 Test Winner: MedMassager MMF06

When my feet start to
ache
and I feel my body getting really stiff from too much work and stress, I always resort to
getting a massage.
But lately, I learned that getting a foot massage is just as effective as having a whole-body massage and you can reap the same benefits may be even more. This form of
therapy
often localizes its pressure on particular points to address certain health problems.
Thanks to modern technology, you too can enjoy the benefits of foot massagers in the privacy of your own home. Deciding which features are important to you and which model will address your
personal
needs can be overwhelming. On this list, we have combined a little bit of everything and brought you the best options available today.
Standout Picks
Criteria Used for Evaluation
Use
Get more bang for your buck. Many of these foot massagers can be used for other purposes as well.
The intended use of all of these products is obvious, their main function is to massage your feet. However, many of them have multiple uses. Perhaps going hand in hand with massages, these machines are great for sore muscles and relaxation.
If you have pain in other areas of the body, the Kendal machine works with reflexology and can target certain muscles that are not even in your feet and help to relax them. If you are looking for a full spa treatment, the massager from Ivation can be filled with water and set to a certain temperature, allowing you to soak and relax. We recommend adding a few drops of essential oils into the water to create an even more relaxing experience.
If you live in a very cold environment, a Shiatsu massager may be the ideal choice for you. The Shiatsu products on our list incorporate heat and can also be used a foot warmers during the harsh winters.
Ease of Use
Adding on the stress of fumbling with the machine before you turn it on could put you over the edge.
When you're ready to sit down and relax for a foot massage, the last thing you want to do is fumble through an instruction manual to figure out how to turn it on. The same feelings apply when you're in the middle of a massage and ready to change the mode or temperature. Luckily for us, these companies thought of this ahead of time and each product on our list is fairly simple to use. Most require a few clicks or the tap of your foot. For each product, we read the instructions and listened to the reviews to let you know how easy each one is to use. Frustration has no place in a foot massage.
Features
It's the little things, right?
Just being able to use these machines in your home is a great feature in itself. Luckily, all of the products on our list possess that feature. Other than this, each machine has it's own charm that makes it stand out.
Most of the electronic models feature an LCD screen and/or a remote. The screen usually lists the current setting, temperature, and speed controls. When you are relaxing, it is convenient to have a remote so that you don't have to lean down to change the setting or temperature.
A few of the other features that we investigated were the stability of the machine, how easy to it is to clean, and the speed options. As for the stability, many of these devices feature rubber grips on the bottom to keep them in place. Depending on the model, it is fairly simple to wipe down the machine. However, if you are looking at the Relaxen or Gideon, these both feature fleece covers that can be removed and washed. We looked into the speeds because with a few speed options, you can adjust it according to how tired you are, how painful your feet are or if you just want a slow relaxing massage. With the information at hand, you can also choose whether you want a weak or a hard massage or a combination of both. You can't afford to overlook this important feature because this will determine the type of massage or therapy you can get out of your massager.
Portability
The importance of portability is that because it's a massager that you can use at home you have to be able to bring it to different spots that you prefer.
Ideally, these items should be designed for the user to be able to carry them conveniently. Chances are that the place you decide to store the massager is not the same place you plan to use it. You should double check the weight of the item and also if it has handles, wheels, or even a carrying case so that you can transfer it easily.
Subscribe to our Newsletter