Best Foot Massagers
last updated:
Feb 07, 2020
When my feet start to ache and I feel my body getting really stiff from too much work and stress, I always resort to getting a massage. But lately, I learned that getting a foot massage is just as effective as having a whole-body massage and you can reap the same benefits may be even more. This form of therapy often localizes its pressure on particular points to address certain health problems.
Thanks to modern technology, you too can enjoy the benefits of foot massagers in the privacy of your own home. Deciding which features are important to you and which model will address your personal needs can be overwhelming. On this list, we have combined a little bit of everything and brought you the best options available today.
In a Hurry? The test winner after 4 hrs of research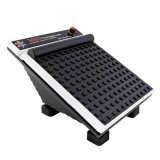 MedMassager MMF06
Why is it better?
It is very effective and targets pressure points.
It is very easy to use.
In a
Hurry? Editors choice: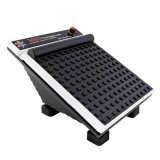 Test Winner: MedMassager MMF06

Use
Ease of Use
Features
Portability
By Default
Criteria Used for Evaluation


Use
Get more bang for your buck. Many of these foot massagers can be used for other purposes as well.
The intended use of all of these products is obvious, their main function is to massage your feet. However, many of them have multiple uses. Perhaps going hand in hand with massages, these machines are great for sore muscles and relaxation.
If you have pain in other areas of the body, the Kendal machine works with reflexology and can target certain muscles that are not even in your feet and help to relax them. If you are looking for a full spa treatment, the massager from Ivation can be filled with water and set to a certain temperature, allowing you to soak and relax. We recommend adding a few drops of essential oils into the water to create an even more relaxing experience.
If you live in a very cold environment, a Shiatsu massager may be the ideal choice for you. The Shiatsu products on our list incorporate heat and can also be used a foot warmers during the harsh winters.


Ease of Use
Adding on the stress of fumbling with the machine before you turn it on could put you over the edge.
When you're ready to sit down and relax for a foot massage, the last thing you want to do is fumble through an instruction manual to figure out how to turn it on. The same feelings apply when you're in the middle of a massage and ready to change the mode or temperature. Luckily for us, these companies thought of this ahead of time and each product on our list is fairly simple to use. Most require a few clicks or the tap of your foot. For each product, we read the instructions and listened to the reviews to let you know how easy each one is to use. Frustration has no place in a foot massage.


Features
It's the little things, right?
Just being able to use these machines in your home is a great feature in itself. Luckily, all of the products on our list possess that feature. Other than this, each machine has it's own charm that makes it stand out.
Most of the electronic models feature an LCD screen and/or a remote. The screen usually lists the current setting, temperature, and speed controls. When you are relaxing, it is convenient to have a remote so that you don't have to lean down to change the setting or temperature.
A few of the other features that we investigated were the stability of the machine, how easy to it is to clean, and the speed options. As for the stability, many of these devices feature rubber grips on the bottom to keep them in place. Depending on the model, it is fairly simple to wipe down the machine. However, if you are looking at the Relaxen or Gideon, these both feature fleece covers that can be removed and washed. We looked into the speeds because with a few speed options, you can adjust it according to how tired you are, how painful your feet are or if you just want a slow relaxing massage. With the information at hand, you can also choose whether you want a weak or a hard massage or a combination of both. You can't afford to overlook this important feature because this will determine the type of massage or therapy you can get out of your massager.


Portability
The importance of portability is that because it's a massager that you can use at home you have to be able to bring it to different spots that you prefer.
Ideally, these items should be designed for the user to be able to carry them conveniently. Chances are that the place you decide to store the massager is not the same place you plan to use it. You should double check the weight of the item and also if it has handles, wheels, or even a carrying case so that you can transfer it easily.
Expert Interviews & Opinions
Most Important Criteria
(According to our experts opinion)
Experts Opinion
Editors Opinion
Users Opinion
By Default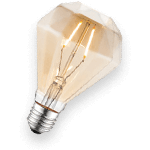 Automatic Shut Off
Check to see if your device includes an automatic shut off feature. Foot massages can be so relaxing and often put people to sleep. While this isn't exactly dangerous, if the machine is on all night, it is a waste of electricity and could damper the longevity of your machine.
Other Factors to Consider


Model
Shiatsu Massagers: This is the type of massager that will give you the best home massage experience. It is the only type of massager that imitates that of a real therapist. The heads and nodules rotate in a way that hand therapy works. It is designed to provide a reflexology-based massage which works not just to provide relaxation but also therapeutic.
Electric Massagers: This type of massager uses a motor mechanism that vibrates while the heads rotate to provide a massage. Some of these types of massagers provide heat. It is usually powered by electricity. Some people prefer this type of massage because it is therapeutic and if you choose to stop at any time, you can easily pull away and rest your feet.
Water Massagers: These types usually are designed for relaxation and therapy. You add water into the tub with jet bubbles that relax you and you can add scents or skin essentials to exfoliate your feet for personal pampering. The machine has small nodules that slowly massages your sole. This type is ideal for people who want more flexibility for their massagers. The only downside is that these types of massagers do not provide optimum massage because it is designed to provide light thumping motions to relax your feet. And if you want a serious massage, this won't work for you.
Manual Massagers: These are the simpler versions. They are manually operated using a rolling technology. It can be specific manual massages that target certain points. The good thing about these types of the massager is that you can localize it relieving certain pain on your feet or offer relief by putting pressure on specific pressure points.
Infrared Massagers: Taken from the name itself, it uses infrared to provide massage on your feet and calf. It is ideal for people who don't want to feel pain while the machine presses and kneads on your feet. This type of massager is lighter in nature and provides a therapeutic effect, not the physical pressure provided by other types of massagers. It provides relief by heating or warming the muscle tissues without pressing on the painful muscle strains or even those painful soles.


Size
There is two things to look at when researching the size of these foot massagers. First, is the machine too bulky to be stored easily? While some of these are more visually appealing than others, none of them really fit into bedroom or living room decor.
Secondly, the size of the machine is important because you need to know if your foot will comfortably fit in it. Generally speaking, unless you have very large feet, every product on this list will serve you well. However, if you plan to share this with your family, or a husband who special orders his sneakers, you should take a second look at the dimensions.
Frequently Asked Questions
q:

I am not comfortable with the idea that it heats-up. Is this even safe?

a:

To address your question directly, yes, it is very safe to use. We have not had any reports of people complaining of such incidents. As for the heating, yes it heats up to provide more relaxation. The heat helps to soothe tired muscles and sore feet brought about by standing on your feet for a very long time or walking long distances. I think you can opt for other massagers that don't heat up if you feel uncomfortable about the heating features of this brand. There are a lot of other options for you so you can enjoy the benefits of foot massagers.
q:

I learned that there are different types of massagers, what can you recommend for people with plantar fasciitis?

a:

I know of someone who has a similar condition and I too recommended he get a foot massager to help relieve the pain and ultimately get rid of this condition. Yes, you are right; there are different types of massagers but I think the most effective one for people with your condition would be the shiatsu massager. The shiatsu massager is very effective in providing a therapeutic massage because it has a mechanism that imitates a real massage and its function is based on reflexology so you know that the massage is directed at strategic points to address different health conditions. Not only does it help with therapy it will also help you relax and relieve yourself of stress build up. If you do it on a regular basis you will soon realize that you are back to your normal activities without the pain and discomfort brought about by plantar fasciitis.
q:

I read from one review that this massager helped a Diabetic with Peripheral Neuropathy, how is this possible?

a:

The reviews you've read were all true. Some foot massagers can help with neuropathy. These products produce vibrations and give a deep massage that helps with the blood circulation, this promotes the total health and wellness of the feet thereby reducing the discomfort caused by neuropathy. The pressure that these massagers put on your calf and feet also helps with the circulation resulting in the reduction of painful symptoms on the nerves of people with peripheral neuropathy. This will definitely be a great help for your wife, plus the therapy is made available as often as needed if you buy a unit for your wife's use and convenience.
q:

Is there a particular time frame which I should follow in taking these foot massages? Is it safe to have as many massages as I want through the day?

a:

First of all, if you want to reap the full benefits of the massager, you have to take note that you should not massage one particular area for more than 15 minutes, tops! However, if the massager moves around your feet, this can be timed to 30 minutes so you can fully be relaxed. The massager overall can be used for 30 minutes at any given time. For your next question, yes it can be used several times each day for as long as you want just make sure that you won't go beyond 30 minutes or this can cause a counterproductive and can cause more harm.
q:

Would it be okay to use the foot massager before going to bed? Are there any known side effects?

a:

Yes, it is okay to have a massage before bedtime. One of the benefits of using a foot massager it that it helps relax your body and prepare you for sleeping. This is a very good way to fight sleeping disorders because, after a massage, you generally feel relaxed therefore it will only enhance your sleep. The only known side effect that has been reported to us is that they feel really good after using the foot massager and some are even sharing positive treatment results that have helped them enjoy life more.
Subscribe to our Newsletter